The magic of early winter in the Highlands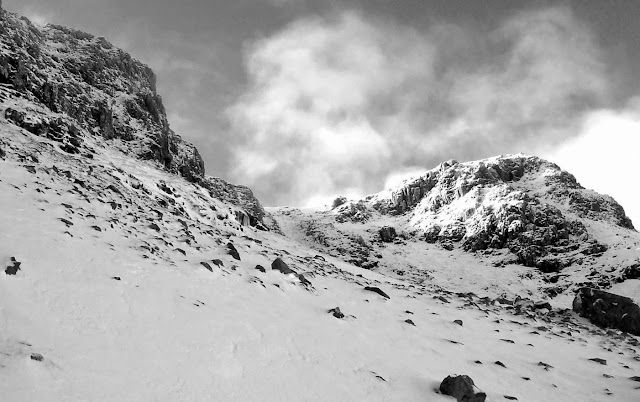 Exactly five years ago I was standing on a mountain ridge in Glencoe, spindrift blasting in my face and rejoicing in my first winter climb of the 2008/2009 Scottish winter season.
It was an exciting time for me. I'd moved to the Clachaig Inn about a month earlier as a barman, and I was still a little dazzled by my new surroundings. I'd enjoyed some great days out on the hill already (most in pouring rain, it must be confessed) and now it had snowed!
I was so excited that I headed out on the hill before a five o'clock start behind the bar, desperate for my ice axe to see some early season action. In my inexperience I chose the Sron na Lairig ridge as my target.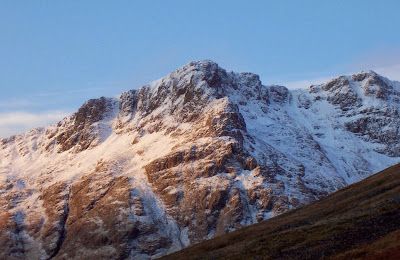 The Sron na Lairig arete (Grade II)
A famous Grade II ridge, I thought – what could possibly go wrong?
The unique challenges of early winter


I had never climbed in such thin conditions before. The hills may have looked white, but I soon discovered that the covering of snow was little better than cosmetic on most slopes. The wind had, however, blown it about and sculpted it, depositing some appreciable snowdrifts on some aspects. There had also been a good freeze/thaw cycle already, and I was keen to get into some 'mixed' climbing.
Mixed climbing involves a mixture of snow and iced-up rock, and I have never been very good at it…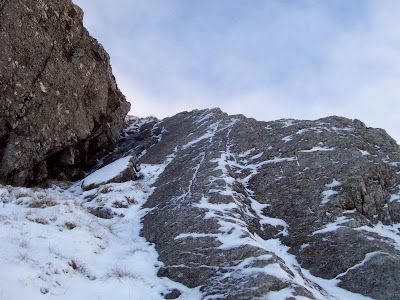 A difficult step
The first real challenge on the ridge was a slabby corner. In normal conditions this is well built-up with snow, but this early in the season it was dire: the snow was no use at all, the rock featured only sloping holds, and a thick glaze of water ice coated everything. I wasted half an hour faffing around in the undercut corner before admitting defeat and turning this step on the right.
As I was soon to discover, most of the steps on this ridge were actually rather harder in lean conditions, and I ended up weaving from side to side a great deal to avoid sections of excessive difficulty. I was alone, after all, carried only a single walking axe, and was not a very experienced climber at this point.
Conditions may have been lean overall, but in places the ice was thick and satisfying.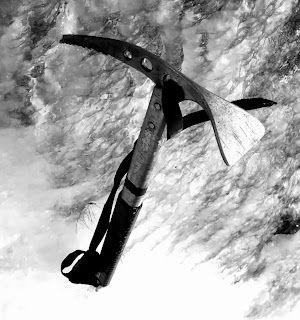 Thunk
The wonder of two worlds


Two different worlds coexist during your first snowy outing of the season. Down there in the glen, the light is soft, the stags are roaring, the warm colours of copper and tan dominate the landscape; leaves cling to the trees despite the frequent storms, and occasionally a burst of warmth reminds the walker that it was summer not so very long ago.
But up there on the heights, winter has made its first incursion in a campaign that will last for many months.
The light is special at this time of year, and the snow is all the more precious because you know it will be fleeting, and the usual service of wind and rain will resume shortly.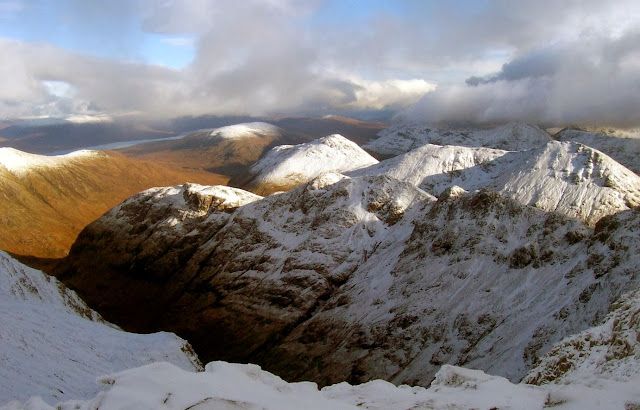 Autumn and winter coexisting
A snow gully


Eventually I climbed to the base of a tower that I could not climb and could not circumvent. In such conditions, the lower steps were slabby and committing. There was one move I could not commit to: a big step up onto a steep wall, with no guarantee of easier climbing above. Perhaps if I'd had a second ice axe I could have made the move, but five years ago I had not soloed many winter climbs and I didn't have the courage to do it.
I looked for a way around but could not find one. That meant I had but one choice: to find a different route to the top.
I traversed right off the ridge crest and climbed a short Grade I snow gully, unnamed to this day as far as I know although the Glencoe climbing guide mentions a number of easy snow gullies between Sron na Lairig and the East Face of Stob Coire Sgreamhach (a huge face partially explored by my brother James).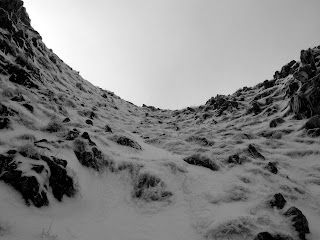 The gully. Lots of lovely frozen turf!
I reached the ridge at about four o'clock when the light was fading and I was still several miles from home. Would I get back in time for my bar shift in an hour? It would be a challenge! I knew the Bidean nam Bian ridge quite well already, having walked it several times (by the end of my time in Glencoe I had climbed Bidean on well over fifty occasions).
I ran over the frozen landscape, accompanied by the scurrying fair-weather clouds and the icy wind.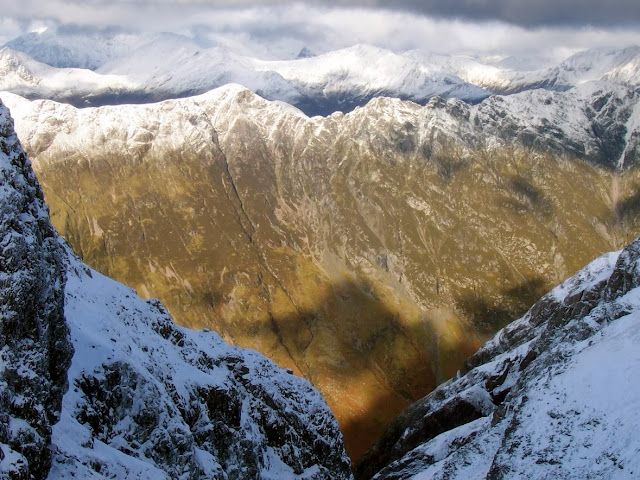 The long drop into Coire Bheith
Ach, laddie, you're late!
I made it – just. I exploded through the doors of the Boots Bar at two minutes to five, dripping with perspiration, a chunk of ice still encasing the blade of my axe. It was Octoberfest at the time and the bar was full of punters, mostly clad in mountain gear, quaffing ale and eating haggis after a day in the mountains.
I changed into my uniform and started pulling pints, tired from my rapid descent but glowing with satisfaction from within. I had climbed my first route of my first full Scottish winter season, and I knew the next few months would be filled with adventures and stories waiting to be told.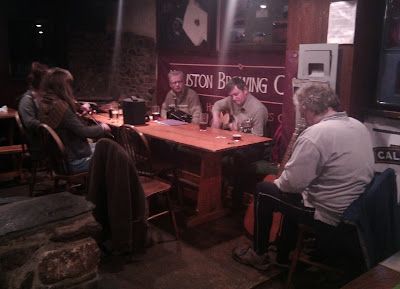 Alex Roddie Newsletter
Join the newsletter to receive the latest updates in your inbox.
Comments