The gear you use to make a picture or write a story doesn't matter, but people find this stuff fascinating, so here is a list of what I'm currently using – for both my editorial and photographic work.
You'll find no affiliate links or sponsored listings here. This is just the gear I rely on to earn my living, no frills.
Pinnacle Editorial
Hardware
Apple MacBook Pro 13″ (2012). My main production machine is a relatively elderly MacBook Pro, chosen due to its ability to be upgraded by the user. I've maxed it out with 16GB of RAM and dual internal 500GB SSDs. It's starting to show its age for photo and video editing but still blazes through all other tasks. I have a selection of portable 1-2TB hard drives on the backup rotation.
iPhone SE (64GB). At the moment this iPhone isn't being used for much – mainly as a 4G hotspot and for diverting calls to another handset.
Nokia 3310 (2017). When I need to focus, I leave the smartphone at home and use this basic phone instead.
BenQ GW2765HT 27″ IPS monitor (2560 x 1440). A large and pretty decent IPS panel, good enough for photo editing. I have it mounted on an articulating arm with the MacBook Pro beneath the desk.
Apple Extended Keyboard II (1995). The old faithful, and in my opinion the best keyboard ever made.
CST L-Trac Trackball. An effort to stave off RSI. It's built like a tank and will probably last a couple of decades.
Paper notebooks. Still a critical component in my workflow. I use paper for organising ideas, day-to-day task management and composing rough drafts. I use elements of the Bullet Journal system combined with my own approach (I find the Bullet Journal system too inflexible on its own). I also write a lot of first-draft material on paper.
Lamy Safari (fine) fountain pen. With black ink.
Uni-Ball Eye Micro pens. I don't like the fact that they're disposable, but these pens are archival quality and very reliable.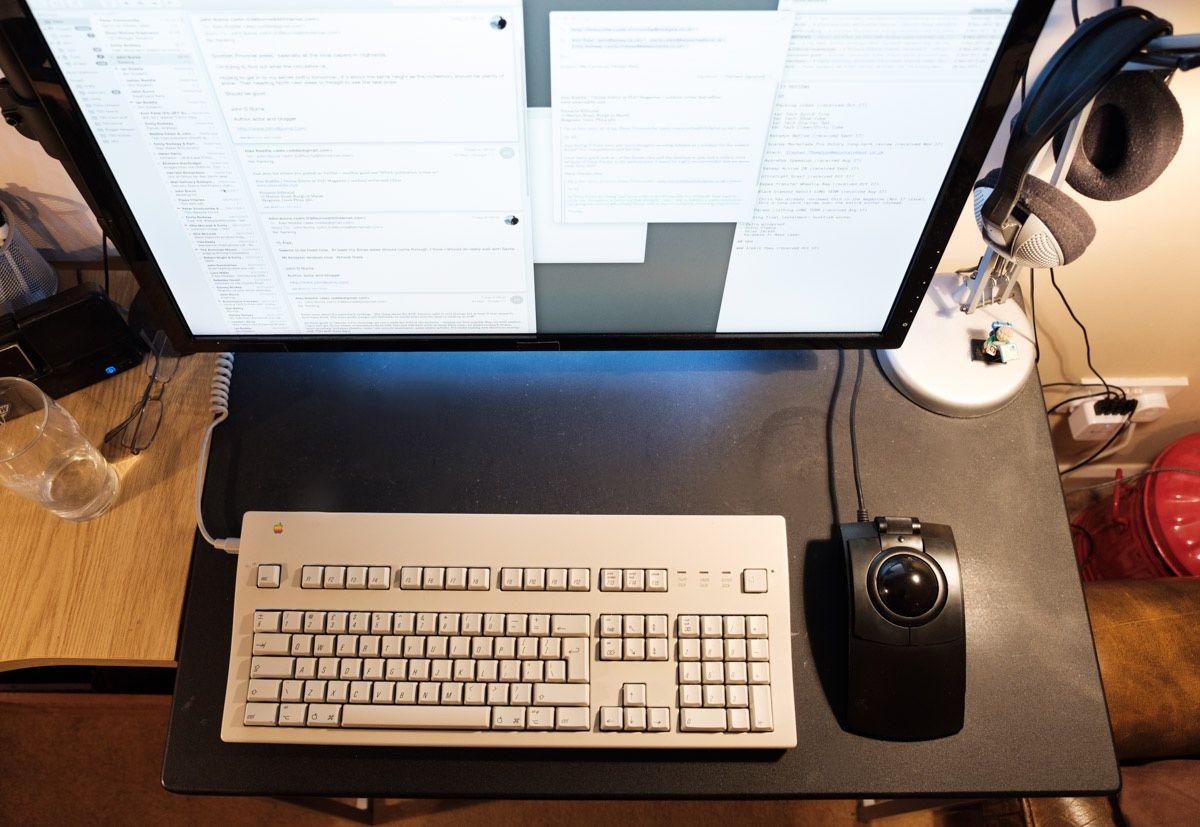 Software
Microsoft Word. I don't love Word, but the editorial world revolves around it. I spend 80% of my working day in Word.
BBEdit. My text editor of choice for 20 years.
WordPress. The web runs on it… including this website and other sites I help edit.
MarsEdit. For writing and posting blog articles.
Gmail. Keeping everything in one email account helps keep me sane. I've been a Gmail user since 2005.
Adobe InDesign and Acrobat. For editing magazine layouts and other documents, mostly from publishers.
Dropbox. How did remote workers even do anything before Dropbox?
Trello and Basecamp 2. For all my collaboration needs.
1Password. Because I don't like being hacked.
ViewRanger, Gaia GPS and OS Maps. I use these programs for managing GPX files and digital maps. Each has different strengths and weaknesses.
Photography
Cameras
Fujifilm X-Pro2. I've used Fujifilm's X-Series cameras since 2015, and the X-Pro2 occupies the top spot in the range along with the X-T2. I prefer the rangefinder style and optical viewfinder.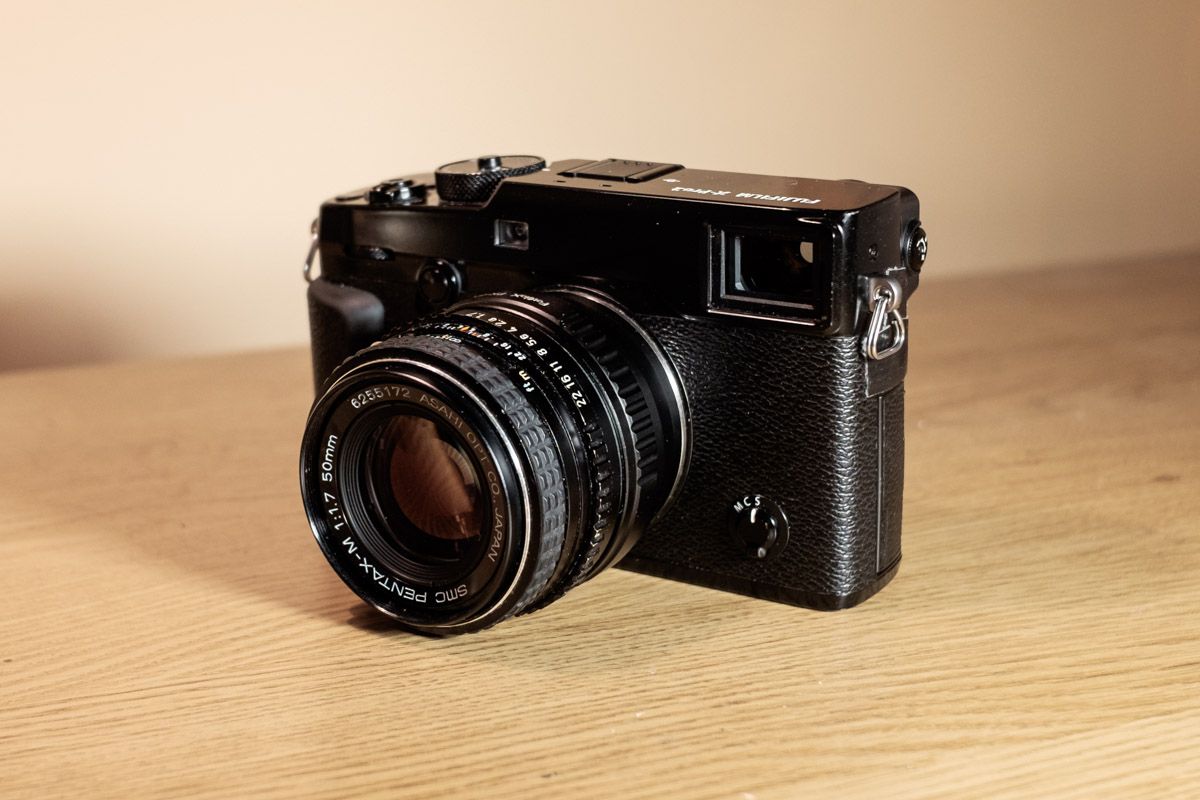 Lenses
Samyang 12mm f/2. This X-mount manual superwide prime lens excels at landscape and astrophotography.
Fujinon XF 23mm f/2. A reasonably fast, reasonably wide and weather-sealed prime. A workhorse for mountain photography and many other tasks.
Fujinon XF 18-55 f/2.8-4.0. The boring 'utility zoom'. It's actually a great lens capable of very good results. Sometimes it's the only lens I carry.
Pentax-M 50mm f/1.7. A vintage Pentax manual lens I've had for years. I don't take it on the hill, but it's great for the occasional portrait or fun personal stuff. Soft but full of character at maximum aperture. I use a Fotodiox adapter to mount K-mount lenses on the X-Pro2.
Fujinon XC 50-230 f/4.5-6.7. On the occasions when I need a genuine telephoto – basic wildlife photography and tele landscape stuff – this gets the job done. The slow maximum aperture makes it mediocre for wildlife but it's actually a decent lens for landscape.
Other photography stuff
Adobe Lightroom. For image processing and photo organisation. It's slow on my computer but I couldn't function without it.
Pixelmator. I find Photoshop overwhelmingly complex and bloated for my needs.
Lowepro Nova 170 AW camera bag. My latest in a lengthy quest to find a waterproof camera bag for tough mountain conditions. I like the large capacity, easy access, and all-weather cover.
Pedco Ultrapod II compact tripod. A miniature (~113g) tripod used for ultralight backpacking – or, more often, as a lighting support for product photography.
Slik Compact II tripod. A bigger tripod – still very light at 513g, but offering much more height than the Ultrapod.
Vanguard VEO 235AB. My biggest tripod, weighing a hefty 1.5kg but offering far greater stability.
LED Video Light. I don't even know the brand (it was cheap from Amazon) but I use this for basic video and product lighting.
Røde VideoMicro shotgun microphone. For my occasional forays into video.
---