Winter Mountaineering – a tale to make you laugh!
Weather in the glen:
Superb winter mountaineering conditions this morning deteriorated around 1pm. Severe gales and torrential rain setting in for a few days.
Today before work I went for a quick romp up Dinnertime Buttress on Aonach Dubh–at least, that's what I had planned! Due to the dusting of snow I could see on the tops I packed my ice axe. It's lucky that I did!
I legged it up the lower half of Dinnertime Buttress in record time, practically fell-running to be honest as I had to be back in work by 12. When the climb began I could not find the easy Grade 1 variation so instead climbed a rather hard, smooth chimney (perhaps Moderate). This was to prove a mistake later on.
I topped out on the ridge in deep snow. Stob Coire nan Lochan ahead was in the full splendour of Scottish winter conditions, with a foot of snow, frozen hard above 1000m, and significant riming on the rocks. Turf was also frozen above 1000m. I dashed up the ridge, only having to slow when the steep terrain and hard snow necessitated the odd bit of step-cutting (crampons wouldn't have made too much difference here due to all the boulders).
Shortly after arriving on the summit, I saw a lone walker who was obviously lost, poorly-equipped and very scared. The temperature with wind-chill accounted for was probably -10 C, yet this chap was wearing one of those lightweight polythene ponchos and trainers. He had no spare food, no map, and no clear idea of what mountain he was on. After feeding him and having a chat I agreed to escort him to a point beneath the snow-line (one thousand feet below us). He brightened up considerably as we made progress. Securely-cut and stomped out steps seemed to boost his confidence although it must have been slippery work in trainers–I was wearing winter mountain boots.
If you are reading this blog entry, I didn't think to ask your name but I sincerely hope you got back to your car safely after we parted and I hope you haven't been put off the idea of mountain walking.
Unfortunately this considerable detour cost me 45 minutes and a thousand feet of re-ascent in order to start my descent back to Glencoe. By this time I decided to simply reverse Dinnertime Buttress as it is the most direct way from the summit to the Clachaig. I was hurrying and therefore did not take the time to find the easiest way off; I ended up downclimbing the difficult chimney I had done on the way up. I got wedged in the chimney and was unable to move for about an hour! It would have been hilarious if it wasn't so serious–in an effort to free myself I dropped my backpack down the cliff, which cartwheeled through 200ft of empty space into the depths of No.2 Gully. Oh dear!
Eventually some dubious combined tactics with my ice axe freed me from that stupid chimney, and after carefully downclimbing the steep final moves I went searching for my rucksack. I found it at the bottom of an enormous waterfall. Luckily the damage was minimal: a snapped end to my trekking pole, a missing buckle and Camelbak nozzle. Amazingly my camera was still working.
By the time I got back to the Clachaig I was almost three hours late for work! My muscles were burning from a lot of fell-running and strenuously trying to escape from the chimney. Luckily Jack is a climber too and understood the situation, so all was well, even though my being late was at least half my fault for rushing too much and not trying to find the safest way down the buttress.
Anyway–despite the minor epic on the way down it was an exceptionally good morning on the mountain. Just have a look at some of the pictures I took.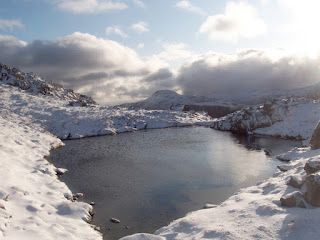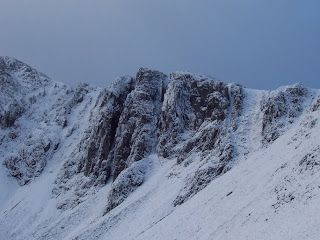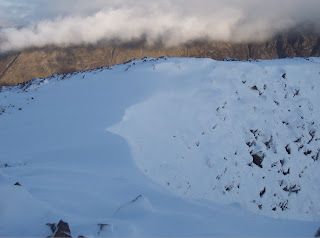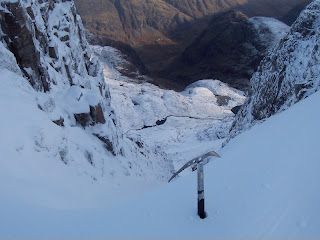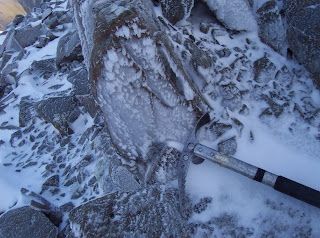 Alex Roddie Newsletter
Join the newsletter to receive the latest updates in your inbox.
Comments