Technology for writers, a second look
I promised (or threatened) this blog would have occasional articles about technology, didn't I? It may seem out of place given the Victorian subject matter, but I've always been fascinated by computers and I find that modern computing devices give the writer some frankly amazing abilities. I'm also a customer consultant at Carphone Warehouse so this is a special area of interest for me.
I first blogged on this topic in June, but I think my most important post on this subject was written in May, when I discussed the Post-PC revolution and how it affects writers. My setup has actually changed since then so I thought it might benefit other writers to hear about the system I'm currently using, and why I think it's the best way of streamlining your workflow for a writer who likes to move about.
The desktop PC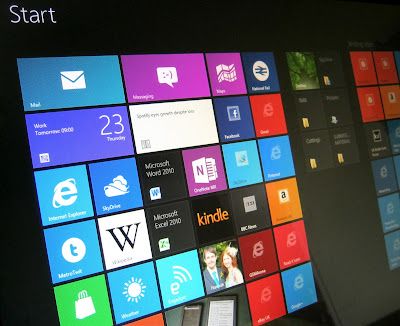 Windows 8 Metro interface. Except we're not allowed to call it
Metro any more…
According to Apple, the desktop PC is dead–and to this I say, long live the desktop PC! While the best technology now comes to tablets and smartphones first (the dominant class of computer for the majority of consumers), some of these goodies have at last started to trickle down to the clunking, venerable dinosaur most of us still have sat on a desk somewhere.
I have a Lenovo B520 with a 23 inch capacative touchscreen. This is basically a massive iPad that sits on your desk. Except that it can run Microsoft Office and be used for real work, and did I mention the absolutely massive screen? If you've assumed computers like this must be fabulously expensive, think again; I bought it new for a little over half the price of a new Apple Macbook.
And it runs Windows 8, which is a little jarring at first sight but works really well on a touchscreen device. Some people argue that vertical touchscreens don't work from an ergonomic standpoint, and if you're relying on touch for everything then that is true, but I find I end up using the mouse about 70% of the time and touch for the 30% of activities that are better done on screen (eg. scrolling, zooming, app switching, etc).
I used to use Dropbox for folder synchronisation, but Microsoft have done some amazing things with their Skydrive service so now I use that instead. Plus it works really well with my phone.
Smartphone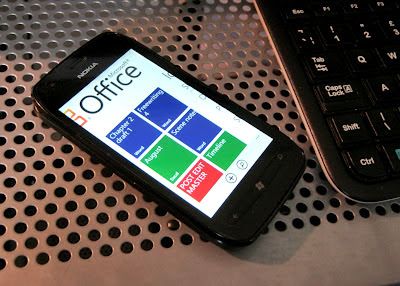 Nokia 710 running Windows Phone 7.5. Microsoft Office Mobile pictured.
Finally document editing on a smartphone is actually usable.
At the time of my last writing on this subject, I had just got my Nokia 710 and was still using Dropbox. It worked ok with Dropbox, but now that I've transferred everything to Skydrive I find everything works far more smoothly. It integrates directly with Microsoft Office–an excellent text editor–and makes working on a document on either your phone or PC a seamless experience.
I can create a chapter on my PC, write a couple of thousand words, go to work, and then write some more on my phone. I don't even have to think about it. Even better, the software necessary to do this is actually pre-installed on the phone.
Windows Phone is about to undergo a revolution when the new version 8 comes out in a couple of months. Sadly current devices will only be upgraded to version 7.8, but even 7.5 is miles ahead of the Android and Apple competition (in fact, the iPhone is starting to look rather ancient and old-fashioned in comparison!)
Ultra-simple portable writing device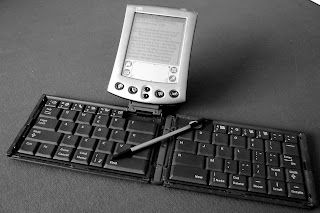 Palm m500, built over a decade ago and still going strong.
I have previously raved about this device and all my previous points still stand. This machine is the simplest possible computer you can use for writing, which is wonderful because it is totally distraction free (no Twitter or Facebook!) and the battery lasts for weeks. That's because it runs on a processor so puny that quite a few modern wristwatches are more powerful.
I find it brilliant for taking camping, or getting out of the house and writing when inspiration strikes and I don't want to be distracted. However, its powers are limited to churning out words and the most basic editing tasks only.
Netbook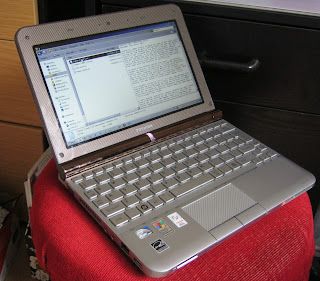 It's less powerful than my phone!
Recently I've been working on getting my novel ready for publication, a process which has involved a lot of heavy editing and emailing: processes which you really need a decent keyboard and a large screen to do. While my desktop PC is more than capable, sometimes I'm not at my desk and I often like to work in the local library on my days off.
I decided to buy the cheapest netbook I could find, and located this old Toshiba on Ebay for well under a hundred pounds. It runs Windows 7 and Microsoft Office, and connects with my Skydrive, so that's all I really need it for. It is, however, quite a lot less powerful in terms of raw horsepower than my Nokia!
Kindle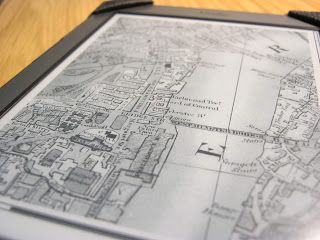 E-ink is wonderful
Finally, my Kindle, in addition to being the repository for hundreds of books, is also a powerful editing tool. When editing material I like to beam it to my Kindle and read it on the e-ink screen, as it simulates the experience of reading on paper and I often catch errors I would never notice on a computer monitor.
So that's the setup: built around Microsoft's cloud service Skydrive, which instantly propagates my files to any device I need to access them from. But is storing your files in the cloud safe? Possibly, possibly not; the jury is still out. My backup plan is constructed to survive even a complete failure of Skydrive. I have two external hard disks, one of which mirrors my internal PC hard drive every day. The smaller one captures any changes I make to the Skydrive folder and keeps a permanent offline copy. In addition to my sporadic USB thumb drive backups, this means that even if my Skydrive account is erased and my PC's hard drive is destroyed, I will always have at least one current offline copy I can access: it really is the only way to be safe, given the security risks of cloud computing.
Alex Roddie Newsletter
Join the newsletter to receive the latest updates in your inbox.
Comments