Autumn snowcraft on Stob Coire nan Lochan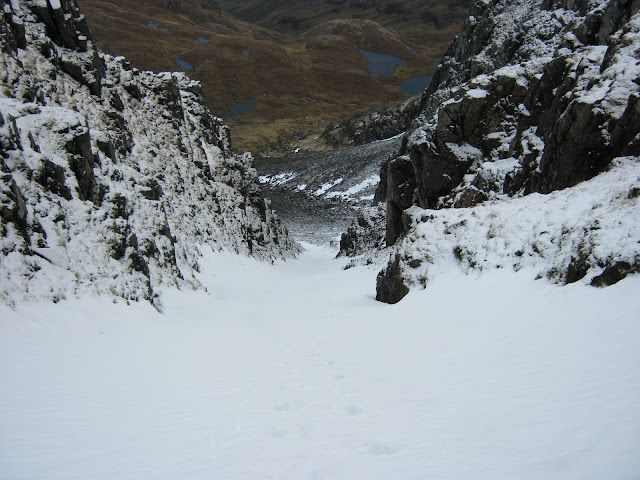 Broad Gully: one of the easiest snow routes in Glencoe.
It didn't feel much like winter today as I marched up the steep path towards Coire nan Lochan. Clear and dry unlike the day before, it actually felt rather warm and, sheltered from the cold wind, I was obliged to take off my coat and walk in shirtsleeves.
I was gambling on the theory that, with the overnight drop in temperatures, the last remaining snow couloir in Coire nan Lochan (Broad Gully) would have frozen solid and be suitable for climbing. A little fresh snow had fallen overnight but it only added a cosmetic dusting to the crags; not a single other winter route was in condition, and most were entirely bare.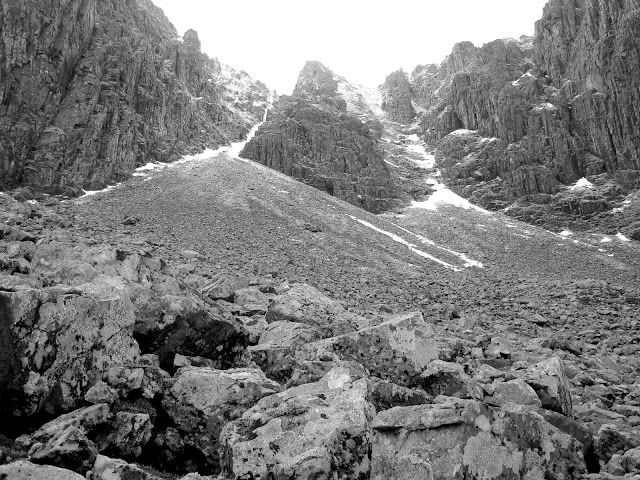 The bouldery approach
I'm used to the approach to the crags being on steep snow from the many occasions I have climbed here in the winter. On this occasion I walked over a field of giant boulders, icy and slippery, which moved and slithered away beneath my feet. I reached the snow gladly and was very relieved to discover it was lovely and firm, thanks to a thick crust of frozen stuff on top of the granular snow beneath.
I considered progressing without crampons and simply cutting steps where required, but unfortunately I wasn't wearing my nailed boots so decided that wearing crampons would be prudent.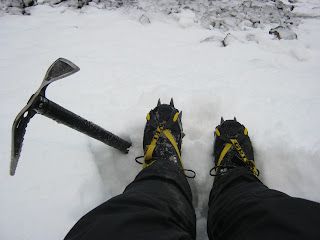 I blasted up the gully pretty quickly. In an ideal world I would climb this kind of route the old-fashioned way, with a long traditional axe and nailed boots, cutting steps and taking my time. Unfortunately I had not brought any of my Victorian gear on this trip; it's heavy and I only had limited pack space! The modern way of climbing steep snow always feels rather soulless to me in comparison, but then again it is efficient and safe (and works well on a variety of terrain, unlike step-cutting).
At the top of the mountain I was greeted by a frigid blast of wind, and a view of Bidean nam Bian's precipitous crags. None of the snow couloirs on Bidean survived the thaw, surprisingly; even Great Gully was reduced to mere patches.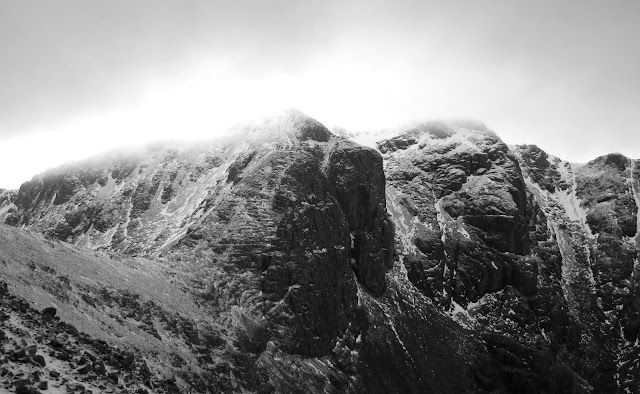 L to R: NE Face, Diamond Buttress, Church Door Buttress, Great Gully, Bidean West Peak.
I descended Coire nan Lochan at a leisurely pace and made it back to the Clachaig at dusk. Today wasn't a particularly unusual day on the hill for me–I have after all climbed Broad Gully several times–but it's always great to be out in nice weather, and it felt good to give my winter gear a proper outing for the first time since February!
The weather forecast for tomorrow is dire, so I will be staying in the pub and writing.
Alex Roddie Newsletter
Join the newsletter to receive the latest updates in your inbox.
Comments