"We should think about turning back."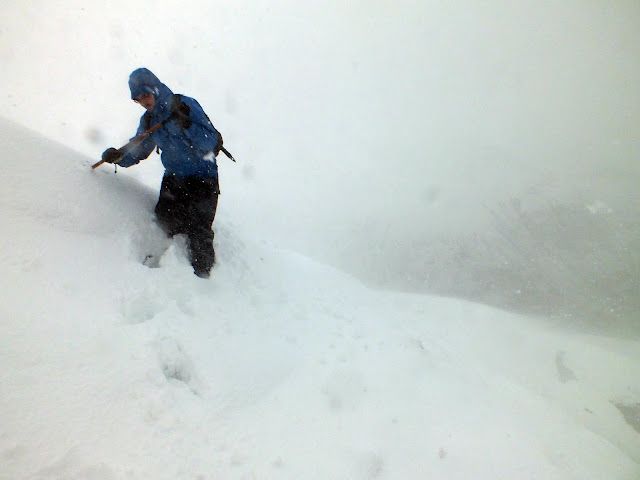 The author fighting through a drift of fresh snow
It's the last day of my holiday in Glencoe. The original plan was to get out on the hill with my brother James and Isi Oakley (now assistant manager at the Ice Factor). We used to climb a lot as a three back in 2009, and we had some great days out; I was looking forward to getting the old team back together. Unfortunately Isi was ill this morning so James and I struck out alone.
Our objective: Sgurr Eilde Mor, the easternmost of a chain of mountains known as the Mamores, which tower above Kinlochleven. Sgurr Eilde Mor is not one of the greatest of Scottish mountains; its summit is only 3,313 feet above sea level, a thousand feet lower than Ben Nevis. However, this peak has a special significance for me because it is one of the only mountains in the district that I never got round to climbing when I lived here.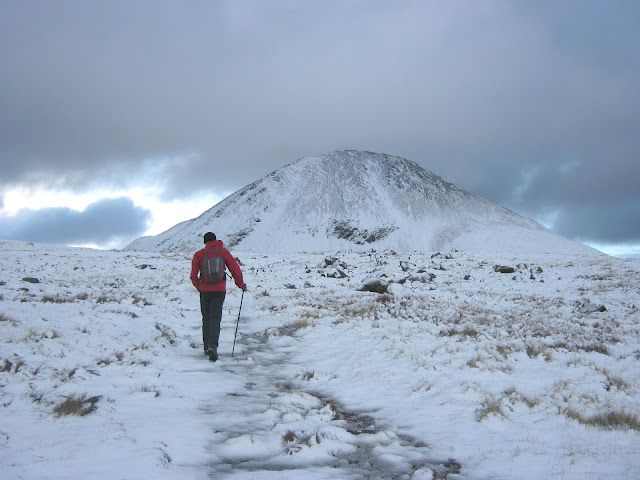 James on the approach to Sgurr Eilde Mor, before the blizzard hit.
The weather was actually pretty good on the approach, and we made excellent time. We hit the snowline at roughly 650m, but it was very thin and slushy at first, only gradually increasing in depth. Some slopes were scoured; others were drifted deep.
Then an absolutely huge and very dark cloud overtook us within a matter of minutes.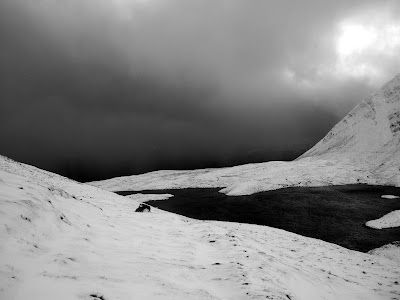 "I think it might be about to snow."
As we climbed up to the ridge, the wind increased in strength until it was bodily pushing us up the slope. Volleys of hail, graupel and sticky snow battered us. Our footprints began to fill in, and when we reached the ridge itself we were hit by the strongest gusts I have ever experienced in the mountains. I found it impossible to stand upright and had to bend double, leaning against my stick, to maintain contact with the slope; James took off several times and was flailing all over the place.
Making progress against such ferocious weather was simply impossible. There was a very real danger of being swept off the ridge and into the void. We made an instant decision to turn back.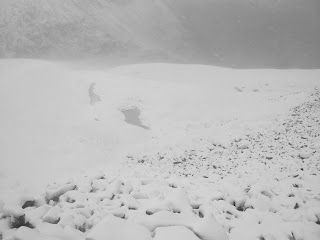 The descent was difficult enough in its own right, as the wind was trying to blow us back up the mountain. We both suffered from hail stinging our eyes, and we stumbled around like a pair of drunks, hopelessly leaning on our sticks and trying not to fall into holes between boulders. The snowdrifts in the gullies had grown monstrous and required wading.
Eventually we crossed the col and out of the wind. As we descended the snow turned to rain, and we got steadily drenched as we returned to base. Although we failed to reach the summit of our mountain–by only a couple of hundred feet!–it was good to get out on the hill in proper winter conditions again.
It looks like things are about to get very cold and snowy over the Highlands in the coming weeks. I will be returning home tomorrow morning, but it's been a great trip and it has injected a new dose of enthusiasm into my mountain writing. I can't wait to come back in January for some more Scottish winter climbing.
Alex Roddie Newsletter
Join the newsletter to receive the latest updates in your inbox.
Comments