The mountains of my life – Bowfell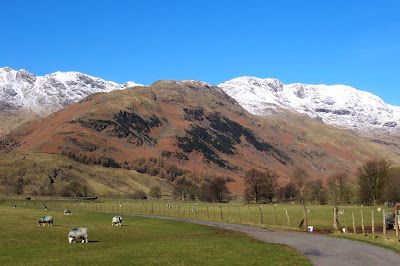 There's a folder on my hard disk called "Pictures". Everybody has one like it. The humble Pictures folder may be an utterly ordinary part of modern life, but I also think it's one of life's under-appreciated wonders. Delve into that folder and you will relive old memories; it can bring experiences to life in an immediate and personal way that would have been impossible twenty years ago.
Nineteen gigabytes of digital information have been treasured and transferred from computer to computer for eleven years. As I sift through the thousands upon thousands of images I find certain sequences that stand above the others in my memory: usually significant mountain peaks that symbolise a period in my life, a state of mind, or an emotion. It's possible for a mountain to make such an impression after only one visit, but often one has to climb it many times over a number of years, in all seasons, to build up a real relationship with a hill.
In this series of blog posts I will explore some of these mountains, share the photos from my archives, and try to explain why they are special.
Bowfell, located in Great Langdale in the Lake District, is one of those mountains. At 902m/2959ft, it is a relatively small peak by British standards, but for me it represents a significant turning point. It was the first 'big hill' I tackled in my emerging hillwalking career back in 2005, and I have returned to it countless times since. In this blog post I will mention four of the most memorable visits I have made to this fine mountain.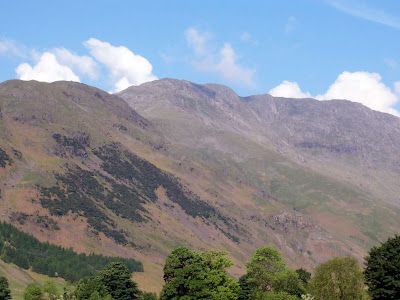 Bowfell in May 2005
May 2005


At the time I was very inexperienced in the mountains, although I had done a fair bit of low-level walking and backpacking. In May 2005 I packed my rucksack and spent twenty days alone in the Lake District, touring the region and climbing as many fells as I possibly could. After starting in Coniston I walked through Elterwater and along the length of Langdale. Seeing the mountains begin to emerge at the dalehead–huge, rocky mountains!–was a profoundly transformative experience for me, and I remember a distinct moment of revelation as I witnessed the rugged peaks breaking above pastoral beauty in the valley beneath. Even then, I knew this was the start of something very special.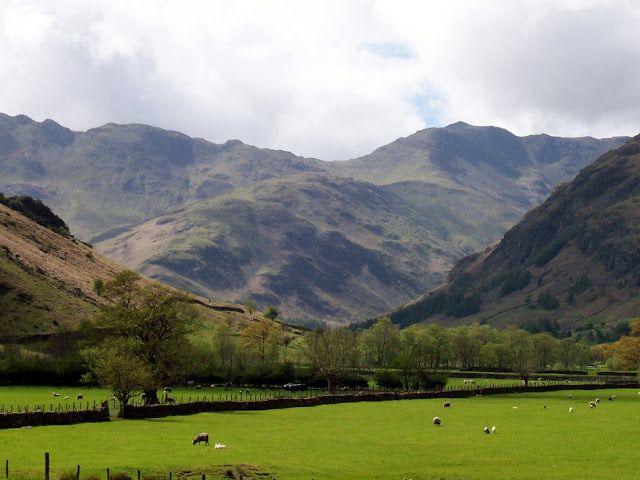 I spent several days in Langdale climbing the smaller hills, Cold Pike, Pike o'Blisco, the Langdale Pikes, the Crinkle Crags. Bowfell had lodged itself in my mind as a significant objective and milestone. I set foot on the lower slopes on the 11th of May, climbing by way of the Band and the Climber's Traverse.
It was a good choice for a first big hill. The Band was an easy route of ascent with splendid views fore and aft, but the Climber's Traverse suggested heroic difficulties. It proved to be an easy path winding its way between mountain crags (indescribably Romantic and impossible-looking to my young eyes) and a yawning void.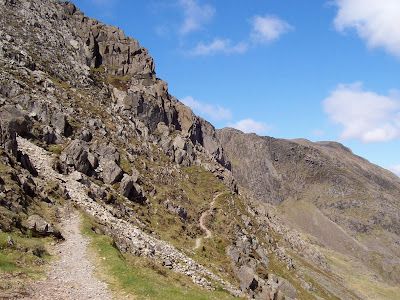 The Climber's Traverse
The summit, obtained via a 'River of Boulders' next to an enormous slab of rock, was duly obtained and the lovely views enjoyed. I felt like a proper hillwalker at last and was completely hooked.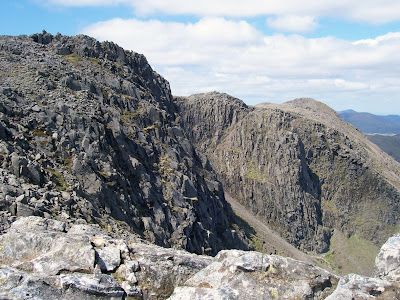 Crags of Bowfell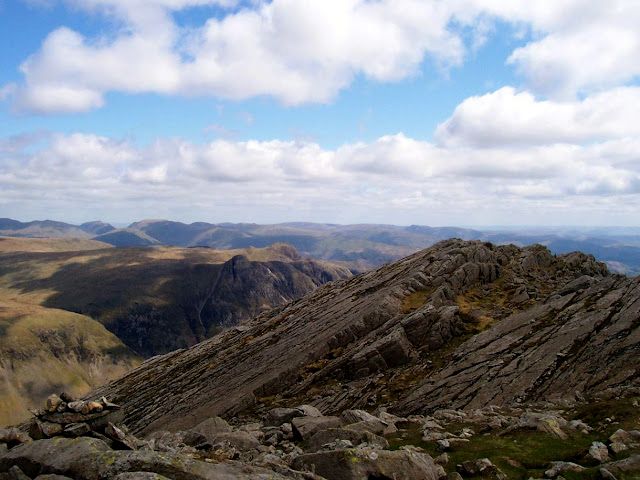 Summit of Bowfell and the Great Slab
April 2006


April 2006 stands out as my first (and, to date only) winter mountaineering trip to the Lake District. My brother James and I visited during a spell that coincided with a late-season cold snap, and we enjoyed several snowy climbs with ice axe and crampons. Our ascent of Bowfell was, for both of us, our first genuine winter mountaineering day out.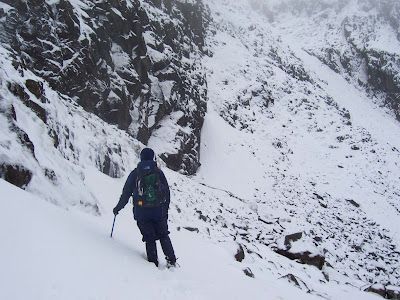 Me on the Climber's Traverse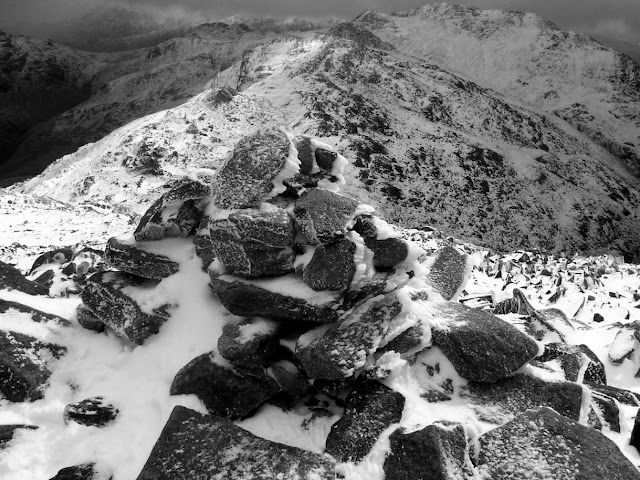 The summit cairn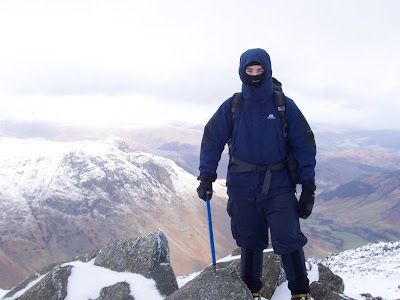 The first of many summit shots in winter conditions!
I wore Grivel G10 crampons and Scarpa SL boots, a decent enough combination for walking but I soon outgrew the bendy boots and got myself some Mantas for more serious climbing. James wore Brasher walking boots and 'ice gripper' crampons, wildly unsuitable for the terrain but as I recall he was reluctant to invest in proper claws–until after our Bowfell ascent! It was certainly a learning experience for us both, but it opened the door to years of enjoyment.
June 2006


A few months later I was back in Langdale, homesick for my favourite valley. The first evening of my trip was blighted by a disaster: I took a huge fall while scrambling alone on Side Pike. I had been trying to climb something too difficult for me (wearing walking boots, foolishly) and to my surprise found myself lying on a rock forty feet below the hold I had just let go of. The muscles and tendons in my lower back were heavily bruised, but by some miracle I avoided a snapped spine. I hobbled back down to my tent and spent a very painful night in my sleeping bag.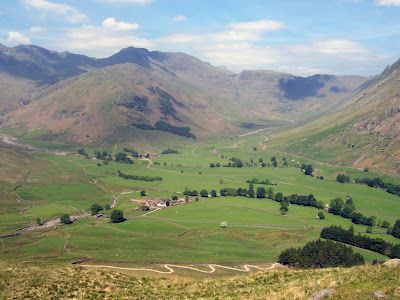 View of the mountain from Side Pike
I can't quite put myself back into that frame of mind. The logical course would be to pack my bags and head home to medical assistance, but I simply continued as if nothing had happened. The next day I climbed the Pike Howe route in the Langdale Pikes (a Grade 2 scramble), and felt myself gripped by the fear of falling on several occasions. The accident caused permanent damage to my 'climbing head', the mental state all climbers rely on to avoid fear when climbing, and to this day the memory of that fall affects my decision-making.
I climbed Bowfell the next day, bent double from agonising pain my back but absolutely determined to enjoy myself. The beautifully hot and sunny weather contrasted with my turblent state of mind and I can't remember much from the ascent.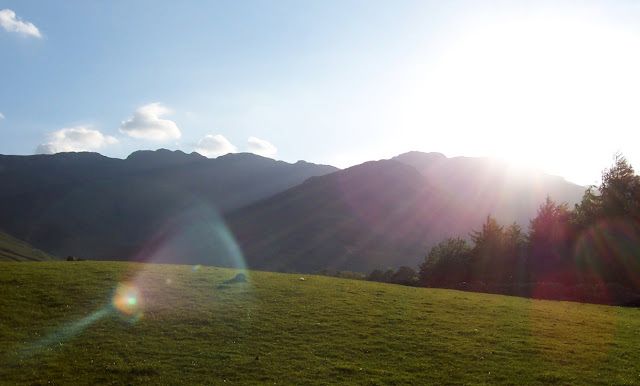 Crinkle Crags and Bowfell from the meadow behind the campsite
February 2007


At this time I was a member of the UEA Fell and Mountaineering Club. Our trips to the hills were great fun, characterised by nights in remote huts, entertaining ourselves with whatever bizarre games we could make up on the spot (on one occasion involving huge numbers of spoons). Card games and table bouldering where staples of such evenings. This was before smartphones and other mobile internet devices became commonplace; nowadays hut nights are eerily silent affairs, lit by dozens of miniature computer screens. I'm often the first to promote the benefits of smartphones, but even I have to admit they have killed off something special about communal mountaineering trips.
In February 2007 we were staying at a hut near Grasmere (I forget exactly where). We planned a giant stomp over the mountains, beginning in Coniston, crossing the entire Coniston massif (the Old Man, Brim Fell, Swirl How, Wetherlam) and then crossing over into Langdale (taking in Pike o'Blisco and the Crinkle Crags). The weather was miserable for most of the walk: hovering just above freezing, a biting wind, persistent low cloud, rain.
We passed just beneath the summit of Bowfell, invisible in the shadows above, and descended the Band. All of us were weary after many damp miles on foot, and although we were looking forward to a well-deserved pint at the Old Dungeon Ghyll at the end of our voyage, our collective gaze turned upwards as we thought about the summit we would not climb today. Sometimes it is almost as rewarding to revisit a mountain of long acquaintance but not stand on the summit–to look but not to touch–than it is to make the ascent complete. In these oblique visits one gets to know a mountain in a more intimate way; perhaps climbing an alternative route, or exploring the flanks, without being so focused on the highest point.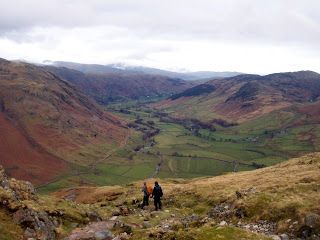 The descent to Langdale
So there you have it: my portrait of the first mountain in my life, Bowfell, jewel of Langdale. My next blog post in this series will explore a peak of an altogether different character: Tryfan.
Alex Roddie Newsletter
Join the newsletter to receive the latest updates in your inbox.
Comments