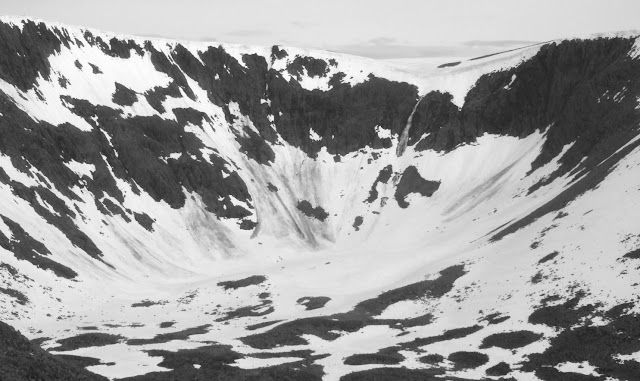 ~ Braeriach in May 2010 ~
Well, it's that time of year again! I've worked extremely hard this month to hit my (enormous) target at work, and as an author I've also made good progress, beating my previous record of Kindle sales in a month. I've been working flat out to get the bulk of draft material for The Forbes Challenge finished as well. Consequently I haven't had much time for blogging or online engagement with my readers, for which I apologise.
My annual summer holiday to the mountains is upon me, and this year I'm heading to Blair Atholl to begin an adventure into the heart of the Cairngorms. I shall be visiting many of the settings and mountains featured in The Forbes Challenge, mainly to renew my acquaintance with these places as it has been several years since I last set foot in the vast wilderness of the Cairngorm mountains. After a day out on Beinn a'Ghlo with my brother James on Sunday, I hope to strike out north up Glen Tilt towards Deeside … and from there I have no specific plan.
There's nothing I love more than solo backpacking expeditions in mountainous country, particularly a country as remote and surprising as the Cairngorms. I will hopefully be tweeting throughout my voyage, when phone signal allows, so if you don't follow me on Twitter already then that's the best way of keeping in touch with my adventures.
I'll see you in a week or so, hopefully with a suntan, a bunch of pictures, and some heroic stories to tell!
Alex Roddie Newsletter
Join the newsletter to receive the latest updates in your inbox.
Comments