Book Spotlight – The Summits of Modern Man by Peter Hansen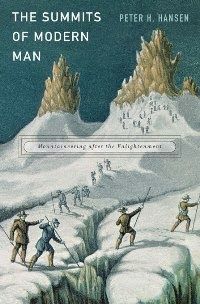 by Peter H. Hansen
I have a confession to make. The author of this book was kind enough to send me a review copy some time ago, but it has been a busy summer and I've only recently got round to reading it.
I was attracted to this book by the subject: a scholarly analysis of mountaineering in the context of Enlightenment, Romanticism, and modernity. These four concepts are tightly interwoven, and Hansen's objective is to analyse their relationships fully.
I'm about halfway through, and while I initially found the writing dry – it is a scholarly work, after all, not for mass appeal – I was drawn in by details of mountaineering history I have never seen elsewhere. The insights are very revealing and have forced me to look at facts I thought I understood in a new light.
This is not a book for those new to the subject. To the general reader I commend Mountains of the Mind by Robert Macfarlane. The Summits of Modern Man, by contrast, is for the dedicated student of mountaineering history who has read all the standard works and wants a deeper understanding.
I will be writing a full review when I have finished reading this very interesting book.
Alex Roddie Newsletter
Join the newsletter to receive the latest updates in your inbox.
Comments