Cape Wrath Trail Gear List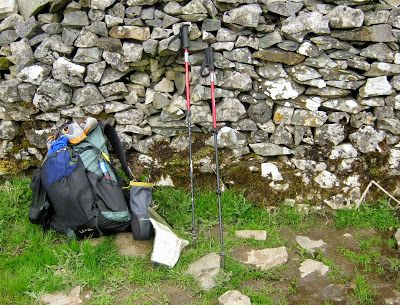 Regular readers will be aware that I'm planning to hike the Cape Wrath Trail in June this year. I've already blogged about my preparations, but my gear list has changed a few times over the last month so, due also to several requests on Twitter, I thought I'd post my final gear list.
I daresay I may make some last-minute adjustments – I've just been recommended to buy some waterproof socks, for example, although the consensus is that they aren't worth it – but I think this is now pretty much final.
I'm new to lightweight backpacking, and if I had done this walk a year ago the list would look very different (and probably about five kilos heavier). Still, I'm holding on to a few luxury items. The big one is probably the second pair of shoes. Trail shoes have been a revelation, but I'm not quite confident enough to embark on a 250-mile journey with a single pair of flimsy-looking shoes that might fall to bits before the end of it. I'm prone to having problems due to wet feet so carrying Goretex shoes is also a psychological crutch, although I intend to do most of the walking in my Inov-8 Roclite 295 shoes.
Overall I have achieved a base weight of 8.7kg, which I'm pretty happy with, and I think this kit will cope with everything the trail can throw at me.
Edit 10/02/2016 here is a new link to the list
Alex Roddie Newsletter
Join the newsletter to receive the latest updates in your inbox.
Comments