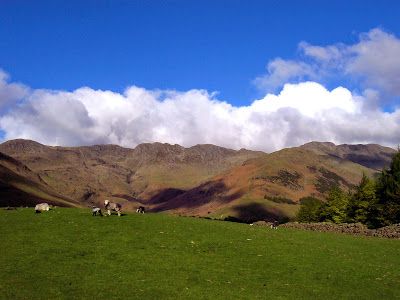 Ten years ago right now — at precisely 11 a.m. on May the 5th, 2005 — I was taking my first steps on an amazing journey. At the time it didn't feel like very much, but in a very real sense that journey continues to this day, and maybe I never left the trail at all.
Background


Between 2002 and 2005 I was a lowland walker. I walked hundreds of miles through the forests, across the heaths and along the coastlines of Suffolk, but I only rarely ventured into the hills. I was not a hillwalker, although I wanted to be one.
In late 2005 I had a place at the University of East Anglia coming up, and I had the idea that this would spell the end of my wanderings. I wanted to do one last big trip while I still could. The trip acquired a code name: the terminal trek. I planned to do a hell of a lot of walking and visit the tops of as many Lakeland fells as possible in twenty days, transforming myself from a rambler to a hillwalker in the process.
So, on the 5th of May 2005, I found myself slogging up the Walna Scar Pass towards Dow Crag in horizontal rain and 40 mph winds. I had a cheap non-breathable waterproof coat, a decidedly non-waterproof rucksack, and had never heard of gaiters.
Say hello to the eighteen-year-old Alex Roddie: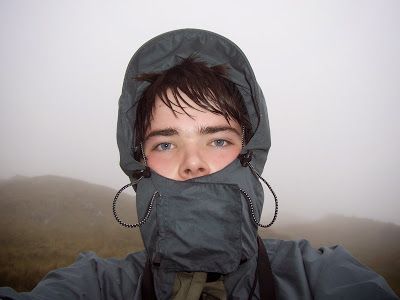 Are we nearly there yet?
I climbed Dow Crag and Coniston Old Man, but didn't see so much as a hint of a view. Nevertheless, I had climbed a couple of decent mountains, and despite being a little knackered the next day I had the sense that something had changed in me. I was awakening.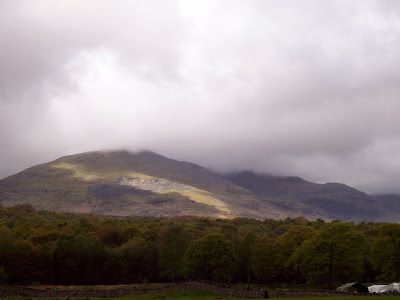 View of the mountain from my camp
My journal entry for the next morning reads as follows:
Another very cold morning. Most of my clothes are still damp, which means I am forced to stay inside my sleeping bag to keep warm. My boots are the real problem: a lot of water got into them by the ankle cuffs yesterday, and they haven't dried out yet. How am I supposed to go anywhere if my boots are wet? I can't risk getting these socks wet as well. I only have another five spare pairs.
It makes me smile. It was, of course, the first step of a long learning process in the mountains, and ten years later I'm still learning.
May started cold and wet that year. Over the following week I frequently encountered torrential rain, sleet, snow, the lot — more like April in Scotland. Nevertheless, the weather did improve, and I moved my base of operations into Langdale.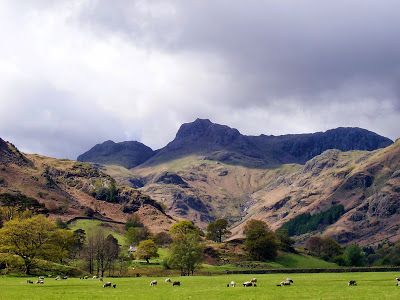 The Langdale Pikes
I had never been to Langdale before, and I fell in love with the valley immediately. I climbed virtually all of the Langdale fells on various days, starting off with Pike o'Blisco and Cold Pike, gradually building up to an ascent of Bowfell on my final Langdale day. Clawing up the River of Boulders made me feel like a proper climber. But I could see bigger and better things in the distance.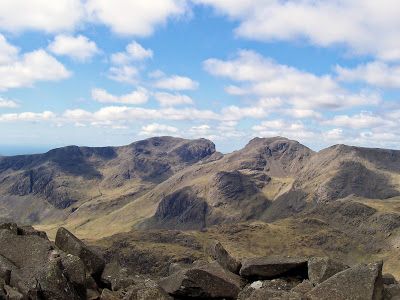 My first glimpse of the Scafells
I crossed Rossett Pass and loved the comparatively wild terrain on the other side. As I picked my way across the barren land beneath Great End, I pretended the motorway of a path wasn't there and imagined myself in pristine wilderness. Of course, droves of people on their way up Scafell Pike did spoil the illusion somewhat, but for the first time in my life that unmistakable frisson of wild coursed through my mind. This was a place where the human scale of things became utterly unimportant, and existence danced to an older and grander tune.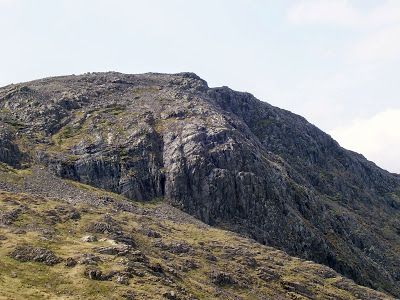 Great End
I descended the delightfully quiet Valley Route into Wasdale, a place I already knew and loved from previous family holidays. But this time I was alone, and I was there to climb mountains. The craggy bastions of the fells took on a grander and more noble appearance. I imagined myself at last on the summit of Great Gable, on the summit of Scafell Pike.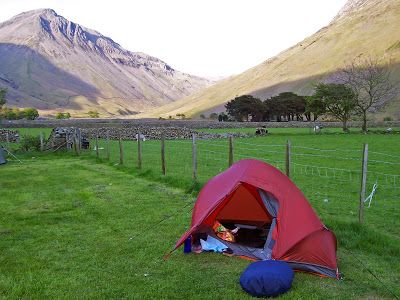 Base camp at the Barn Door Shop Campsite, Wasdale Head. This tent was
a TNF Particle 13 — not a bad tent, but heavy by modern standards
and tricky to get a perfect pitch.
I had a great time in Wasdale. My first day out took me over Whin Rigg and Illgill Head, and I marvelled at the blueness of Wastwater when viewed from a couple of thousand feet up. I climbed Great Gable on Friday the 13th of May and it was the best day of my life up until that point. The Climber's Traverse was a great introduction to easy scrambling, and the day as a whole was quite simply the perfect hillwalking experience.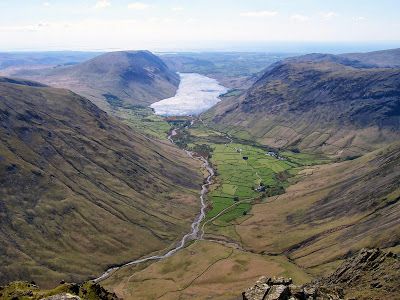 View from the Westmorland Cairn
Over the following days I climbed Red Pike, Scoat Fell, Steeple, Pillar, Lingmell, Scafell, and Scafell Pike. It was a hell of a weak, and the only low point was breaking my camera on the final day.
How the trip changed me


Looking at the numbers, the trip was nothing spectacular. In twenty days I climbed twenty fells and walked 160 miles — certainly no marathon. However, this trip was greater than the sum of its parts, and in the course of those twenty days I fully transitioned from a lowland walker to a hillwalker. The experience was profound, and many of the lessons I learned in that month still yield benefits today.
So was it the 'terminal trek', as I feared at the time? Absolutely not. It was not the end. It was the beginning — the first step along a bigger trail and a better path.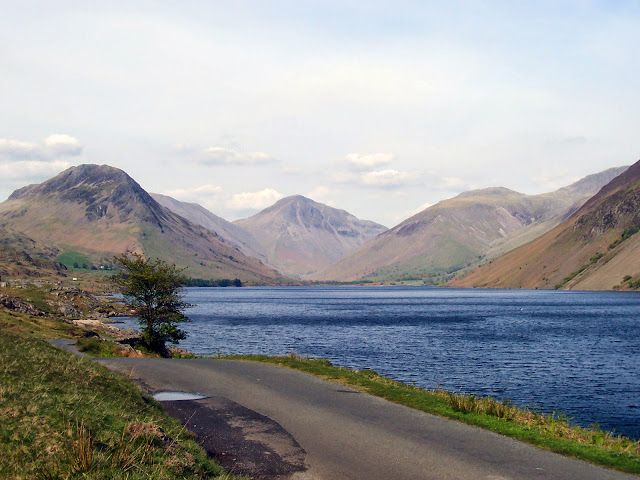 Alex Roddie Newsletter
Join the newsletter to receive the latest updates in your inbox.
Comments