ViewRanger Skyline – first look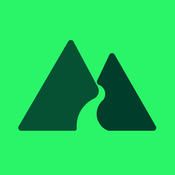 ViewRanger is a digital navigation app for smartphones and tablets. It's been around for years, and is one of the most mature solutions of its kind, but recently they launched a new augmented-reality feature – Skyline. Here are my first impressions of this potentially very useful new feature.
Skyline brings a stunning new view to outdoor maps and GPS navigation … Skyline uses the camera on your mobile device to instantly identify and label landscape features up to 20 miles away, transforming your traditional 2D map with augmented reality.
I know, I know – you might be forgiven for thinking it sounds a bit like a gimmick. But hear me out. This is more than just a headline-grabbing but throwaway feature with no practical application – it's genuinely useful. Is it 'Outdoor Navigation Reinvented', as ViewRanger claims? Until we have waterproof VR goggles with 48-hour battery life suitable for use in the hills, I'd say no, but until that day comes it could still be a very handy extra feature.
Note: At the time of writing, Skyline is iOS-only. The Android version is in beta.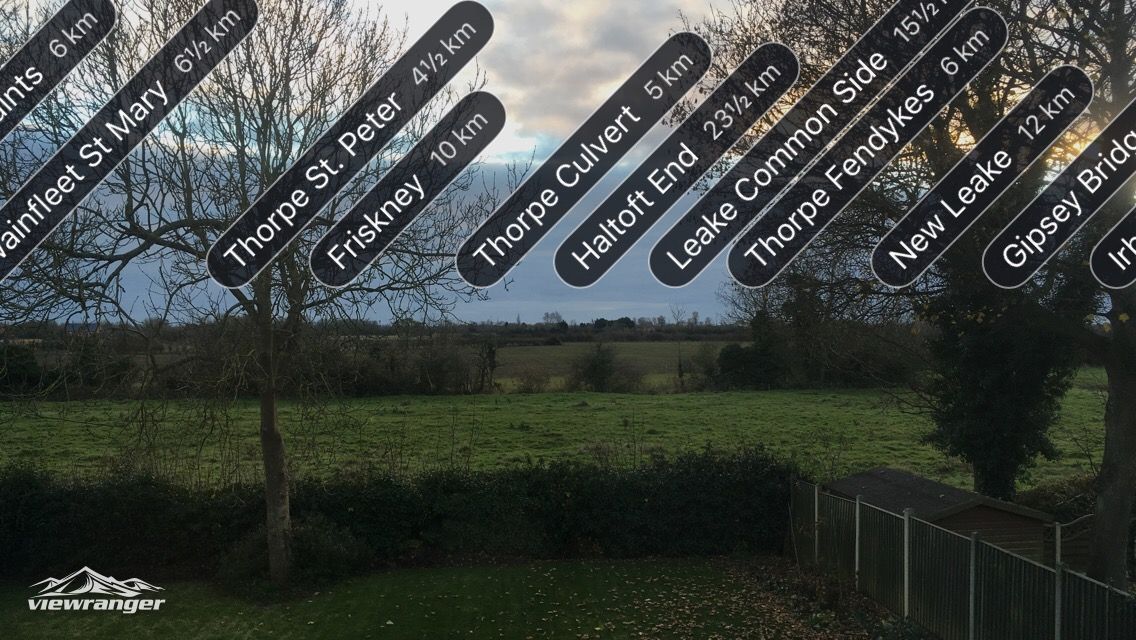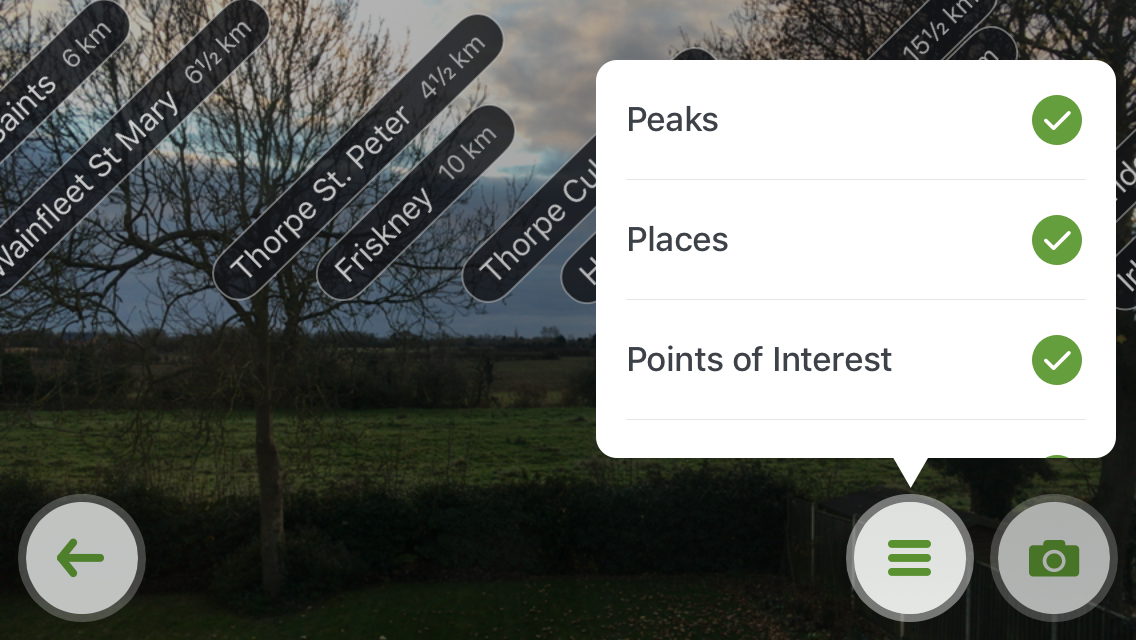 The idea is that you raise your smartphone to take in the view with its camera, and the software computes distances and angles to surrounding viewpoints, which are then superimposed on the image as small tags. In the mountains, summits are identified by label. You know what that means? No more sitting on a mountain top idly wondering the names of the peaks that surround you – there's no excuse for ignorance any more!1
By default, Skyline shows peaks, places, and points of interest. These include user waypoints, although at the moment there seems to be no way of fine-tuning which waypoints appear – so if you have dozens or hundreds of waypoints surrounding you, the view could get cluttered. My hope is that this potential issue will be addressed in a future update. In any case, it isn't an issue for me as I rarely mark custom waypoints. Skyline also shows a live path when you're navigating a route.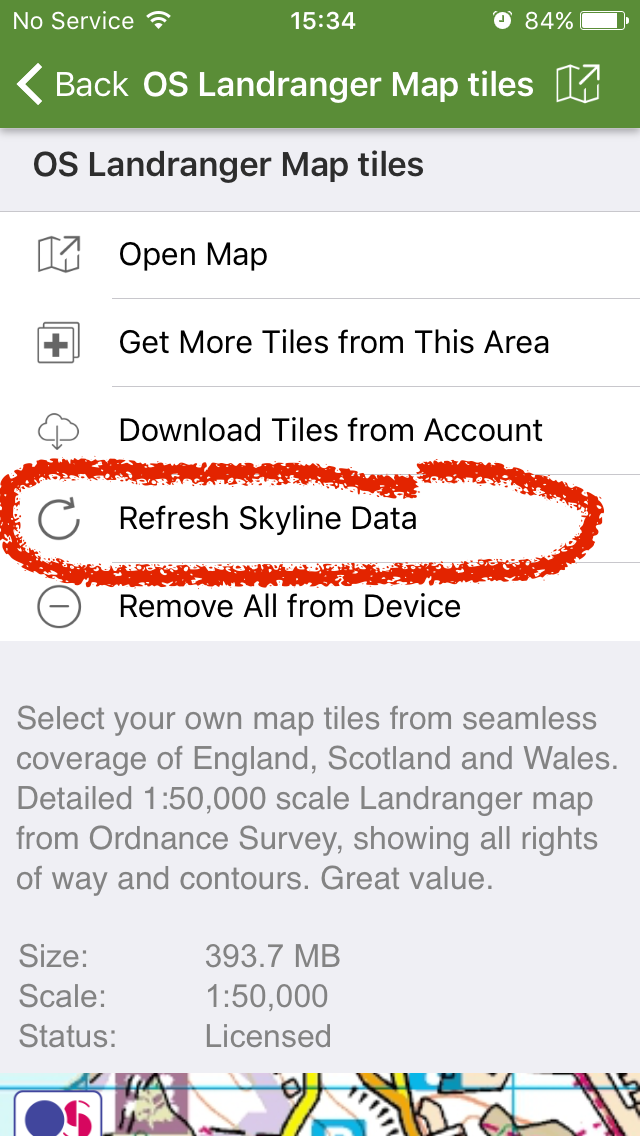 I had the opportunity to test Skyline out in the Cairngorms, and I can confirm that it works as promised. Once you have downloaded the necessary Skyline data2, you just tap the button, hold the camera up to eye level, and the waypoint labels are shown directly over the image. It's pretty straightforward and it seems to be very accurate. In appalling visibility on my way through the Lairig Ghru, it helped to orient me a few times, showing me where Braeriach and Cairn Toul were in relation to my position.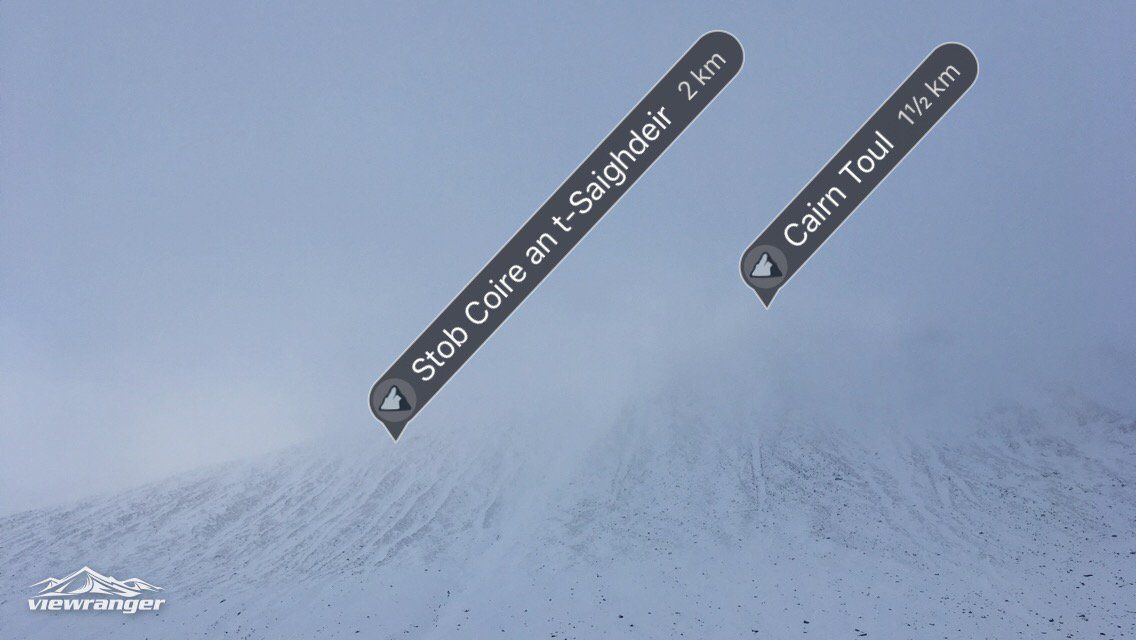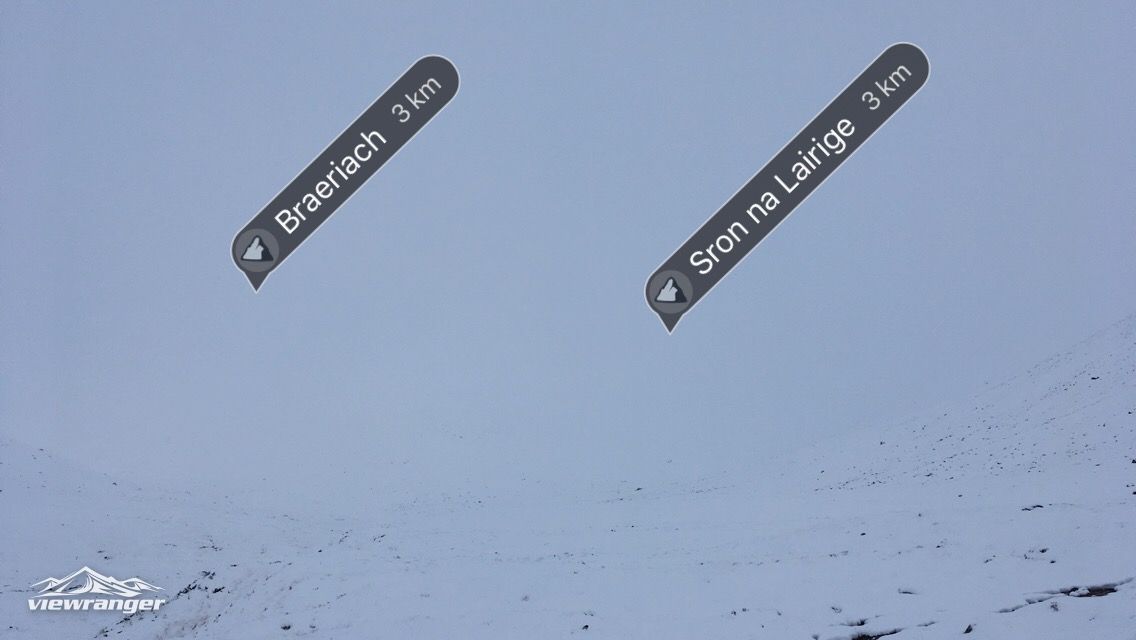 Of course, a compass is going to be more accurate and more reliable, but this is not a compass replacement – it's a tool for quick checks and for identifying nearby peaks. I suspect that Skyline accuracy will depend on the accuracy of the sensors on your device. iPhones and better Android devices tend to have highly accurate sensors; cheaper machines will vary.
On the comprehensive FAQ page, ViewRanger has this to say about Skyline accuracy:
If Skyline's peak labelling looks slightly off, there are two simple and effective ways to recalibrate your device. The first is to exit Skyline and switch back to the regular 2D map screen. If you then go back into Skyline, the labelling should be more accurate. The second is it to roll your device around in your hand for a few seconds, which usually has the same effect, allowing the labels to realign themselves with the landscape.
In my experience, this is pretty much the standard advice for all AR applications, going back as far as the original Google Sky Map. Modern devices are self-calibrating to an extent but you may still need to calibrate it yourself from time to time. I think that in a few short years we'll no longer see these small discrepancies in AR apps – the tech is maturing fast.
Something I'm not keen on is that you can't remove the Skyline button, which nudges the 'Options' button to the top right of the corner. On my small-screened iPhone SE, this takes up valuable screen space. I would like full control over the buttons that appear on screen at any given point. Additionally, using the Skyline feature drains your battery faster than regular ViewRanger use, because the camera and several sensors are active in addition to the GPS. However, it does work in Airplane Mode (which you should be using as a matter of course with ViewRanger to save battery life). You may notice a slight impact on your battery if you use it often throughout the day, but it isn't going to be a big factor.
Overall, I'm happy with this update. It doesn't replace the need to carry a map and compass, and it isn't the one thing that will stop you from getting lost, but it does give you more information to work with in a unique, highly visual way. I have been a ViewRanger customer for several years and I'm pleased that the product is constantly evolving in line with users' needs and expectations. If you spend time outdoors, it's quite simply the best smartphone app available.
Interview with ViewRanger
I was recently invited to contribute to the ViewRanger blog. You can read my interview here, in which I discuss wilderness, backpacking, and some of my recent adventures.
There is an argument that this is all part of the fun of hillwalking, and that having all the information all the time is against the spirit of things, but that's a subject for another essay. At this point, in late 2016, there are few practical reasons for refusing to use digital tools in the mountains – philosophical ones, perhaps, but that's up to the individual. ↩
This is basically metadata that comes bundled with each map tile. If you already have a library of map tiles on your device, it's a good idea to go to the map listing in the main menu and tap 'Refresh Skyline data'. This will ensure that Skyline can be used offline. ↩
Alex Roddie Newsletter
Join the newsletter to receive the latest updates in your inbox.
Comments