The final issue of Mountain Pro Magazine

Earlier this week, I was informed that Mountain Pro Magazine is closing down. The final issue is now out – as always, free to read online. Amongst other things, it includes two book reviews from me and a cracking bothy story from mountain writer John Burns.
Mountain Pro Magazine has always been a bit different from the mainstream outdoor press, in a good way. Digital-only, and run by a team of active and experienced mountain professionals, new issues always contain a great blend of in-depth content. They often publish quality work on mountaineering heritage, too, which caught my eye several years ago.
My first contribution came in October 2014: an extract from my novel The Atholl Expedition, accompanied by one of Catherine Speakman's superb illustrations. And in summer 2015, Mountain Pro published my first ever paid outdoor article. Combined with a handful of other pieces in UKH and TGO Magazine that year, Mountain Pro helped to establish me as a writer for the UK outdoor press.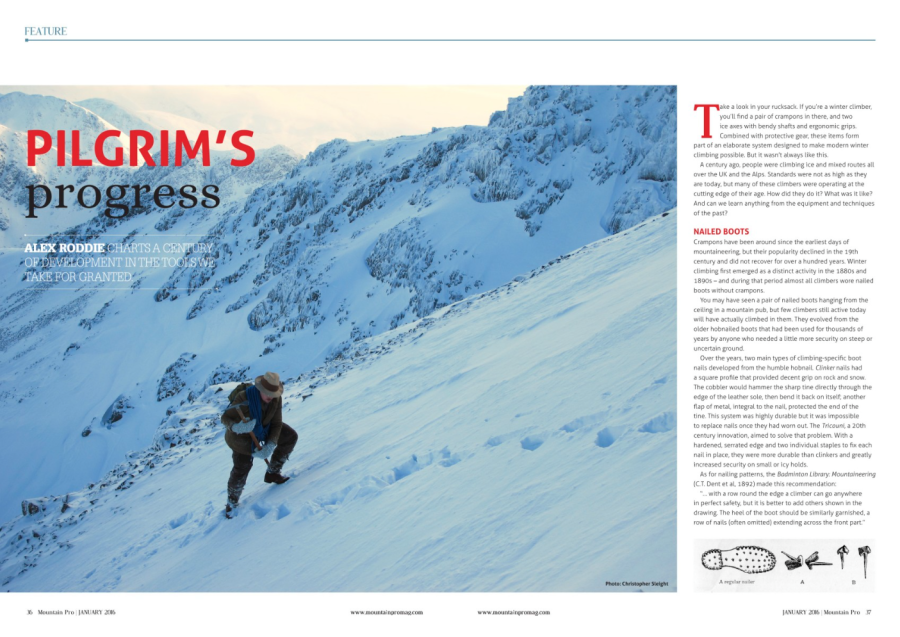 The final issue is a cracker. In addition to my reviews of A Mountain Before Breakfast by Alan Rowan and Mostly Mischief by H.W. Tilman, you'll find material on Alpine mountaineering, a great piece by Lucy Wallace on Nepal's first female mountain guide, splitboarding in Lofoten, Ben Nevis through the seasons, and a brilliant tale of bothy life by my friend and client John Burns. There's much more to enjoy too.
I think it's a shame that this great publication is closing down, and I'm very grateful to David Lintern, the editor, for publishing many of my scribblings over the last few years. Mountain Pro Magazine will be missed.
---
Alexroddie.com relies on support from readers like you. Please consider making a small donation on PayPal. Thank you!

Alex Roddie Newsletter
Join the newsletter to receive the latest updates in your inbox.
Comments