The big routes: Langdale Skyline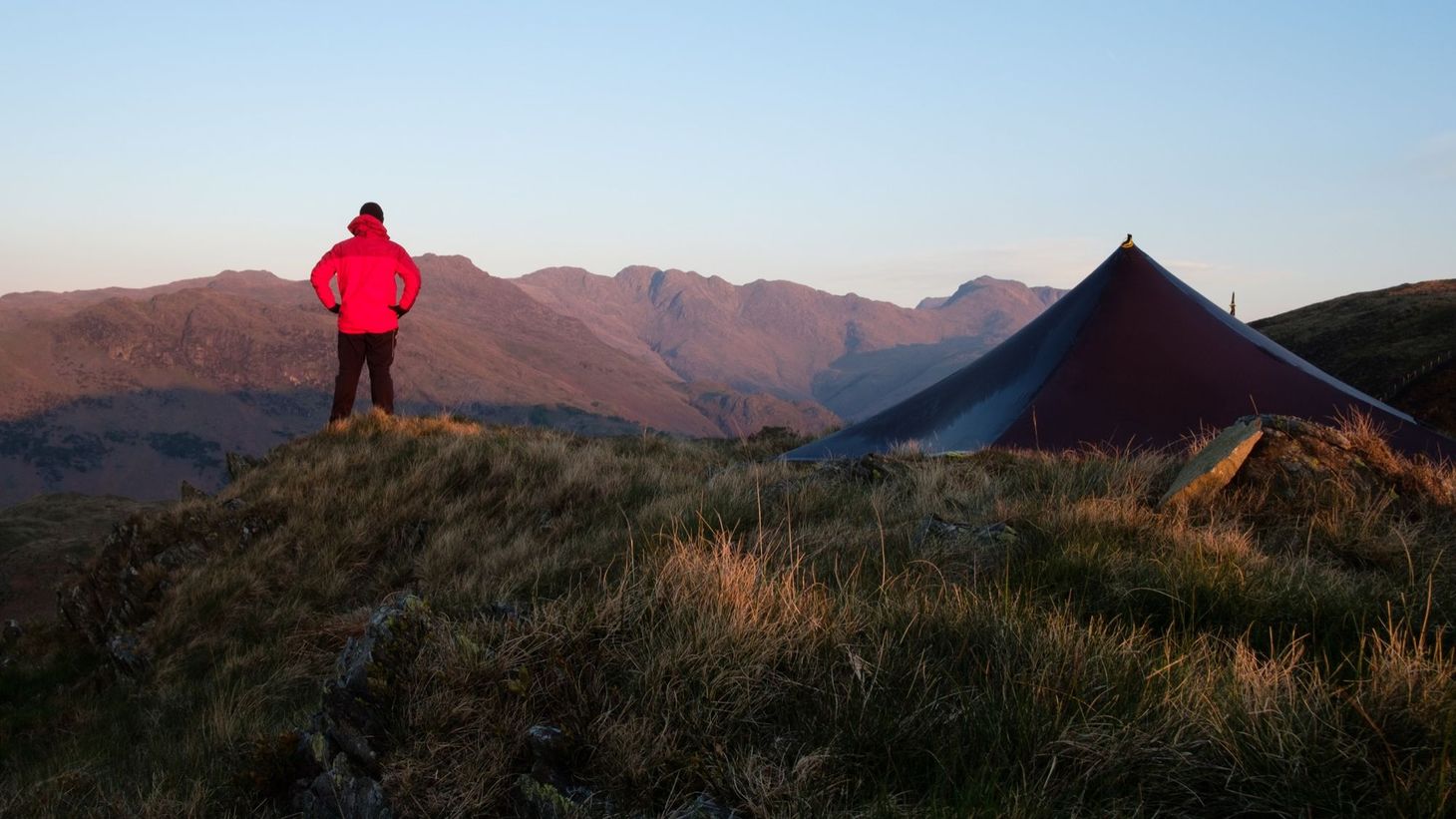 From thrilling ridges to long-distance endurance-fests, we all like to push the envelope sometimes. Every mountain hit list has its essential big ticks, and for this instalment in our series on the UK's most famous gnarly routes Alex Roddie revisits old favourites to make a complete horseshoe of the Langdale fells.
This feature was first published by UKHillwalking.com in June 2017.
---
Great Langdale. I first cut my teeth as a hillwalker in this Lakeland valley. It's home to some of the most beloved fells in the district, and every one of them deserves its reputation as a classic. I have fond memories of looking over from Pike o' Blisco's pointy summit to the snowy wildness of the Crinkle Crags and Bowfell – a ridge that would, to my mind at least, assist my transformation from hillwalker to mountaineer.
After many early visits to Langdale, my attentions turned to the Highlands and I neglected  my original stomping ground. It would be six years before I returned to hike the Langdale Skyline – a sort of greatest hits compilation of all my earlier adventures. Would these fells be as impressive as I remembered? And would the complete circumnavigation of Great Langdale be as worthwhile as it looked on the map?
On paper, the route is compelling: Lingmoor Fell, Pike o' Blisco, Crinkle Crags, Bowfell, Rossett Pike, Pike o' Stickle, Loft Crag, Harrison Stickle, Pavey Ark, Thunacar Knott, Sergeant Man, Blea Rigg. (I decided that Cold Pike didn't quite lie on the natural route.) That's a lot of tops, but I soon realised that many of them require very little descent and re-ascent. It's a long route, but it isn't quite the beast I initially supposed.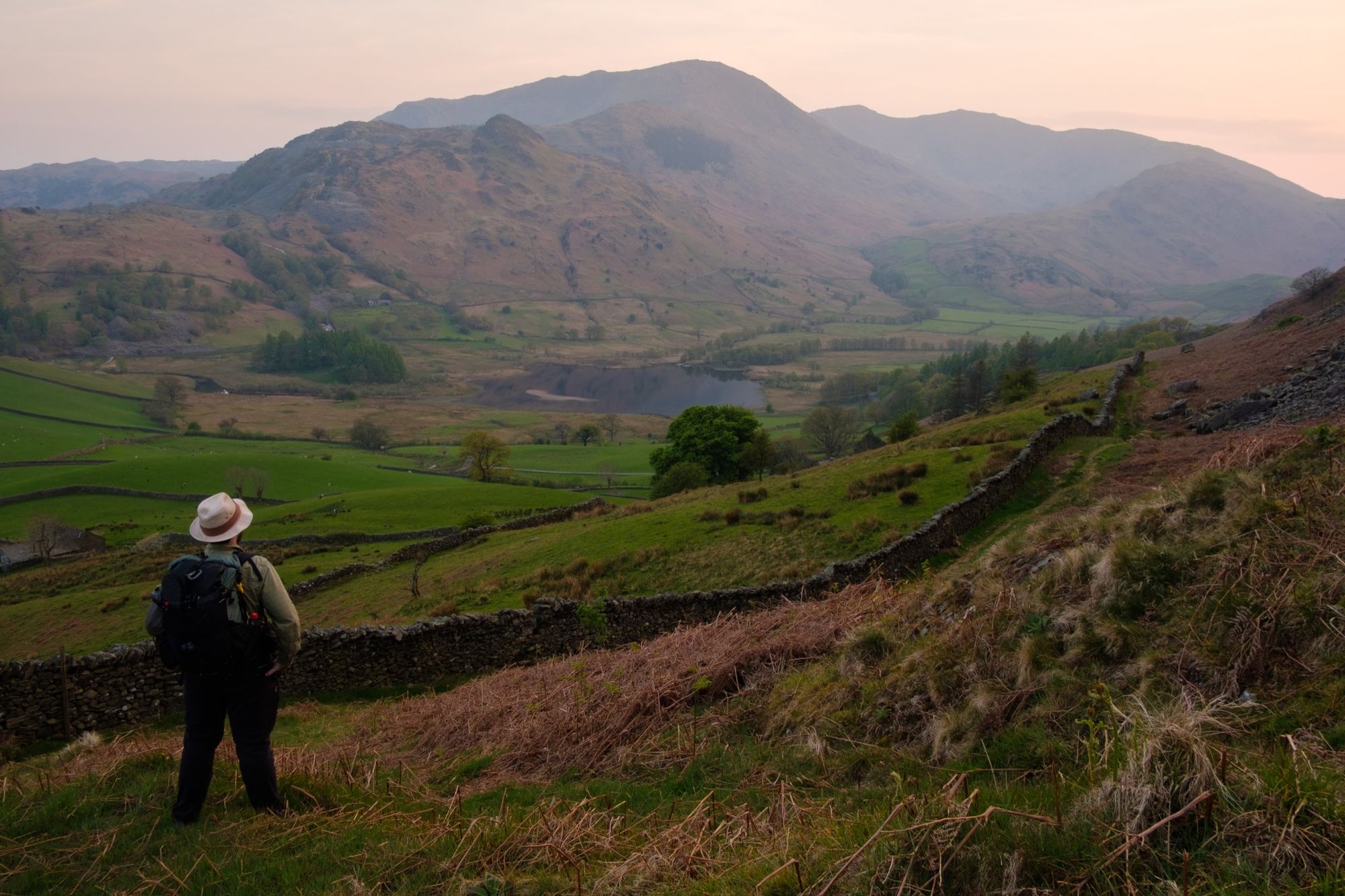 I arrived in Great Langdale late on a calm spring evening. My plan was not to treat the route as a 24-hour challenge; I prefer a less extreme pace in the mountains, and brought my backpacking kit with me to enjoy a night or two out under the stars. I didn't have time to walk far that first night. It was already almost sunset as I climbed the path from a deserted Elterwater village up Lingmoor Fell. The scent of bluebells carried on the still evening air. I paused just to drink in the scene of vibrant new growth sprouting from the trees in the woods beside the path, and realised it had been twelve years since my last visit to Langdale in May. There are several candidates for the best time of year to go hillwalking in the Lakes but early May gets my vote.
Starting/finishing point Elterwater village, Great Langdale
Distance 19.2 miles (30.9km)
Ascent 2,096m (6,876ft)
Date hiked May 2017
Time 13-15 hours for most walkers, but familiarity with the route could slice an hour or two off that time
Maps OS Landranger 1:50,000 90 (Penrith & Keswick); Harvey 1:40,000 Lake District map
Guidebook Great Mountain Days in the Lake District by Mark Richards (Cicerone Press) covers most of the individual route sections. Trail and Fell Running in the Lake District by Kingsley Jones describes a shorter variant of the route from a runner's perspective.
Terrain A wide variety of classic Lakeland mountain terrain, from heather moorland and blanket bog to rocky mountain ridges. Good (albeit sometimes eroded) paths cover the vast majority of the route. There are several short sections of easy scrambling, most avoidable, but scrambling is required to reach the summit of Pike o' Stickle. The Bad Step on Crinkle Crags is the most difficult point – a short, steep wall at about Grade 2, but it's easily bypassed.
Winter grade In winter, you're looking at challenging but ungraded winter hillwalking with a few very short steps of Grade I or II – briefly harder if the Bad Step is tackled direct.
Overnight options There are many possible places to camp along the route. Three Tarns is the obvious (and perhaps most dramatic) location, but it can get extremely windy. Angle Tarn is a popular spot – treat or boil any water you drink from the tarn. There are limitless options from the Langdale Pikes onwards. If you'd rather sleep low, you could even descend to the valley and camp at the National Trust campsite or stay at the Great Langdale Bunkhouse.
Shortcuts and escape routes A path bypasses Rossett Pike to the north, and any or all of the Langdale Pikes can be avoided by striking cross-country from Martcrag Moor. Escape routes abound: the Browney Gill path from Red Tarn, the Band leading down from Three Tarns, Rossett Gill, Stake Pass, or any of the routes leading down from the Langdale Pikes.
Lingmoor Fell's sprawling humpback ridge was an interesting place to explore. The ruined shells of old mine buildings crept up on me in the twilight, and I climbed almost to the summit before selecting a flat knoll on which to pitch my shelter. With superb views across to the next day's objectives and back to the Coniston massif, I settled down for the night.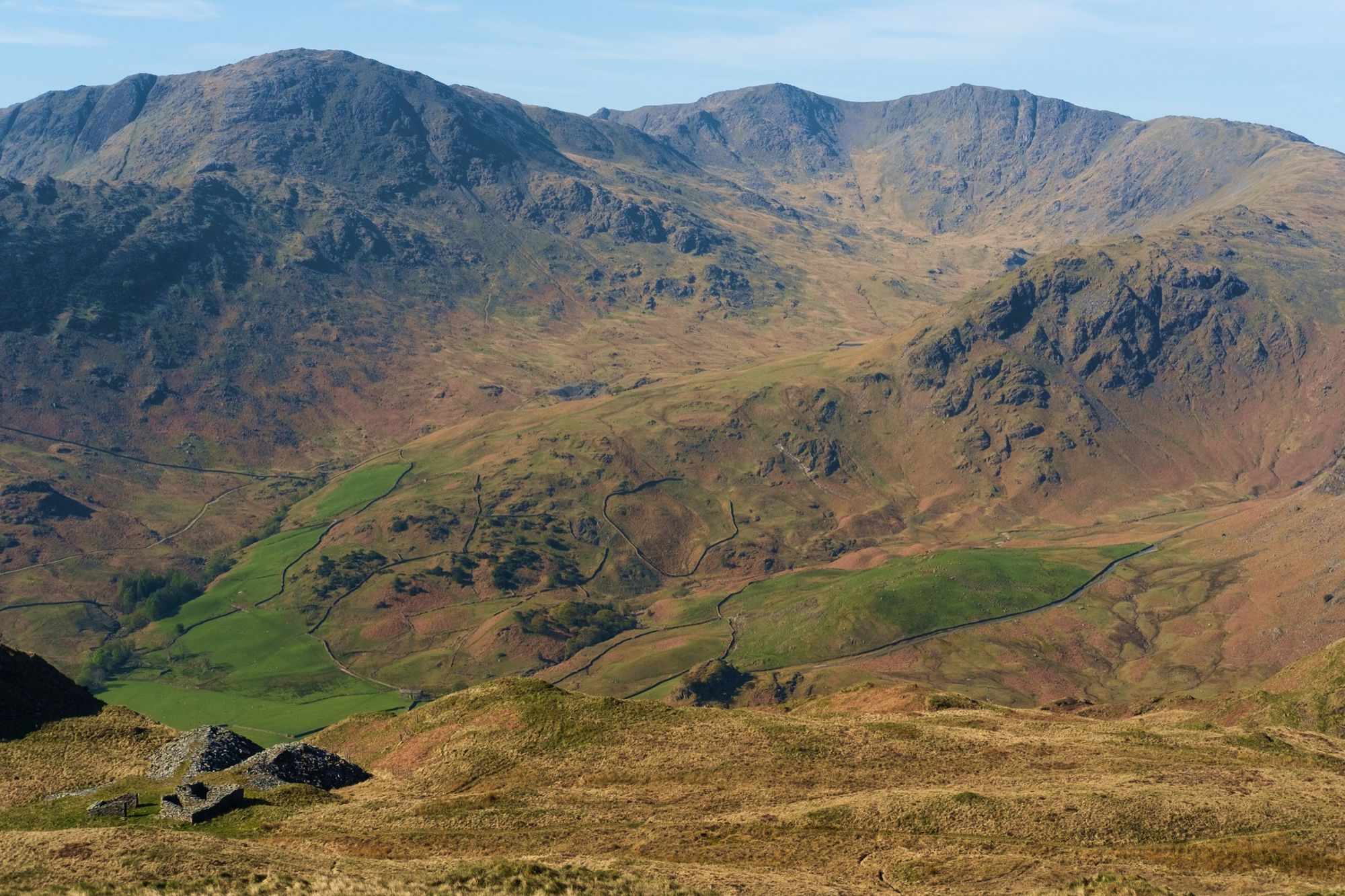 A cold wind had picked up by the time I woke late the next morning, but the sky was clear. I reached the summit of Lingmoor Fell after only a few minutes of walking. There's a large, ramshackle cairn perched on a rocky outcrop – incongruous amongst a sea of heather, but the views from this fell are magnificent, arguably better than anywhere else in Langdale. Directly ahead, the Langdale Pikes formed a rugged mountain wall (they aren't as high, or as difficult to climb, as they look!). At the head of the valley, the Crinkle Crags and Bowfell promised to remind me why I used to spend so much time walking these fells.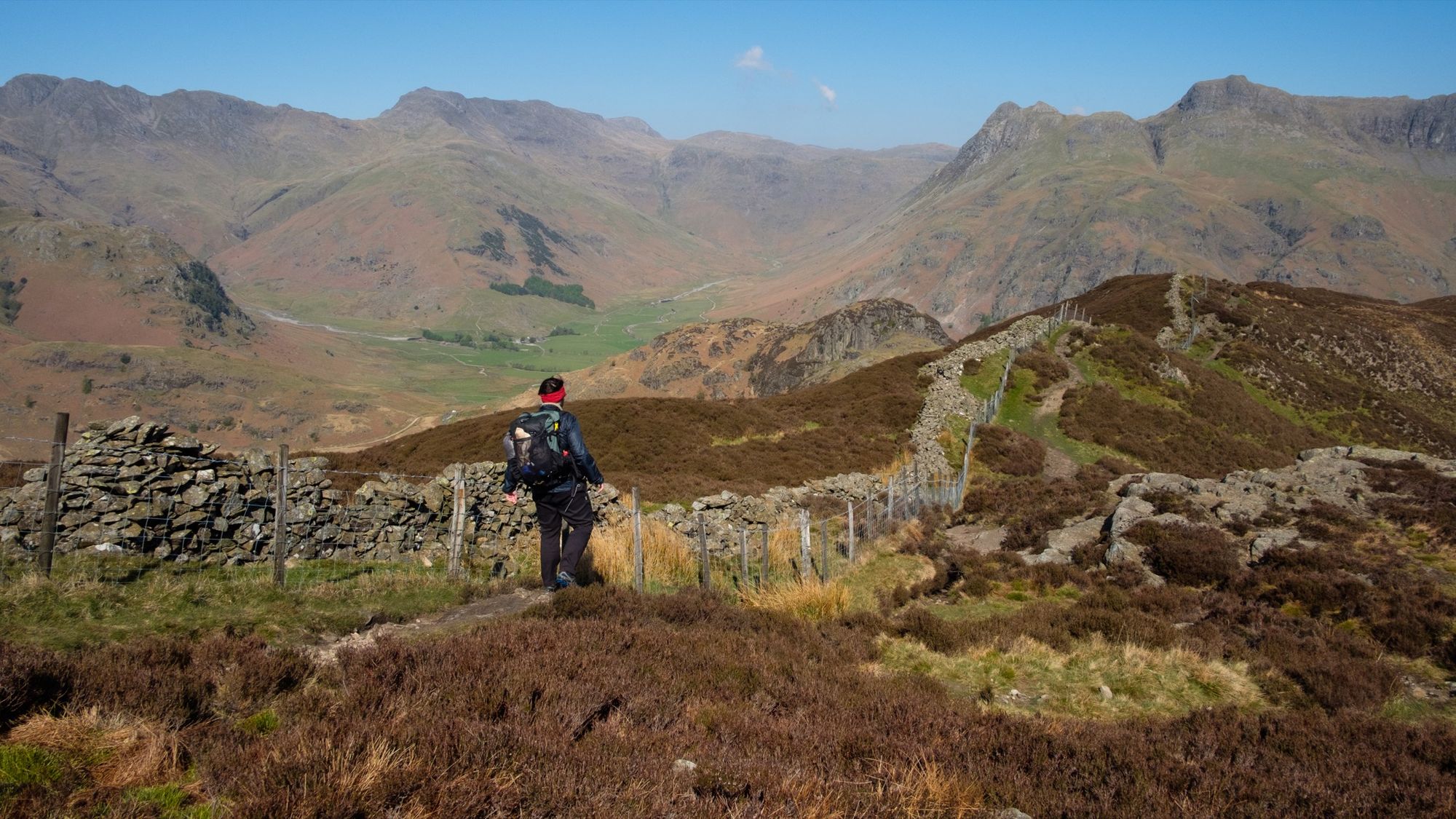 The wind steadily increased as I descended Lingmoor Fell's ridge towards Side Pike. I staged a few photos with my ultralight tripod but had difficulties keeping it steady in the fierce gusts. The windchill led to me putting my windshirt and Buff back on, but the warm sunshine soon heated me up in the lulls, and I ended up peeling off my outer layer and putting my sunhat back on again soon after. I oscillated between being slightly too chilly and slightly too warm for the rest of the day.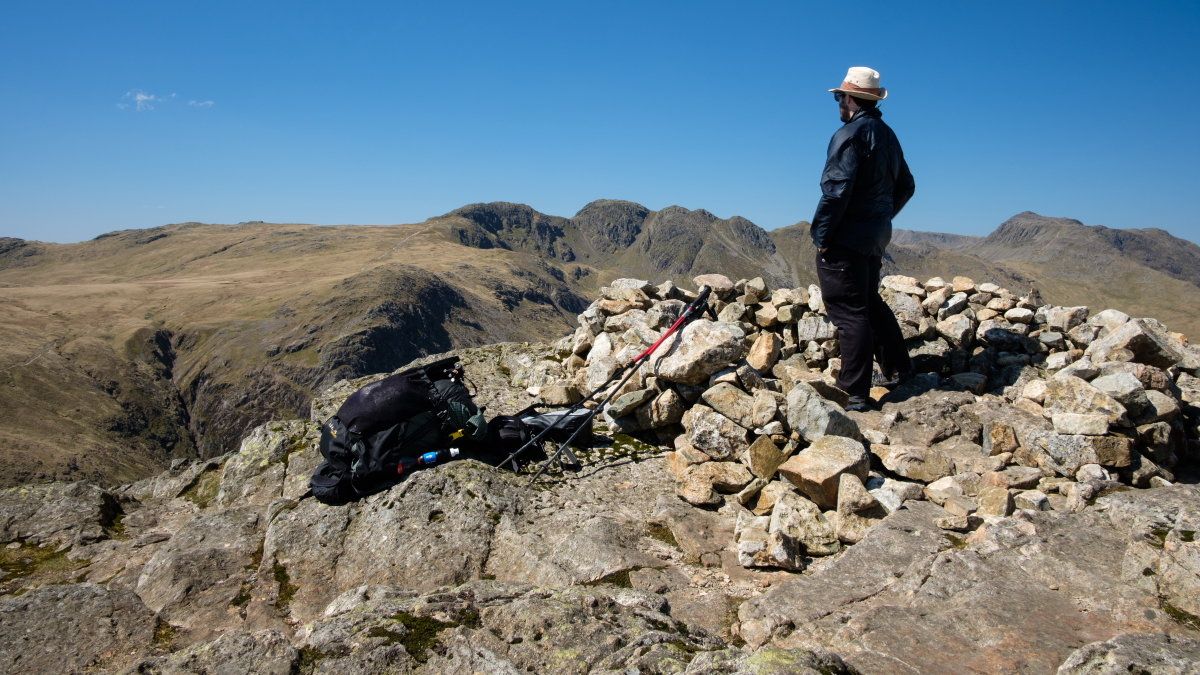 The views only got better as I approached Side Pike, which is a playground for scramblers, but not on my itinerary this time. Pike o' Blisco was next: a short ascent to a rough, pointed summit, and the first taste of easy scrambling for the day. I have memories of being intimidated by the two or three short rock steps on the main path to the top, but they were easier than I remembered and I enjoyed the feeling of cold rhyolite under my hands.
Two summits down; ten to go.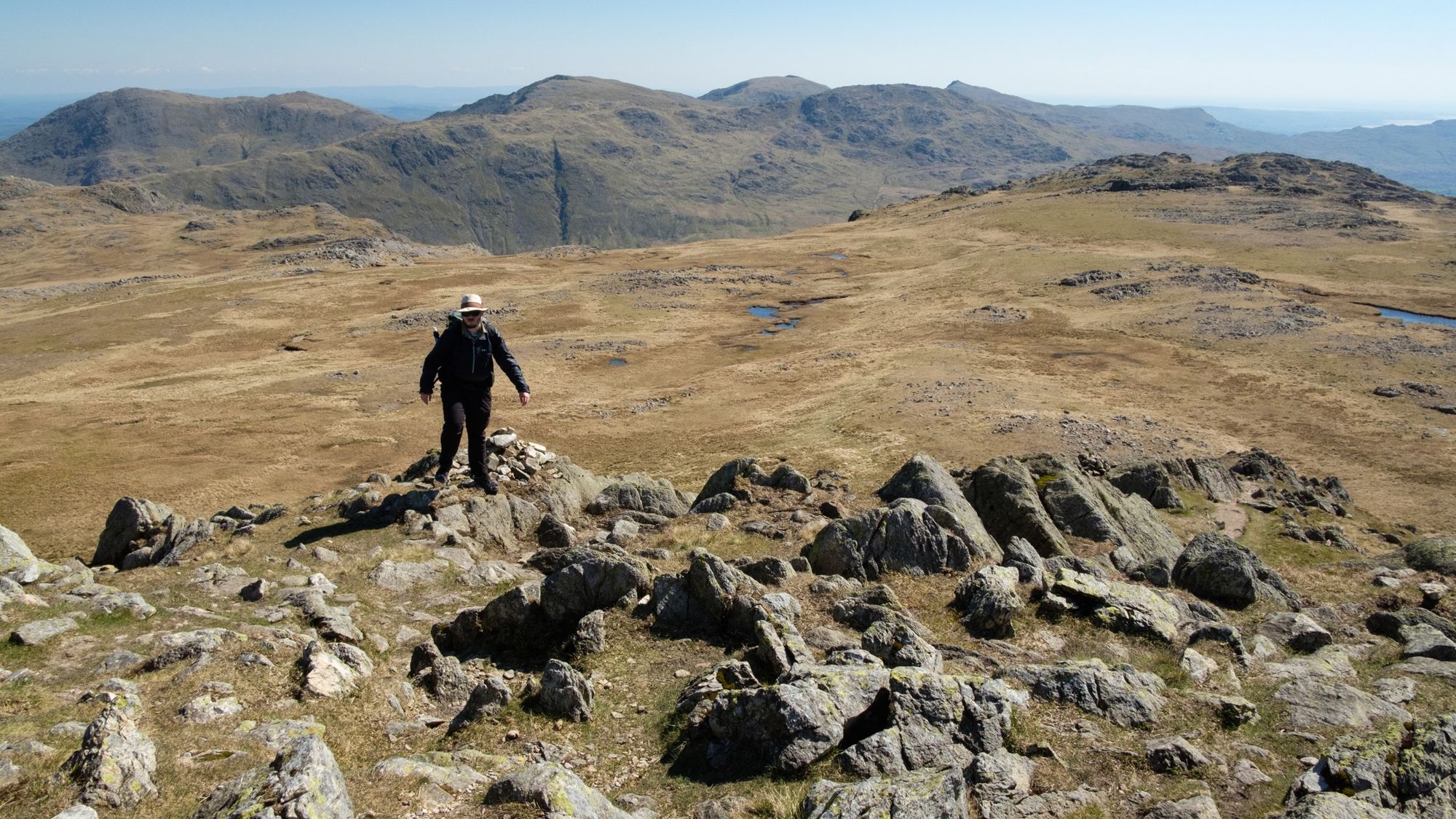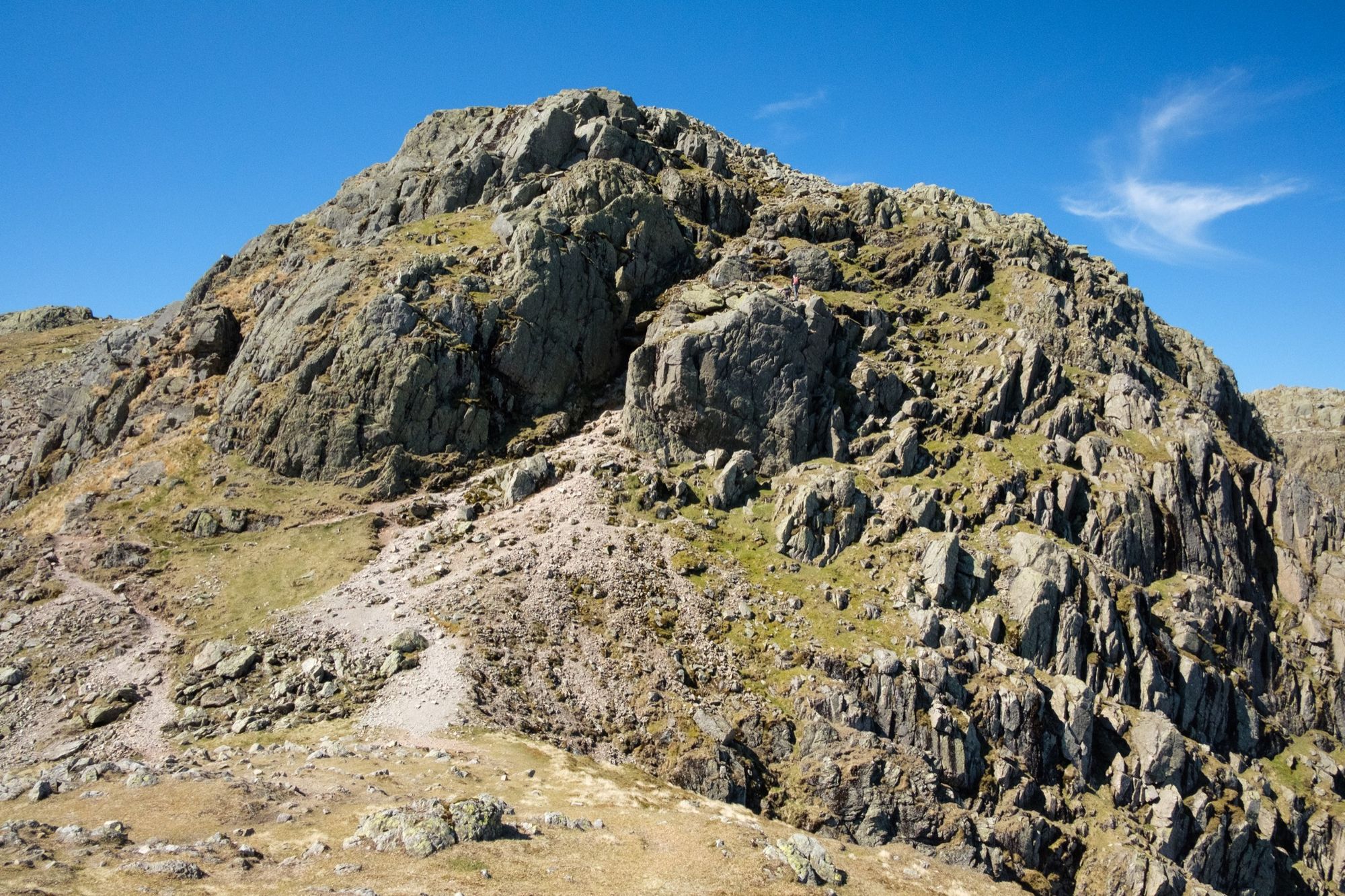 Crinkle Crags is a line of minor summits on Bowfell's south ridge. In Scotland it probably wouldn't be regarded as a separate mountain at all, but here in Langdale it has quite a reputation – one that is well deserved. While you'll find nothing as gnarly as the Aonach Eagach or even Striding Edge, there's plenty of complex terrain here. Each 'Crinkle' looks more or less the same as the last and in poor visibility you'll need to keep an eye on your compass. I had no such difficulties on this occasion, however. Hot sunshine beat down on me even as the fierce east wind tried to strip away my body heat. It's a strange thing to feel too hot and too cold at the same time.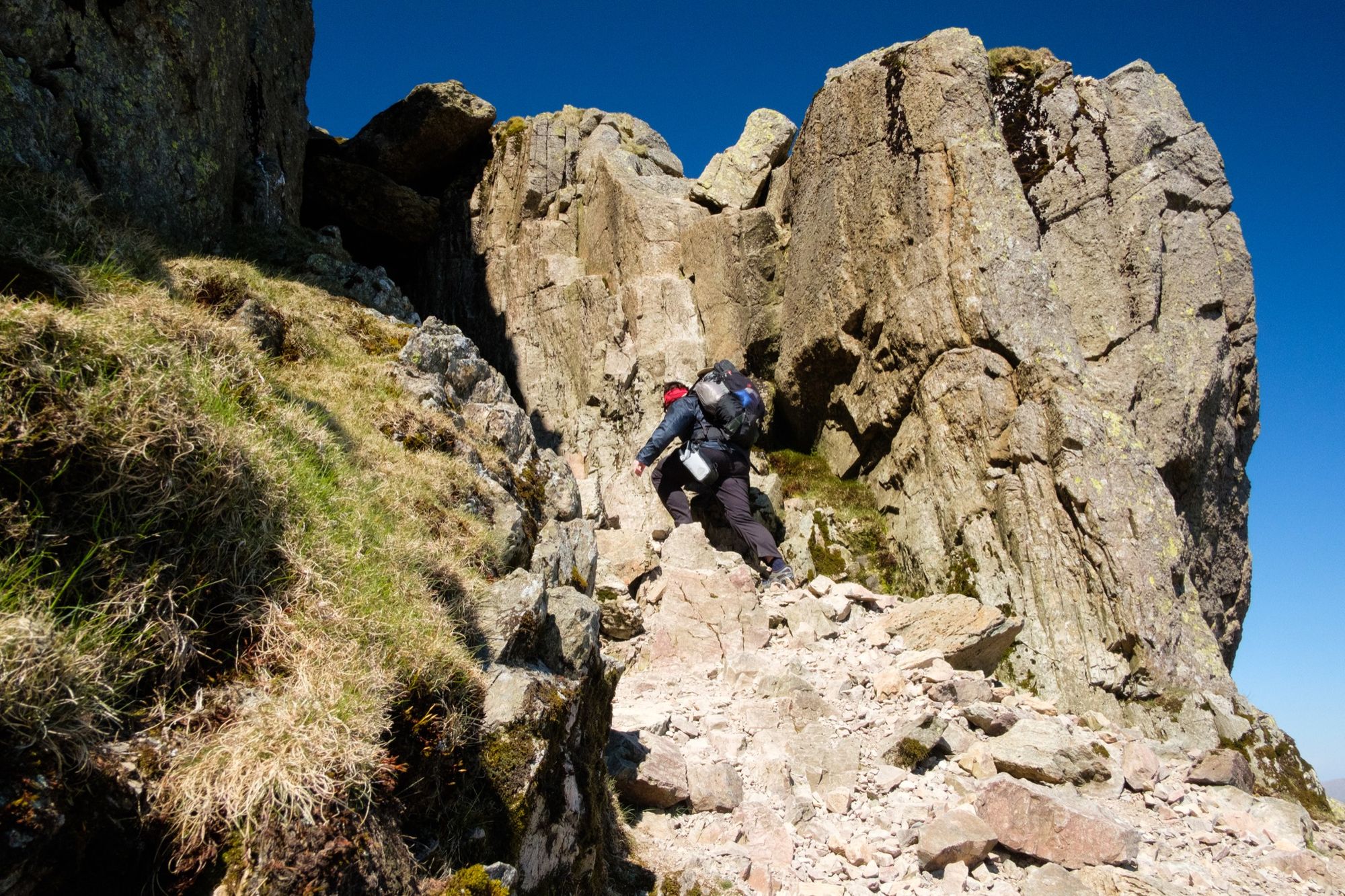 Like most mountain obstacles so named, the Bad Step looks worse than it actually is. Nevertheless, despite having climbed it several times before, I chickened out on this occasion. I got about halfway up. Reaching for that high handhold, standing on polished edges in my trail shoes, a massive gust suddenly buffeted me from the top of the gully – and I realised I wasn't as brave as I'd been a decade or more ago. Fortunately, there is an easy path avoiding the Bad Step to the left, and that's where I went with my tail between my legs, relieved nobody else was there to watch my ignoble retreat.
It was mid-afternoon by the time I reached Three Tarns. This broad col just before Bowfell is home to – you've guessed it – three tarns, and is a popular camping location. I considered my options: press on to Angle Tarn, even further to Langdale Combe, or stay here. My main concern was finding shelter from the 40+mph gusts threatening to bowl me off my feet. I certainly had time to walk a few more miles to Langdale Combe, but would I find shelter there? And would the views be as good as the vista across the gulf of Eskdale to the Scafells?
Did you know that I send out weekly newsletters on the outdoors, writing, and outdoor writing? Subscribe here to receive my Pinnacle Newsletter.
The view made up my mind for me. I'm a sucker for a photogenic wild camp, and I knew I wouldn't find that at Angle Tarn or Langdale Combe. Only one problem: this col was funnelling the full force of that east wind, and there was nowhere to hide.
I made the best of it by pitching my shelter as close to a large rock as I could, and building a low wall of stones around the edge (which I demolished and scattered the next morning) to keep draughts out of my sleeping area. Despite some severe gusts – gusts in which I'd struggle to stand upright – my shelter remained standing and I slept fairly well, thanks to ear plugs.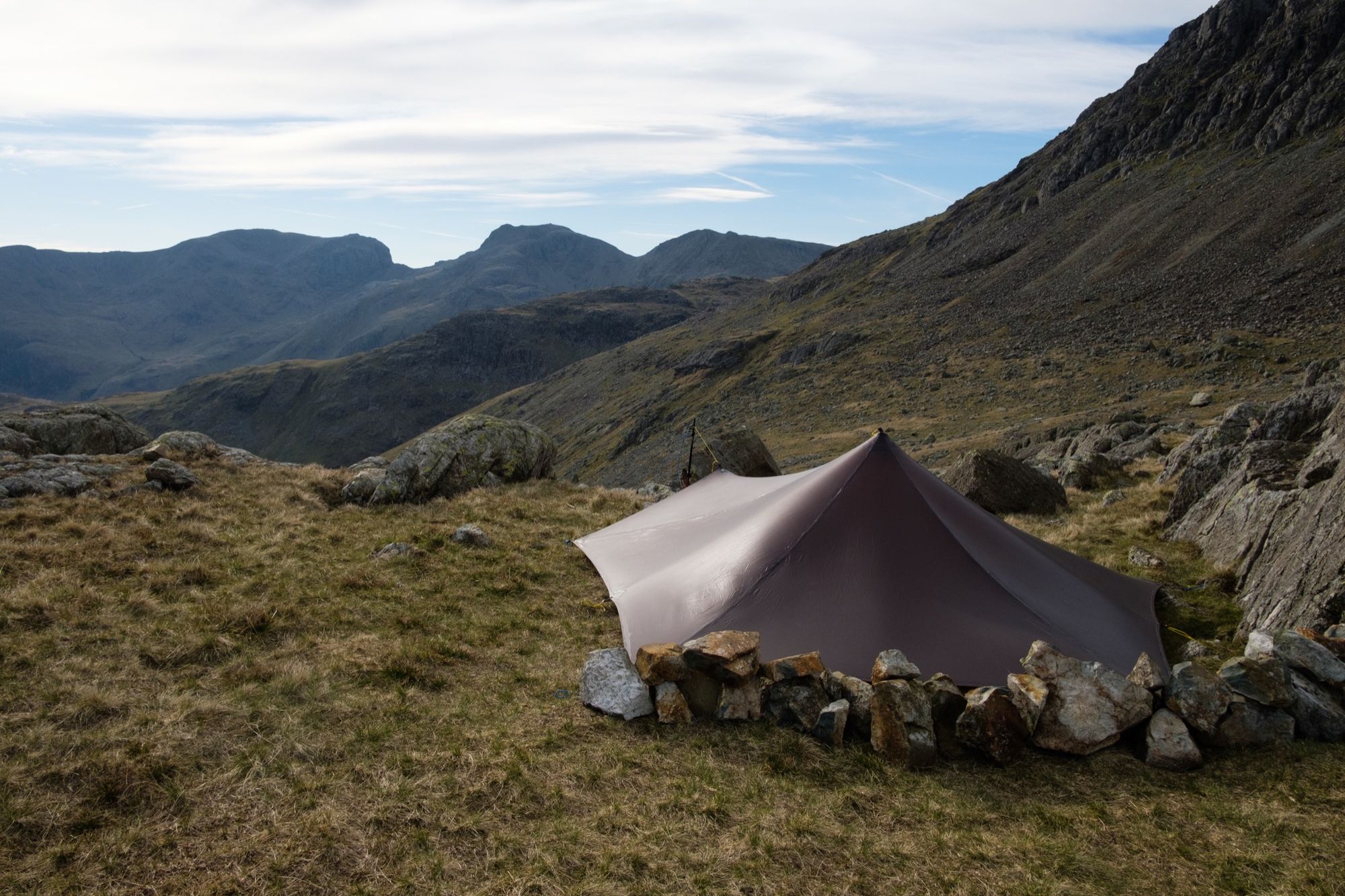 Eight summits to go.
Bowfell's an old favourite. Usually I take the Climber's Traverse along Bowfell's East Face and then climb the River of Boulders up beside the Great Slab (Bowfell's a hill for grandiose names), but this time I decided to take the direct route, straight up the scree path to the top. It's a short ascent. Bowfell's summit is all jagged grey boulders, like a miniature version of the Glyderau plateau transposed from Snowdonia and dumped in the Lakes. As I trekked north across the plateau towards Ore Gap, those relentless gusts tugged at me, making tripod photography difficult – I resorted to wedging my tripod down with rocks to stop it from taking off.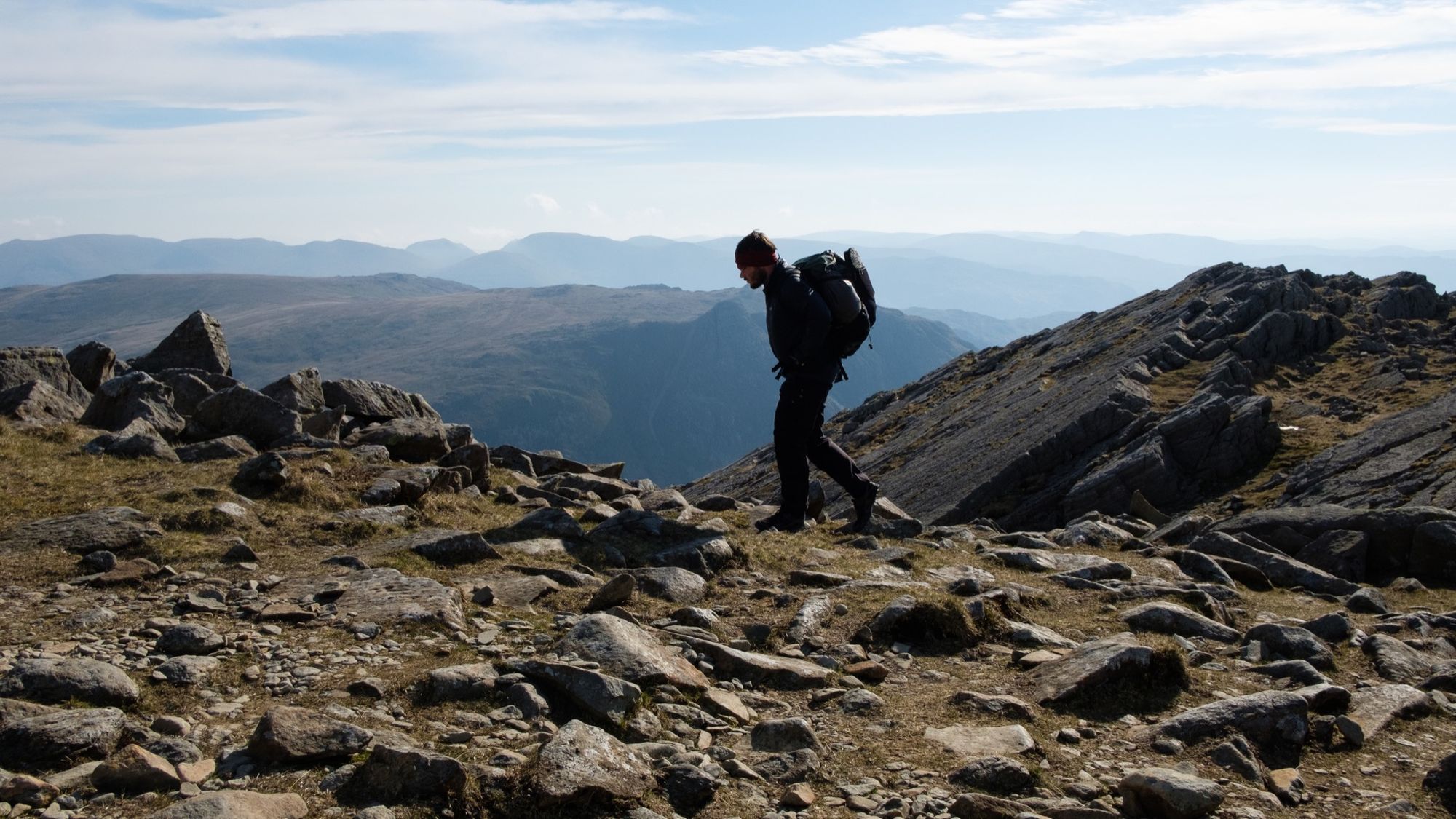 On Rossett Pike, above Angle Tarn, I stopped to watch walkers making their way up the switchbacks of Rossett Gill. Rossett Pike marks a metaphorical watershed for the Langdale Skyline: from popular mountains and eroded trails to a quieter landscape with subtler paths. Striding along Rossett Pike's narrow ridge, suspended in spectacular fashion above Mickleden far below, felt a bit like walking in the Highlands. Only traces of a path exist here because many people take the eroded trail round the back of Rossett Pike instead.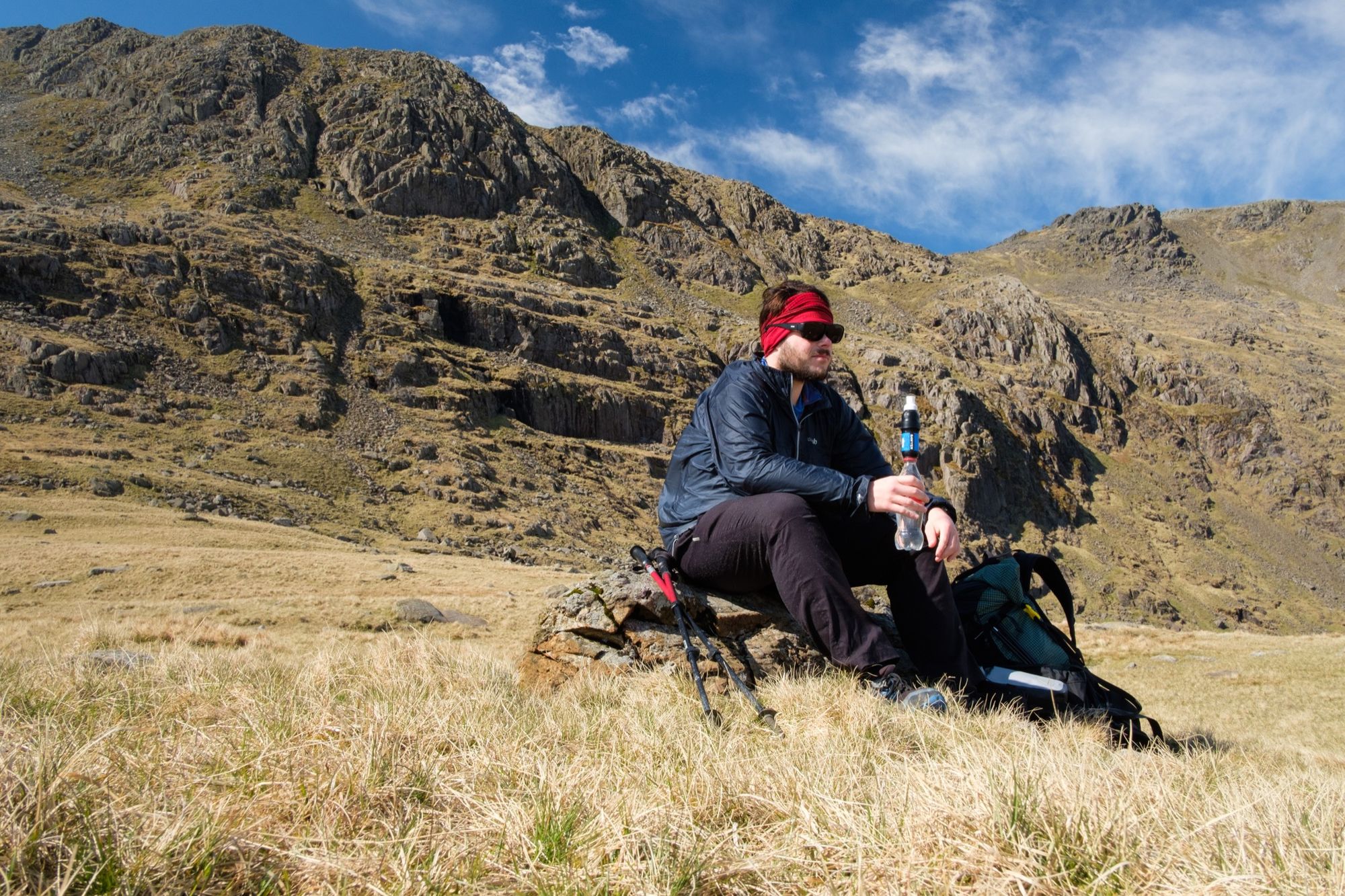 If the Langdale Skyline can be said to have a boring section, Martcrag Moor is it – but I think a spell of moorland and bog serves as punctuation, to help see the more dramatic highlights in their proper context. Pike o' Stickle serves as a beacon, drawing the walker over the wet terrain towards the Langdale Pikes. If you've been hillwalking in Langdale before you are probably familiar with these mini mountains: defiant little tors of rock thrusting up through a rolling peat landscape. Each summit offers a splendid but slightly different viewpoint; each is well worth the effort to ascend, although Langdale Skyline walkers can cut straight across the back of Harrison Stickle if they're short of time.
After Harrison Stickle I entered new terrain for me. The walkers thinned out dramatically once I left the orbit of the Langdale Pikes, but I did meet a couple near the summit of Sergeant Man. Blea Rigg, a long ridge of heather and surprisingly wild views north into the Grasmere fells, was particularly enjoyable. It felt like the sort of place to go and wander aimlessly rather than strike right for a summit. Paths were vague and I think poor visibility would once again prompt you to pay a bit more attention to map and compass – particularly as anyone attempting the Langdale Skyline in a single day will be near the end of their journey and pretty knackered by this point.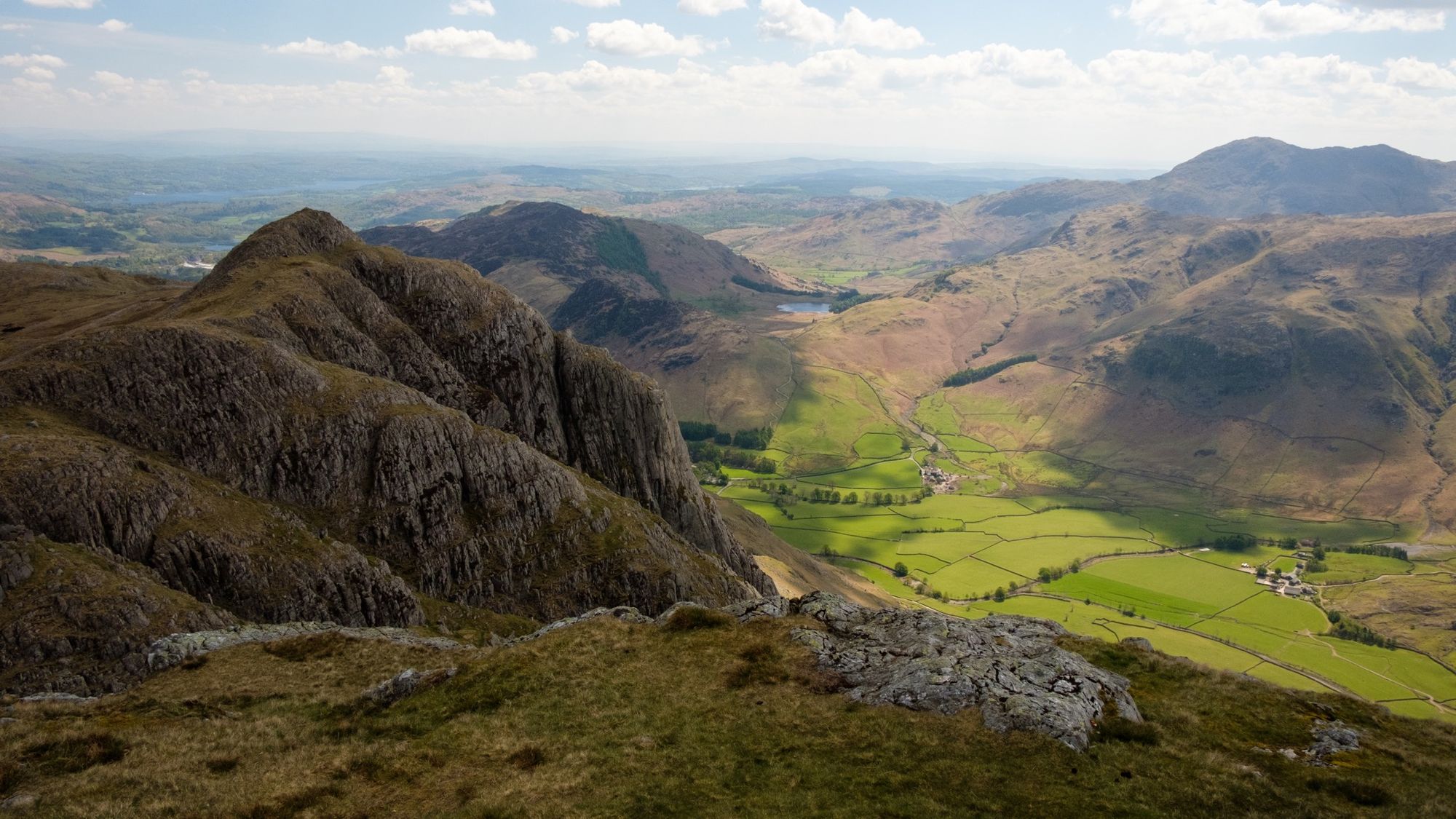 The final steep descent back to Elterwater village offered some of the best views I'd seen on my round of Langdale. Looking back up the valley towards the big mountains at its head, I could trace most of my route. Older memories of my first days as a hillwalker were now overlaid by fresher recollections – of a continuous journey across each and every Langdale summit.
Taking it slow, over two and a bit days, suited my current walking style. I like to have time to take lots of photos, and wild camping is part of the enjoyment for me. But I can really see the attraction of doing the Langdale Skyline in a single day. Go fast, go light, take advantage of those good paths, and enjoy the sensation of tagging summit after summit while enjoying some of the most spectacular views in the Lake District. If you're fit enough, go for it.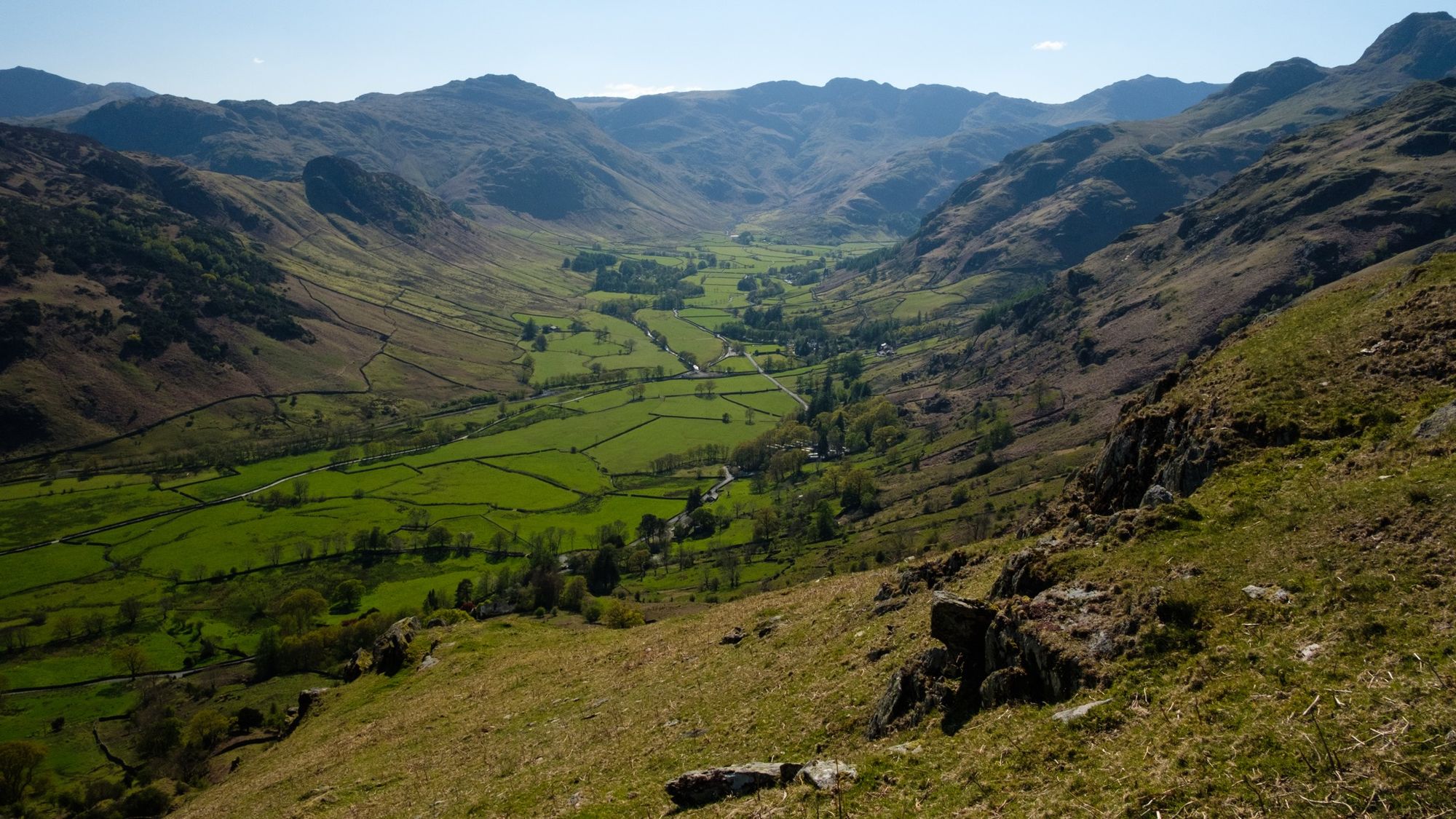 All images © Alex Roddie. All Rights Reserved. Please don't reproduce these images without permission.
Alex Roddie Newsletter
Join the newsletter to receive the latest updates in your inbox.
Comments