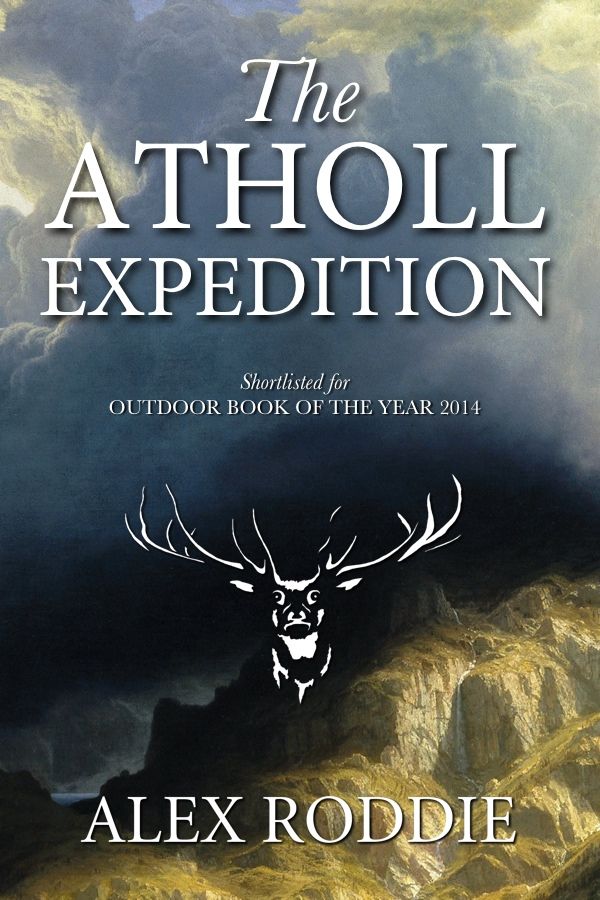 THE ATHOLL EXPEDITION (Alpine Dawn I)
by Alex Roddie

Shortlisted for the Outdoor Book of the Year Award 2014
Introducing James Forbes in the quest for Scotland's last glacier.
SCOTLAND, 1847. Convalescence doesn't suit Professor Forbes. When one of his former students appears exhausted at his door, telling stories of bloodthirsty gamekeepers and a mythical glacier in the heart of the Cairngorm mountains, he can't resist the chance for another adventure. However, his journey coincides with a visit from Queen Victoria and Prince Albert, and the Royal Consort has an ambition to shoot the oldest and most cunning hart of the Atholl estate.
Forbes is soon involved in the chase of his life – but perhaps also one last chance to make his name before it is too late.
The wilderness of the Cairngorms is trodden by legendary stags, demons of local folklore, and a few brave souls all seeking very different things from the wild. This is a tale of life in the Scottish mountains before mountaineering began.
EBOOK EDITION
PAPERBACK EDITION
PRAISE FOR THE ATHOLL EXPEDITION"The Atholl Expedition is an exciting and well-written adventure story but it also goes deeper into that, both into the history of the period and the psychology of the characters. It's one of the best works of mountaineering fiction I've read."
— TGO Magazine official review


"A swashbuckling tale of outdoor adventure, bringing together some epic wild locations and great storytelling."
— TRAIL magazine official review


"The tensions in the book are created through the classic themes of class, a desire to fulfil a quest and young men seeking to forge their own way in the world … it's admirable how he uses the mountains to emphasise the fears and desires of his characters."
— Review by Spectrum Books


"Vividly drawn … a compelling and imaginative work."
— Review by Footless Crow"An entertaining historical outdoor romp"
— Author Chris Townsend


"The book makes for an exhilarating read, pitting folktales and fairy stories against enlightenment science, whilst mixing in a bitter and emerging social conflict between the landowning elite, their loyal servants, and those wishing for freer access to the hills for both leisure and research."
— Outdoor blogger Nick Bramhall's review on The Mountain's Silhouette

"A book for anyone who loves wild places and cracking good yarns … I love the fictional/philosophical mix of Alex's writing and he has a wonderful eye for the unseen."
— Outdoor blogger Alistair Young's review on Stravaiger's eBothy
"His research into this period is thorough and faultless and his writing contains some beautiful descriptions of the landscape of the Cairngorms which reveal his own love of the mountains. This novel written in the style of the period will transport you to the mountains and glens of the Highlands where a dramatic chase takes place with unexpected consequences. A great little read."!function(d,s,id){var js,fjs=d.getElementsByTagName(s)[0],p=/^http:/.test(d.location)?'http':'https';if(!d.getElementById(id)){js=d.createElement(s);js.id=id;js.src=p+'://platform.twitter.com/widgets.js';fjs.parentNode.insertBefore(js,fjs);}}(document, 'script', 'twitter-wjs');
"I have always admired the author's approach to descriptive writing. It's not easy to do without sounding florid but his descriptions of storms, or of the mountains themselves, are studies in the careful choice of words. I love this style and I very much enjoyed the adventure story aspect of this book."
— Book blogger Kath Middleton's review at Ignite BooksON THE WEB

Review by Spectrum Books (September 2014)
Review on Footless Crow (March 2014)
Review on The Mountain's Silhouette (Feb 2014)
Book extract on UKHillwalking.com (Dec 2013)
Review on Ignite Books (Dec 2013)
Feature on "Good Reads for Bad Days" by John Burns (Dec 2013)
Review on Stravaiger's eBothy (Dec 2013)
---