A writer's holiday in Snowdonia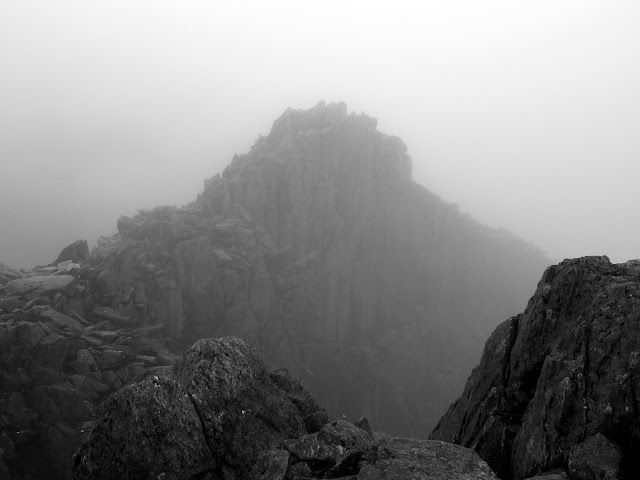 Tryfan: the nursery-ground for generations of British mountaineers
A week ago, I jumped on a train and headed west, with a simple intention: to spend a few days in the Ogwen Valley of Snowdonia, to spend my nights under canvas, and to recharge my batteries by revisiting some of my old favourite mountains. Snowdonia is a special place for me. I first visited in July 2005 with my brother James, and during our stay we conducted our first real mountain scramble: the North Ridge of Tryfan. This route kindled a love of ascending mountains by challenging, aesthetic routes, beyond mere walking. The experience had a profound effect on my life in the coming years.
Although I no longer climb 'hard' (not that I ever did, in the grand scheme of things), there remains a deep satisfaction in climbing these scrambling routes. Most of them are traditional, first climbed by the hobnailed pioneers in days of old, who craved airy gangways up remote cliffs but did not yet dare to commit themselves to full-blown rock climbing as we understand it today. These scrambles–sometimes pure ridge lines, sometimes obscure and twisting ways hidden from plain sight–give us a direct link back to our forebears and open the door a little on the history of mountaineering. Since my writing depends on that illustrious history, I have always paid more attention to scrambling than any other form of climbing.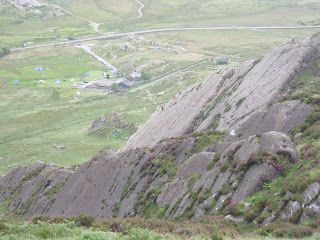 Gwern Gof Uchaf, my campsite, with Tryfan Bach
in the foreground
Although the weather was dry when I arrived, that state of affairs didn't last long and my first full day (Sunday) was characterised by frequent heavy showers and a cold wind. I was keen to climb Tryfan again, but not by the North Ridge as I've climbed that route several times. I decided to head up to the East Face and climb one of the gullies.
As I passed along the Heather Terrace path, gullies opened up to my right, interspersed with menacing buttresses. This was the playground of the pioneering Welsh climbers of the 1890s and 1910s, who usually stayed at Pen-y-Pass or Pen-y-Gwryd and climbed on most of the mountains of the district. Tryfan was usually regarded as a training zone: if you could cope with the harder climbs on Tryfan, the wisdom of the time decreed, you were probably ready to have a crack at one of the more rambling routes on Lliwedd.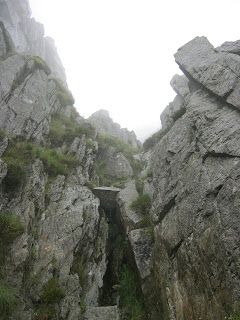 Slime and choss in Little Gully.
Just like being back in Glencoe…
I selected a climb linking together Little and North Gullies. As one of the easiest climbs in North Wales ('Easy' by the traditional classification, or Grade 1 in the modern scrambling system) it would present no obstacles even in dripping conditions. Although at times waterfalls flowed down the chimneys, I found it enjoyable throughout–I've always liked a good traditional fight with choss and slime! It's the sort of route where nailed boots would be a distinct advantage … shame I left them at home with the tweed …
After visiting the summit (a bleak and cheerless place, that day) I descended the South Ridge of Tryfan and then ascended Bristly Ridge to Glyder Fach's summit. Bristly Ridge is another old favourite. It's still an 'Easy', but a notch harder than Tryfan with a few distinctly harder sections: Sinister Gully, and the direct pitch out of Great Pinnacle Gap. Although there are easier ways round, these direct variations might qualify as Moderate on some Scottish routes I've done.
The following day dawned with slightly better weather, so I wanted to venture onto something a little harder. I had two special objectives for the trip: the NW Face of Glyder Fawr (an objective from 2006 we never got round to doing), and the East Ridge of Y Garn. With scurrying clouds menacing the top pitches of Glyder Fawr's stupendous northern precipice, I decided to climb the slightly friendlier-looking East Ridge.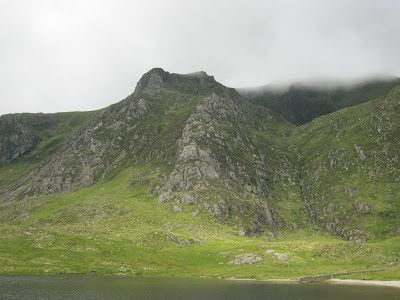 The East Ridge is divided into two sections: the easier lower buttress
(centre), and the much harder upper arete (left of centre)
Looking back from the exposed ledge traverse
The first part of the route, a low-lying buttress left of the main stream, was hardly more than walking and I suppose it lulled me into a false sense of security. The upper part looked great fun but the guidebook entry on this climb was extremely ambiguous; did the 'steepening' refer to this steep nose in front of me, or was it something further down that I'd already passed? In the end I ignored the guidebook and used my own instincts–a tactic I have often found to be helpful when confronted with a route finding dilemma.
A difficult chimney led to a narrow neck of rock, blocked by several hideous obstacles. The first fell easily enough despite the frightful exposure. The second required a shuffle along a narrow ledge suspended above an awful chasm. This I did, with a rising sense of commitment, and was then confronted with the true 'man-trap' of the route: a nasty-looking corner crack and polished slab. It actually wasn't too bad, after a couple of attempts, but it certainly got the blood flowing in those tense minutes while the outcome was still in doubt.
After a visit to the summit of Y Garn (an excellent viewpoint, and luckily with good weather that day) I speedily descended the NE Ridge and spent a while lying on the warm grass by the side of Llyn Idwal. This glacial hollow is a grim place on cold days, surrounded by sheer cliffs and fearsome torrents, but on a sunny afternoon it's a splendid place to relax and unwind.
I spent a while spying out the route up the gigantic NW Face of Glyder Fawr. This scramble has been on my wishlist for six years. My brother and I originally intended to do it back when were inexperienced scramblers, but its sheer scale scared us away at the time. Now, with years of mountaineering experience behind me on far harder and more intimidating walls, it has lost the sense of inaccessibility it once had. Nevertheless, route finding on the face is said to be critical. My plan was to climb it the next day.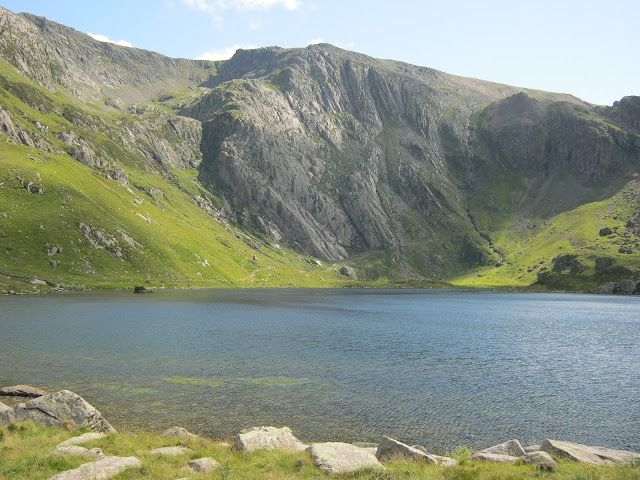 The North West Face of Glyder Fawr: the one that got away … again. James and I first wanted to climb this wall
in 2006.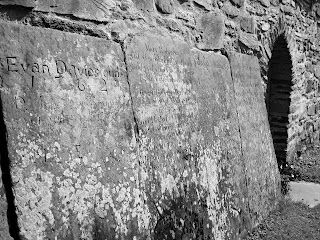 18th century tombstones at the tiny St Michael's church
Unfortunately the next day–and the one after that–were marked by dreadful weather and I decided not to go into the hills at all. I spent Tuesday pottering around Betws-y-Coed with my writing hat on. I love exploring new places and finding out as much as I can about them as they would have been in the 19th century. I write everything down, because you never know when the information will prove useful. I discovered an excellent railway museum, and best of all, an ancient church with a lot of very old tombstones. This used to be the main village church before the town expanded in the mid 19th century with the coming of the railway.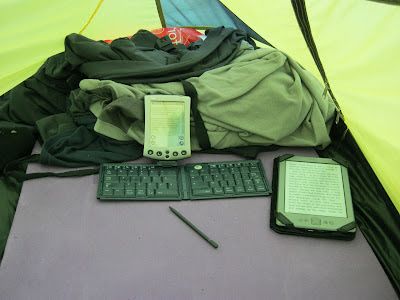 The mobile office at work
On Wednesday it rained a huge amount and I hardly left my tent, but I made good use of the time in reading and writing. During the holiday I read three and a bit books (including Dickens' Tale of Two Cities), wrote up a lot of research notes on a source I'd been studying for a while, and got most of the plot for my new project straightened out. 1848: Alpine Dawn now has a reasonably coherent plot outline from start to finish and I know the role of every character. I have a suspicion it's going to be a pretty big book–it's certainly the most complex I've ever worked on–but I'm tremendously excited.
On Thursday I wanted to climb my North West Face so, despite the showers and low cloud, I set out with hope towards Cwm Idwal. When I got to the foot of the wall, however, it was abundantly clear that no amount of drying breezes in between the torrential showers would get the rock into climbable condition: it was just too wet. So, frustrated in my ambition, I took a short walk up the Sheep Walk terrace instead and explored the entrance to the enormous cleft of the Devil's Kitchen.
On walking back to my tent, the weather improved dramatically, and as it was still early in the day I decided to climb Tryfan on the way back to the camp.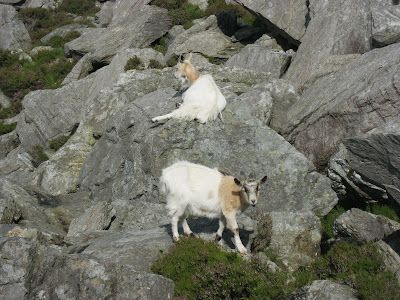 Tryfan

chamois

goats
The start to the North Ridge scramble is very familiar to me now, and as I clambered up the broken rocks of the approach I spied a few young goats playing and munching the heather. They seemed quite tame and were content to watch me placidly while I recorded their antics with my camera.
Apart from a couple some way ahead of me, I was lucky enough to have the mountain entirely to myself (no doubt thanks to my very late start). Being alone on Tryfan is a rare pleasure; usually there are queues at the hardest places.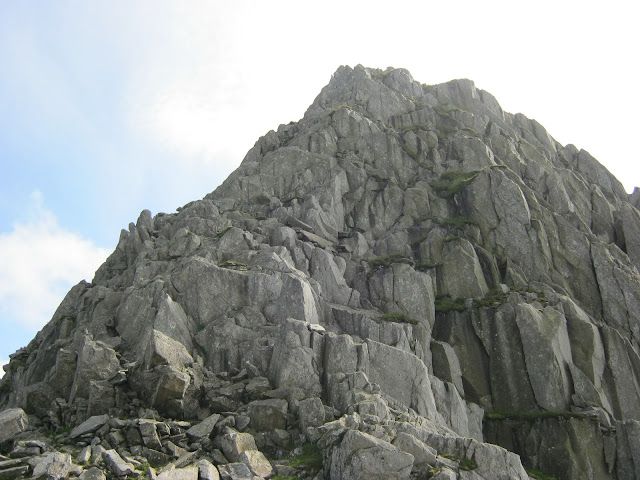 The direct ascent up the nose to the North Peak is the hardest section of the climb.
Although my last ascent of this ridge was five years ago, I remembered the way and found all the best landmarks on the route: the Cannon Stone, Far North Peak, and the platform beneath the Nose. This steep section is the most difficult on the climb and is certainly good value for a Grade 1 scramble, with a little exposure and some thrilling sections. The holds are all reassuringly huge, however, and it's pleasant to think of many of the characters from The Only Genuine Jones climbing rock for the very first time on this ridge. O.G. Jones himself certainly loved Tryfan and climbed it many times during his tragically short climbing career.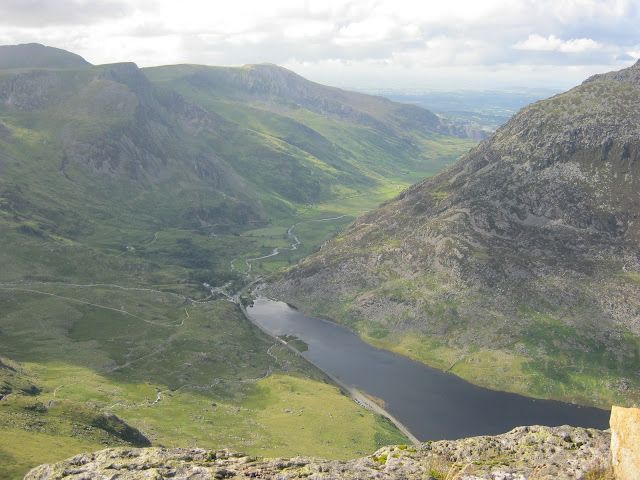 The classic view from the summit of Snowdonia's very own Matterhorn
I spent half an hour on the summit. I've sat on this elevated platform of rough stones many times over the years, and on each occasion my life has been very different from the last. As I have grown older I've started to see why mountains make such an impression on people for their entire lives: we change, but the mountains never do (or if they change at all, it is minutely). In many ways I think the mountains are the perfect mirror to human experience, on the same level as classic literature or great music. Mountains, when interpreted by the human mind, are works of art. We read different meanings into their eternal mysteries as we grow older, and each meeting with our old friend, the summit, brings back new reflections and evokes memories and feelings long forgotten. Mallory once wrote that "a day in the Alps is like a great symphony" and I think I never really understood this when I first read it, years ago, when my experience of mountains was all immediate and in the present day.
So: I didn't do the route I really wanted to do, but I count this particular writer's holiday a big success! I went with the intention of refreshing my perspective and injecting some new inspiration into my work, and in that respect I have achieved both aims with room to spare. Mountains are places of reflection and, disconnected from the distractions of everyday life, my new project found room to blossom. I'm happy to say that I am now very close to starting writing the first draft of 1848: Alpine Dawn.


All photos (C) Alex Roddie, 2012. All Rights Reserved.
Alex Roddie Newsletter
Join the newsletter to receive the latest updates in your inbox.
Comments