Editing, writing, and writing about editing and writing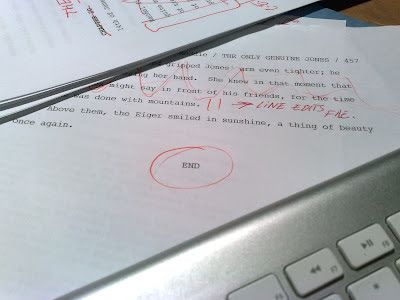 OK perhaps not truly "END" just yet, but it is
the end of the beginning.
I've had a very busy and productive week working on both of my current projects. To break up my series of character profiles a little (which I'm pleased to see many readers are viewing), I thought I would write a brief post about this week's developments.
THE ONLY GENUINE JONES


I recently received a copy of my book back from my editor (Clare Danek at Textsmith), who has done a remarkable job of polishing my draft into something a little less error-strewn. It's amazing how many errors can find their way through several years of drafting and revising! Some of them are down to the fact that a professional editor will always find errors in grammar and style the writer simply isn't aware of, and some of them are because the writer cannot maintain objectivity about their own work. We all need a second–and third, and fourth–opinion on our writing before it is fit to see the light of day.
I have also been sending emails to a number of authors whose work I admire, asking if they would be kind enough to read my book and provide an endorsement or a few positive words for the blurb. So far this correspondence has resulted in one very interesting and useful conversation with an established author in the mountain literature field. We talked about plausibility, the changes I've made to historical fact, and suspension of disbelief. It's certainly useful to engage with a point of view that challenges your own, and I've come to the conclusion that my existing blurb needs to be rewritten (it is heavy on 'hook' and lean on premise and substance).
The next stage in the production process is to create an advance reader's copy.
ALPINE DAWN


The work in progress, Alpine Dawn, is progressing well but I wouldn't say I'm finding time to work on it every day, even though I know I ought to! I currently have three scenes written; that's the whole of Chapter 1 and the first scene of Chapter 2 (to be called Christmas Gifts).
So far the tone of the book is decidedly sombre. I'm doing this deliberately and I very much hope it won't put off readers; I want to create a story of contrast. Beethoven's 3rd Symphony, the Eroica, plays a thematic role in this book and I am using elements from this piece of music to mould my story itself. Thus we have a sombre movement (not quite a funeral march, but close enough), and a gradual crescendo to tremendous joy, freedom, and heroism. I am not following the symphonic structure exactly but I like the idea of using Beethoven's remarkable work–which has been an inspiration since I started writing–to shape the destinies of these characters.
WEBSITE AND SOCIAL MEDIA


I know the writing has to come first, but I've been putting a fair bit into the promotion side of things lately and it's starting to pay off. On the website I've been writing my character profiles, and over on the Facebook page I started a discussion about whether readers prefer reading real books or ebooks. The results are conclusive but hardly surprising. 25 people responded, and the results graph is below:
The majority of people sampled are happy to read a book in either digital or paper form, although a significant minority still prefer reading real books. Although my novels won't be available as real books immediately, I am investigating print on demand and I do want my books to be available for those who don't yet own an ereader.
I'm also posting a fair bit of content on the Facebook page that won't appear on the main website. Presently that includes an album of photos taken in most of the locations featured in The Only Genuine Jones. Sign up  here to join in; it really is a lot more interactive (and updated more frequently) than the main website, vital as this blog will continue to be.
Finally, another graph showing monthly traffic to this site over the last four years. That's a pretty big spike!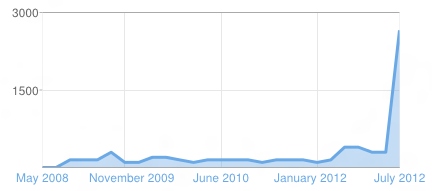 That's all for now, but I'll be back tomorrow with more from the world of The Only Genuine Jones.
Alex Roddie Newsletter
Join the newsletter to receive the latest updates in your inbox.
Comments