Work begins on 'Alpine Dawn'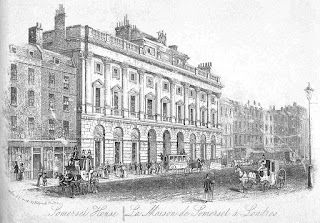 Somerset House, Strand, in the 1840s. The action begins
in the street near this spot on Christmas Eve, 1847.
After months of very hard work, on Saturday I realised I had run out of things that needed doing before I could start writing my new novel. The realisation was a startling one as I've been used to having an enormous to-do list for months now. When the moment came to start it was actually a little scary: I almost felt that I didn't want to ruin my perfect plan and my meticulous characters by doing something so disruptive as writing about them, but ultimately I got over my nerves and started to write The First Sentence.
I now have an entire first draft for Chapter One, which I've provisionally named Ten Thousand Guineas Owed. It's 5,566 words long and has only two scenes, and compared with my previous work it's a bit less 'chatty'; it has far less dialogue and more meat to it. My writer's voice has changed and I'm already getting the distinct sensation that this is going to be a far more mature book than OGJ.
Although it's very obviously first draft material and unquestionably rough around the edges, I'm encouraged. My first draft of OGJ's Chapter One was horrific to behold.
A little teaser for you:
"Ten thousand guineas. Kingsley had tried to forget the sum, because it made him physically sick whenever he thought of it: a feeling that only those who have lost all semblance of control over their affairs can empathise with. What a wretched world, he thought, what a futile life; were it not for Emma I would have given myself to the Thames years ago. Dear, complicated Emma."


Ok so not much to go on so far, but enough to realise that our hero Kingsley is in a bit of a pickle at this early stage in the story.
5,566 words down, 100,000+ to go!
Alex Roddie Newsletter
Join the newsletter to receive the latest updates in your inbox.
Comments