The poster campaign begins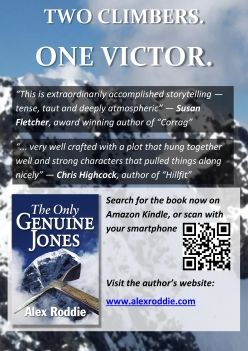 This is the first poster I will be distributing to a variety of locations throughout the UK. I won't be spending a fortune on my poster campaign, because I believe paid advertising only goes so far towards book sales (word of mouth, and a quality book to begin with, are far more important), but I will be selectively targeting a number of places that I believe may yield results.
The process started quite naturally with my home village. In addition, my parents have recently visited Settle in the Yorkshire Dales, and have dropped off several posters in outdoor shops and B&Bs. I've posted a couple up to the Clachaig and will also be asking other places in Glencoe if they would be kind enough to display my poster. Other locations on the list include Great Langdale, Wasdale Head, Capel Curig, and Fort William.
My rationale is this: walkers and climbers visiting these places are at the mercy of the weather, and are frequently marooned in the valley due to wind and rain. They might be bored and looking for something to read. This is my target audience (or at least one of my target audiences!) so it makes sense to put these posters up in places where they will have maximum impact.
Please find below a full resolution below the photo. If anyone can think of anywhere worthwhile to put a copy up on display, please feel free to print it out and distribute to your heart's content, with my blessing!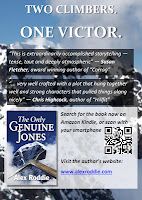 Please click for full resolution (A4) version
In other news, I've been spending a few days in Suffolk and have obtained an interesting new find for my mountaineering library. I'll be posting about my library at some point over the next few days. This is a subject that should be close to the heart of every writer, because we all need reference books! I've put a lot of effort and thought into mine, and am keen to share some of the rare and unusual titles I have discovered throughout the course of my research.
P.S. The Only Genuine Jones will shortly be available in all major ebook stores, including Kobo , Apple iBooks, and Nook.
Alex Roddie Newsletter
Join the newsletter to receive the latest updates in your inbox.
Comments