The second week: growing enthusiasm, and short stories to look forward to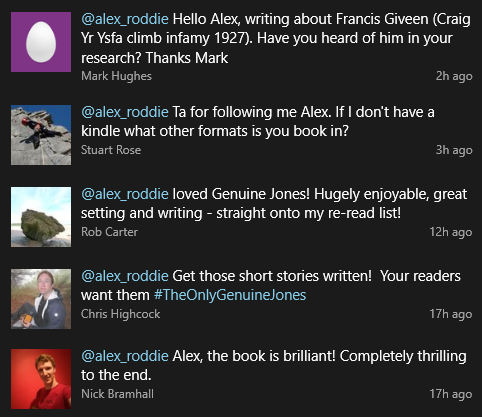 A selection of recent tweets about the book
The Only Genuine Jones
has survived its second week in the wild. Sales have been slower this week than they were at first, naturally enough, but things have been ticking over nicely and (more importantly) some readers have now finished the book.
Some of them are choosing to get in touch, mostly on Twitter where I'm always happy to engage in conversation with readers
@alex_roddie
. So far all the feedback has been overwhelmingly positive; every single person who has got back to me about the book has enjoyed it, and the fact that they are praising the book on social networks is great! My hope is that some of them will tell their friends or write a review on Amazon, both of which are very useful for me at this stage in the process.
I'm hugely encouraged. This is fantastic progress so early, and bodes extremely well for the long-term. Enthusiastic fans who read a book, engage with the author, and tell their friends are the lifeblood of every writer.
Part of my job is to look after these fans. The first duty of an author is not to waste a reader's time, which means writing a good book; second, I think a modern author has a duty to be approachable and visible, something which I have made a good start at being. Another important duty is to write more material for fans to enjoy.
In that spirit, it is my pleasure to announce that I have started the process of writing some short stories. Several people have suggested, more or less independently, that short stories on Kindle would be a great way of keeping momentum going and building my platform in between bigger releases. The good news is that I have loads of ideas for stories I can convert into shorter pieces. Many of these ideas were originally going to form a novel set in 1896 to show the origin of the Jones/Crowley feud, but actually they work better in a short story format and will be quicker to write and produce this way.
When will the first one be available? I don't know; certainly not imminently, as I haven't written a word of it yet. Rest assured, though, that I am on the case and these stories will appear far sooner than the next novel I am working on.
In other news, I'm going to be adjusting my marketing strategy a little. So far I have been almost exclusively targeting 'outdoor people' (walkers, climbers, nature-lovers), which is a very important demographic, but excludes the general historical fiction readers who I think would also really enjoy this book.
Alex Roddie Newsletter
Join the newsletter to receive the latest updates in your inbox.
Comments