End of year update on "Alpine Dawn"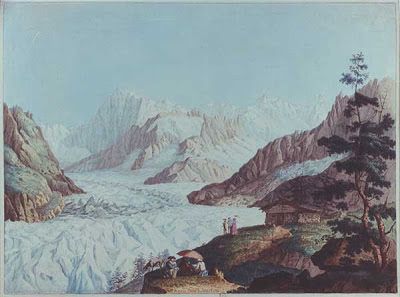 Chamouni in the early 19th century
I have managed to achieve very little writing over the past few weeks. My progress on Alpine Dawn is glacial and I still seem to be halfway through Chapter 4. I tell myself this is because I've been busy getting Crowley's Rival out there, and preparing my first paperback novel for production, but in reality it is simply a very challenging story to write.
The characters tug at my brain in unexpected ways and at the most unexpected times. While talking to a customer at work, I will suddenly find the voice of Albert Smith interrupting my chain of thought, demanding to know why Kingsley has not yet made any effort to improve his situation–and asking about the bruises. I will find myself walking through the dark and gloomy ways of London in the late 1840s, watching the corpse of a dog floating down the Thames, or standing forlornly outside a penny pie shop in the dark, wishing I had the money to fill my grumbling stomach.
The trials and troubles of Thomas Kingsley affect me on a daily basis. He is, in many ways, the least sympathetic main character I've ever written about: weak, insecure, frequently depressed, unable to improve his life. And yet he has a noble spark somewhere deep in his character … a desire to break free and be true to himself and the ideals he hopelessly aspires to. He feels instinctively that his destiny will take him far from London but he fails to take advantage of the opportunities presented to him.
Alpine Dawn is inspired by Dickens and Thackeray, and I already know this is going to be longer and more complex than anything I have written before. It will hopefully also be more meaningful. In Kingsley I'm trying to create a character that the modern recession-era reader can identify with: trampled upon by the economic disasters in the outside world, but also undermined by his own inability to live within his means.
This may not be a novel I can sit down and write in one go. I will probably abandon it for weeks or months at a time while I work on other things–probably more Jones and Crowley stories, as I feel comfortable with their characters and have already written huge amounts of backstory.
Alpine Dawn is not easy to write. It haunts me, challenges me, defies easy classification or comfort. I suspect it has the potential to hold more truth than anything I have written before, but it will have to be wrenched from me, and it won't be ready for a long time.
So in 2013 I will apply myself with greater discipline and diligence to my craft. I will continue to build on the successes of 2012, creating more Jones/Crowley stories for my readers to enjoy. I will continue to harvest ideas for future stories and books (the ideas never seem to end; the difficulty is writing them all!) Most of all, whenever I am able to do so, I will bend myself to the challenging task of building Alpine Dawn into a real novel. It's going to be different to my existing work, but trust me: when it's finally ready, it will be the best material I have ever written.
I hope you all have a happy new year, and I will see you in 2013!
In other news:
Don't forget that today is your last chance to snap up your digital copy of The Only Genuine Jones for the low price of 99p! It will go back up to the usual price of £1.99 tomorrow. It has recently received another glowing 5* review from historical fiction author Mike Hogan.
Alex Roddie Newsletter
Join the newsletter to receive the latest updates in your inbox.
Comments