The Only Genuine Jones is on special offer for 99p!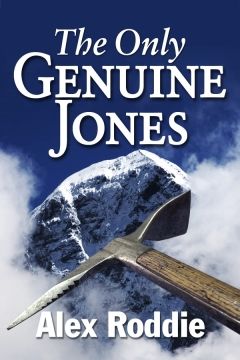 My Christmas sale has now begun! Until the 31st of December, The Only Genuine Jones will be on special offer for 99p. If you haven't yet picked up your digital edition then now is the time to do so. Don't be put off if you're worried you won't understand the book as a non-climber; it really is very approachable and written as an adventure story set in the Victorian era first and foremost!
The book has received an average rating of 4.7 on Amazon, thanks to no less than ten 5* reviews and four 4* reviews.
Here's the blurb:
Two climbers. One victor.


O.G. Jones and Aleister Crowley are rival mountaineers, both brilliant and ambitious, but with a very different concept of honour.


It's 1896, but not as you know it. Mountaineers use new and revolutionary equipment, risking death for intangible rewards. Nobody has ever climbed a major Alpine north face before. Only an extraordinary man would want to.


Crowley seeks revenge; Jones seeks redemption. Together their journey will take them to the most lethal mountain wall in the Alps, where Jones will face a terrible choice: risk death and dishonour, or allow Crowley to triumph and destroy everything he believes in.


Adventure and deception, the Victorian spirit of progress, and the savage beauty of the wild combine to make this a tale of the mountains unlike any other.
Download the book here on Kindle for 99p
If you enjoy the novel, don't forget the newly released prequel (a short story or novella, depending on your definition): Crowley's Rival.
Alex Roddie Newsletter
Join the newsletter to receive the latest updates in your inbox.
Comments