BBC Out of Doors interview on location in Glencoe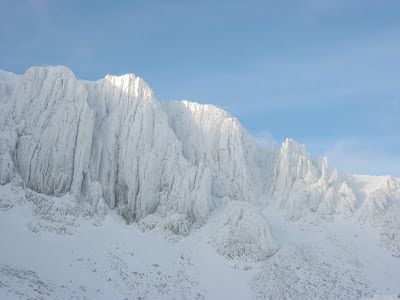 Today was a great day for me. Back in November I bumped into Chris Sleight, a radio journalist with BBC Out of Doors, and he suggested that we go for a climb together so that he could record an interview for his show. The date was set and we prayed for good conditions.
The morning dawned calm, clear and cold. We decided to climb a route on Stob Coire nan Lochan, a famous Scottish mountain that features prominently in the first chapter of The Only Genuine Jones. The goal of today was simple: to climb a winter route using my Victorian period equipment, and to record the events of the day while mixing in some Q&A sessions about my book.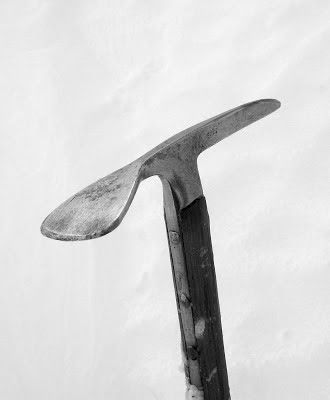 My trusty stepcutter
We climbed up the narrow gorge of Coire nan Lochan in similar conditions to those faced by Jones, Raeburn and Barkis in Chapter 1: deep snow! The stream pouring down from the high coire was almost totally frozen and might have made a good ice climb. That was not our objective, however, and we made decent time up to the base of the crags despite stopping on several occasions to make recordings.
Several climbing teams passed us and, as always when I'm dressed in my Victorian gear, I got a few strange looks! Most of the climbers up there today seemed to be hard men with hard climbs in mind. It was also good to bump into Jamie Bankhead who I haven't seen since I left the glen a year and a half ago.
"… finally they broke out into the upper bowl of Coire nan Lochan–a place of such silence that Jones could hear his own heart beating. The sky blushed pink in the east, over the shoulder of Gearr Aonach. Stars burned steady out of the cold depths. This felt like a primal place where humans were not welcome; it belonged to atoms and frost, the slow turn of the heavens, and the ravages of geological time."
The cliffs were painted frosted white, coated from base to summit with atmospheric  rime ice. Conditions were stunning. Despite the snowdrifts we saw the glint of old ice in the gullies, and as the rising sun glowed on the upper buttresses I reflected on how lucky I was to experience yet another perfect day in Coire nan Lochan–a place of many good memories for me.
Our chosen route was the "Wandering Wombat", a lengthy Grade II mountaineering ridge directly left of Boomerang Gully. Chris had brought a climbing rack and I took a rope, but they were not needed as the climb was technically easy. After some floundering in deep snow at the base of the route, things settled down and we romped up the iced rocks, pausing on several occasions for Chris to make some more recordings. We mostly discussed the route and how my Victorian equipment was coping with the conditions, how it compared with modern gear, and also how it all tied in with my book.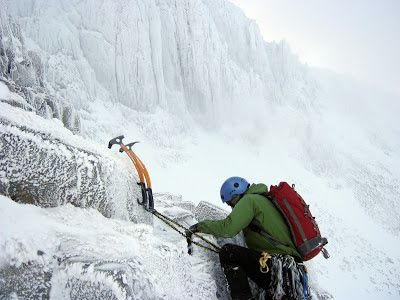 Chris climbing mixed ground on "Wandering Wombat"
As the route climbed higher conditions changed, and we came across several ice slopes that required my favourite technique: stepcutting! My waist-high ice axe came into play now, efficiently cutting steps in the compacted neve. Chris, equipped with crampons, whizzed up the slope while I took my time using the older technique.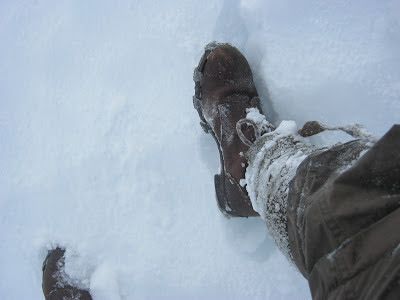 My boot in a step cut from the ice
The summit, when we reached it, was a place of swirling winds, spindrift, and some truly stunning views. Plumes of snow were blowing off the pointed summit of Bidean nam Bian, the next mountain along, and white peaks stretched from horizon to horizon. This is what it's all about and why winter climbers put themselves through so much punishment: in the end, the reward is simply the opportunity to immerse yourself in ethereal beauty.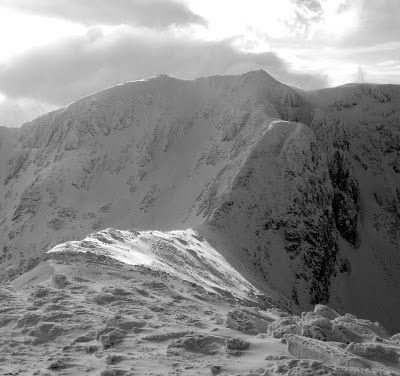 Bidean nam Bian, the monarch of Glencoe. Although has recently been the
scene of tragedy it is still beautiful.
We descended at a leisurely pace, crossing the coire rim and observing the hard climbers battling it out on the main cliff. We took the opportunity to descend a step of brittle water ice so that Chris could record the sounds made chopping steps in this much tougher medium.
After being dropped back off at the Clachaig Chris departed, and I tucked into a bowl of venison stew (well deserved I think!)
Today was a stunning day on the hill as well as a brilliant promotional opportunity for my writing. It's also great to get to know Chris, who has done much to further the cause of winter climbing in the UK media–quite unlike the misinformed, sensationalist reporting you usually see from the national press.
My interview should be featured on the radio next month–I'll be sure to let you all know when it airs!
Alex Roddie Newsletter
Join the newsletter to receive the latest updates in your inbox.
Comments