"Crowley's Rival" is free on Kindle until Thursday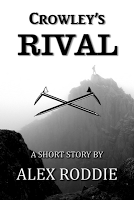 To coincide with the launch of The Only Genuine Jones in paperback form, I have put its prequel, Crowley's Rival, on free promotion until Thursday. It's a short novella aimed at fans of historical fiction and adventure writing.
You can download your copy here.
I am also looking for reviews (UK and US) for this title, so if you download and read it please leave a review. =) I would also appreciate any help in spreading the word through social networks etc.
CROWLEY'S RIVAL
Long before he became the Great Beast 666, a young Aleister Crowley met his match in the mountains of Britain.
At the age of seventeen, 'Alick' Crowley is impatient to begin life on his own terms. He bursts with energy but his strict religious education crushes every original impulse. He would do anything to have a real adventure.
When he visits the Lake District in the summer of 1893, he attempts to climb the crags of Scawfell. He has no climbing experience and no gear, but fortunately he meets some of the extraordinary men who have made a sport out of climbing these cliffs.
One of them is O.G. Jones, the self-proclaimed best climber in England … but Crowley believes that Jones is a liar after being humiliated and criticised by the more experienced man. He wants to prove that Jones is not what he claims to be, but who would believe him?
He vows to escape from his overbearing parents, live the life of adventure he has dreamed about, and return to challenge Jones on his own turf.
PRAISE FOR CROWLEY'S RIVAL
"… a very fine piece of writing.  Your description of the climbing scenes was very vivid and, of course, well researched.  I also thought that you sustained the tension very well and that the insights into Crowley's character were particularly good."
— John D Burns, author and performer of Aleister Crowley: A Passion for Evil
Alex Roddie Newsletter
Join the newsletter to receive the latest updates in your inbox.
Comments