An interview with Nick Livesey, mountain photographer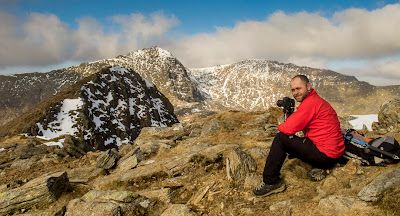 This is part of a series of interviews with authors, photographers, film-makers, and other creative people who all have one thing in common: a connection with mountaineering culture.
Today's interview is with Nick Livesey, a talented mountain photographer who has created some stunning images over the last few years. Several of his photos have appeared in national magazines such as TRAIL and TGO, and his name is a familiar sight in the Weekly Top Ten photos on UKC. Nick is also a prolific contributor to the UKHillwalking Route Cards, and one of the two Featured Authors in the routes section of UKH.


Please introduce yourself. Who are you and what do you do?
Hello, I'm Nick Livesey. On week days I'm a wage slave in a warehouse but in
the evenings and at weekends I'm a semi-professional landscape photographer
specialising in the upland areas of Great Britain.
How did you get into mountain photography?
Like most others I would imagine. I'd been hillwalking and climbing, summer
and winter for years and had always taken a camera with me to record my days in
the mountains. Then, about four years ago I had a rather special day on the
Aonach Eagach and came back with some stunning photographs. After that day, the
usual 'snaps' just weren't good enough and I soon became obsessed with seeking
out good light and interesting atmospheric conditions! My goal was the same
then as it is now, which is to show others how special and rewarding our
mountains can be. They've enriched my life immeasurably and my camera is the most
effective tool I have for putting that message across.
What lengths are you willing to go to in order to get a really good shot?
If I think that there is a reasonable chance of getting a really special
shot then I don't mind enduring a considerable amount of discomfort. In summer
I regularly get up at 2am and climb in the dark for first light on a summit. Winter
is slightly more civilised but I'm rarely off the hill before dark. I'm usually
very tired, hungry, cold and sometimes wet through! There have been many false
dawns but a bit of luck and a lot of planning usually serve me well and make up
for the bad days. The main thing is to stay safe and coming from a
mountaineering background is a real advantage in terms of getting shots that
others might find difficult or dangerous to capture. Having said that, I've had
my moments and no doubt there'll be more to come!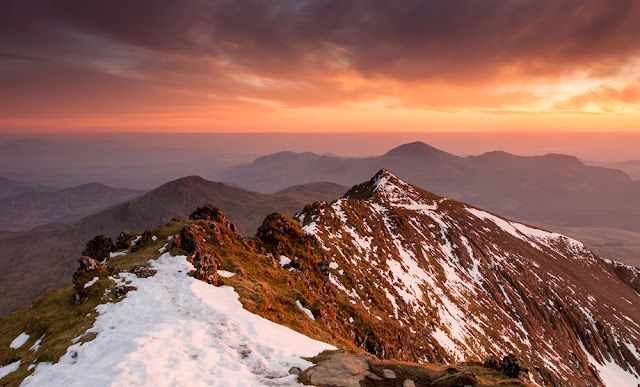 Snowdon South Ridge
Several of your images have been published, both online and in print.
What makes a publishable mountain photograph in 2013?
That would depend on the publication really, but I don't think tastes have
changed that much, just fashions and technology. Mountaineering/climbing shots
have always worked well without having to rely on good light; focusing more on
a spectacular situation with the climber in a dynamic pose…colourful clothing
helps too! For the more traditional mountain landscape, a dramatic sky, golden
hour light and good composition is a killer combination, a well-placed figure
can really add to the image too. In either case if it inspires the viewer and
makes them want to 'be there' you've got a publishable image. It's worth noting
that editors usually want something very specific, so having a portfolio which
covers a variety of areas in all four seasons is a real advantage.
Describe your most memorable or enjoyable mountain day.
Of course it would be almost impossible to choose just one, though most of
my best days have been in winter and have involved temperature inversions! But
just in case my other half is reading this, one that I'll never forget is a day
we spent climbing on the Napes, topping out above a sea cloud just in time to
enjoy a wonderful sunset. It felt like we were the only two people on the
planet, let alone Gable, which we probably were!
What advice would you give to mountaineers hoping to break into mountain
photography?
In my experience it's possible to get great shots by accident while you're
out with your mates just having a day on the hill…we've all done it. However,
if you want to consistently capture strong images then photography has to take
priority over having a jolly day out. Of course if you enjoy going into the
hills on your own (as I do) then you can have the best of both worlds. Most
importantly, feel something for your
subject and have the desire to communicate that feeling to others. Technique
can be learnt but without passion your photography will lack the most essential
ingredient.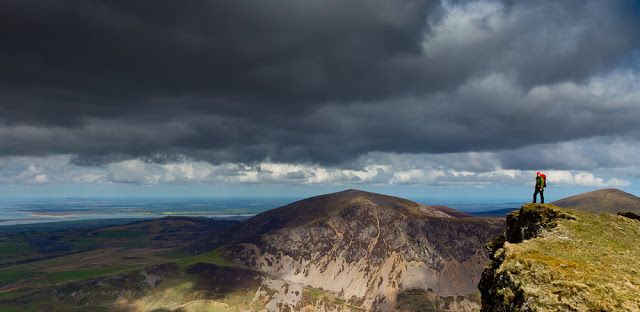 The Nantlle Ridge
What are you working on at the moment?
I'm currently working with 'Visit Peak District' as an ODPP (Official
Destination Photography Partner) as well as running one to one and small group
workshops in The Peak and Snowdonia. I'm looking forward to getting more images
published and should be appearing in Trail and TGO magazines in the next couple
of months. As always, I'm getting out at every available opportunity to hone my
photographic skills, enjoy the mountains and capture them at their ravishing
best!
Tell us where we can find out more about your work.
My Flickr account is where you'll find my latest work and my official
website has a selection of images plus full details of prints and workshops.
Many thanks to Nick for this interview!All images (C) Nick Livesey. All Rights Reserved.
Alex Roddie Newsletter
Join the newsletter to receive the latest updates in your inbox.
Comments