Last day of "The Only Genuine Jones" Goodreads giveaway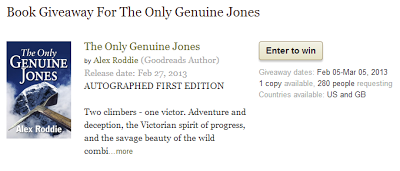 Just a reminder that my Goodreads giveaway, in which entrants get the chance to win a signed copy of The Only Genuine Jones, is still running–but today will be your last chance to enter! Entries close tomorrow morning, after which time a winner will be selected and the book will be posted. 280 people have currently entered.
Stock update


All of my personal stock of the book has now either been sold or reserved, which means that in order to fulfil future orders for signed copies, I will have to order another batch of books. This will add approximately a week to delivery times if you're ordering copies directly from me, so please bear that in mind!
Signed copies are £7.99 plus £2 delivery for each book. You can order a signed copy by emailing me. I accept PayPal or direct bank transfer.
Alex Roddie Newsletter
Join the newsletter to receive the latest updates in your inbox.
Comments