The mountains of my life – Tryfan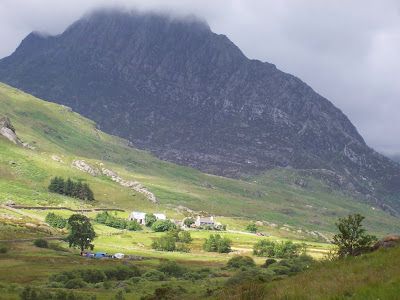 Two weeks ago I wrote a little about how climbing Bowfell was an important right of passage for me as a hillwalker. Today I would like to talk about the next mountain to have a profound impact on my emerging mountaineering career: Tryfan.
To keen hillwalkers, Tryfan (918m/3012ft) needs little introduction. This jagged blade of rock occupies a bastion of high ground on the southern side of the Ogwen Valley in North Wales. Arguably the most difficult mountain in Wales to climb, and more challenging than many Scottish peaks thanks to the ruggedness of its normal routes, Tryfan is heavily 'marketed' by the UK's outdoor magazines as the ultimate peak for scramblers.
As we shall see, it took several visits for me to appreciate the more subtle pleasures of this fine hill.
July 2005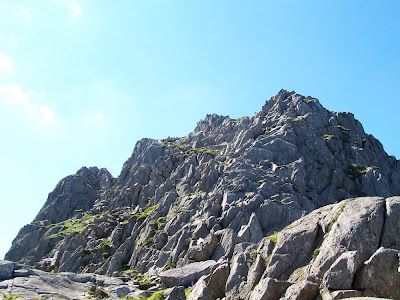 Typical North Ridge terrain
By July 2005 I was an obsessed walker with several dozen hills under my belt and a growing appetite for something more challenging. I bought a copy of Steve Ashton's classic guide,
Scrambles in Snowdonia
, and learned about an exciting mountaineering activity–scrambling–which involved climbing steep rocky terrain without the need for ropes and protection. My brother James and I planned a trip to Wales with the ultimate goal of attempting the North Ridge of Tryfan, a classic Grade 1 scramble. It's one of the most popular routes in Snowdonia and no pushover for a novice, with several hundred metres of hands-on-rock scrambling.
Our week staying at Gwern Gof Uchaf was a successful one, including ascents of Pen yr Ole Wen, Glyder Fach, and finally Tryfan itself. We had managed to convince ourselves that the North Ridge was a fearsome mountaineering challenge; I suppose we were heavily influenced by the rather gung-ho rhetoric used by Trail magazine at that time (and the strict safety warnings in Ashton's guidebook probably influenced us as well!) In any case, we set out early on a very hot day with trepidation in our hearts and a healthy respect for the savage formations of rock towering high above us.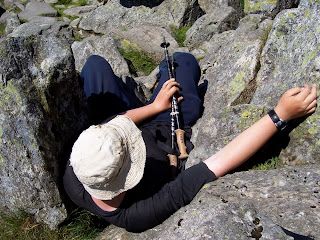 James having a breather at the summit
We were surprised at how easy the route proved to be. There were plenty of exciting moments–creeping across narrow gangways of rock suspended above the abyss, udging up vertical chimneys, teetering over stacked boulders–but nothing that felt remotely dangerous. The sunny weather and crowds of other people may have helped to dispel any impression of seriousness. It was, however, a knackering climb and we were both very tired and dehydrated on reaching the summit.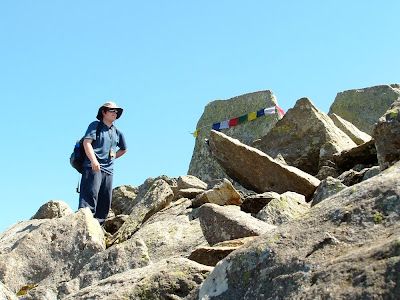 Me wearing vintage 2005 walking gear–check out the GPS on a
string around my neck!
It was a turning point for us both. We had climbed a Grade 1 scramble and found it straightforward. The ascent of Tryfan marked the beginning of a transition which continues to affect my life to this day: from walker to mountaineer.November 2005
In November I returned with the UEA Fell and Mountaineering Club on my very club first outing. The weather was decidedly chilly and the rocks were iced up for much of the ascent. I was one of the more experienced scramblers in the group (most of the others were complete novices) and I relished the opportunity to point out the way … even though I had only climbed the mountain once before! Again, the fine weather had attracted the crowds and we were not blessed with solitude on our ascent.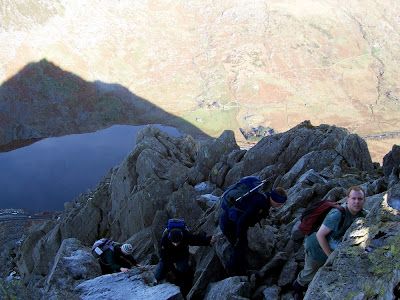 Tryfan casting a mighty shadow
July 2006
James and I returned the following year and climbed the peak again. I'd done a few other scrambles by this point, and on the same trip we climbed the Main Gully on Glyder Fach: ostensibly Grade 1, but far more difficult than Tryfan. In comparison, the North Ridge (once again tackled under a blue sky and with a queue of other climbers) felt like a benign old friend, but I was starting to sense that I was missing part of the Tryfan experience. Any hill, when shared with a crowd, feels diminished somehow, as if the subtle communication between mind and mountain is drowned out in the voices of others. By 2006 I was experienced enough to recognise this fact but not yet experienced enough to know how to seek out this silent communion with the landscape.Compared to 2005, in which we had nervously taken our first steps into a new world, our 2006 ascent was a carefree romp.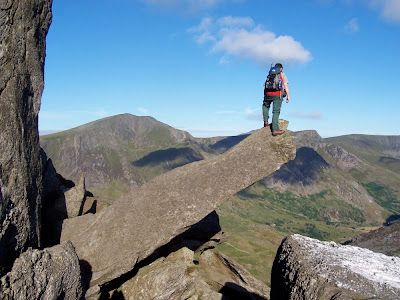 Me on the Cannon Stone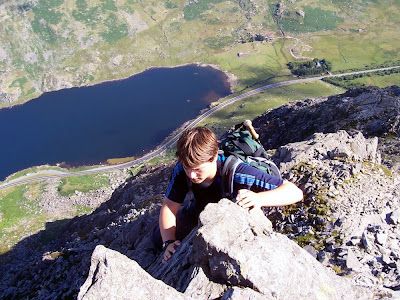 A very young-looking James Roddie negotiating an exposed moment
August 2007
My 2007 trip to Snowdonia was of a different character for several reasons. I was alone; I carried no tent, only a bivvy bag and a few provisions; and I had just conceived the idea for a new mountaineering novel set partially in Snowdonia in the 1890s (you can read it here). My mission was simple: to explore Snowdonia on foot and alone, utterly free. Consequently I alighted from the train at Betws-y-Coed with a spring in my step and a sense of adventure in my heart.I walked all the way from Betws-y-Coed to the Gwern Gof Uchaf campsite at the foot of Tryfan, but because I didn't have a tent I decided to walk just a little bit further. My bed for the night was a patch of heather on the summit of Tryfan Bach ("Little Tryfan"), the glaciated rock slab above the campsite often used by novice climbers to practice rope techniques.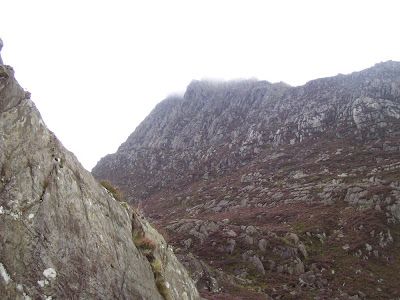 Room with a view
Thanks to my early start and the mediocre weather, I climbed the North Ridge in blessed solitude at last, accompanied only by the feral goats that jump from rock to rock on the lower flanks of the mountain. With everything I could possibly need to keep me going for several days packed up in my rucksack, and no specific agenda, I felt a great sense of freedom as I gradually climbed the North Ridge. This was quite a different experience compared to my first three visits.I sat for half an hour on the summit. The solitary bivvyist gets to know the hills better than any other mountain voyager, I believe, because he is alone with his thoughts and exists in the landscape at unsociable hours: dawn, or sunset when conventional wisdom says you should be back down in the valley. Without the pressure of the clock or the company of others, the mountain's true nature is at last sensed, if not fully revealed (that privilege requires a longer association).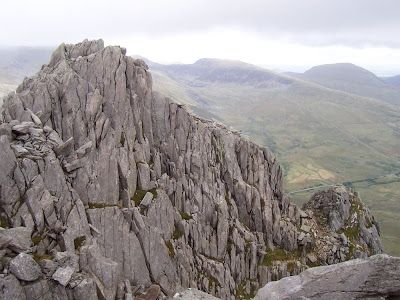 Silence and reflection on a familiar summit
July 2012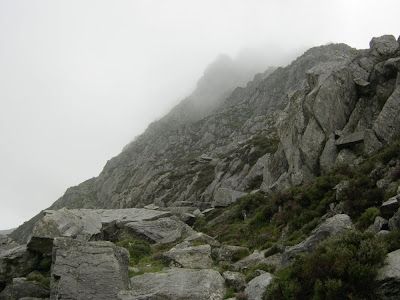 The East Face of Tryfan
I returned to Snowdonia after a long absence in July 2012. I have often found that, when revisiting familiar locations after an interval of several years, the lack of change in the environment makes me notice the changes in myself all the more. This is especially true of mountains and one reason why favourite hills continue to draw me back time after time.On this particular trip I felt the need to climb Tryfan from a different side. I picked my way along the indistinct Heather Terrace, and as I climbed through grand rock architecture I reflected on how this familiar mountain was made unfamiliar simply by approaching it in a different way. My memories drew comparisons with the West Face of Aonach Dubh: a complex, vegetated place, utterly different to the clean crest of the North Ridge.My ascent of Little and North Gullies was, once again, only a Grade 1 scramble. Despite a growing interest in harder rock since 2007, by July 2012 I had come round full circle and once again preferred solitary easy scrambling to the greater challenge of serious climbing. Nevertheless, the atmosphere was palpable as I climbed dripping grooves and edged along heather-chocked terraces, and when I finally broke out onto the North Ridge near the summit I felt like I had got to know the mountain a little better once again. I'm discovering that there's so much more to Tryfan than I had once given it credit for. Climbing the peak has become something of a ritual for me whenever I visit Ogwen and I'm sure I will enjoy exploring many of its less frequented routes in future years.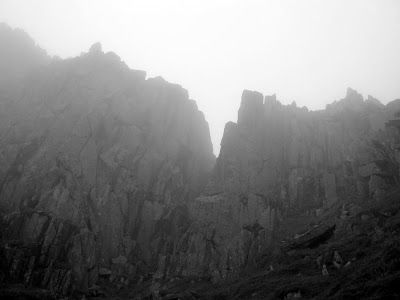 Mist and magic on Tryfan
Alex Roddie Newsletter
Join the newsletter to receive the latest updates in your inbox.
Comments