Work underway on "Forbes' Challenge"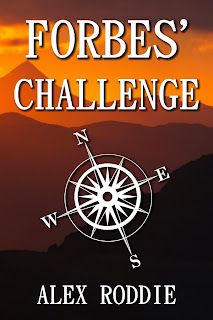 Today I would like to introduce my readers to a new project I'm working on. Although I am continuing to chip away at Alpine Dawn, that's very much a long-term project which is going to take a lot of time to complete; at this rate I doubt it's going to be ready for publication before 2014. It's only fair that I produce something else for my fans to read while they wait for Alpine Dawn!


About the new story


Forbes' Challenge is an idea that has come out of nowhere and surprised me. The idea is to introduce the character of James Forbes in an adventure that entirely belongs to him. He plays a key role in Alpine Dawn so I think a shorter piece dedicated to him will be invaluable.
The setting: Scotland, 1847. Professor Forbes is convalescing at his summer retreat near Pitlochry, but he is ill at ease, unable to turn his active mind away from work.  When one of his former students appears exhausted at his door, telling stories of murderous gamekeepers and a lost glacier in the heart of the Cairngorm mountains, he can't resist the chance for another adventure. However, he soon finds himself up against the failings of his own health and the Duke of Atholl's men, determined to find the trespasser and punish him. Will Forbes discover the rumoured glacier of Bràigh Riabhach, or will his failing health finally catch up with him?
I'm having a lot of fun writing this story. It's about so much more than the Cairngorm journey of a dying scientist: it's about a rapidly changing Highland way of life, land clearance, the 19th century quest for the sublime, and the changing concept of social class. However, at its core this is going to be a relatively uncomplicated tale with a few well-defined characters, and for that reason I think I will finish it quickly. I aim to publish before the end of the summer.
This book will be a novella in length (most likely between 20 and 30,000 words) and will initially be released exclusively as an ebook, most likely on Kindle first of all and then other platforms later on.
A plea to my readers
This book is for everyone who has supported me and enjoyed The Only Genuine Jones. You wanted something else set in Scotland and I am doing my best to provide it. Before OGJ was released you collectively managed to stir up a huge amount of enthusiasm and buzz surrounding the book … well, now I'd like to ask you to do what you can to replicate that excitement with this new release. Tell your friends, share this blog post on as many social media channels as you can, and ask me questions! As the author I'm here to interact with you, the readers (that's really the whole point of this blog and my various social outlets). Ask anything you like and I shall answer to the best of my abilities.
Remember, every time you share a link to my site or retweet something I have posted on Twitter, you help me establish myself as an author. I've come a long way in the last six months but there is still a lot of ground left to cover!
Alex Roddie Newsletter
Join the newsletter to receive the latest updates in your inbox.
Comments