"Dare to Dream" by Matthew Dieumegard-Thornton – book review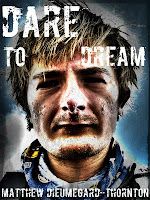 by Matthew Dieumegard-Thornton
Dare to Dream is the new book by Matthew Dieumegard-Thornton, available exclusively on Kindle. In May 2012, Matthew successfully climbed Everest as a member of the record breaking youngest ever team to climb the mountain. This book is the story of his dream–to climb Everest–and the extraordinary journey from first steps to the top of the mountain.There is a glut of new books on Everest at the moment thanks to it being the 60th anniversary year, but for me Dare to Dream stands out in several ways. Firstly, Matthew is a young man. Although he had accumulated a decent amount of mountaineering experience by the time he set out for Everest, he isn't a seasoned climber. Why does this matter? His outlook on mountaineering is fresh, unspoiled by the quirks and hypocrisies of climbing culture, and full of enthusiasm and energy. In a genre packed with relatively cynical books this really is something new and I loved reading about how a relative newcomer to climbing looked at the unique pleasures and pains of the Everest challenge.Matthew goes into a lot of detail in describing his adventures, but the book is in no way long-winded. He takes us through his first steps in planning how to get to Everest from a state of almost no climbing experience, building that experience up over the years, first Scottish winter season, first rock climbing trip, first big peak. His training routines are gruelling and demonstrate the lengths he was willing to go in order to achieve his goal. His first few expeditions to the greater ranges are also described vividly and throughout the book Everest looms as both a promise and a threat, overshadowing everything he does.
The writing style is really engaging and Matthew's cheerful, optimistic nature shines through on every page. Matthew is the hero of his own book, and I mean that in the best possible sense: we cheer him on at every stage, commiserate with him when he encounters roadblocks and pitfalls, and feel every moment of triumph along the way. It's impossible not to admire his tenacity and willingness to do whatever it takes to achieve his dream, particularly when he's laid low by illness or altitude sickness.He also tells his story with considerable humour and I found myself chuckling on most pages! Again, his fresh, optimistic outlook help in this regard and the humour adds a light-hearted dimension often lacking from books of this genre.Unusually for a climbing book, Dare to Dream delves into the financial side of planning an Everest expedition. This remains something of a taboo even in 2013, probably due to the (often unfair) stigma attached to commercial expeditions. We all like to think of mountaineering as a purely sporting endeavour, but the fact is that modern Himalayan expeditions are expensive and must be paid for. His struggle to obtain funding was almost as gargantuan as the struggle to climb the mountain and yet again his tenacity is impressive. I really admired the frank and straightforward way in which the author approached this necessary evil and even found many positive aspects to it. This won't be to everyone's tastes–after all, a modern Everest ascent is not quite the romantic battle against nature it once was–but the book is unwaveringly honest.For all of Dare to Dream's good qualities, the writing feels a little unpolished in places, but if anything this only serves to highlight the youthful enthusiasm of the adventure. Some will criticise him for being part of the huge queues on Everest in 2012 that resulted in several deaths, but I believe it's unfair to single out any individual person for the cumulative problems that surround Everest. It's also clear from reading Dare to Dream that the range of climbing abilities to be found on Everest that year varied considerably and it's obvious that Matthew's team were amongst the better prepared.In conclusionDare to Dream stands out from the recent spate of Everest books in offering a fresh and honest perspective about what it's really like for a young person to climb the world's highest mountain in the 21st century. Regardless of your Everest opinions or politics it would take a hardened cynic not to be uplifted by this well-written tale of humour, adventure and perseverance, and in my opinion the book deserves to do well. I look forward to future adventures from this author!You can download Dare to Dream here, exclusively on Amazon Kindle.Visit his website here: http://www.matthewdthornton.comFollow him on Twitter @MattDThornton
Alex Roddie Newsletter
Join the newsletter to receive the latest updates in your inbox.
Comments