The Cairngorms in Winter with Chris Townsend – film review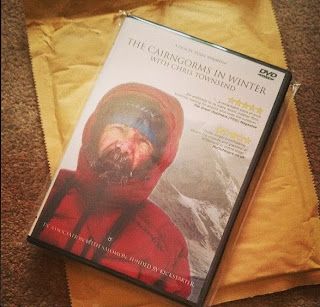 A film by Terry Abraham
Funded by Kickstarter
I have been looking forward to this remarkable film for a long time. I follow Terry on Twitter (
@terrybnd
) and, although I was not one of the original backers for the project on Kickstarter, I became intrigued by the remarkable lengths he went to in order to shoot this film. Dragging heavy photographic and sound gear deep into the Cairngorms in all weathers, he has succeeded in creating a film unlike any other – a real love letter to the mountains, not just for Terry and Chris, but for all mountain enthusiasts.
As a writer of mountain fiction, I'm well aware that most books, films or stories about mountains are not in fact about the landscape at all, but rather the human dramas played out in the context of the mountains. The Cairngorms in Winter takes a different approach in truly showcasing the landscape above all else. Chris Townsend, the well-known backpacker and author, is our narrator on this journey but his role is dwarfed by the immensity of the landscape throughout which he voyages.
The true stars of the show are the majestic Cairngorm mountains. Vast and desolate, these hills are shown in all their magnificent splendour by Terry's incredible cinematography. We are treated to sublime wild camps, the beauty of a clear winter's day on the plateau, the silence of the forest.
Very little actually happens in The Cairngorms in Winter. There is no storyline as such; Chris makes several journeys into the mountains, enjoys a couple of wild camps, watches the sun set. In a world where films tend to be dominated by blockbuster plots, the slow pace and contemplative atmosphere of this film are a real treat. I feel this is how films about mountains should be. Mountains are not fast or flashy; they are slow and shy, and they reveal their treasures only to the exceptionally patient.
In my opinion this film reflects the true nature of the landscape better than any other film I have seen about mountaineering. It's more like a painting or a symphony than a film as we understand it – a true work of art.
If this film has a fault, it's simply that the Cairngorms are too huge to show comprehensively in an hour and a half. We see only glimpses of the Northern Corries, of the Braeriach amphitheatre, of the Southern Cairngorms. By definition a single film can only show us a tiny selection of the jewels on offer, and so we come away with a tantalising sense of having been given a glimpse into a room piled to the ceiling with treasures. Perhaps a series of films would do the subject full justice, but such an undertaking would be beyond the abilities of such a small team, however dedicated and skilled!
I enjoyed
The Cairngorms in Winter
tremendously and look forward to future landscape films from Terry Abraham. He's
currently in the process of filming
a piece on Scafell Pike.
~ FIND OUT MORE ~
Alex Roddie Newsletter
Join the newsletter to receive the latest updates in your inbox.
Comments