The Only Genuine Jones wins Indie Book of the Day award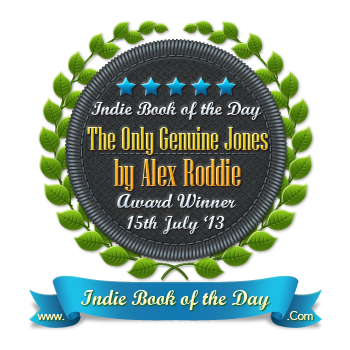 I'm very proud to announce that my first novel, The Only Genuine Jones, has won the Indie Book of the Day award for the 15th of July. The IBD award showcases indie books of quality, which is very important in today's publishing landscape as the traditional gatekeepers of quality, the big publishing houses, no longer have a monopoly on the publishing process. For readers, separating the wheat from the chaff is becoming more challenging, and that's why I'm very pleased to have won this indie award – a very worthwhile endorsement for my work.
In other news


I must apologise for neglecting my blog these past few weeks! I've been very busy working on new material for The Forbes Challenge (which I still hope to release before the end of the summer) and somehow things like blogging and book promotion have fallen down the list of priorities. Finding a balance between all the demands on an author's time (plus so-called "real life" as well!) is a challenge I have yet to master!
I'll let you into a little secret – writing isn't my only job. By day I work as a customer consultant for the Carphone Warehouse, and although I only work part time hours (which is good for my writing career), the summer season involves big (frequently moving) targets and plenty of challenges. At this time of year it can be tricky juggling both jobs at once, so I'm hoping readers can understand that I've chosen to focus on writing for the moment and haven't been blogging as much. I hope to correct this balance as soon as possible!
Alex Roddie Newsletter
Join the newsletter to receive the latest updates in your inbox.
Comments