Visiting the Grave of Owen Glynne Jones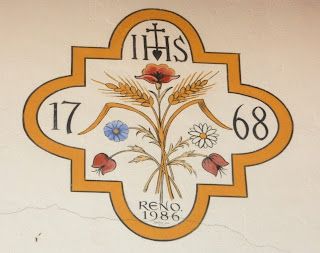 There comes a time in the career of an author when the seemingly impenetrable veil between reality and the imaginary worlds we write about is lifted. We are touched by the very stuff of our stories. Characters who were real enough to us in our heads become suddenly tangible human beings of flesh and blood; human beings with a voice more real than any we could give them.
Such moments are incredibly profound. I am lucky enough to have experienced such a moment precisely three years ago when I visited the grave of O.G. Jones in Evolena, Switzerland.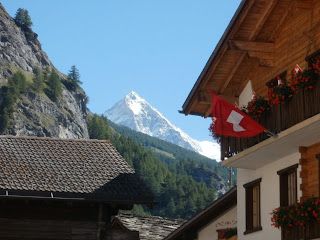 Dent Blanche from the streets of Evolena
Followers who have read The Only Genuine Jones will be familiar with Jones, the primary hero of the book. He's a complex man who seeks progress in the world of mountaineering yet frequently sabotages his own efforts – a man who can be reckless and myopic, yet is steered by a deep-seated sense of right and wrong. My character is based strongly on the real historical figure of Owen Glynne Jones, and in 2010 I undertook an Alpine voyage to visit the area where he spent his last days.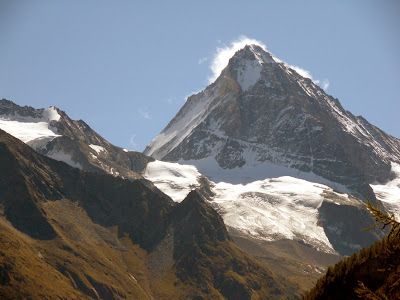 Dent Blanche
In summer 1899 Jones climbed extensively in the quieter regions of Switzerland. True to character, he did everything at breakneck speed and hardly stopped to eat or sleep; on one occasion he was observed to come down from two days of hard climbing, tweed jacket in rags, and paused merely to gulp down a glass of beer before setting out into the mountains once again.
When he was asked why he felt the need to cram so much mountaineering into such a short space of time, his reply was, tragically, "You see, I won't be able to do this sort of thing for much longer, so I must make the best of it while I can."
Within a matter of days he was dead, killed in one of the worst mountaineering accidents of the 1890s.
Together with his friend Mr Hill and three Swiss guides, he set out to climb the Ferpècle arête of Dent Blanche, a fearsome peak between Arolla and Zermatt. Near the top of the ridge one of the guides slipped and fell to his death, dragging everybody else off as well; only Hill survived, who was fortunate in that the rope broke before it could pull him after the others. Poor Mr Hill had a devillish time getting down off the mountain and finally arrived in Zermatt after a trying ordeal to raise the alarm.
A search party scoured the glacier at the foot of the mountain for remains. Only a few sad items were found: scattered body parts, a hat, and the broken shaft of Jones' ice axe. These relics (minus the body parts) can today be seen and touched at the Zermatt Alpine museum, which I had first visited in 2007. Touching the ice axe of O.G. Jones had been a pivotal moment in my book's conception.
But in 2010 I finally gained the chance to stand at his grave, take off my hat, and gaze up into the summer heat at the summit of the mountain that had killed my main character and one of my greatest heroes.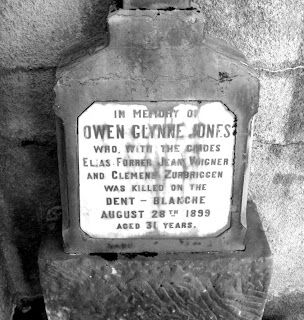 The grave of O.G. Jones
The moment was one of profound connection with this man whose life story had inspired my entire creative input and output since 2007. Suddenly I felt I knew him a little better; I had come to the place where his friends, family and guides had assembled one chilly morning in September 1899 to pay their respects to a great man. Evolena is an isolated and quiet sort of place and the chapel where he is buried is a tiny stone building, hardly big enough for a congregation of a dozen. The village has changed little since the 19th century and to this day retains a little of the atmosphere of "der alte Alpen". There are no ski lifts here, and (unlike Zermatt!) no MacDonalds.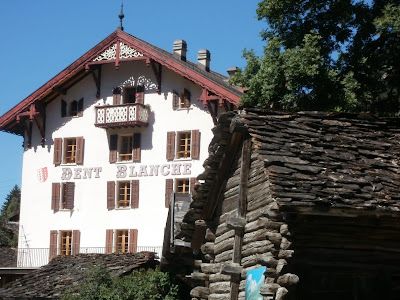 The Hotel Dent Blanche, where Jones frequently stayed.
I returned from my trip to the Alps that year with a profoundly different appreciation of Jones and his life and death. It had ceased to be a story of purely academic interest to me some time before, but now it was more personal; I felt far more intimately connected with his tale. In understanding his last days and death (which were, I think, exactly as he would have wished them to be) I felt able to understand his life and character better than ever before.
Every writer whose work is grounded in reality should seek out these moments of connection with their characters. Their transformative powers are remarkable, and you won't look at your work in the same way again.
You can buy my novel, The Only Genuine Jones, here for £1.99 on Kindle or £7.99 in paperback. It's inspired by the life of Jones and has gained a lot of 5* reviews!
Alex Roddie Newsletter
Join the newsletter to receive the latest updates in your inbox.
Comments