The Atholl Expedition will launch on Christmas Eve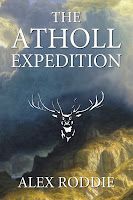 The Atholl Expedition
Good news, folks – I have a solid launch date for my new title! The Atholl Expedition will launch on Christmas Eve, exclusively on Kindle at first although I am hard at work on a paperback edition. I'm also evaluating the possibility of launching the title on other ebook platforms, but since my first book didn't sell very well on Kobo, Nook etc. I will most likely keep this one as a Kindle exclusive.
If you'd like to read The Atholl Expedition on a non-Kindle ereader, please leave a comment so I can gauge demand.
Subscribers to my
mailing list
have already been given access to the book at a lower pre-launch price.
Alex Roddie Newsletter
Join the newsletter to receive the latest updates in your inbox.
Comments