Registration for signed paperback copies of #TheAthollExpedition is now open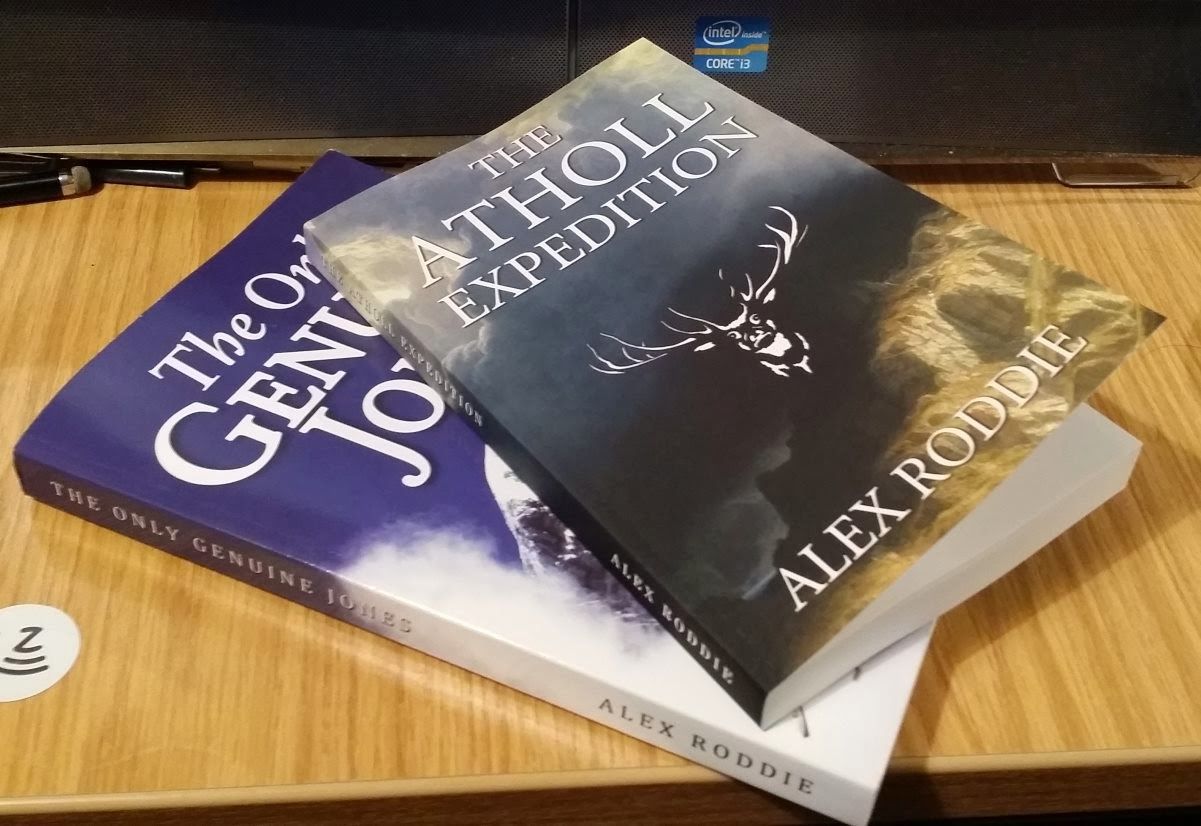 Excellent news, Atholl fans! I have just signed off the first paperback proof and approved distribution, which means it will be available to purchase from all good online bookstores in a matter of weeks.
Reading it for the first time in paperback form was very exciting for me. Although I know the story inside and out, seeing it as a final product, set on the page and accompanied by illustrations, made it feel at last complete. The symbolism and metaphors of the story seemed to flow better than ever before. (A few people have asked me about the symbolism: without giving away too many clues, the key to it all is staring right back at you from the front cover!) There are many hidden references and hints in The Atholl Expedition and it will be a shrewd reader who finds them all.
I'm proud of what I have created and am happy to have written something that conveys my true vision. In some ways The Only Genuine Jones was a trial run; this time the training wheels are off, and the story I really want to tell has begun.
Want a signed copy?


Demand for signed copies of The Only Genuine Jones was strong, and I anticipate a similarly healthy demand for the new title. I have ordered the first small shipment of books and expect them to arrive within about two weeks.
I will be taking a limited number of orders for signed copies directly through my website. Orders will be taken by email and I accept direct bank transfer, PayPal, or cheque in payment. Cost will be £7.99 plus £2 P&P. Ten people have reserved copies already so if you want one, please let me know by emailing me at alex.roddie@gmail.com.
Signings and events


The book is set in Scotland I have a strong fanbase north of the border, but this time I haven't planned a grand launch party like I did for my first book. However, I haven't really done any events in my local area, so this time I am hoping to conduct a few low-key signings and other events in Lincolnshire. I will of course be posting details on my blog of future appearances.
Mailing list


Work is underway on Alpine Dawn Book II. To get an early email notification of the new book when it's published, please sign up to my new release mailing list.
A final word…


The book has been out for a month and sold almost two hundred copies, which is a fantastic start. I'd like to thank everyone who has supported me so far! Don't forget to leave a review on Amazon…
Alex Roddie Newsletter
Join the newsletter to receive the latest updates in your inbox.
Comments