A Scottish Winter Season Missed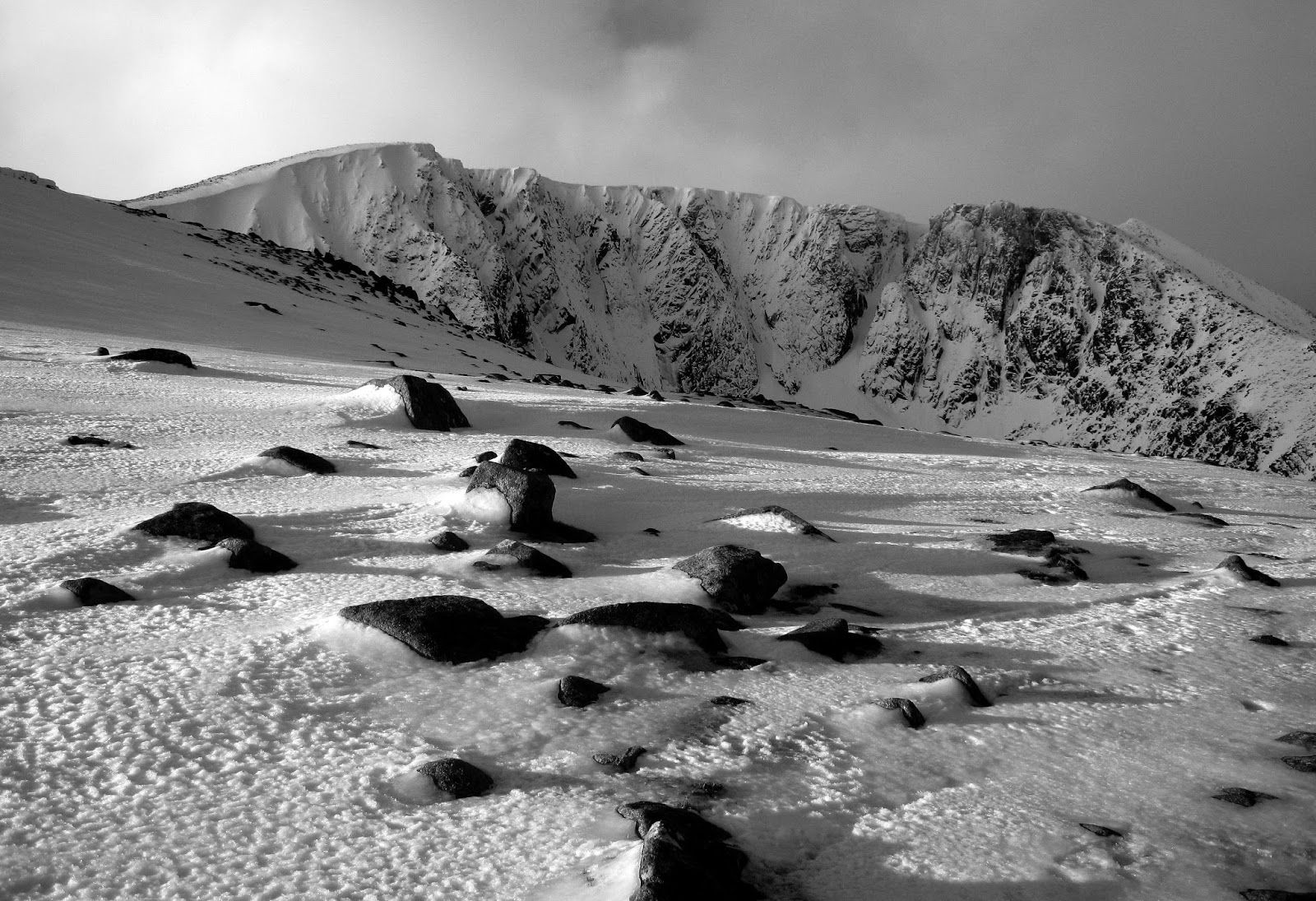 "The mountains will still be there next time…"


This is a phrase commonly used by climbers to console those who have missed an opportunity, failed on a climb, or retreated for safety reasons. It can be a great comfort. Unlike us, mountains do not wither or grow old, and they endure for millennia. This anchor, steady at the core of a long life filled with change, is part of the great attraction of the hills. It helps to give structure to our lives.
But sometimes these words fail to console. For the youngster new to the hills, every experience is precious and a missed opportunity can be a heavy blow; and for the old hand who is exiled from the mountains he loves, even if that exile is endured willingly and for the very best of reasons, every trip to the mountains is so valuable.
This is the first time in eight years that I have missed an entire Scottish winter mountaineering season. My one and only visit was in January this year, aborted due to high winds, and I didn't get near a single summit. My February trip was cancelled due to bad conditions, and my next chance for a trip to the hills won't come until June.
Since my first trip to Scotland in 2006 I have returned several times a year. Between 2008 and 2011 I lived in Glencoe and climbed several times a week. I have broken crampons, worn out ice axes, reduced expensive Goretex jackets to rags. Winter mountaineering is a big part of who I am and, when faced with the prospect of an entire season of exile, I find myself affected in ways I never would have expected. The yearning is there, of course; frequently unconscious, but then I will see a shaft of sunlight glancing across the meadow on my walk to the bus stop, or perhaps low-lying mist in the field from my study window, and in a flash I'm back on the mountain experiencing moments of danger or beauty. These flashbacks have the power to make me stop in my tracks and gasp.
I know of nothing else in life that has the ability to shape the human mind so powerfully, even years after the events in question. It's remarkable.
There is a positive side. When I lived in Scotland I found myself taking these wonders for granted. I started staying in bed on the less than perfect days, or dismissing an "ordinary" ascent of Stob Coire nan Lochan as boring. Now that I live far from the hills every single mountain experience is precious to me and far more valuable than it was before.
I find that this altered perspective fuels my writing, too. It's my curse that I am never able to effectively write about mountains while I live amongst them: I need time and distance to see them in their proper proportions.
I choose to live in Lincolnshire for many reasons, and I would never go back to the Highlands now: too much of my life is here, and I am well aware that returning to live in Scotland would make me unhappy. As someone who grew up far from the mountains I'm best able to appreciate them with regular visits — but visits firmly separated from the rest of my life.
What I struggle to deal with is when the intervals between these visits grow too long. Work has gobbled up more of my time than I would have liked these last few months, and I'm seeking to rebalance the scale. Until I do I'm sure I will continue to miss the hills — and to try and use that sense of longing to fuel the fires of my writing.
Alex Roddie Newsletter
Join the newsletter to receive the latest updates in your inbox.
Comments