#TheAthollExpedition reviewed by TGO magazine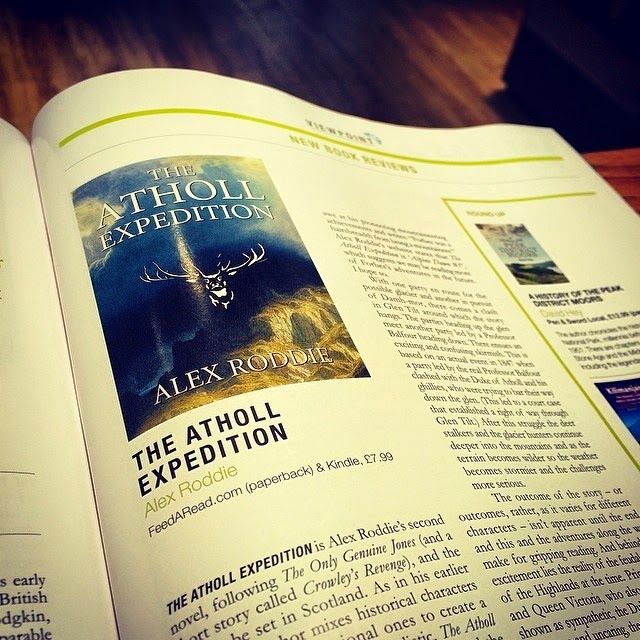 The Atholl Expedition has been reviewed by outdoor expert, backpacker and author Chris Townsend in the May 2014 issue of The Great Outdoors (TGO) magazine. TGO is one of the top selling outdoor publications in the UK and they printed a short review of my first novel almost exactly a year ago.
This time the review occupies almost an entire page in the book reviews section and is far more in depth. Some choice quotes:
"The outcome of the story … isn't apparent until the end and this and the adventures along the way make for gripping reading."
"Neither the aristocrats nor the stalkers are the future. That lies with professors Forbes and Balfour."
"Alex Roddie knows the history of the period and he knows the mountains, his descriptions of both ringing true. The Atholl Expedition is an exciting and well-written adventure story but it also goes deeper into that, both into the history of the period and the psychology of the characters. It's one of the best works of mountaineering fiction I've read."
This is clearly a great review and Chris has done a brilliant job of weaving some of the real historical backstory into his analysis. I'm particularly pleased that this reviewer sees so clearly the many subtler themes and ideas that exist beneath the surface of my story — themes that I spend my life as an author pondering and considering how to express in my work. He isn't the first reviewer to have been perceptive on these matters, either, and I'm incredibly pleased that mountain lovers are getting so much more from the book. I have, after all, written it for them.
I consider Atholl to be a much better novel than my first book and I'm both glad and humbled it has received such recognition.
Alex Roddie Newsletter
Join the newsletter to receive the latest updates in your inbox.
Comments