The camera of the Abraham brothers returns to the Lakeland crags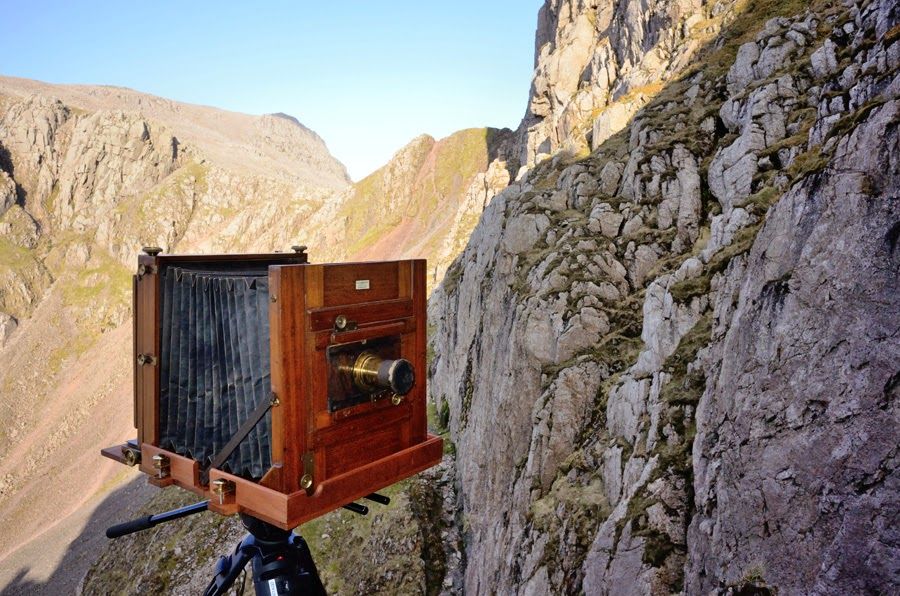 Readers of my historical novel The Only Genuine Jones will be familiar with the brothers George and Ashley Abraham: climbing photographers from Keswick in the Lake District who teamed up with O.G. Jones to document many of his pioneering first ascents in the late 19th century. In my short story Crowley's Rival, Jones borrows a camera from the Abrahams' photographic studio and gets into difficulties while trying to descend a gully on Great Gable in the company of a young Aleister Crowley. This was a true incident documented from both sides of the dispute. In fact, it's arguable that the bulky camera tripod that made Jones so clumsy on the descent was partially responsible for the rivalry between Jones and Crowley, both in reality and my fictional narrative.
I was delighted to find out that one of the cameras formerly owned by the Abraham brothers has been loaned to the Mountain Heritage Trust, and currently resides in the Keswick Museum along with selected images from the Abrahams' collection.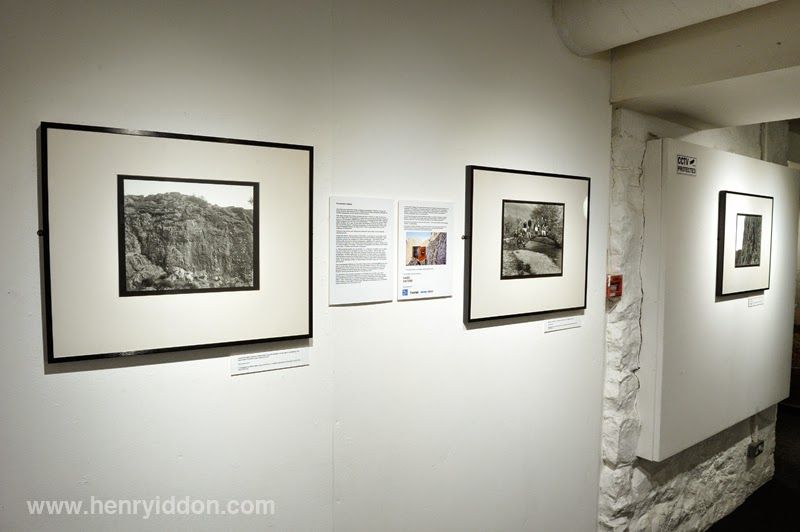 This particular camera is an Underwood Instanto, manufactured by the E & T Underwood Company in Birmingham. This model was produced from around 1886 to 1905 and is made from mahogany and brass, with leather bellows. Although the Instanto was made in quarter plate, half plate and whole plate sizes, this specimen takes 10×12 inch plates. It's a gorgeous machine — but extremely bulky, which as we shall see is an important consideration for mountain use. The Instanto camera was sold for between £2 4s 6d and £6 2s when new.The owner of the camera, who has loaned it to the MHT, is keen for it to be used once again in a mountain environment. On the 20th of April 2014 it returned to the crags of Scafell to take part in the centenary anniversary of the first ascent of The Great Flake climb on Central Buttress, which was one of the greatest pre-war rock climbs of the Lake District.Professional photographer Henry Iddon is currently working on a fascinating project involving this camera. He intends to use the Instanto to record contemporary rock climbing images, in much the same way that the Abraham brothers used it to document the leading climbers of their era. I think anyone with an interest in either photography or mountaineering will agree that this is remarkable. Will a modern digital camera from the year 2014 still be operational a century from now? I very much doubt it.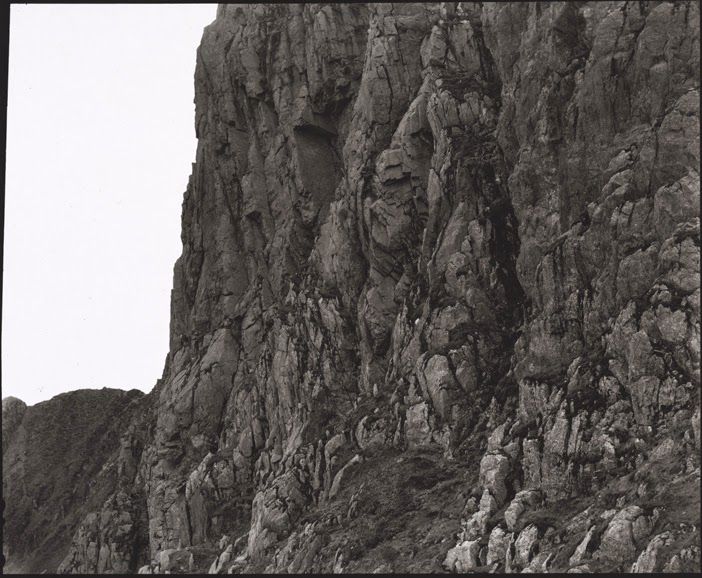 Central Buttress, Scafell. This is a contemporary image captured
with the Instanto camera.
On a personal level, I find it extraordinary that a camera used by characters who feature in my works of fiction — and, indeed, it may even be the camera from Crowley's Rival — is still being used today. Projects like this make me very aware of both my privilege and responsibility in writing about these people and events.I got in touch with Henry Iddon and asked him a few questions about the Instanto project.
1. Using a 19th century camera in the mountains must be dramatically different to using a modern DSLR, or even a more traditional film camera. What has the experience taught you about the skills and techniques of the pioneering mountain photographers?
Using the 10×12 is similar to using my 5×4 which I've been shooting "A Place to Go" on. Obviously the size makes it very cumbersome and you need a lot of space to operate it — loading a film into the dark slides is a performance as it needs a room, not a changing bag!
Everything has to be planned and worked through a process. Back then they used pre-prepared glass plates — we're using custom-made Ilford FP4 film which I source when Ilford do a bespoke service for unusual film sizes once a year, usually in August. Twenty-five sheets cost in the region of £160. We've also worked closely with Pete Guest at Image Darkroom in London.
After some trial and error we now know the process time for the film that gives a good negative. Because the camera has no shutter — exposure is by taking the lens cap on and off — and as we're using modern emulsion we're relying on processing and the exposure latitude of the emulsion to get a good exposure.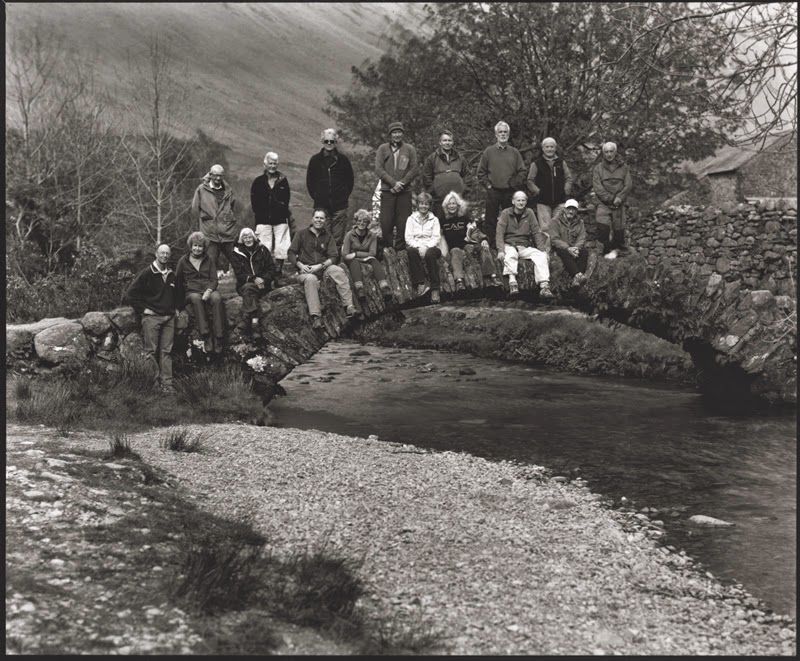 The Fell & Rock Climbing Club
2. What are the main challenges in using such a bulky camera in the mountain environment?As with any large format camera in an outdoor environment the big issue is wind. The camera, and particularly the bellows, act like a sail — and movement or vibration would result in a blurred image — so it is only feasible to use it on still days. It also takes a while to set up. Being literally a museum piece we have to handle it with care.
As there is no tripod fitting we've had a table made for it to sit in with straps across. This table has a film camera tripod bracket attached to it so we can use a hefty tripod designed for a pro video camera. It's remarkable to think that the American photographer Carleton Watkins shot the US landscape, including Yosemite, in the 1860s using a camera taking 18×22-inch plates. And in 1875 another American photographer, William Henry Jackson, astounded the photography world by packing a 20×24-inch plate camera into the Rocky Mountains.
3. What can you tell me about your future plans for this project?
The camera is now in the Keswick Museum until May 2015 as part of the Mountain Heritage Trust exhibition. The plan is to use the camera to photograph some notable climbing achievements of the present day along with some contemporary mountain landscapes. So a camera owned by those who were, in many ways, the first action sports photographers and used 100 years ago will be returning to active service and record the leading lights of now. At the same time we'll be contrasting it with the latest technologies such as the DJI Phantom drones.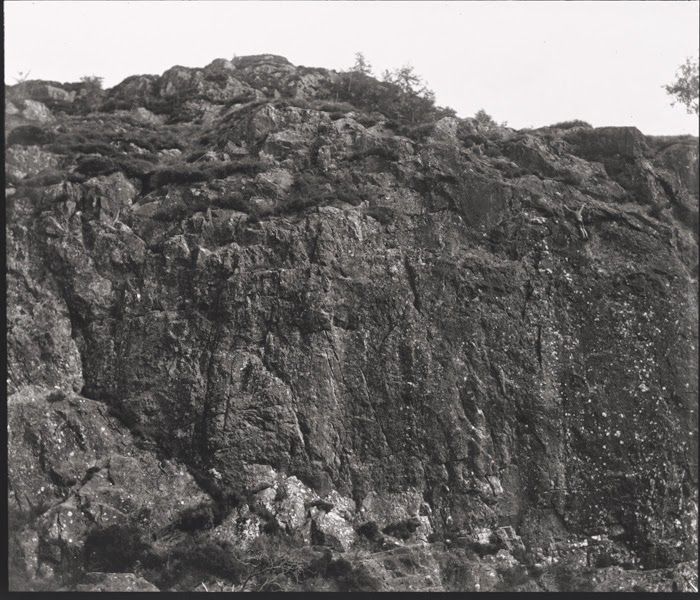 James McHaffie climbing on Reecastle Crag
Many thanks to Henry for these fascinating details of the photographic project — and don't forget, if you want to see the Instanto camera yourself it is on display at the Keswick Museum until May.
All images © Henry Iddon — All Rights Reserved.Further reading Visit Henry Iddon's websiteRead about the MHT Residency at the Keswick Museum"Climbing into War, a Justified Art" by Claire Carter: article on Siegried Herford and the first ascent of the Central Buttress
Alex Roddie Newsletter
Join the newsletter to receive the latest updates in your inbox.
Comments