Review and interview: Mountain podcast, Episode 1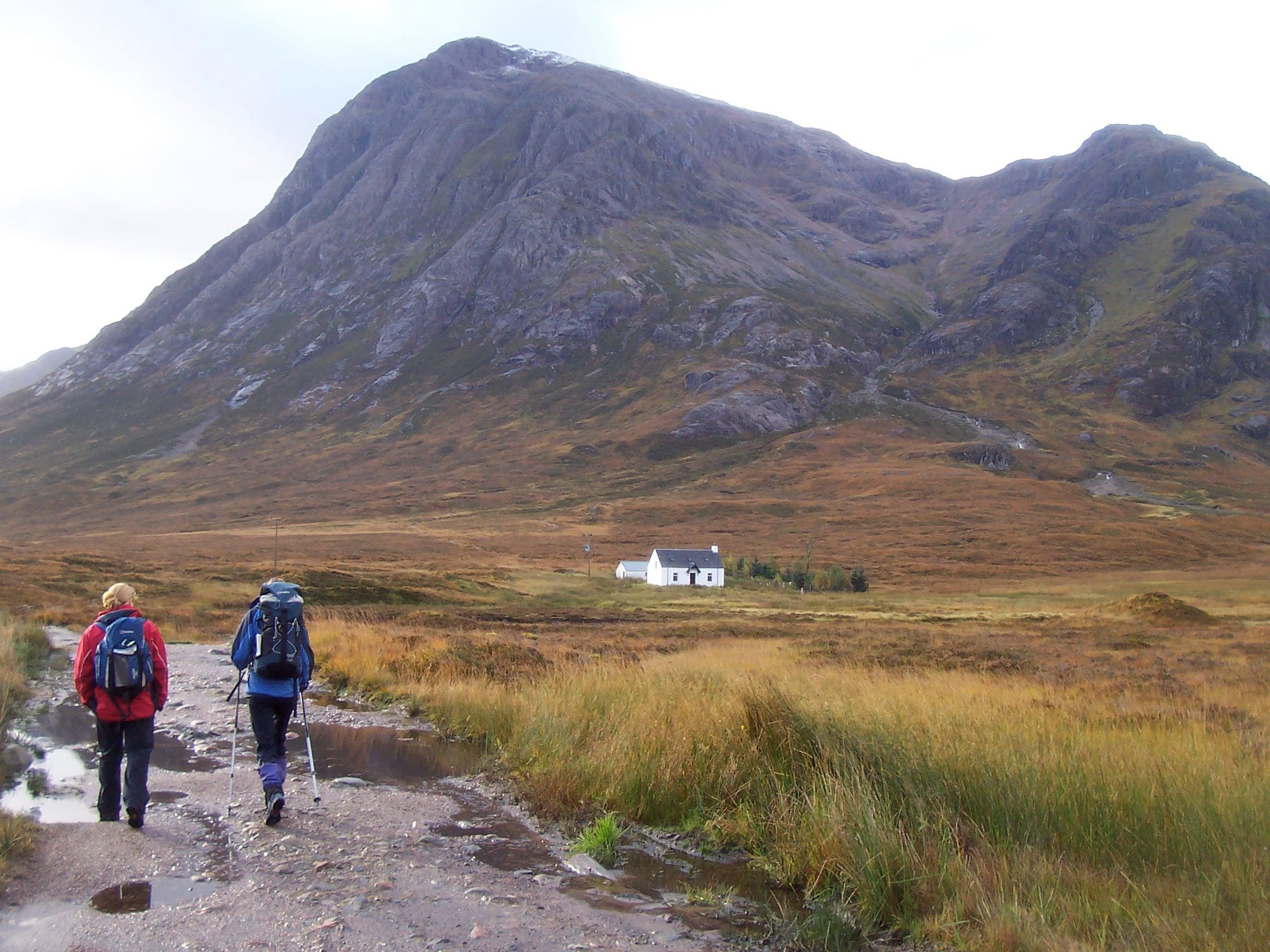 Mountain
A Podcast About Adventure
Hosted by Christopher Sleight
Podcasts are hot right now, with interest surging in the format. If you haven't come across one before, a podcast is simply a short episode of recorded audio on any subject, usually produced as part of a series. Mountain is brand new and dedicated to the outdoors. I was offered early access to the first episode, which is now available. Here are my thoughts.
Mountain is hosted and produced by Christopher Sleight, a radio journalist with extensive experience of climbing, mountaineering, and covering these topics through the medium of sound. You may be familiar with his work through BBC Out of Doors, a superb weekly programme on BBC Radio Scotland covering everything to do with the Scottish outdoors.
The first episode of Mountain is concerned with the Glen Coe skyline race, the first of its kind in the UK – a unique form of alpine ultra-running combining a conventional hill race with difficult scrambling and mountaineering. It's a significant challenge. The total distance is over 50km and it includes around 4,000m of ascent and descent, so it's perhaps no surprise that only experienced applicants were accepted for the contest.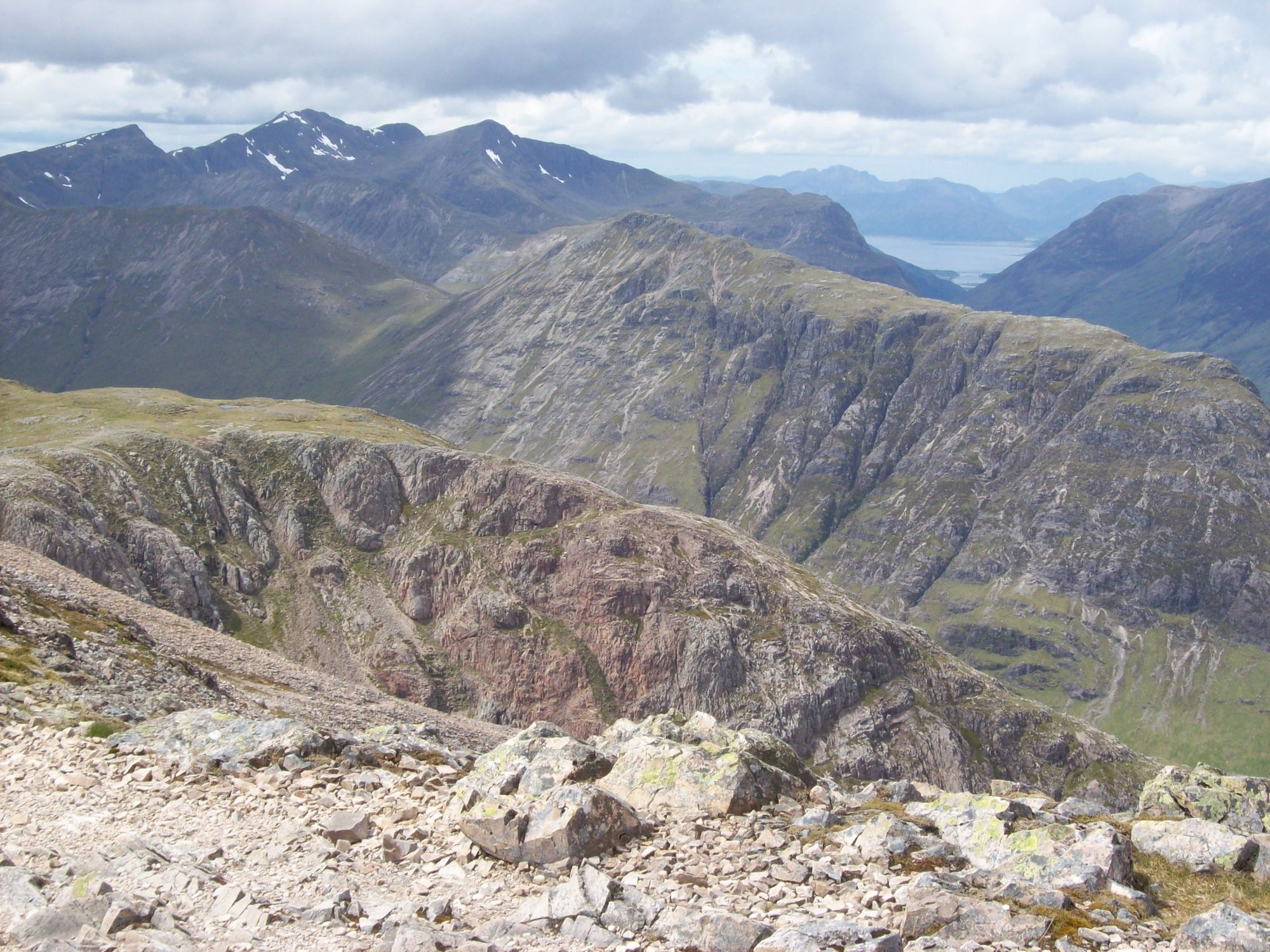 First impressions of the podcast were great. It starts right at the opening of the race, and there's an excellent sense of place and scene. This can be difficult to convey through sound alone, and I think this complete immersion Mountain manages to achieve is a testament to the professional quality of the podcast and the skills of the producer. Commentary on the race included the squelches of feet through bog and the grunts of runners struggling over difficult terrain. This all helps to build that immersion that takes the listener directly to the hills of Glen Coe.
There's a real upbeat quality to both the music and the commentary, too. Chris successfully conveys the energy and enthusiasm of the race, focusing on the positive elements of the experience for everyone involved. He interviews the winning runner at several points, plus a number of other people involved in the event from bystanders to supporting staff.
I'm not a runner, but I have walked and climbed extensively in these mountains and I have a pretty good idea of the scale of this challenge. It's a hell of a day out! Competitors scramble up Curved Ridge and along the Aonach Eagach, both of which are serious scrambles that some climbers would choose to rope up for. Even without the rock climbing challenges, there's a huge amount of ascent and descent on this route.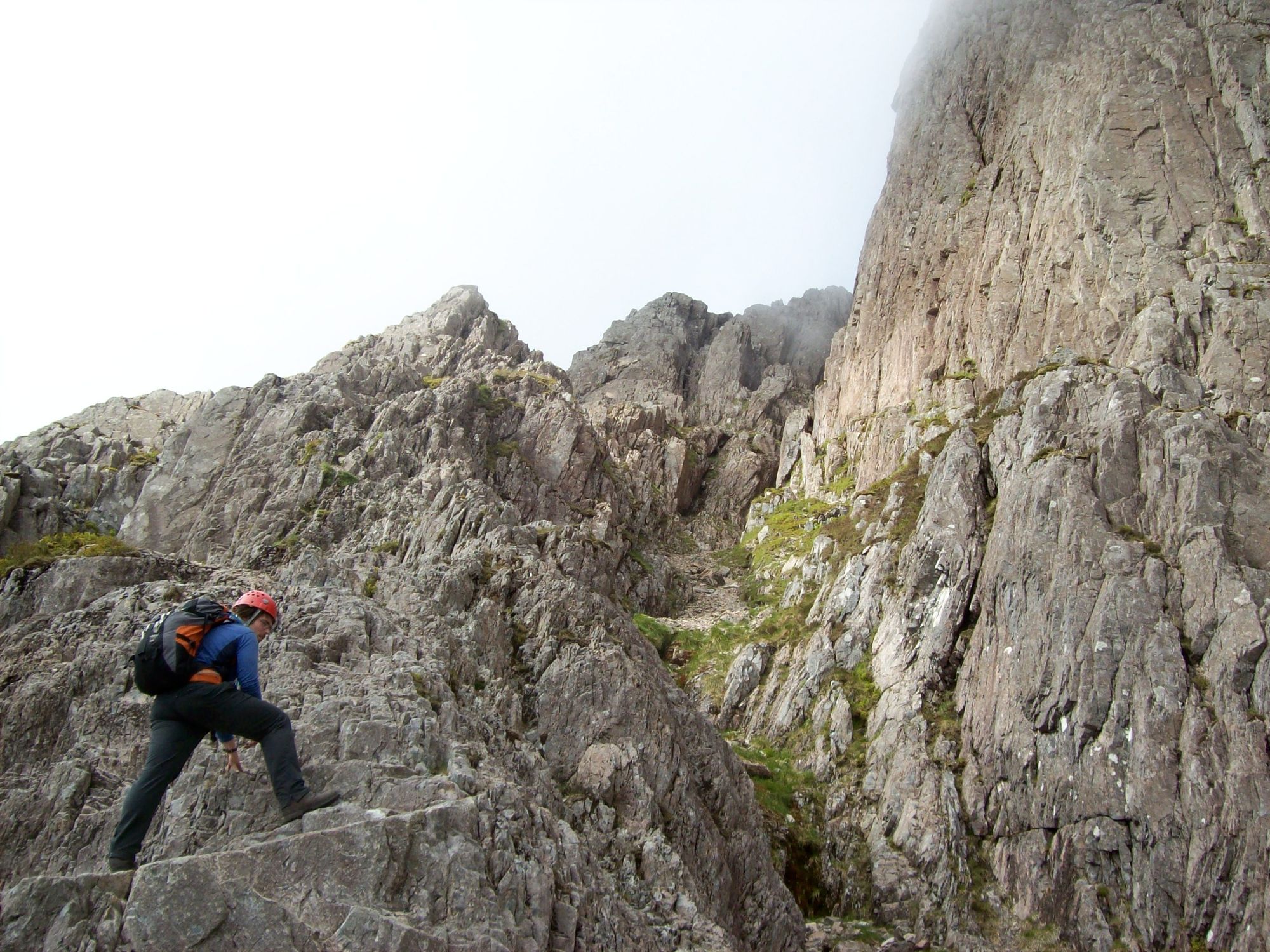 The podcast conveys the full nature of the challenge extremely well, but it examines every aspect of the race. We're shown how runners keep their energy levels up (bananas and cups of tea are paramount, apparently) and there is even a quiet moment, amidst the excitement, in which an eagle swoops overhead to get a look at proceedings.
I noticed that that no mention was made of the controversy surrounding the event before it took place. There were criticisms from some quarters that the event was a safety disaster waiting to happen, and that the congestion on scrambling sections would be a problem for other hill-goers. In the end these concerns were proven to be groundless. As I listened, I wondered if any mention would be made of these issues – but ultimately I think the decision to ignore them was the right one. The upbeat tone and enthusiasm of the podcast worked well, and mention of the criticism or negative aspects might have damaged the focus on the event as it unfolded.
I really enjoyed this first episode of Mountain, and I have no doubt that we'll see more great things in this podcast series. I'm looking forward to the next episode already!
An interview with the host
What do you hope to achieve with 'Mountain'?
The same as any creator, I think – I'd love to build an audience of folk who enjoy my stories and look forward to the next one. But I'm really excited about the podcast format and the freedom it offers – no more cutting programmes to exactly 29 minutes and 50 seconds for example. There are no audience expectations when it comes to format either. That's huge. It means you can really experiment, and if something doesn't work, it's no big deal. That sort of risk is harder to take when you're working for a big media organisation. Having said that, I want to produce episodes to the highest standard I can.
I'm also interested in the business of podcasts. There are real costs to making this stuff and I would love to see
Mountain
generate enough income to pay for itself but remain independent. That won't be by charging for the podcast, though. It'll always be free to download.
Can you share anything about subjects you hope to cover in future episodes?
Episode two is already recorded and is about a lonely night two climbers spent in a tent at 5,500m in the Himalaya, agonising over whether to make a second summit bid as time and supplies run out and with the snow conditions against them. Episode three is about a hillwalker who spent a peaceful and enjoyable day on the Cuillin Ridge while all hell breaks loose around him. Beyond that, I'll be working with a composer and the climber/writer
Tom Livingstone
to turn one of Tom's essays into a piece of audio magic. I'm hoping that
Alastair Humphreys
and I can work together to produce an episode on an 'extreme microadventure' – well that's the working title anyway. And at some point I'd love to do some radio drama – fiction or non-fiction.
What are the main challenges you have to overcome when recording audio in the mountain environment?
Like a photographer, keeping equipment safe, dry but ready to hand is hard work. The temptation when your recording gear is safely stowed in a sack is to just leave it there when the weather is bad, or it's simply inconvenient to record. Part of the craft is learning how to keep your equipment functioning in harsh conditions. It can be a huge pain, but you have to tell yourself that you're working.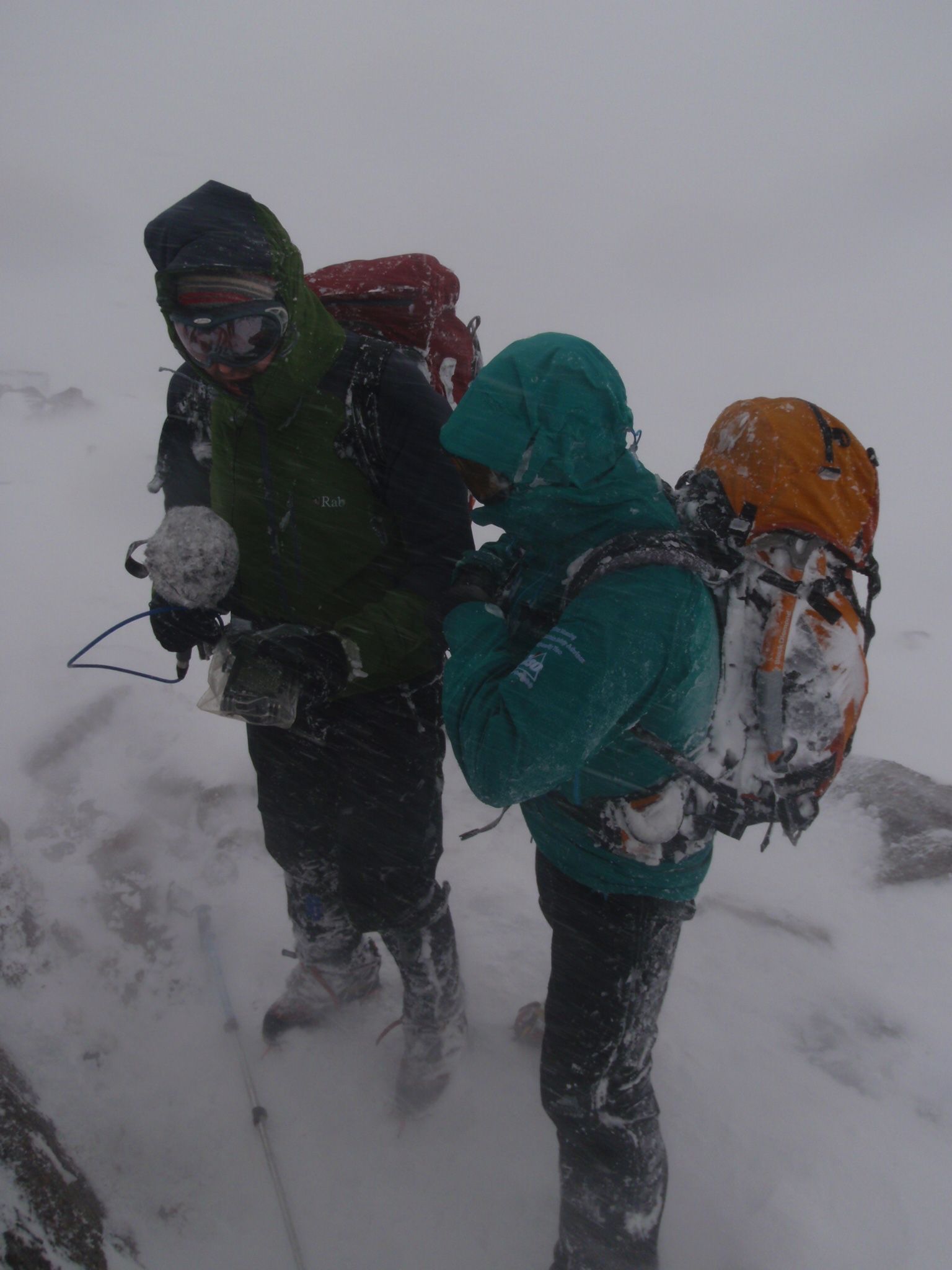 Your chief enemies are moisture and wind. It's difficult to keep a microphone dry, so if it's going to be wet I choose a robust mic that's not as sensitive to getting soaked. The recorder is very hard to waterproof because of the cabling, and commercial solutions are difficult to find, so I have various cobbled-together setups I use. They mainly rely on old map cases and duct tape.
Wind can ruin any recording but it's a problem easily solved by (a) taking the right microphone, and (b) spending lots of money on a really good windshield. It's worth every penny.
Another good way to deal with the challenge is by not stressing too much about it. If I'm out in a full-on winter storm on the Cairngorm plateau, or fumbling with the gear on a narrow rock ledge, the listener doesn't expect it to sound like I'm in a studio. A bit of wind or handling noise on the mic is fine. In fact, a radio producer friend always warns against perfection on location – if the sound is too good people won't believe you're there.
Many thanks to Christopher Sleight for sharing these thoughts, and I hope you enjoy the podcast. It can be found here. For details on how to subscribe, click this link.
Alex Roddie Newsletter
Join the newsletter to receive the latest updates in your inbox.
Comments