Spoiler-free review – Life of a Mountain: Blencathra by Terry Abraham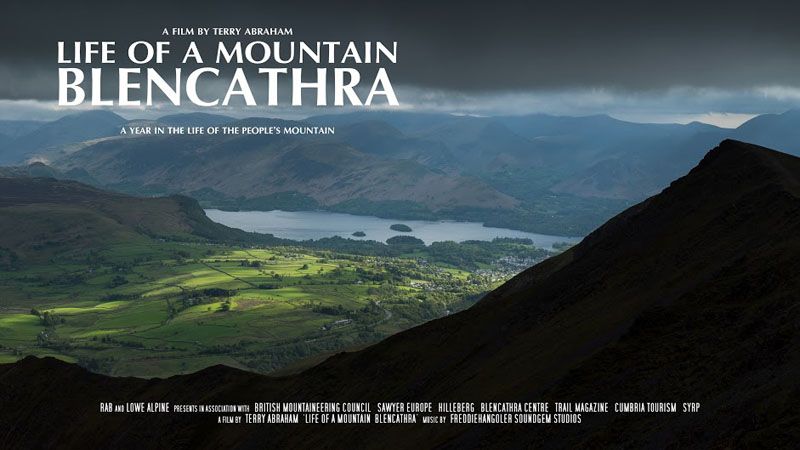 Terry Abraham's films are portraits not just of mountains, but of the life and environment surrounding them. Having watched and enjoyed The Cairngorms in Winter with Chris Townsend, Life of a Mountain: Scafell Pike, and Helvellyn with Mark Richards, I've been looking forward to his new film on Blencathra for quite a while.
Blencathra is an unusual mountain. At 868m it's by no means the highest, even by Lake District standards – but like many Lakeland fells it punches well above its weight. The shape of the mountain is extremely distinctive, and its unique architecture contributes much to its appeal. This film is all about the mountain, and what it means to local people and the many visitors who climb it each year.
I think this is very much a film of two halves. The first half feels very much like a sequel to Scafell Pike – slow, contemplative, and in a similar style. The second half is a new thing in its own right and this new structure is very much a departure from Terry Abraham's established style – in a good way. The structure is definitely more flexible. And I think the beauty of the cinematography is a little more subtle too. The Cairngorms and Scafell Pike are bold, dramatic, and full of contrasts. Blencathra is an altogether more understated mountain, still impressive enough in its own way, but a different approach is appropriate here – slightly more sombre, reflected by the frequently dark and stormy skies. The film guides the viewer towards a more considered, less obvious appreciation of this fine fell.
While time-lapse was frequently used in previous films, it's toned down a little here – but Blencathra uses aerial photography in a few places instead, and I think it really adds to the overall experience. Drone photography is trendy at the moment and it would be all too easy to fall into the trap of overusing the technique, but Terry Abraham does not succumb to this temptation. It's used infrequently, where appropriate, and in a fairly subtle manner.
I really like the musical score. As I wrote in my review, I think the score of Scafell Pike tended towards the sentimental at times, but the soundtrack of Blencathra feels a lot more matured, toned down, with heavy use of strings. The music is often in a minor key, sometimes melancholy, but very beautiful. It adds a great deal to the overall experience and is extremely well tuned to the subject matter. There's also a wonderful original song about the mountain itself halfway through. Top marks!
The themes addressed in this film will be familiar to viewers. Conservation and the environment are front and centre, and sustainability is explored from several viewpoints. As usual, a wide variety of characters make appearances, and some of them feature throughout the film in different roles, which is a touch I particularly like – I think it hints at the idea that Lakeland fells are often old friends that play a role throughout a person's life. While I thought some of the interviews in Scafell Pike felt a little scripted, the documentary aspect of Blencathra is on a different level entirely. Top-notch stuff. I don't know the mountain that well, having only climbed it once several years ago, and I learned a great deal about both the fell and the surrounding area.
Overall, Blencathra is a great mountain film, and I think it represents a maturation of Terry Abraham's style. But I can't help wondering how much more scope there is for mountain films in the Lake District. While it feels fresh and different to Scafell Pike, I think there is a limit to how many genuinely distinct mountain films can be made about one area. I'd like to see Terry Abraham's skills return to Scotland. A film about Assynt, perhaps – now there's an idea!
Find out more: https://terryabrahamlakedistrictvideo.wordpress.com
This film premiers on the 14th of May at Rheged (sold out!) but will be available on Blu-Ray from stridingedge.com from the same date. I'm sure it's also destined for the BBC as well.
Disclaimer: Terry Abraham sent me a free copy of this film in exchange for an honest review.
Alex Roddie Newsletter
Join the newsletter to receive the latest updates in your inbox.
Comments