Haute Route Pyrenees gear report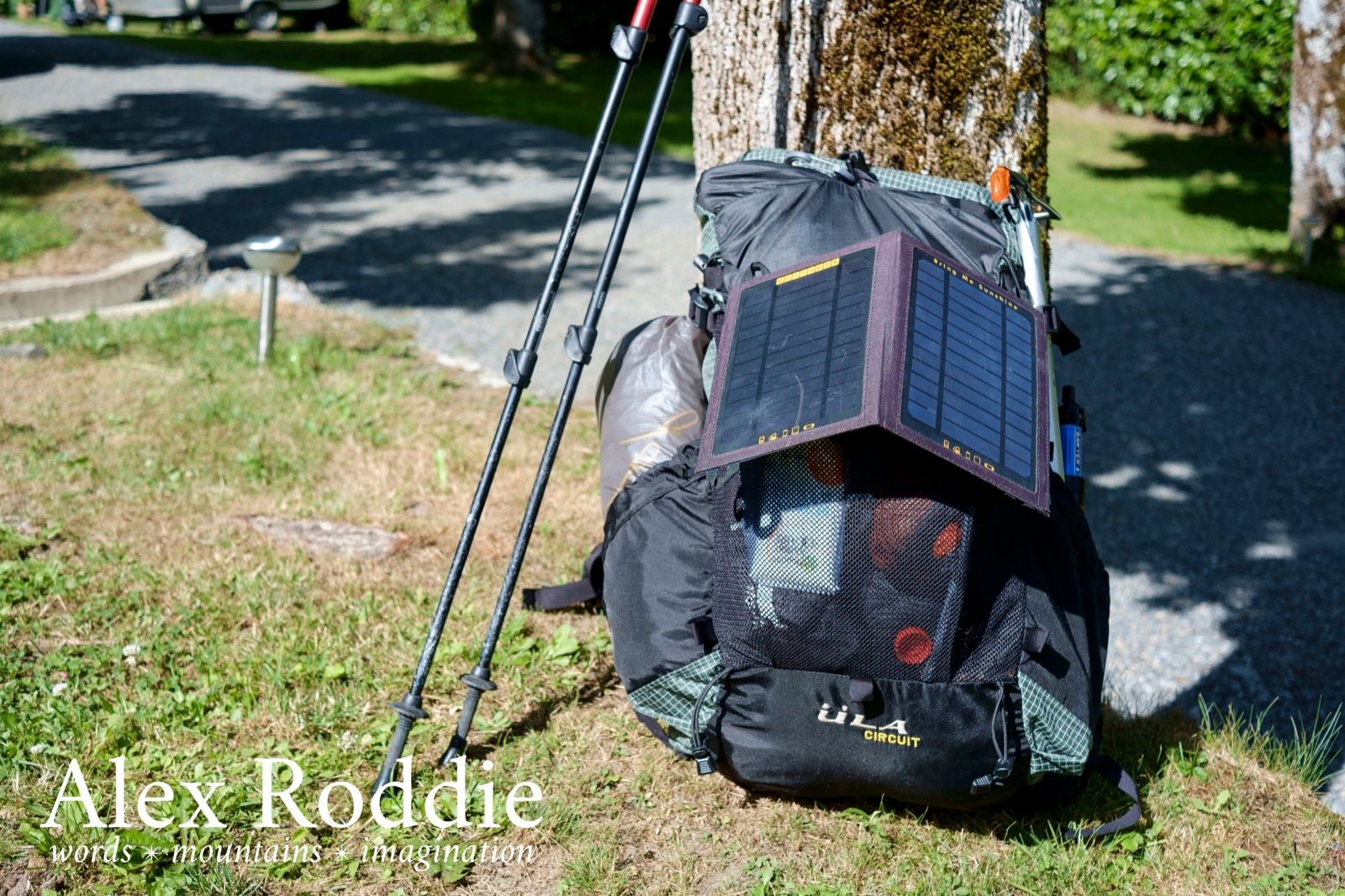 I recently returned from a section hike of the Haute Route Pyrenees. Here's a brief look at how some of my items of gear performed.
See the complete gear list here.
Footwear
Although I've sung the praises of the Merrell All Out Peak trail shoes before, my enthusiasm for them has now cooled a little. Why? One word: durability. I started using my second pair of Merrells at the start of the Skye Trail, back in May; they've now seen about two hundred miles' worth of wear. And they are completely trashed.
Like my first pair of these shoes, they sprang holes in the mesh sides relatively quickly, after less than a hundred miles. However, I didn't expect these holes to cause any problems. The first time around, the holes improved comfort, if anything – perhaps an indication that the shoes didn't fit perfectly – but they certainly didn't affect structural integrity. This time the holes became much bigger much more quickly, and in fact several small holes appeared where they hadn't on my first pair of shoes.
Also, the soles have worn more quickly this time. In a couple of places the rubber has almost completely worn away to the cushioning beneath.
Perhaps this pair has worn more quickly because I've mainly been using them on the rocky and rugged terrain of Skye and the Pyrenees, but I must admit, I'm disappointed. On the plus side, even with holes in the side big enough to stick multiple fingers through, the shoes remained extremely comfortable and never gave me the slightest hint of a blister. They might just about last another hundred miles before completely falling to pieces, but I'm not sure I would risk it on a long walk.
Clothing
My shorts and shirt worked out very well in the hot conditions. I never even needed to use the zip-off trouser legs or microfleece, although I'm glad I carried them as insurance in the event of bad weather.
The poncho tarp (Sea to Summit ultra-sil nano poncho tarp) didn't quite live up to expectations. I only needed to actually wear it on one day, but it was a stuffy, unpleasant experience in 34C heat and 100% humidity. Also, the bright orange colour attracted flies and horseflies in their hundreds.
I've come to the conclusion that this item probably works better as a minimalist shelter than as waterproof clothing – but there are significant compromises in both areas. I continue to have a love/hate relationship with this item and am working my way up to a full review later in the year.
Camping gear
As I have come to expect, my MLD Trailstar gave 100% perfect performance. I have no cause for complaint there whatsoever, but I could have got away with a less hardcore shelter. Despite several torrential storms, I experienced no high winds at all – and on most nights I could quite comfortably have slept outside in my bivy bag with no shelter.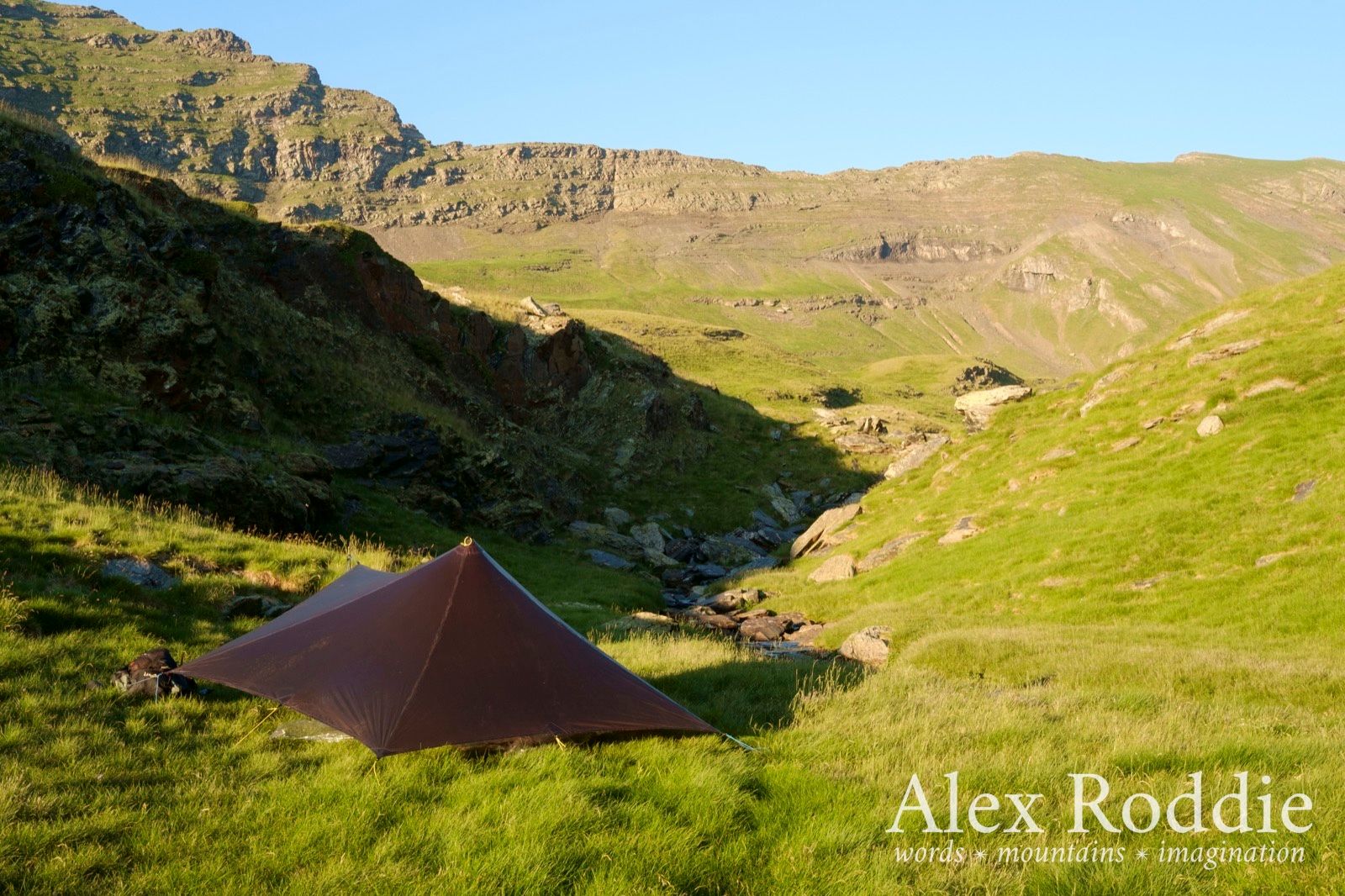 I wished I'd carried some tough nail-style tent stakes. I carried MSR Groundhogs, which are great in the often soft ground of Scotland, but were very difficult to hammer into the stony surfaces I found in the Pyrenees. The pegs now look quite torn-up and battered from being pounded with rocks.
I'm glad I brought my bivy bag. A couple of times I ended up camping in areas infested with horseflies or red ants, and it was good to be able to zip myself into a bug-proof bag. Next time I may take my slightly larger inner net instead (only 40g heavier at 225g).
My sleeping bag, the Rab Neutrino 400 rated to freezing, was not the best choice. I only experienced one frost, and on most nights it was warmer than 10C. A much lighter quilt rated to about 5C would have been more versatile.
Food
Although I started the trip with a stove, I ended up sending it home to save weight (although this is the subject for another review, which I'm working on for UKHillwalking.com). So for most of the trip I ended up eating stoveless, no-cook food: fresh bread, chorizo, mountain sausage, fresh fruit, cous-cous, cheese, that sort of thing.
Going stoveless was the right choice in terms of saving weight, but for future trips in hot countries I need to pay more attention to keeping things cool in my pack, as I had issues with food going off in the heat. Any suggestions?
Mountaineering equipment
I carried a lightweight combo of technical gear: Black Diamond Raven Pro ice axe and Kahtoola Microspikes. Both items came in handy descending from one particular col, which had a long, steep snowslope on its eastern side. I may have been able to get down without, and I didn't need the spikes again after that, but I'm glad I brought them. In alpine landscapes where snow lingers I think it's usually worth carrying an axe and spikes, and I don't regret the extra weight. Having these items in my pack freed me from worrying about any steep snow I might encounter.
Maps
I carried two different kinds of maps with me:
Laminated photocopies of Rando Editions 1:50,000 maps kindly loaned to me by David Lintern;
Digital French and Spanish IGN maps via the peerless AlpineQuest Android app.
I had expected to require the paper maps most of the time, due to the lack of detail on my digital Spanish maps. I'd also heard these maps were very inaccurate. However, thanks to my detailed GPX file I'd constructed beforehand, in practice I ended up using digital mapping almost exclusively. I didn't get lost, although a couple of times finding the correct way required creative interpretation of contours and the guidebook. Again, I'm indebted to David for his file containing details of places where the Joosten guidebook is either confusing or downright wrong.
Electronics
This is one area where I got everything absolutely right.
Camera gear. The Fujifilm X-E1 has already proved its suitability as a mountain photographer's camera. It has all the features I need in a small and lightweight package with good controls and decent battery life, and offers superb image quality. I would prefer faster write times (the bottleneck is the system, not the SD card) and weather-sealing, but until I upgrade to a Fujifilm X-Pro 2 (which I don't plan to do for several years), this X-E1 hits the spot. I paired it with the sharp little Fujinon 27mm f/2.8 prime lens, which was a good choice. It's lightweight and simple to use. I did miss having a wide-angle option a few times, but the weight trade-off was worth it.
Smartphone. The Motorola Moto G3 also performed flawlessly. Its waterproof chassis wasn't such a major advantage in the hot and dry environment of the Pyrenees, but I continue to be amazed at its battery life and reliability.
Power. Once again, my PortaPow 7W solar panel produced more energy than I knew what to do with. Three to four hours of direct sunshine every day was more than enough to keep my phone and camera batteries fully charged at all times.
Alex Roddie Newsletter
Join the newsletter to receive the latest updates in your inbox.
Comments