Vecto: the best way to carry water in the backcountry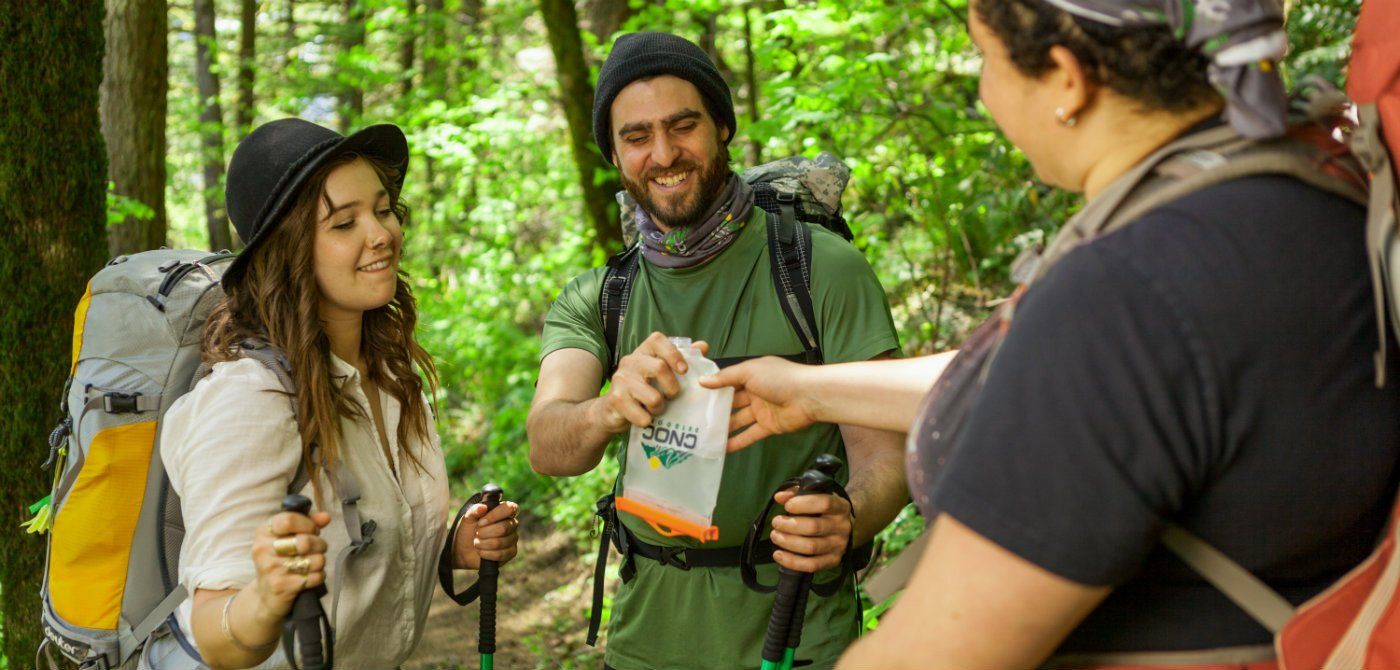 Update 17/07/17: this project has now been funded. I'm looking forward to test it!
Lightweight backpackers face a conundrum: how to carry and treat water in the wilderness? Many of us use compact Sawyer filters, but the bladders they come with are less than perfect, and other solutions often fall short. I was delighted to find out about the Vecto, a new product just launched on Kickstarter by cottage gear manufacturer Cnoc Outdoors. Here's why I think it's a great product – one I'll be backing.
The problem
A wide variety of water-storage containers exist for backpacking, but many of them have issues if you use a screw-in filter. Here's a quick overview of the various options.
Large (multi-litre) Platypus or similar bladder. The problem with bladders is that they're difficult to fill from a stream or pond. While you can get ones with large openings (sometimes stiffened) to make it easier, these tend to be expensive, complex, and quite heavy. Although you can fit an in-line filter to most products of this kind, this adds complexity and the hose is difficult to clean in the field. They also don't last that long in normal use; I've managed to destroy one Camelbak and two Platypus bladders.
Sawyer squeeze bladders (the kind that come with Sawyer filters). These are light and inexpensive, and work directly with Sawyer filters, but they are almost impossible to completely fill from a stream. I use these bladders in combination with a disposable Coke bottle. In practice I have to fill the Coke bottle first, then decant into the Sawyer bladder. It works but it's a faff.
Outdoor-branded sports bottles, e.g. Nalgene wide-mouth. Easy to fill from the water source, but usually not directly compatible with a screw-in filter. They are rigid so can't be used with squeeze-type filters at all (unless the filter in question also works by gravity). This means you need another container to use with the filter itself. Also, they are comparatively heavy.
Disposable water bottles (Coke, Gatorade etc). Cheap, light, work with filters (if you get the right kind of bottles), and easy to fill – but they are not very durable and are very bulky when empty.
Clearly there is a gap in the market here, for a water container with the following qualities:
Ultralight
Easy to fill from a stream or pond
Compatible with screw-in squeeze filters and other forms of water treatment
Simple construction for better reliability
Inexpensive
Compact when empty
Big enough to hold a couple of litres or more
The Vecto solution
Cnoc Outdoors have just launched a Kickstarter page for a product called the Vecto collapsible water container. It's a lightweight (80g) 2-litre container with a wide opening at the top, secured with a sealing slider, and a 28mm screw cap at the bottom compatible with Sawyer filters. The idea is that you fill it like an oversized cup, attach your filter, and then use it like a standard roll-up squeeze water bag (or with a gravity filter). It's made from BPA-free plastic. Here's what the page has to say:
Anyone who has ever used a collapsible container with a standard narrow opening knows how frustrating it is to fill. If you have ever tried to fill one in the outdoors, it is doubly hard, since you need to find just the right flow of water to fill the container. We wanted a product that would make it easy to fill a water container outdoors while staying functional and usable.
The Vecto design has three main goals: easy to fill using the wide opening, easy to drink and filter using the standard narrow opening, and collapsible for easy carrying. The Vecto makes filling your collapsible container easy and quick, leaving you with more time to enjoy the outdoors and less time wasted on dealing with necessities.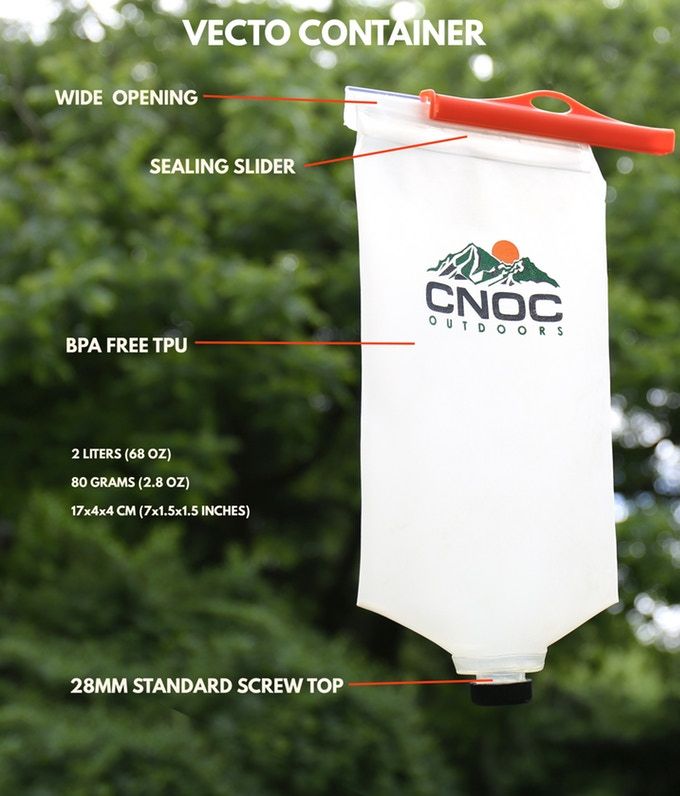 Currently, if you pledge $11 on the Kickstarter page you will receive a Vecto container (excluding shipping, which is $3 in the US and $8 worldwide). This is a 39%-off 'early bird' deal. Retail price is currently expected to be $18, and estimated delivery is November 2017.
By my reckoning, the Vecto promises to fulfil all the requirements I outlined in the section above. That makes it a product I'm interested in because it will fulfil a real need for me on the trail. I envisage using it as a 'dirty' water container to filter directly into the drinks bottle of my choice, and as additional water storage for dry sections of trail.
If Cnoc Outdoors manage to pull this off, I think they'll have a winner for lightweight backpackers. With any Kickstarter project there is always a risk that it will fall through, but this is a product I am happy to back – Gilad Nachmani is an experienced long-distance backpacker passionate about his subject, with plenty of product-design and business experience.
Back the Vecto on Kickstarter here.

Full disclosure: I know Gilad Nachmani, and he asked me to help promote this Kickstarter. However, I would not have written and posted this if I didn't want to back it 100%.
Images from www.cnocoutdoors.com and the Vecto Kickstarter page
Alex Roddie Newsletter
Join the newsletter to receive the latest updates in your inbox.
Comments