My top ten wild camps of 2019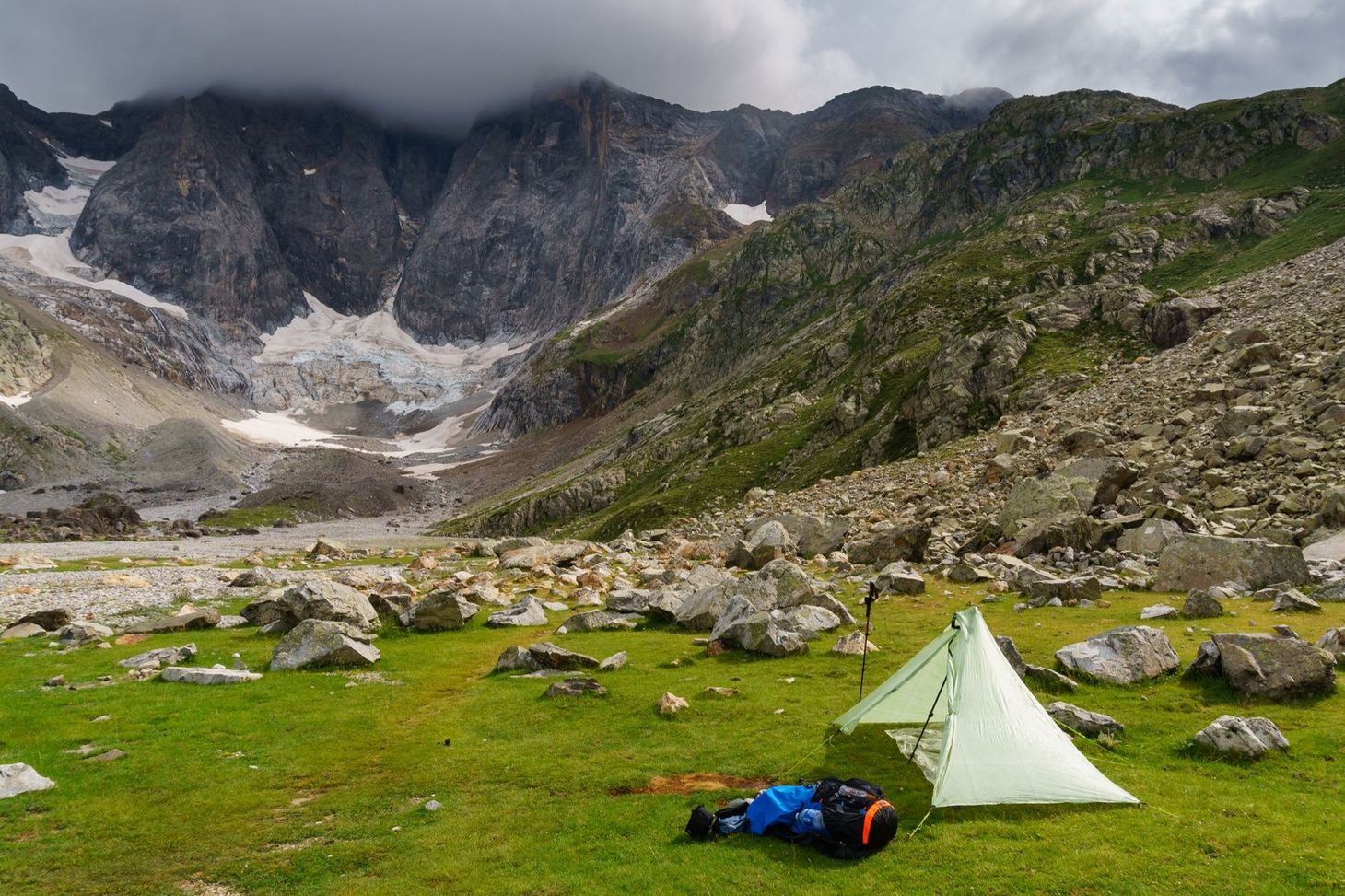 Ten of the best from the mountains of Scotland and the Pyrenees
As I mentioned in my year in review, I spent a total of 67 nights under canvas this year, of which 47 were 'wild' camps. It's been a fantastic year for wild camps. The Haute Route Pyrenees has skewed things a bit, because almost all of my camps on that trip were accompanied by stunning weather and scenery, but I had a lot of great overnight halts in benign conditions on other trips too. Basically, I've been spoiled this year.
If some of the camps on this list look familiar, that's because five of them are the same ones I listed in my 'top wild camps on the Haute Route Pyrenees' blog post.
This year I have used three different shelters:
Lightwave S20 Sigma. This was on test for TGO magazine, and I had intended to hike the entire Cape Wrath Trail with it, but unfortunately the sample was faulty and I had to swap it for my Duomid after only two nights.
MLD Duomid (silnylon). I purchased this pyramid shelter in 2018 as my do-everything lightweight mountain tent. It's easily the best all-rounder I've ever owned, and although it hardly qualifies as ultralight – especially when you add groundsheet/inner and a selection of pegs – it's spacious, durable, easy to pitch, and can stand up to a real battering. I used this shelter for most of my February CWT.
MLD Solomid (DCF). I'd previously owned a silnylon Solomid XL and a silnylon Cricket. Both are good shelters, but I was looking for something substantially lighter that still offered full protection (the Cricket is very light but can be challenging to use in bad weather). I found what I was looking for in a used DCF Solomid. This is a small pyramid shelter made from a very light fabric. I used it for several trips this year, including the entire HRP, and it performed perfectly.
10. Haute Route Pyrenees: beneath Vignemale's north face, 26 July
(Image above)
This is a busy spot on the HRP, and the Refuge Oulettes de Gaube bivouac area is a tent village with human excrement and rubbish under most of the rocks nearby. However, there's something uniquely awe-inspiring about sheltering under a thin film of ultralight material with a thunderstorm smashing against a 3,000m peak nearby. A true taste of the sublime.
9. Blackmount Munros: Meall nan Tri Tighearnan, 16 May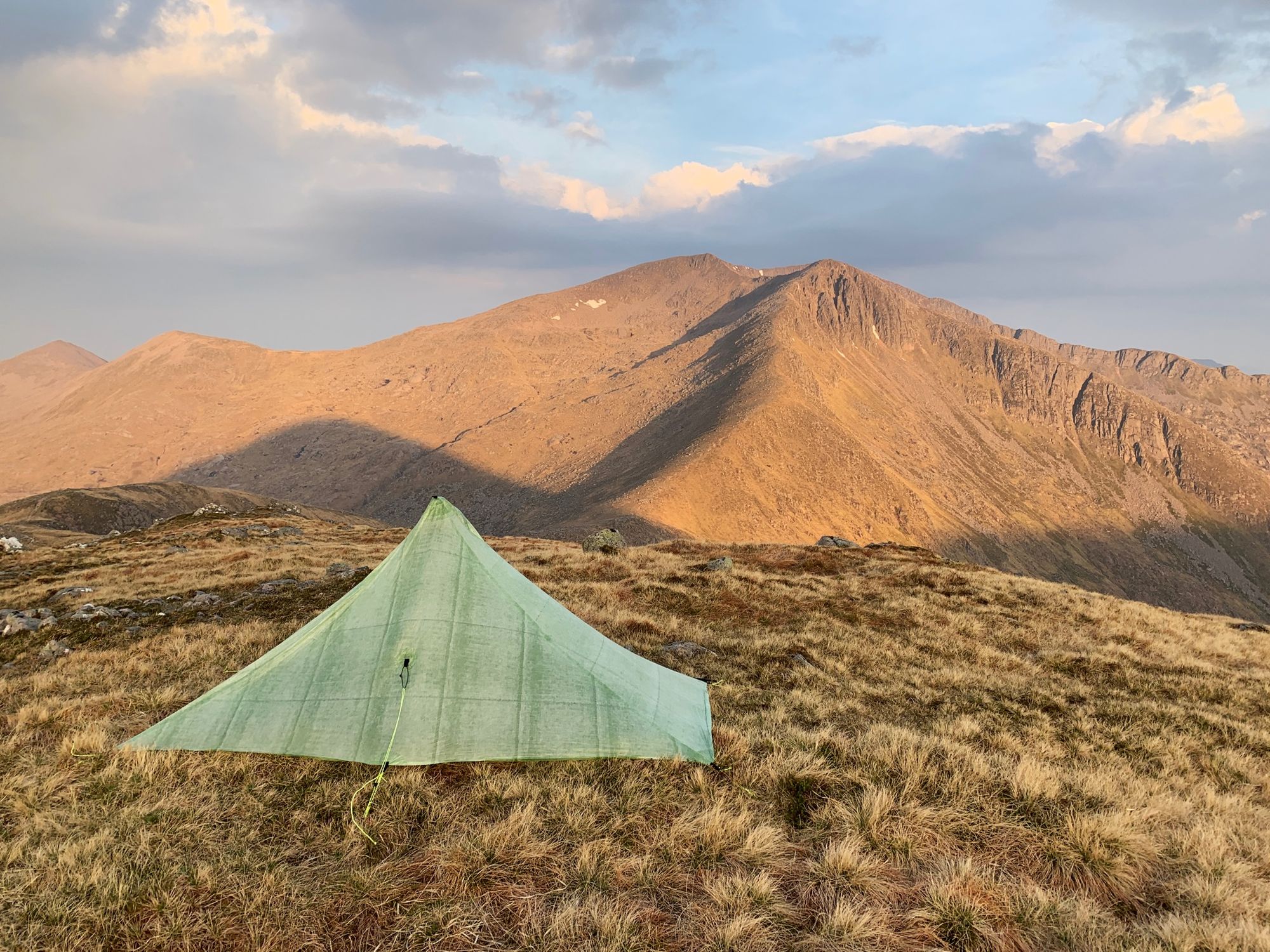 This is one of those camps that I didn't enjoy as much as I should have, but it can't be denied that the location was excellent. Ben Starav lit up attractively in the golden hour the next morning and the views were superb in all directions. This was also my first test of the DCF Solomid.
8. Cape Wrath Trail: near Bealach na Croise, 22 February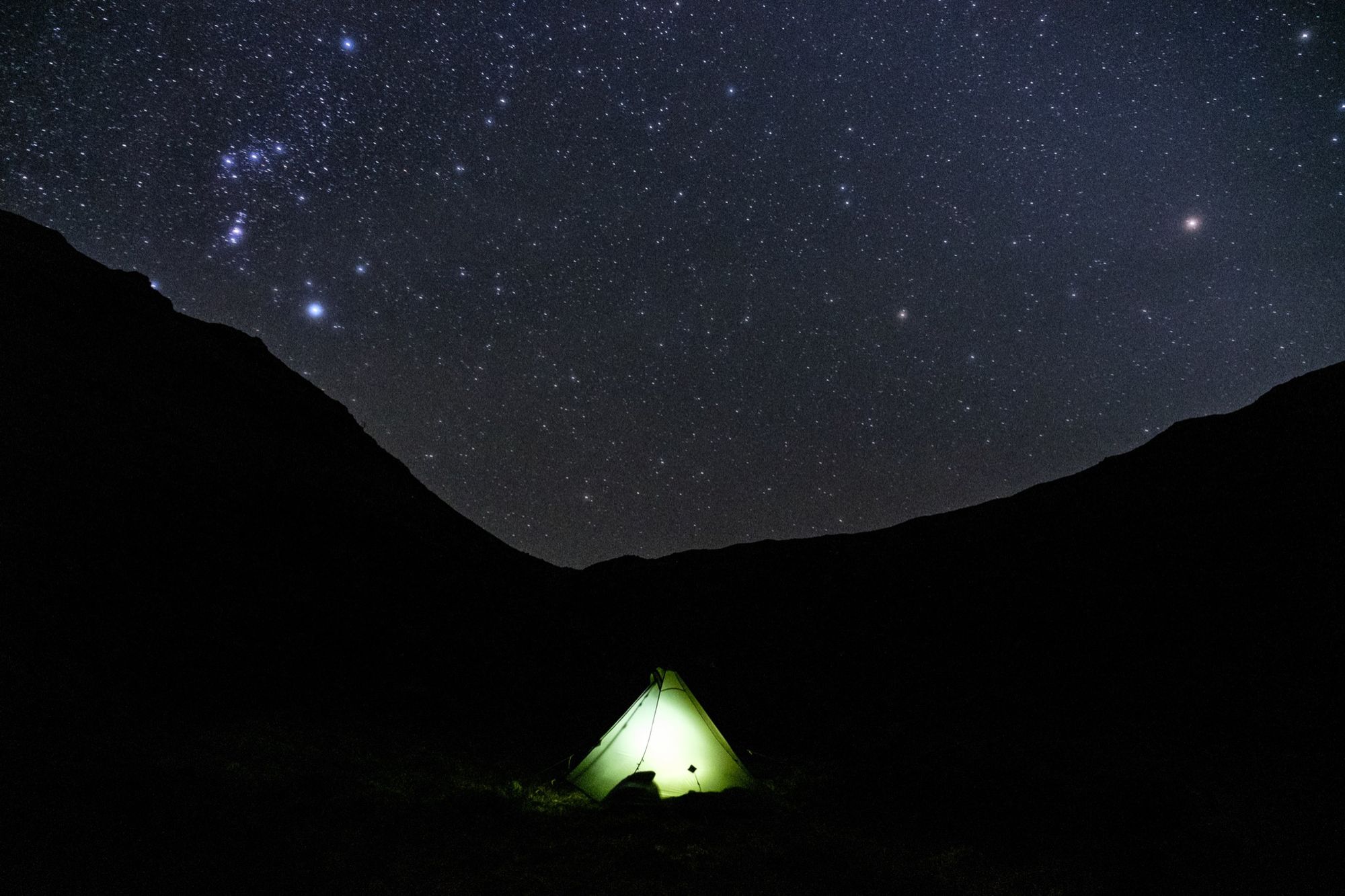 I'd had a big day on the trail. My plan had been to see if I could get all the way to Shenavall bothy, but I'd forgotten how tedious the peat hags around Bealach na Coire could be, and in the end I decided to camp before it got too dark and while I still had a footpath to follow. That night I was treated to some of the most vivid night skies I've ever seen. Maybe it was the moisture in the air, but the stars seemed to glow with blue haloes. The fierce gusty wind made capturing this photo challenging.
7. Haute Route Pyrenees: Refuge de Pombie bivouac area, 24 July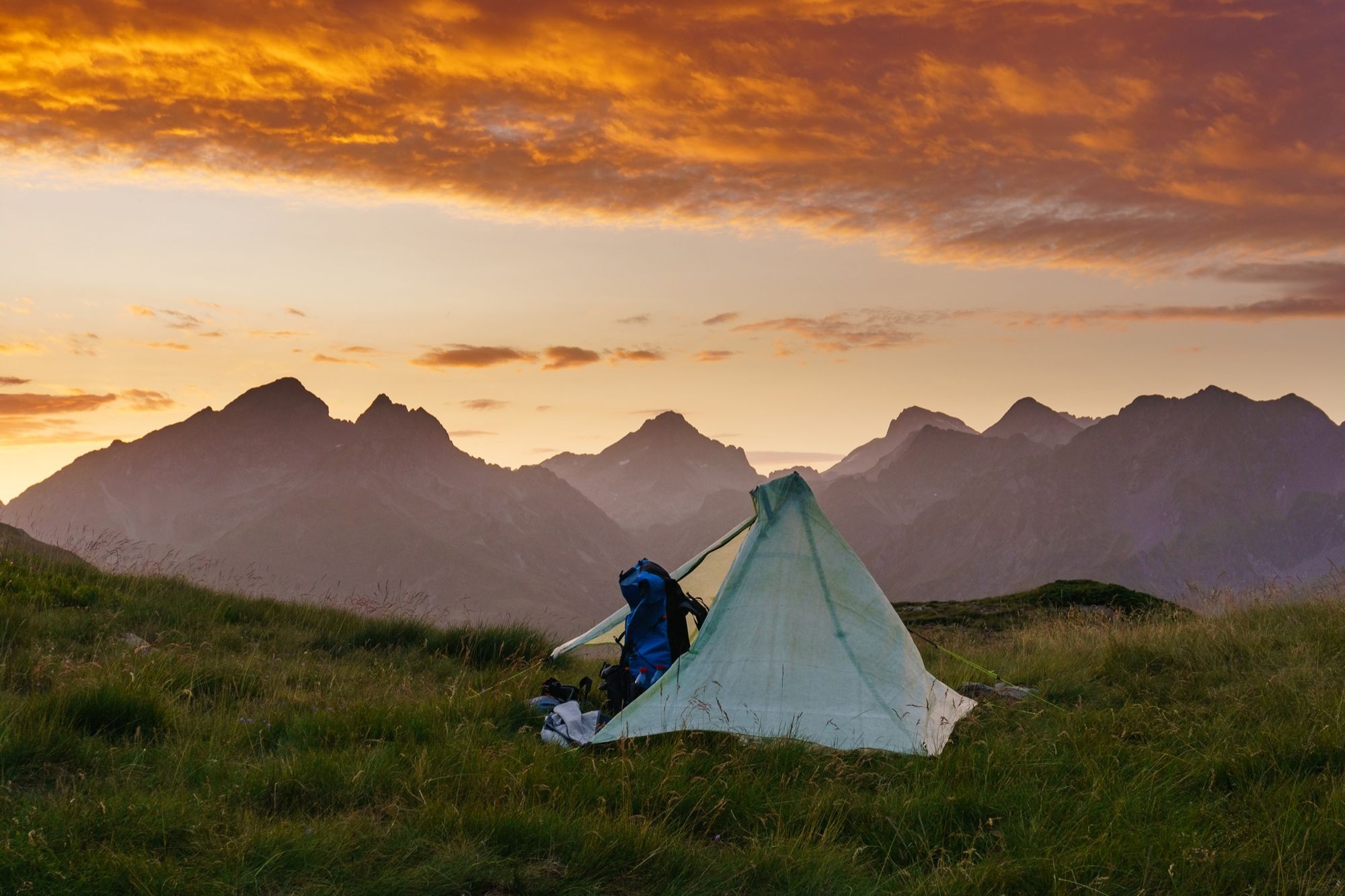 After crossing the first 2,200m pass on the HRP – a boulder-strewn shoulder beneath Pic du Midi d'Ossau, a splendidly shapely mountain in the Western Pyrenees – I decided to camp at the Refuge de Pombie bivouac area. The exceptional views in all directions more than made up for the lack of solitude.
6. Haute Route Pyrenees: on the descent to Candanchu, 23 July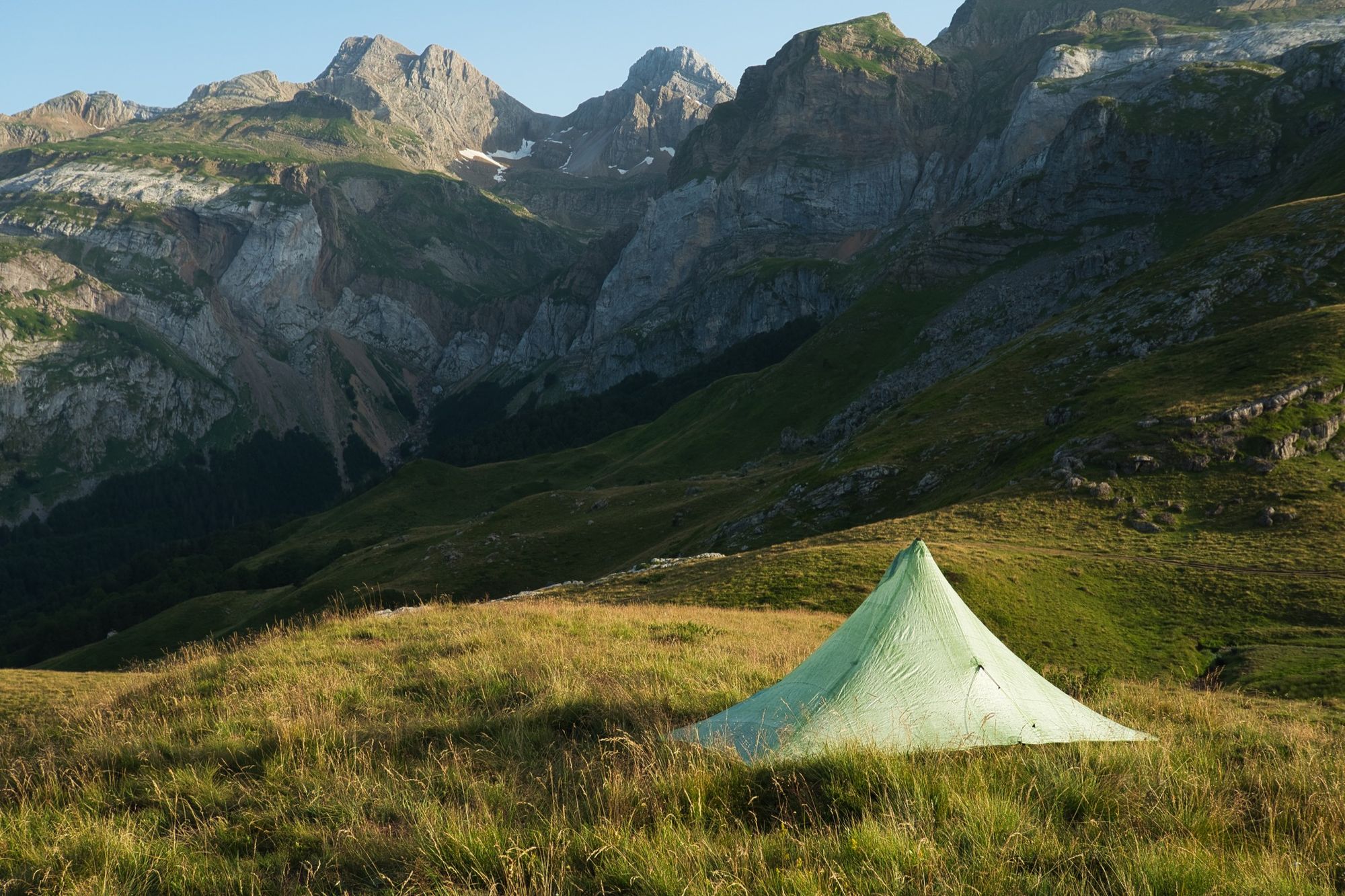 The trail had been busy, and I took my time looking for a suitable place to camp. After loading up with water at the stream I ended up hiking uphill for 15 minutes to find a perfect grassy knoll with a good view of the nearby cirque. As I lay in the grass watching the sky, dozens of cockchafers droned overhead, some of them colliding with my shelter and ricocheting off into the warm evening.
5. Cape Wrath Trail: beneath Ruadh Stac Beag, 21 February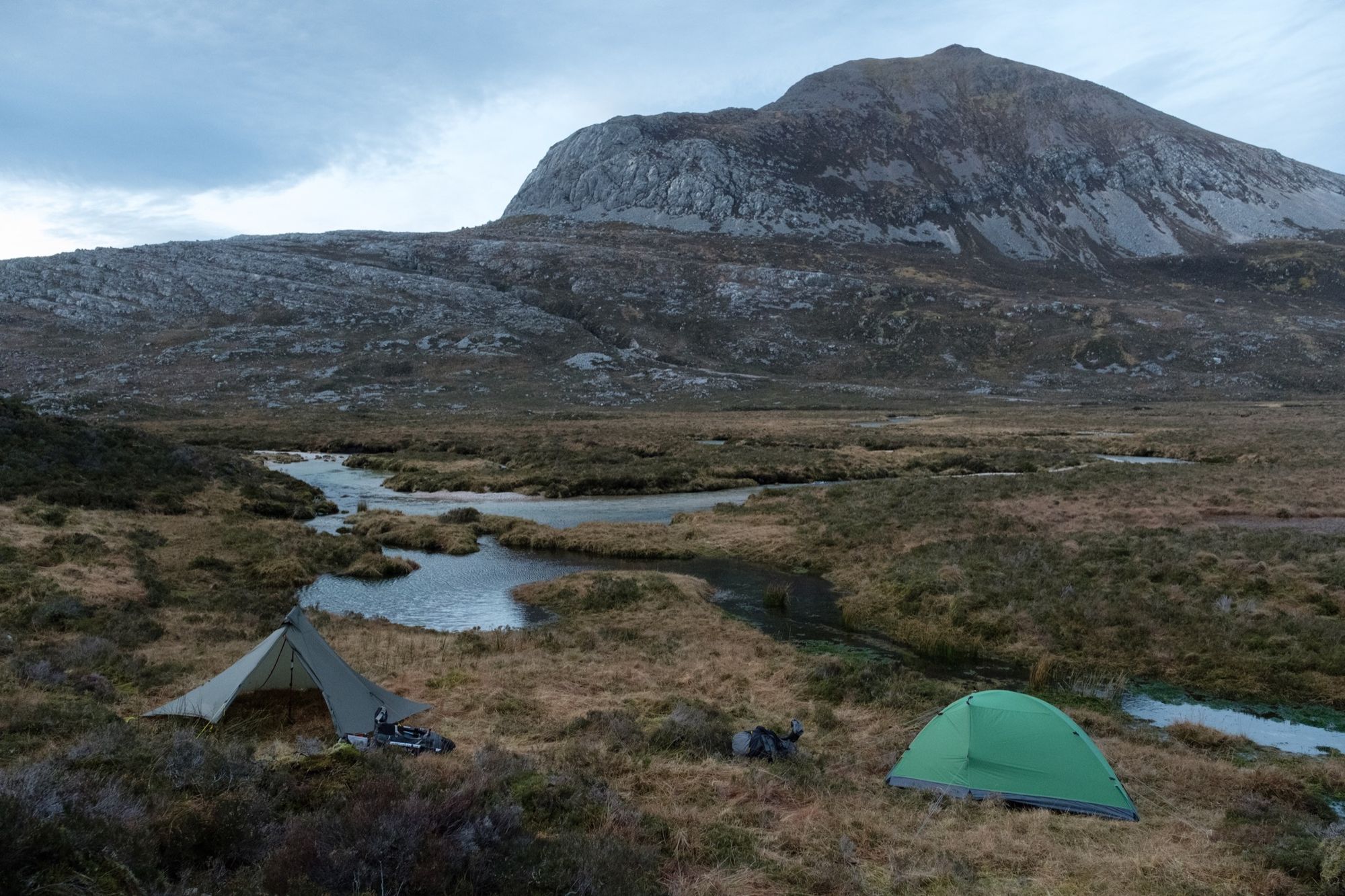 Chris Townsend and I had walked from near Torridon village in weather that could be described as mediocre at best. However, we found a cracking little spot to camp in a very wild and quiet location beneath Beinn Eighe. This is arguably the best bit of the CWT, and I'm glad that I got to camp there instead of marching straight through to Kinlochewe.
4. Haute Route Pyrenees: Ibon de las Ranas, 25 July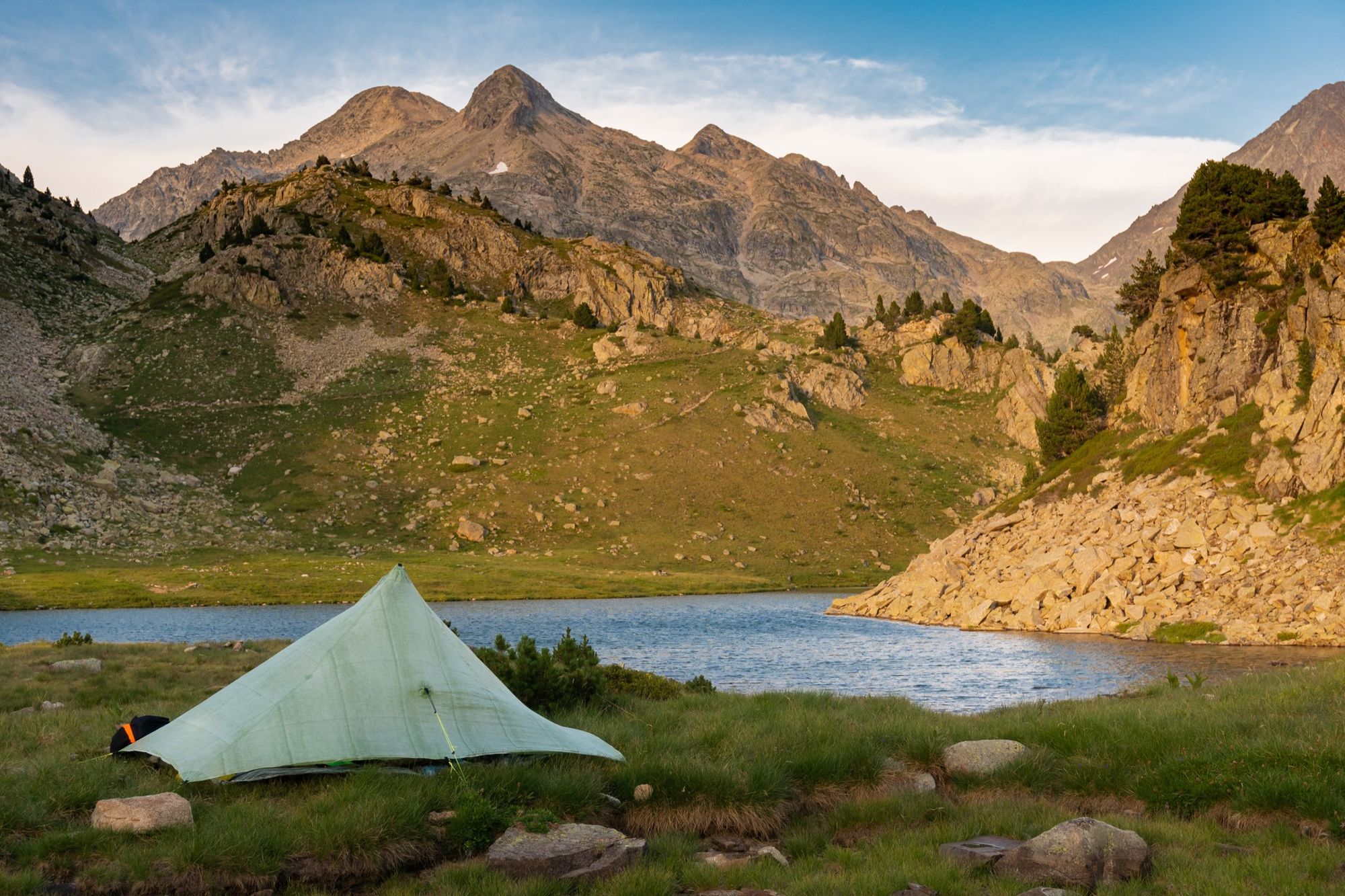 I'd diverted from the main route of the HRP due to a forecast for thunderstorms. The guidebook mentioned great spots to camp near the lake, but a few hikers had already staked their claims by sitting on rucksacks. It soon turned out that there were great spots on the far shore too. The first thunderstorm broke with gusto. Another hiker and I waited for it to pass, sitting there in our waterproofs feeling cold in the sluicing rain, poles left a short distance away. After the fireworks were over, beautiful golden light caressed the mountains.
3. Haute Route Pyrenees: beneath Pic Carlit, 14 August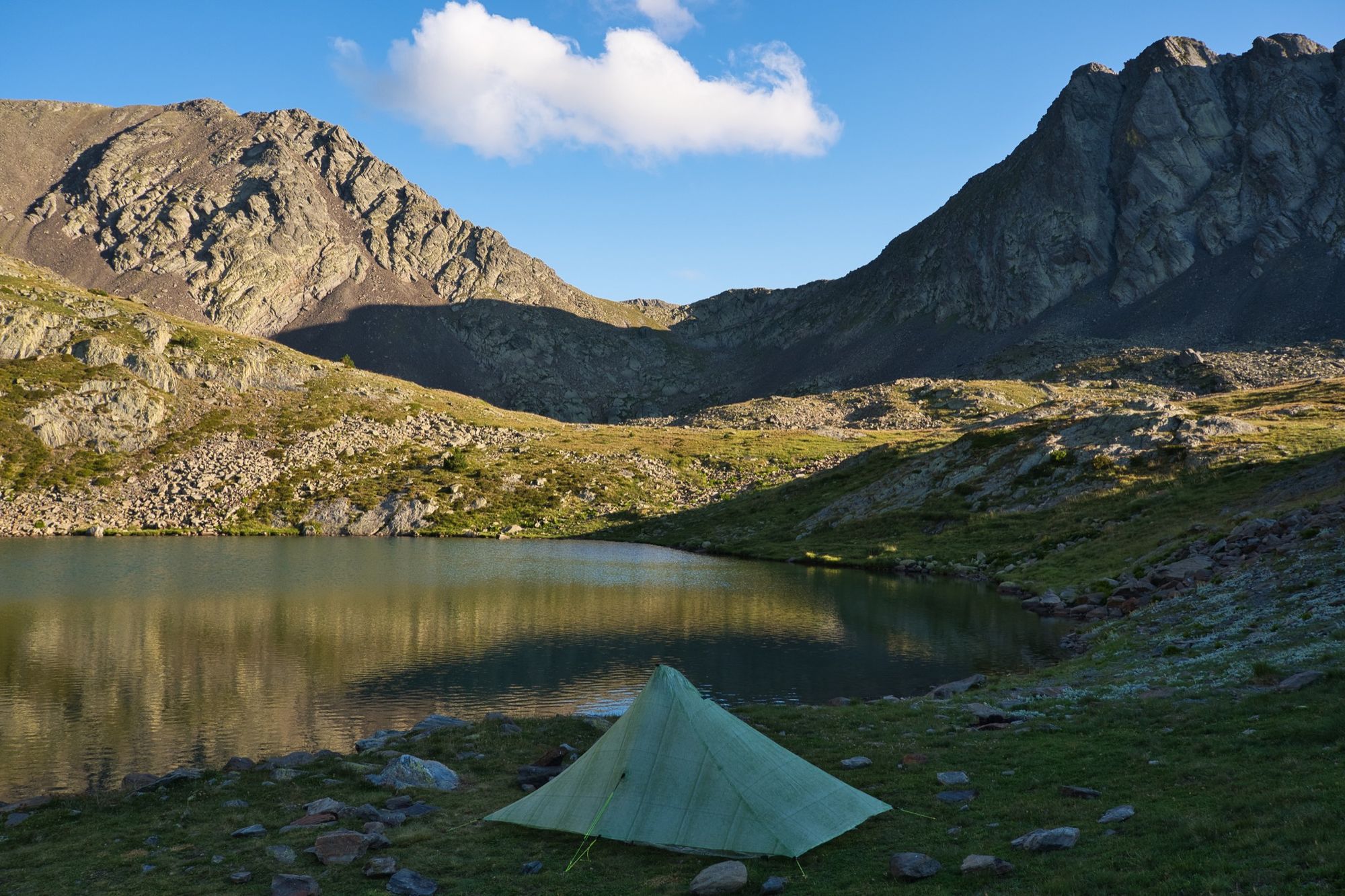 Beneath Pic Carlit there's a vast wilderness of shattered rock and scree, but also a few exquisite places to pitch a tent. This tarn was home to small, ghost-like fish that glided through the waters and occasionally broke the surface to gulp at a midge. As I contemplated the silence around me, Pic Carlit glowed in the evening light show and I traced the route of the climb I'd tackle the next morning.
2. Cape Wrath Trail: Assynt, 27 February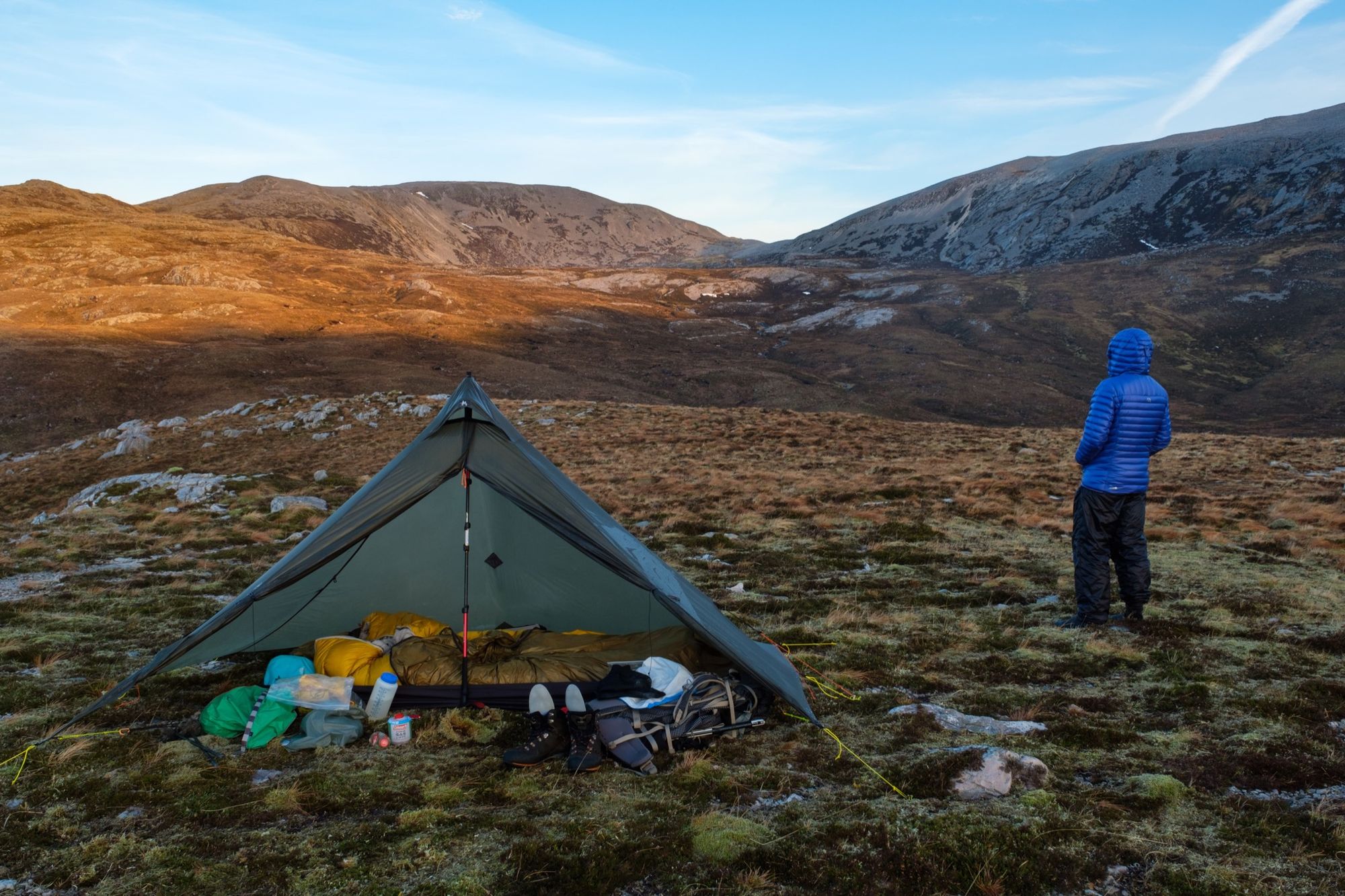 After several days of great weather, I found myself hiking through Assynt with Skye, the only other CWT thru-hiker I met on the trail this year. I decided to stop and pitch early when I found an elevated mossy spot that could hardly be more perfect. I spent about 14 hours at this spot, just watching and listening to the landscape.
1. Haute Route Pyrenees: Roques Blances, 16 August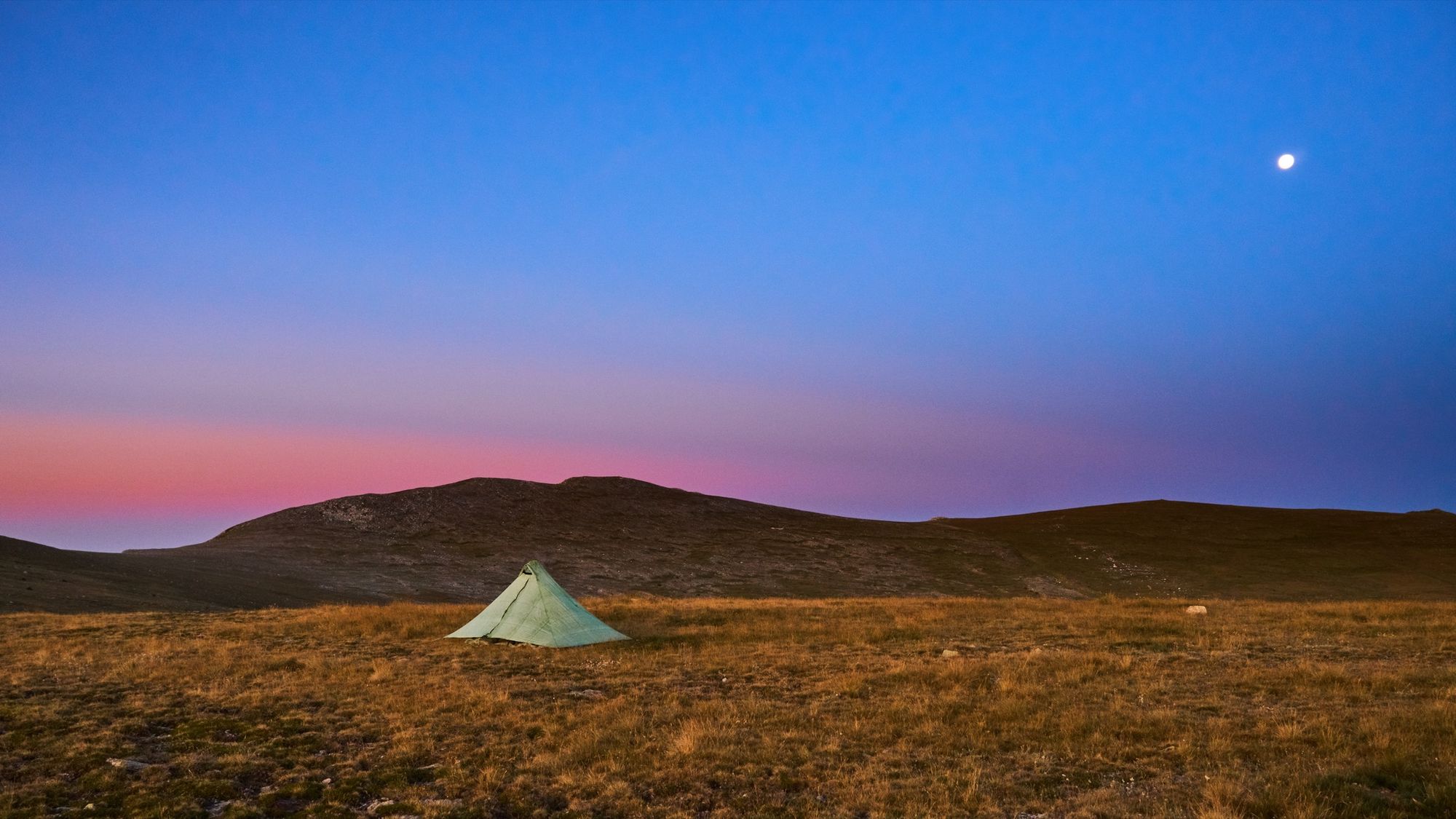 The best camp of the HRP was only a few days from the end. With only one 2,000m peak left to climb, and limited time left in the high mountains, I found myself traversing a long ridge that connected together a series of flat grassy plateaus. I could pitch my tent almost anywhere, and the open spaces made for a pleasant change after weeks of more confined views in steeper terrain. After enjoying a vivid sunset and extensive starfields overnight, I woke in time to photograph the most colourful dawn I'd seen on the trail, with the moon shining down above the Belt of Venus.
Alex Roddie Newsletter
Join the newsletter to receive the latest updates in your inbox.
Comments