A Walk in the Woods – hiking Norway's Jotunheimstien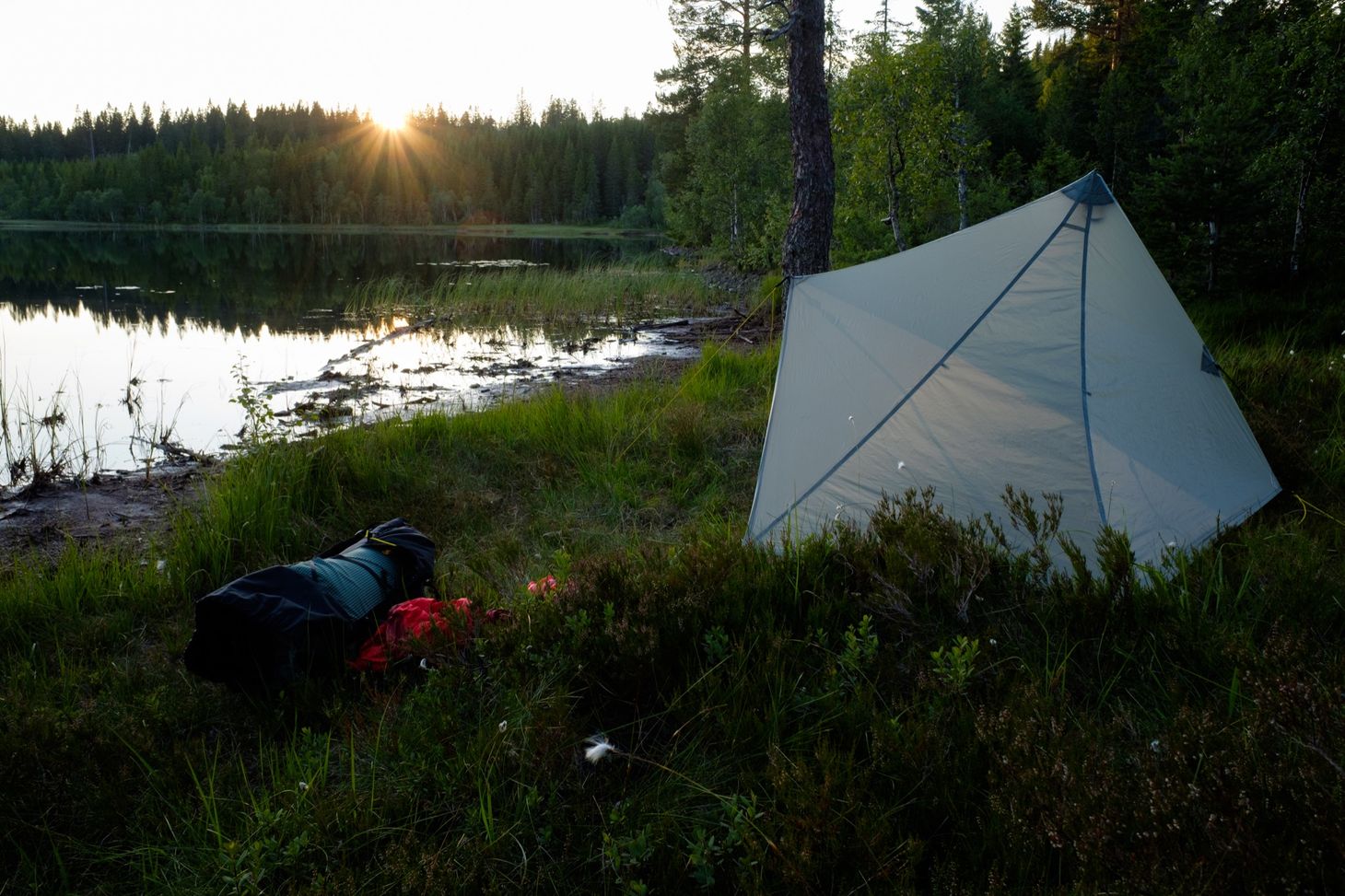 Alex Roddie discovers a long-distance trail that begins in Oslo city centre, plunging into a forest paradise brimming with wildlife.
This feature was first published in The Great Outdoors magazine (2018 Scandinavia Supplement)
It isn't every day that you get to start a long-distance trail from a city centre. A short flight from the UK, a train to Oslo Central Station, and I was already standing at the start of the Jotunheimstien. It's a 200-mile long-distance trail linking Norway's capital with the Jotunheimen National Park, a wilderness area home to the country's biggest peaks. I couldn't wait to get to the good stuff – but first I had to navigate through Oslo.
The best thing about starting a hike in a city centre is that finding supplies is easy. After raiding the nearby supermarket and stocking up on insect repellant at the outdoor store, it was time to start hiking. My route out of the city was a riverside path that took me directly into the woods – woods I wouldn't leave for over 100 miles.
About the route
Distance: 200 miles / 323 km. Consult ut.no for trail details.
Start/finish: Oslo city centre to Gjendesheim in the Jotunheimen National Park.
Maps: I printed my own maps using the Topografisk Norgeskart layer in Gaia GPS. If purchasing maps, Norway's Norgesserien 1:50,000 maps cover the trail.
Transport: Regular flights depart from Stansted Airport to Oslo Gardermoen. Train from airport to Oslo Central Station. A regular bus service (Valdresekspressen NW161) links Gjendesheim at the end of the trail with Oslo.
Accommodation: There are many Norwegian Trekking Association (DNT) staffed lodges, self-service huts and basic shelters along this trail. Responsible wild camping is encouraged.
Food and supplies: Small convenience stores with limited options at Lygnasæter (mile 65) and Eina (off a side trail at mile 90). Staffed DNT lodges serve meals for guests, and it's possible to purchase basic food at some of the unstaffed self-service DNT huts.
When to hike: Jun-Sept. Snow may be present on higher parts of the route early or late in the season.
Please use this GPX file sensibly. I supply it for illustration only, and recommend that you carry out your own planning before taking on this hike.
Five hours later, I stopped at the shore of a lake and heard the distant plop of a fish breaking the surface. With my head down and shoes pounding the path, I had registered trees on all sides for hours – so many trees – but little else until I dropped my pack, sat down on a rock and took a moment to unwind. Only then, when I felt my mind empty and clarity return, did I open my eyes and really take in where I was.
A tangle of pine, spruce, birch, rowan, juniper and bilberry surrounded me on all sides. A slab of rock sloped down from my resting place directly into a narrow lake, which looked to have been formed by water filling some fissure in the ancient landscape. The silence was absolute. Other than the narrow path I'd been following through the undergrowth, I could see no signs of human impact.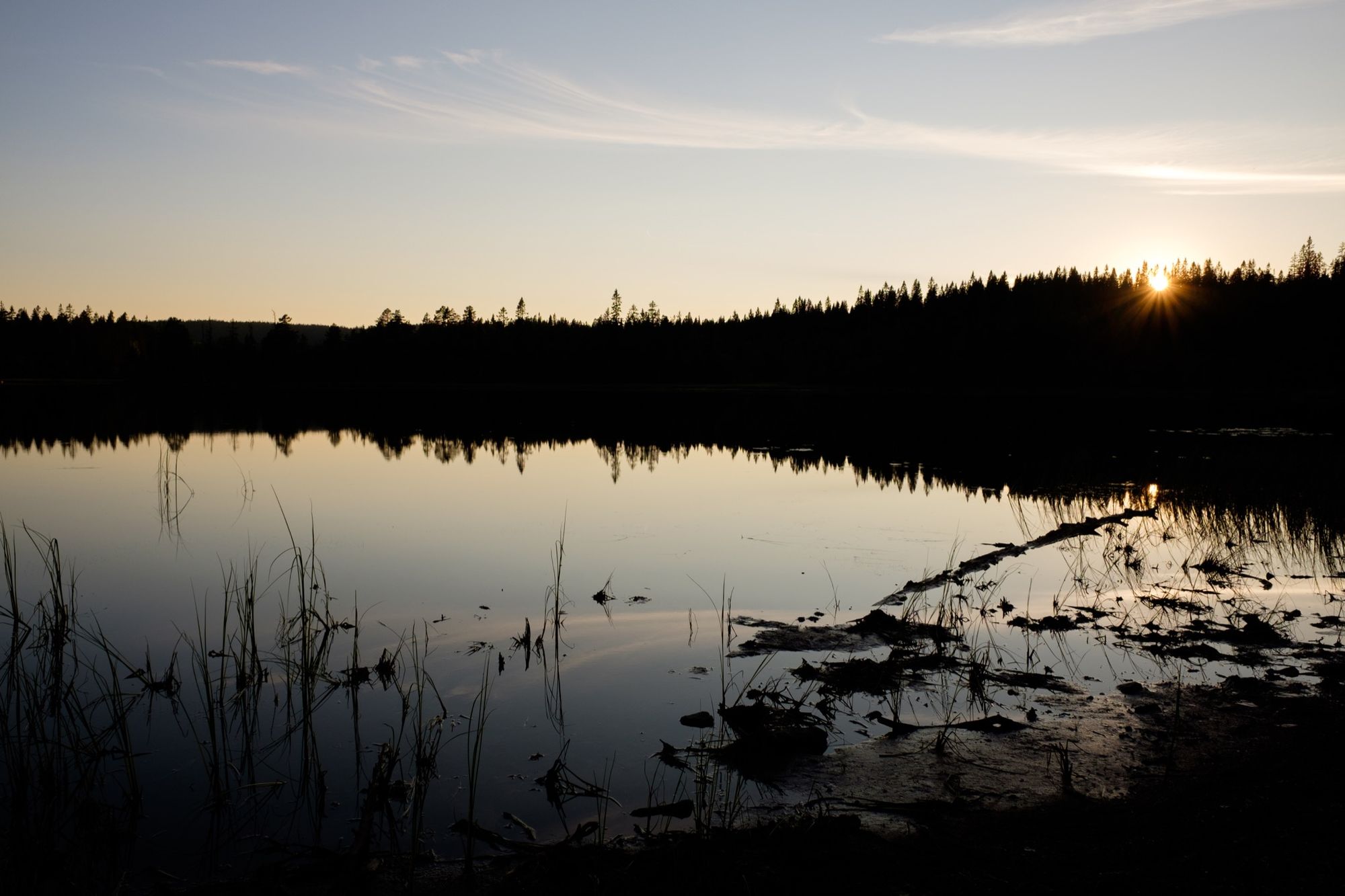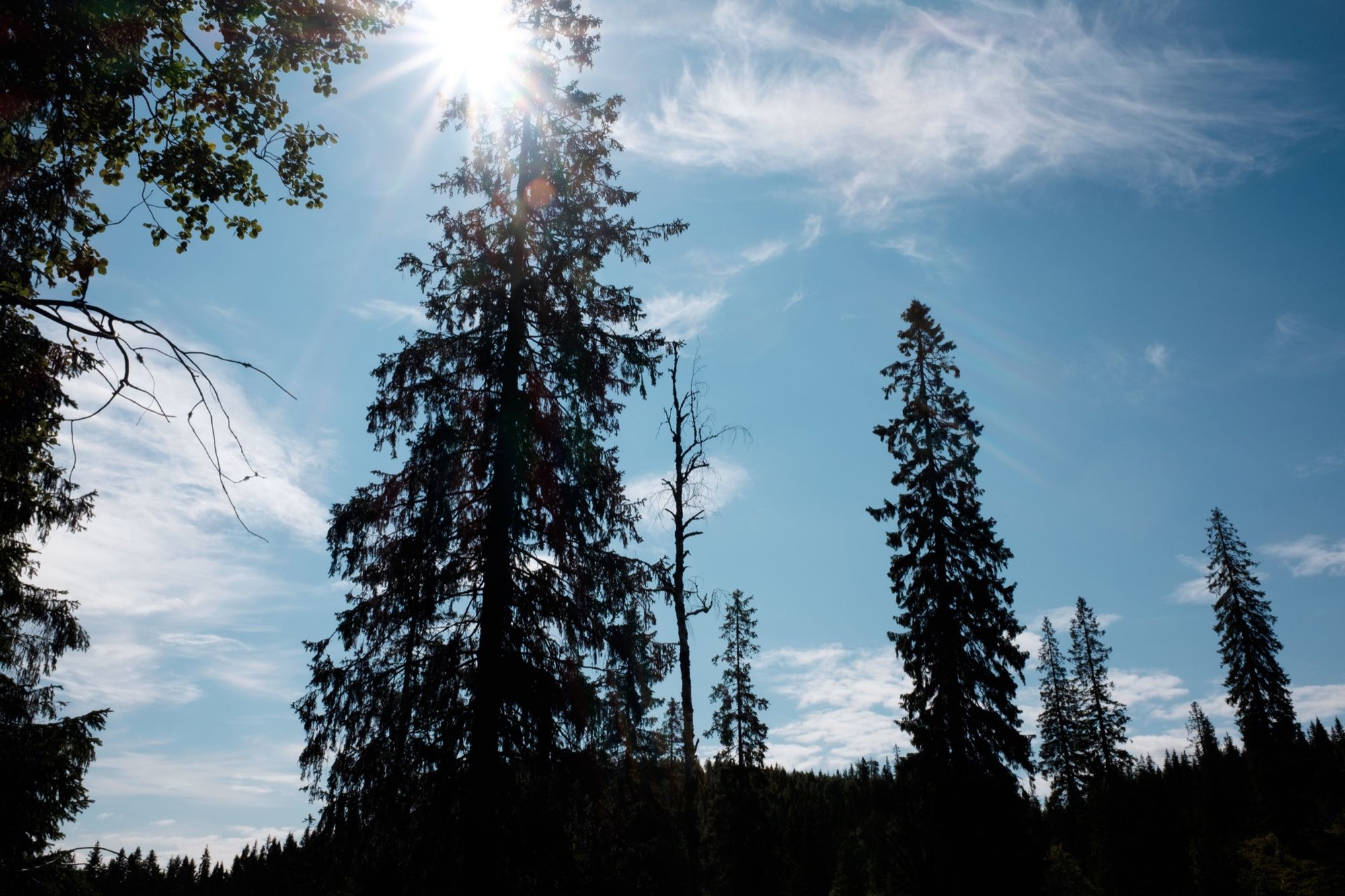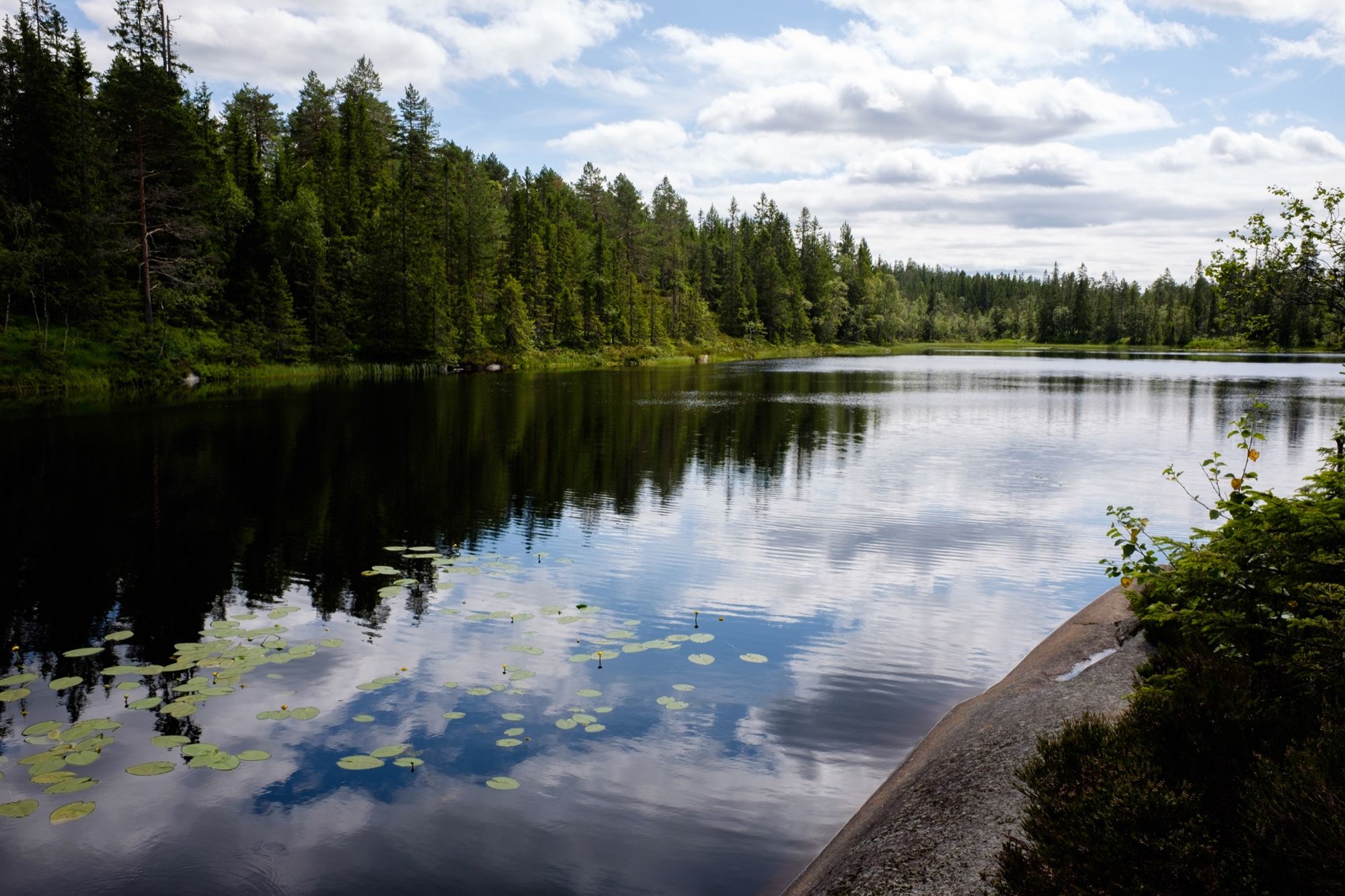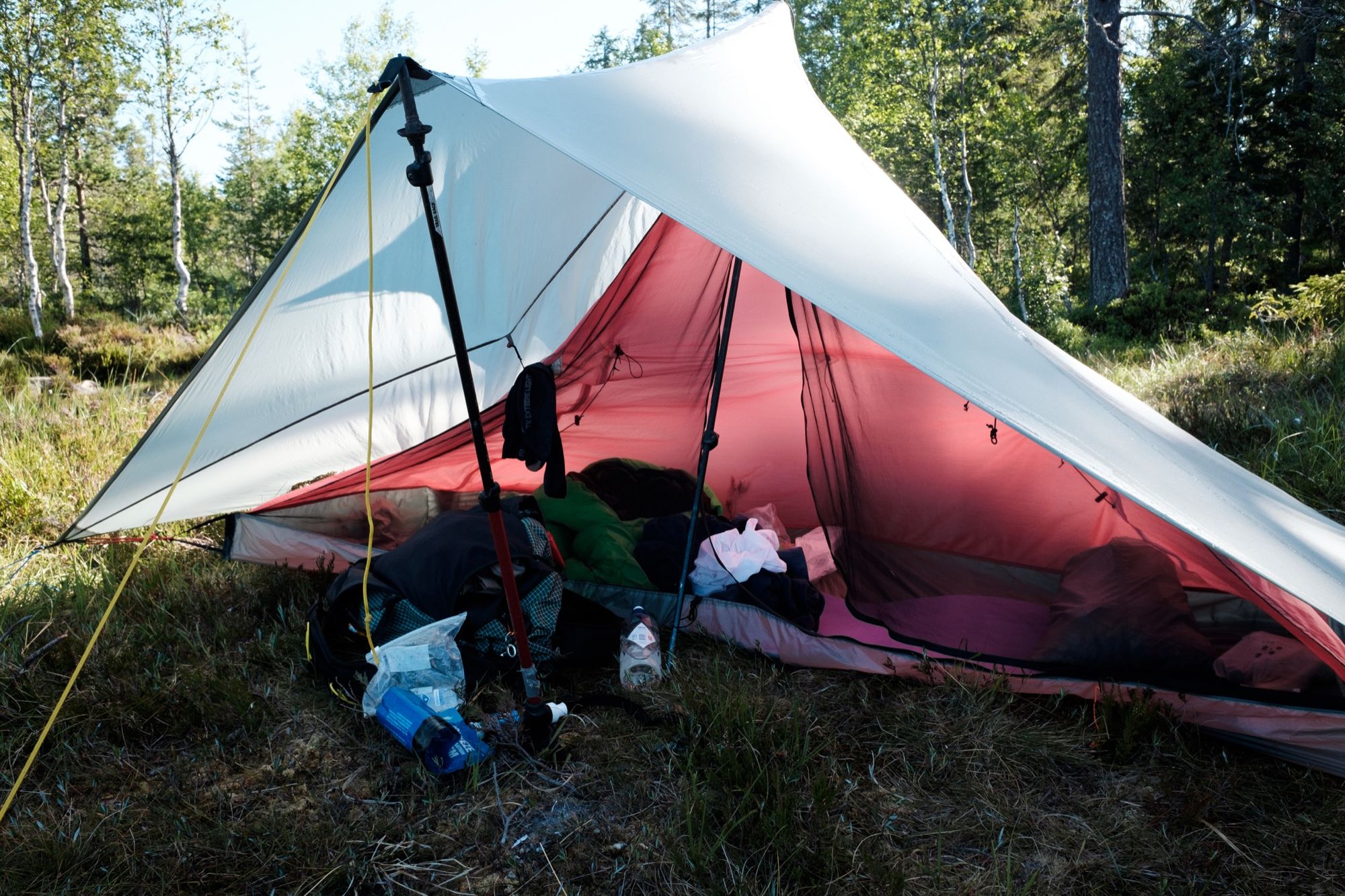 Then I heard a crash, and looked up to see a gigantic creature blundering out of the bushes ahead. At first my brain couldn't parse this visual information and the only term that sprang to mind was shire horse, due to its size, then moose, before remembering that they're called elks in Scandinavia. It was huge. It stood there placidly on the path where I needed to go, chewing vegetation, then turned and shouldered its way into the dense undergrowth. In seconds it had vanished and I saw no trace of its presence when I plucked up the courage to continue along the path.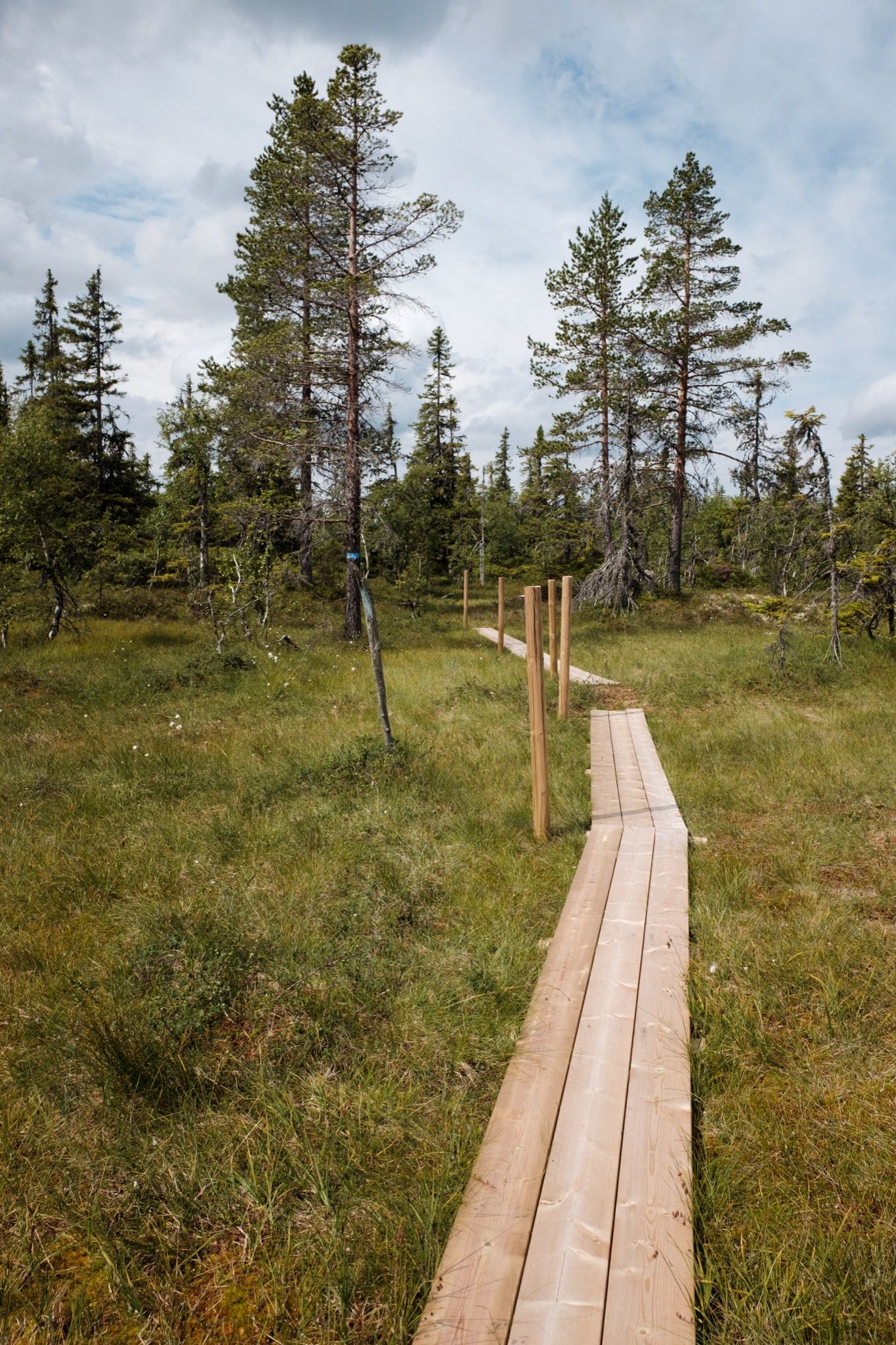 From that moment, I walked with my eyes open. I saw huge anthills, some almost as tall as me, and marvelled at the little tracks worn down into the earth by countless millions of ants. I looked for signs of bears – not unheard of in this part of the forest – but saw no evidence of them until days later, when I noticed anthills that had been raided for grubs. Once, I felt sure I was being watched, and stopped to see a fox looking at me serenely from a patch of sunlight. The throaty, bass croak of capercaillies nagged at the edge of hearing each dusk. Gradually I came to understand this forest's moods: I'd be bombing along dry, perfect trail for a few miles before invariably coming across land marked as myren (mire) on the map. Sometimes boardwalks crossed the mires, but more often the path would disappear into the marsh for a while, marked only by occasional blazes on the trees. But despite the wet feet, I looked forward to the bogs: colourful cloudberries carpeted the ground at my feet.
I think that long-distance trails often fall into one of two categories. There are the trails that dart from landmark to landmark, like the Cape Wrath Trail – walks where you always seem to be travelling from somewhere to somewhere else. Then there are the walks where the landscape is a continuous tapestry through which you wander, achieving a kind of flow state over many days. The Jotunheimstien is like that. There were few real landmarks in the forest, just day after day of walking, allowing the mind to roam freely as the body fell into a continuous rhythm. That isn't to say there were no hills. I climbed my first mountain, Kvitingen (720m), on day five, but the dense forest rose so gradually up its flanks and carpeted its summit so completely that I might as well not have been on a mountain at all. I realised that this is what most hills in the UK must once have been like – views denied by the vivid textures and colours of plant life all around. It felt strangely right.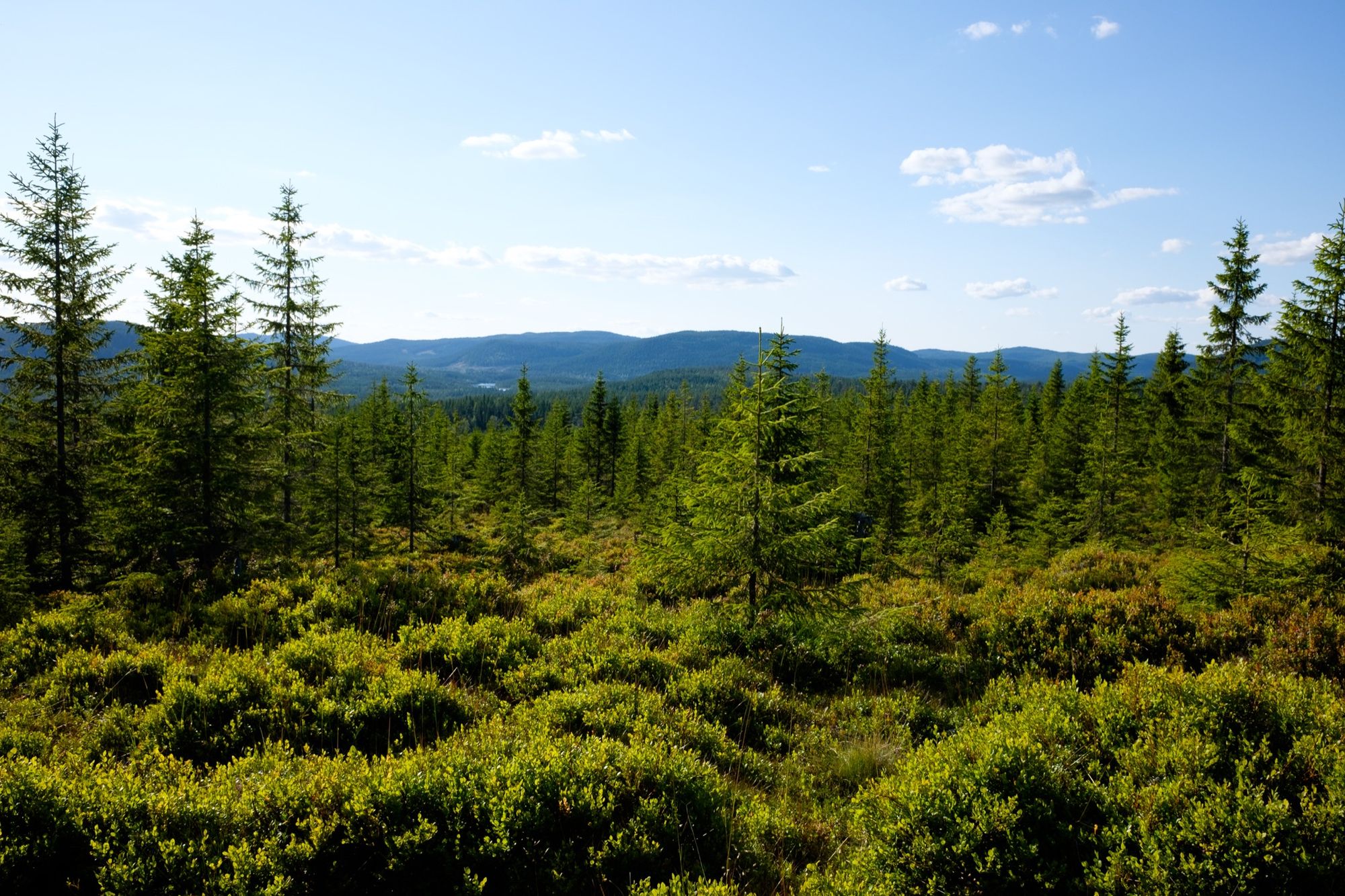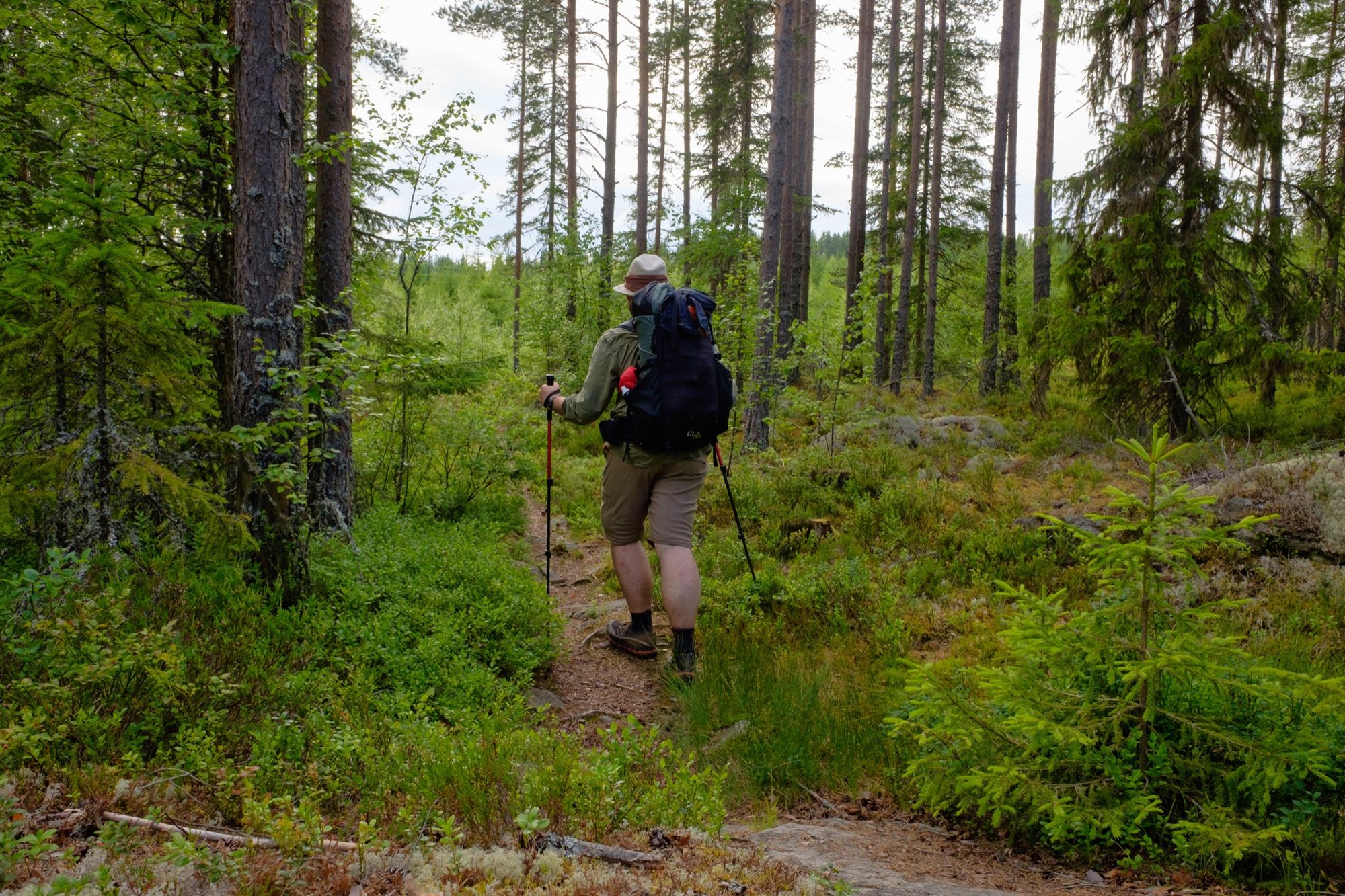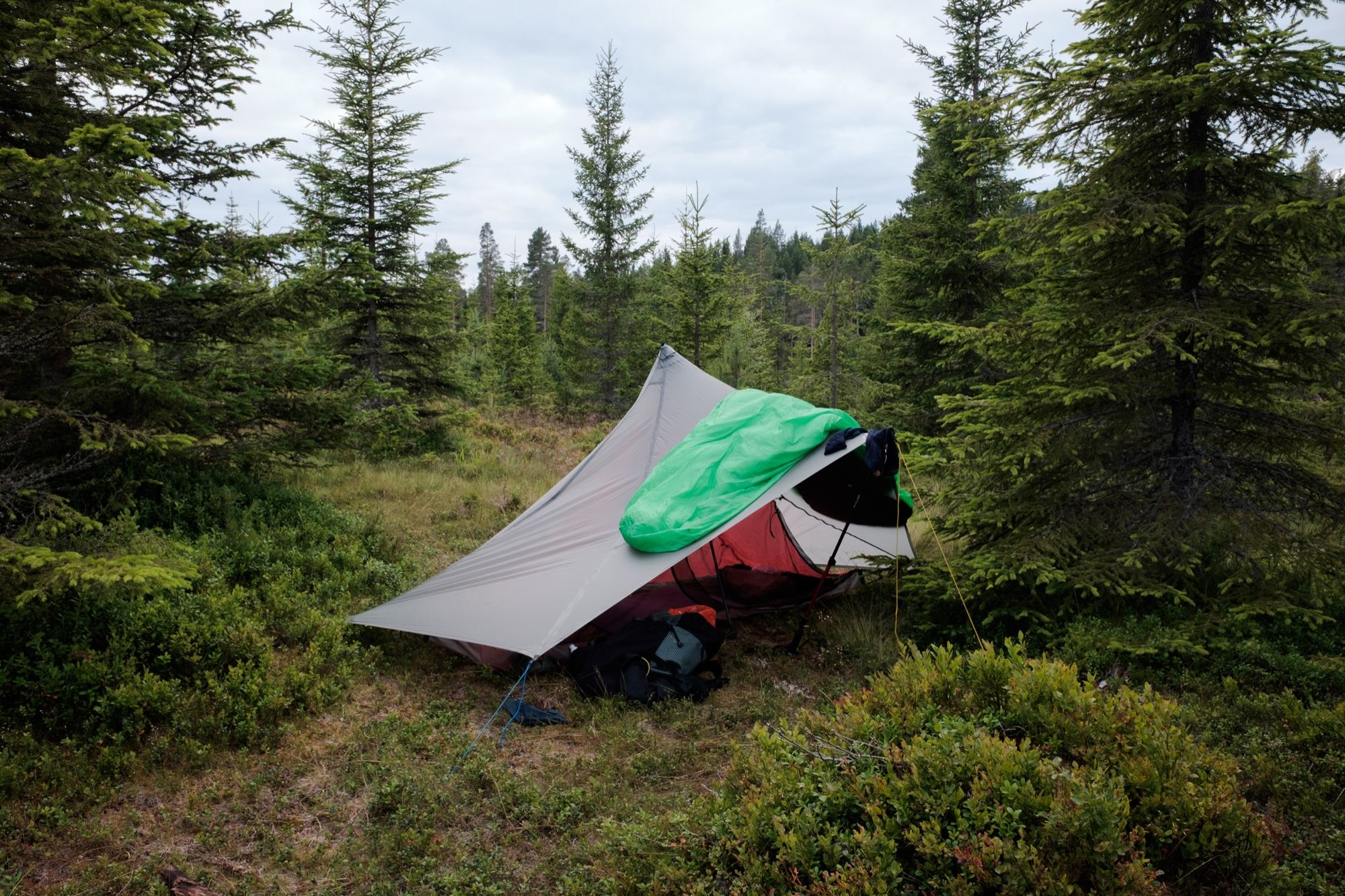 I've always loved forest camping, and the Jotunheimstien allowed me to indulge this passion more than any other walk I'd done. I camped beside glittering lakes, in silent glades, and out on the open fjells. My shelter of choice for this trip was the Mountain Laurel Designs Cricket – a basic ultralight shaped tarp, open on one side, coupled with a bug-proof nest (necessary in mosquito season). It was ideal for sheltered forest sites, and even above treeline it could be battened down to provide excellent weather resistance.
Hut culture is integral to the Norwegian wilderness experience and many Norwegian Trekking Association (DNT) huts are dotted along this trail. Most are locked and for members only; you get the key when you join. There's something satisfying about ending a long day in the woods at a cosy little cabin, fragrant with the scents of cut pine and woodsmoke. Later in the trail, several of these huts also included food stores, which became a crucial part of my resupply plan even when I decided to camp instead. I did not stay at any of the bigger staffed lodges, as I felt it would take me out of the meditative experience that was so nourishing my soul.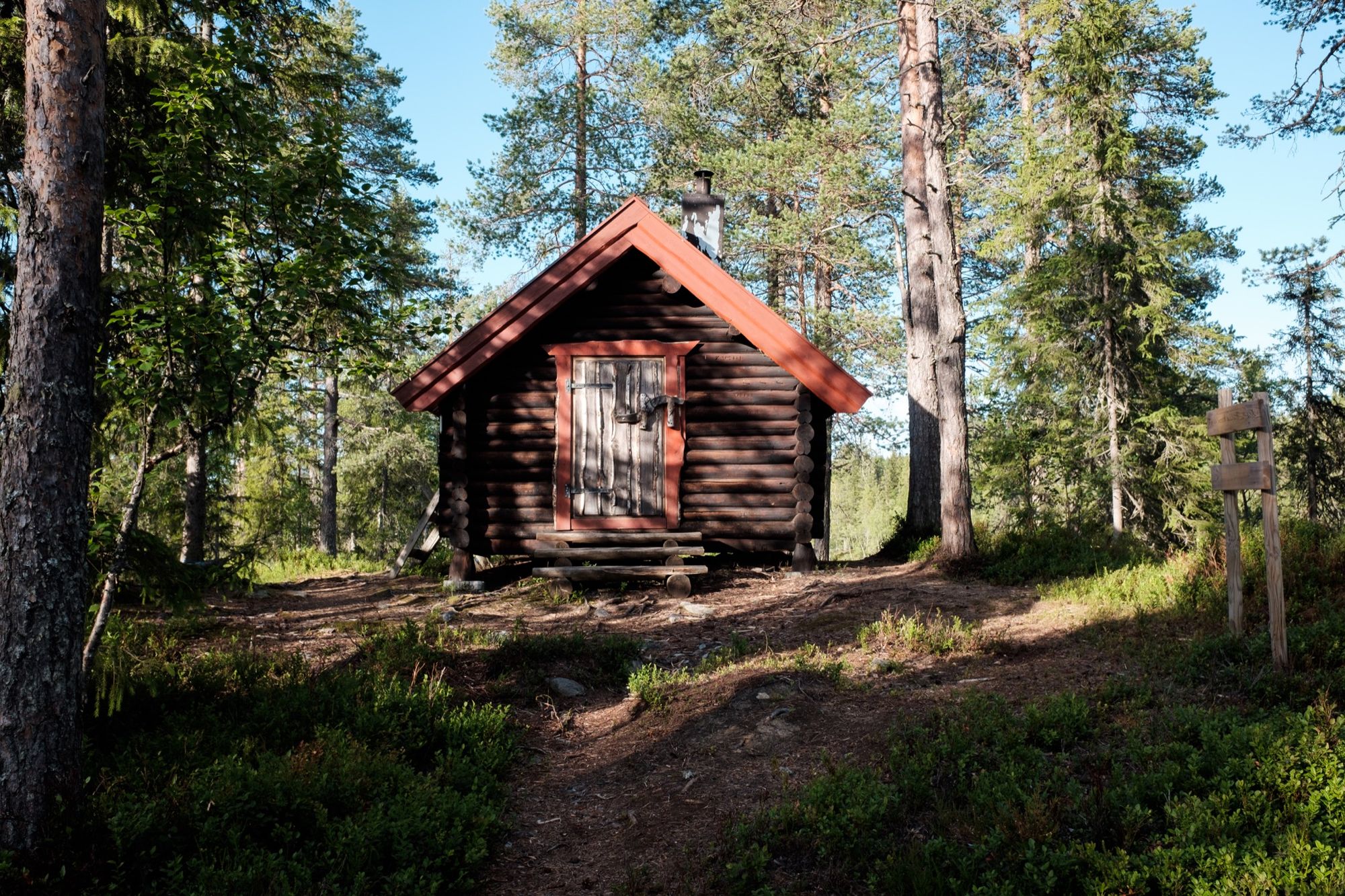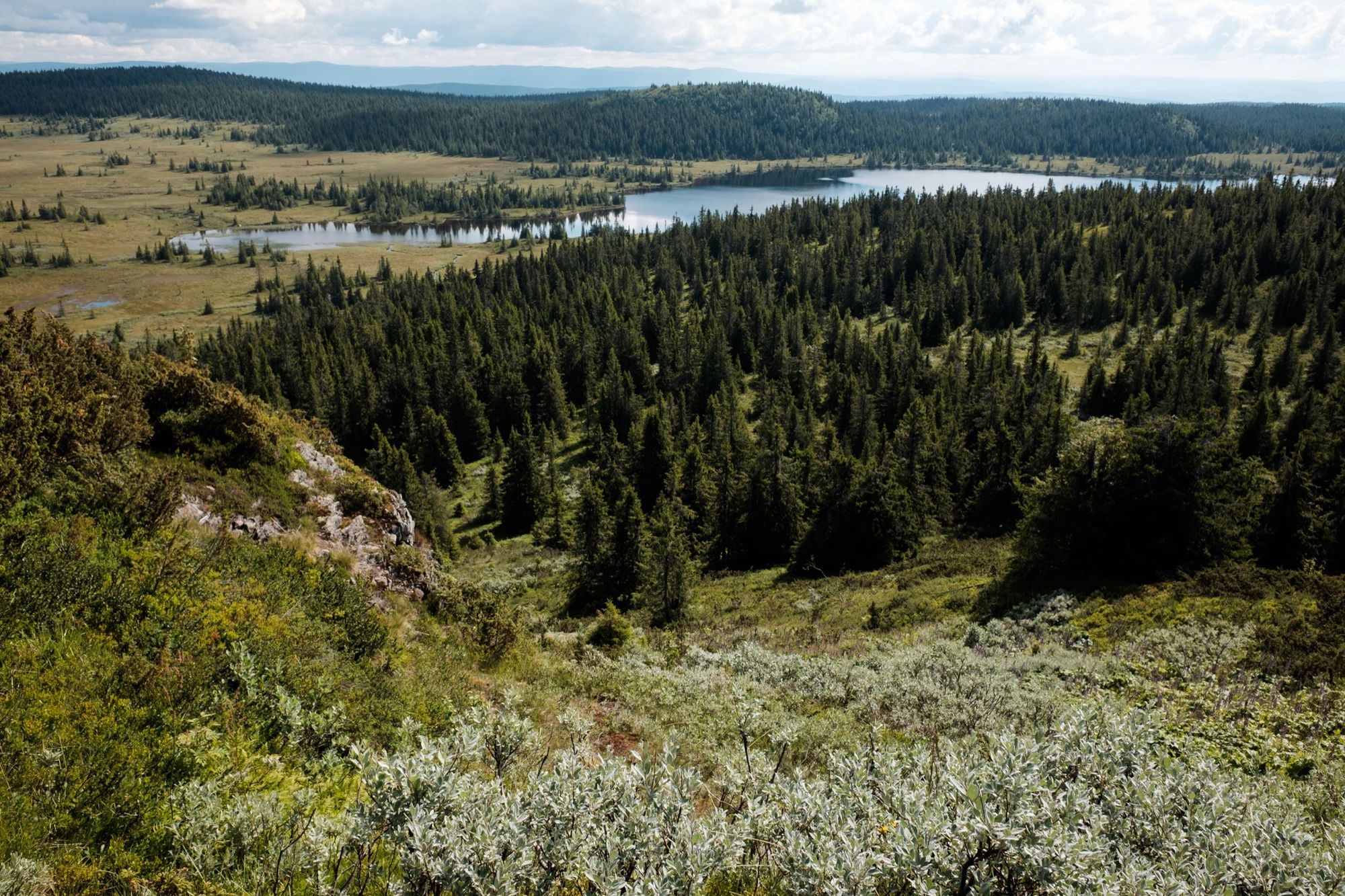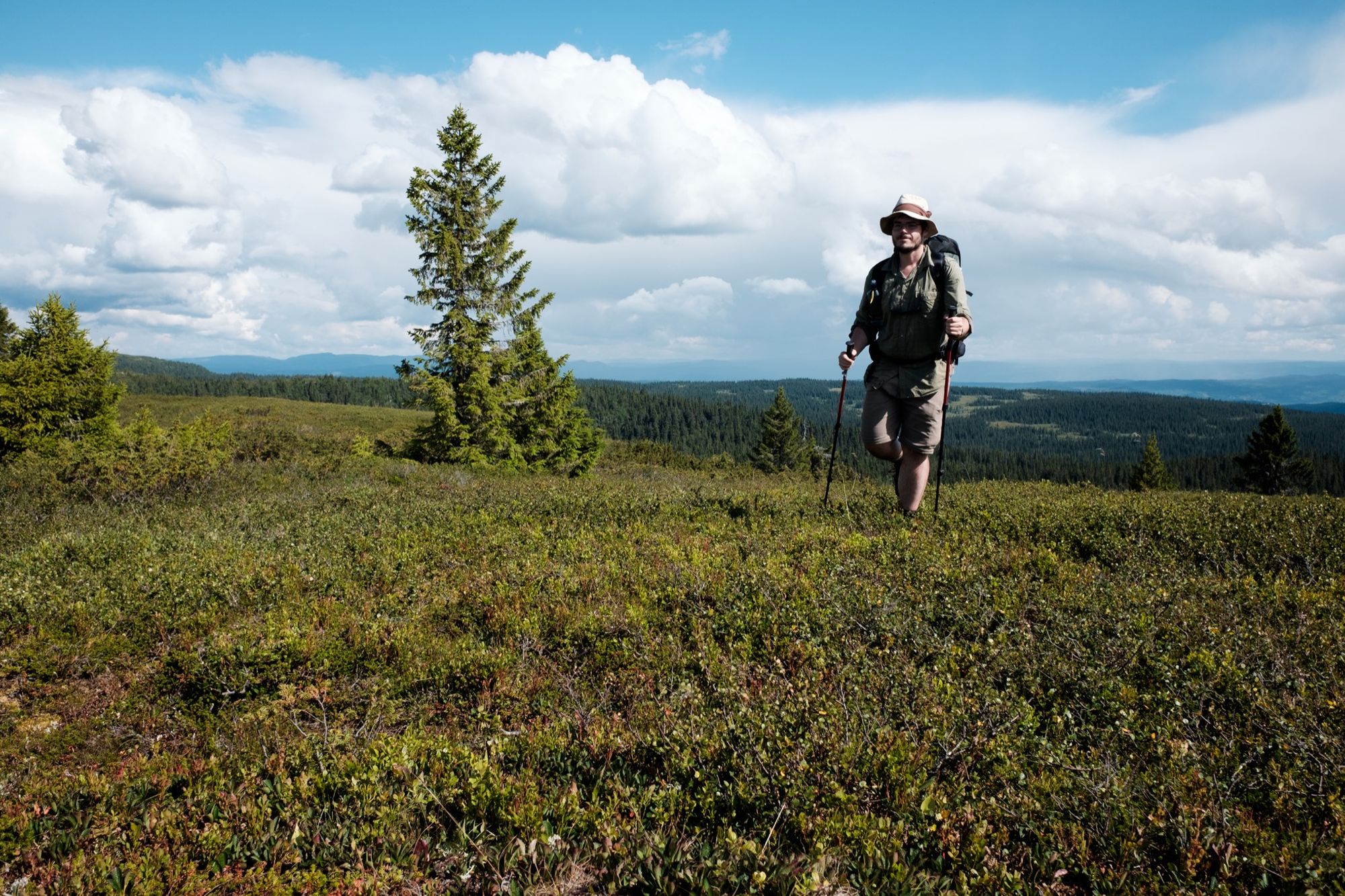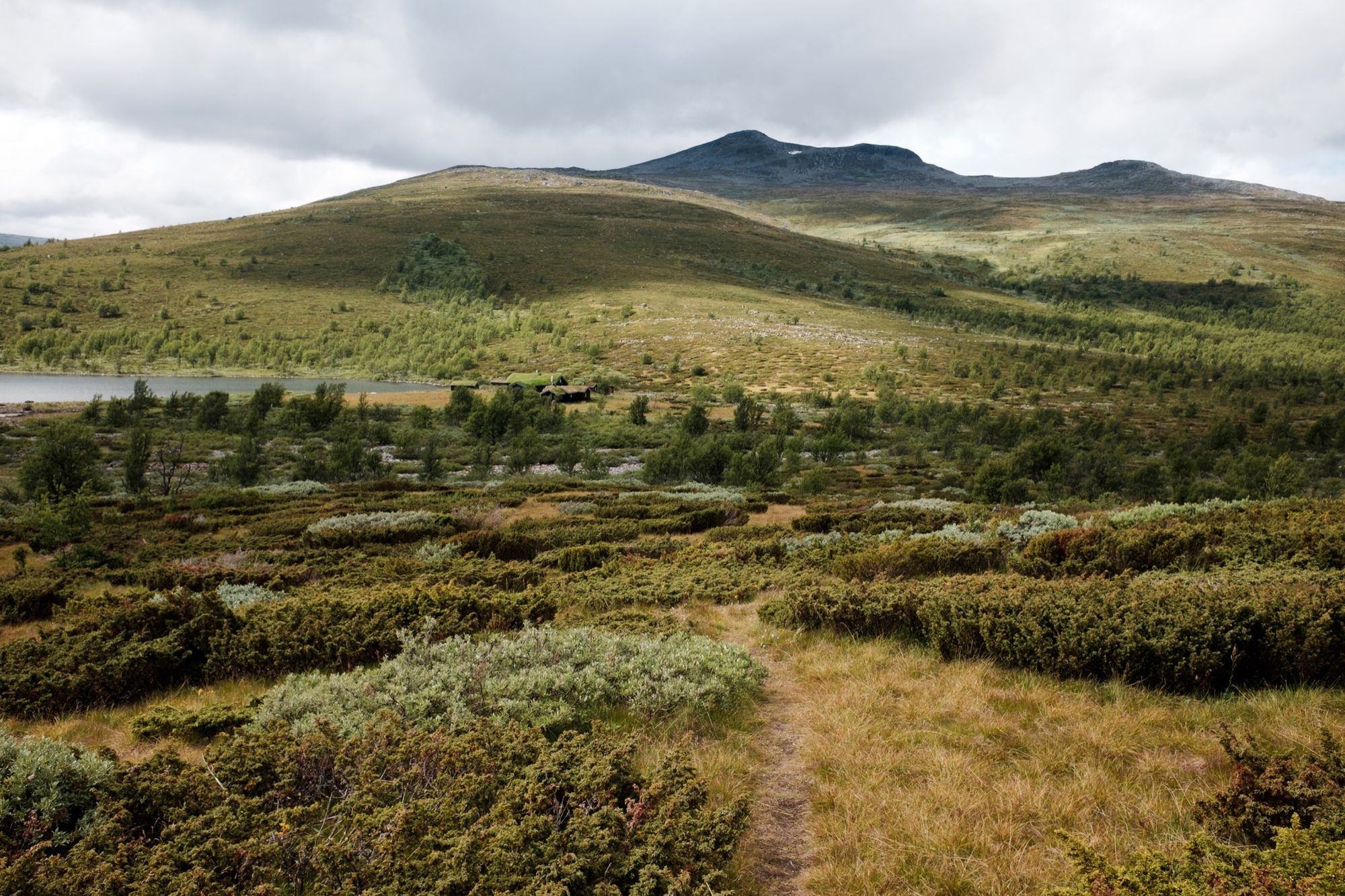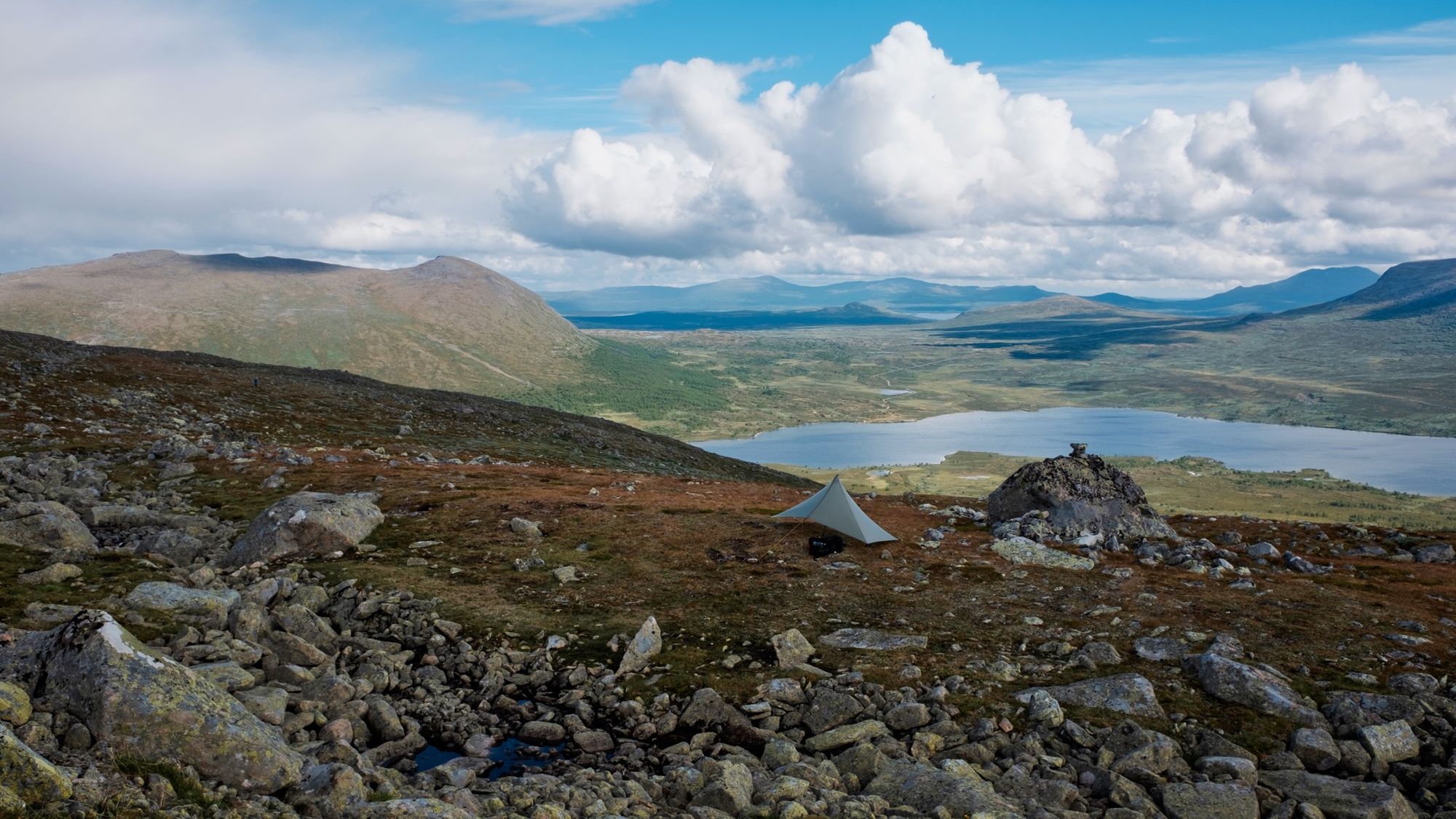 The final 50 miles of trail were an exquisite pleasure. Leaving the deep forest, the Jotunheimstien gradually climbed up into the Langsua National Park. This region is home to several mountains up to around 1,500m and, at lower altitude, a patchwork landscape of marshes, lakes and sparse woodland carpeted with wild flowers. Brown bears live there too. I saw no traces of them during my crossing of the national park, but the knowledge that they were there added a frisson of excitement to each day's walk, enhancing my appreciation of the wildness all around me. Langsua also offered windswept, expansive views over the forests through which I'd journeyed for many days. There was more than a hint of the Cairngorms in this bleak but very beautiful landscape, roamed by elk and herds of reindeer. On my final morning a young reindeer woke me by poking his nose under my tarp, but I think he was as startled as me when I uttered a yell that echoed for miles in every direction.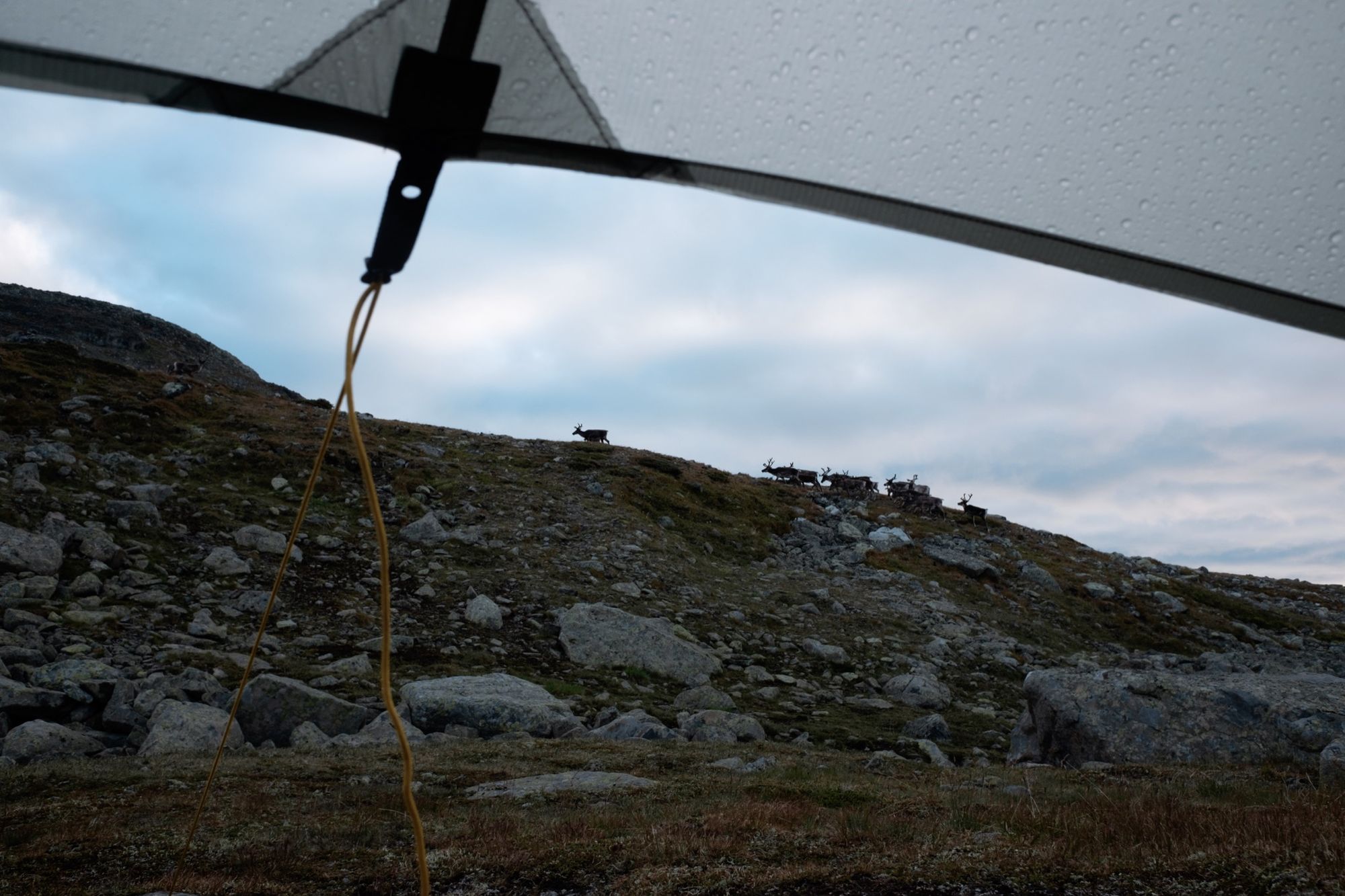 That last day was bittersweet. I could see the glacier-speckled peaks of Jotunheimen drawing me towards trail's end, and the landscape underwent a sudden and dramatic change as I entered a world of U-shaped, glacier-carved valleys filled with birch forest and hemmed in by improbable rocky peaks. I was entering the alpine environment of Jotunheimen.
The trail came to an end at Gjendesheim, a settlement on the edge of Lake Gjende and the gateway to Jotunheimen National Park. The scenery all around was magnificently wild and rugged, but Gjendesheim itself came as a shock – after days immersed in solitude and silence, I was confronted with a massive trekking lodge, gift shop, cafe, bus stop, car park, and hundreds of people. It's a busy place thanks to its association with Peer Gynt, not to mention the tremendously popular Besseggen Ridge nearby, a classic Norwegian mountain scramble. But this very popularity made it the perfect place to end a big walk in the wild, because a simple bus journey of a few hours whisked me straight back to Oslo Central Station.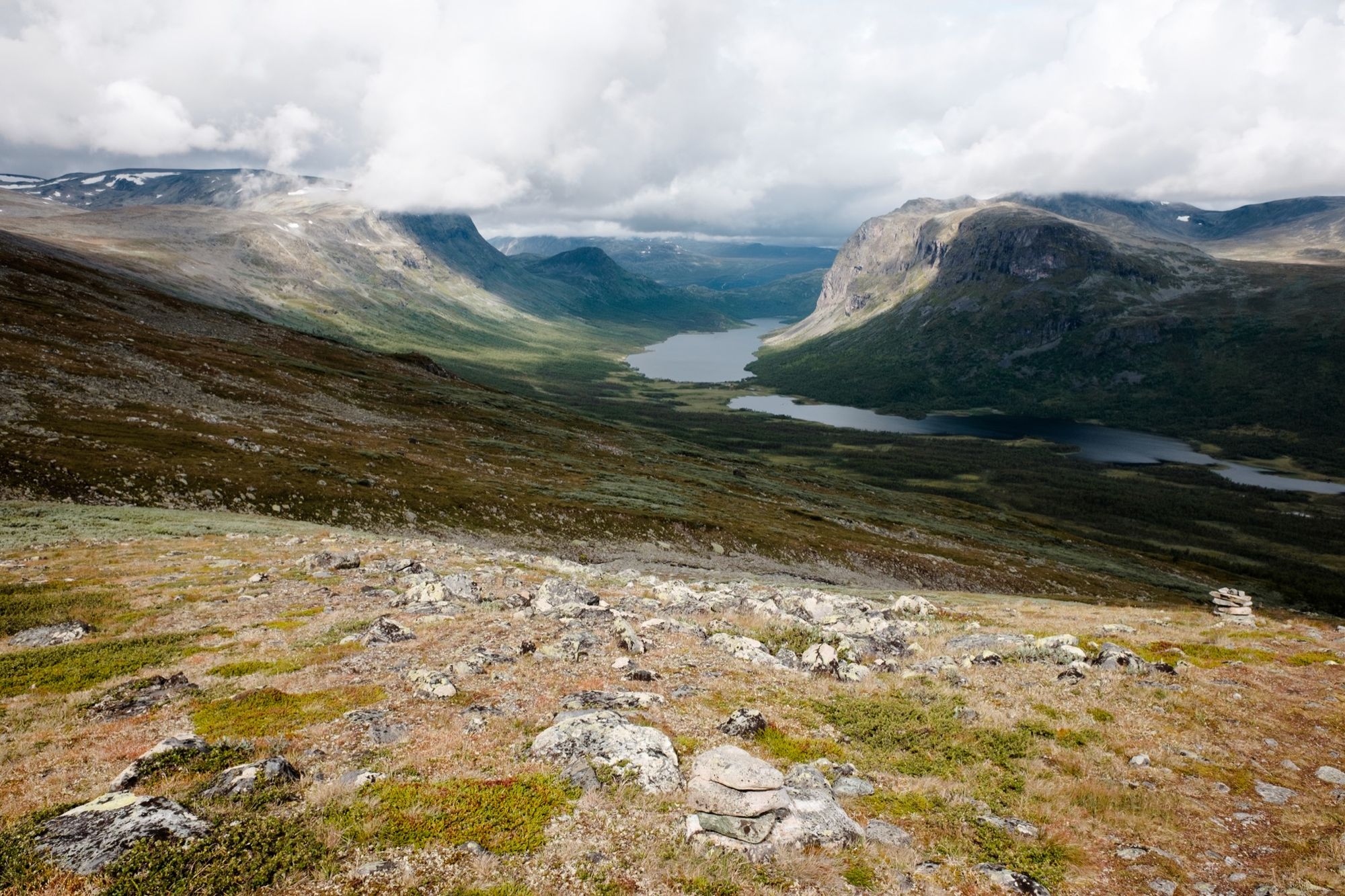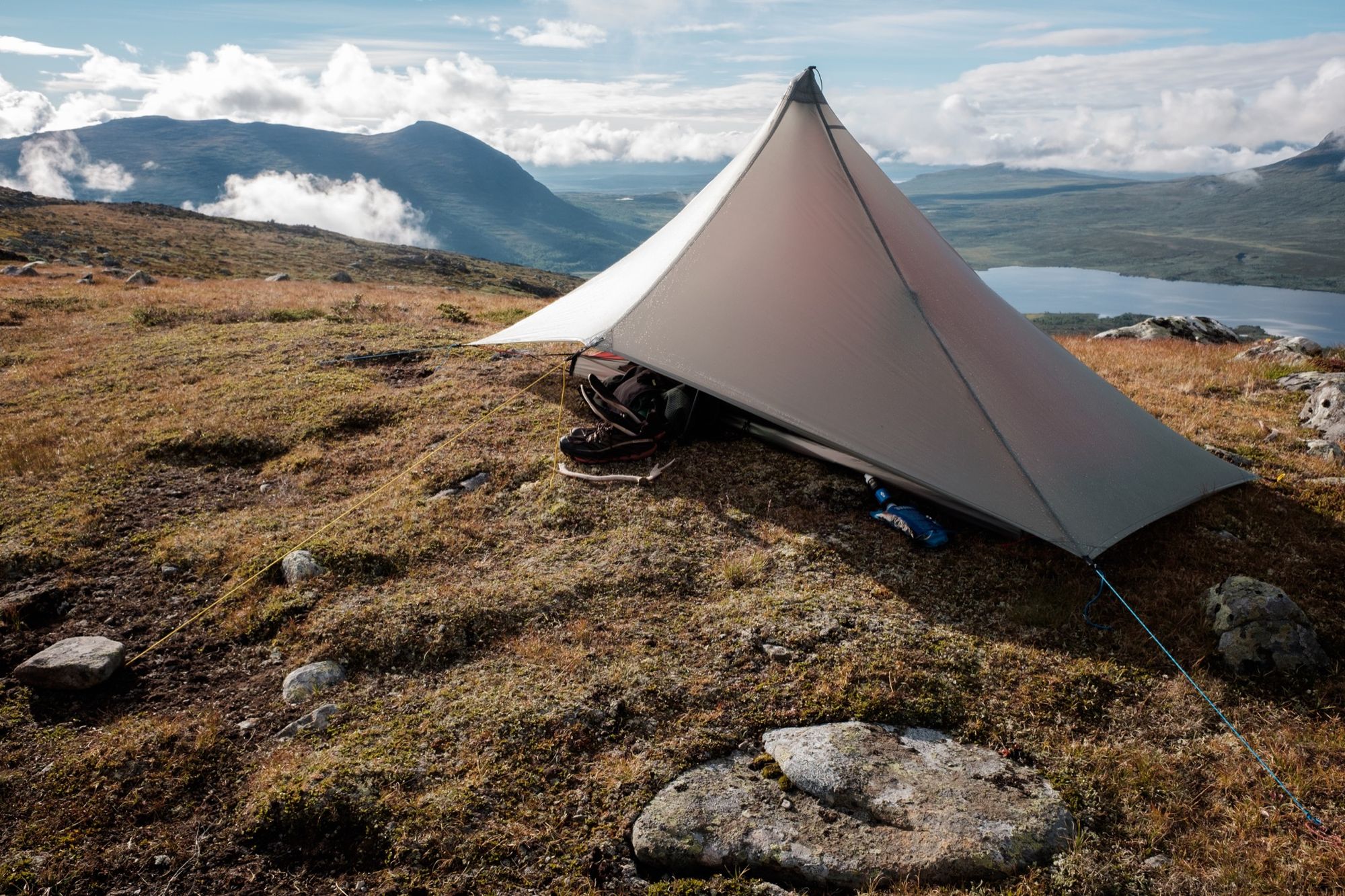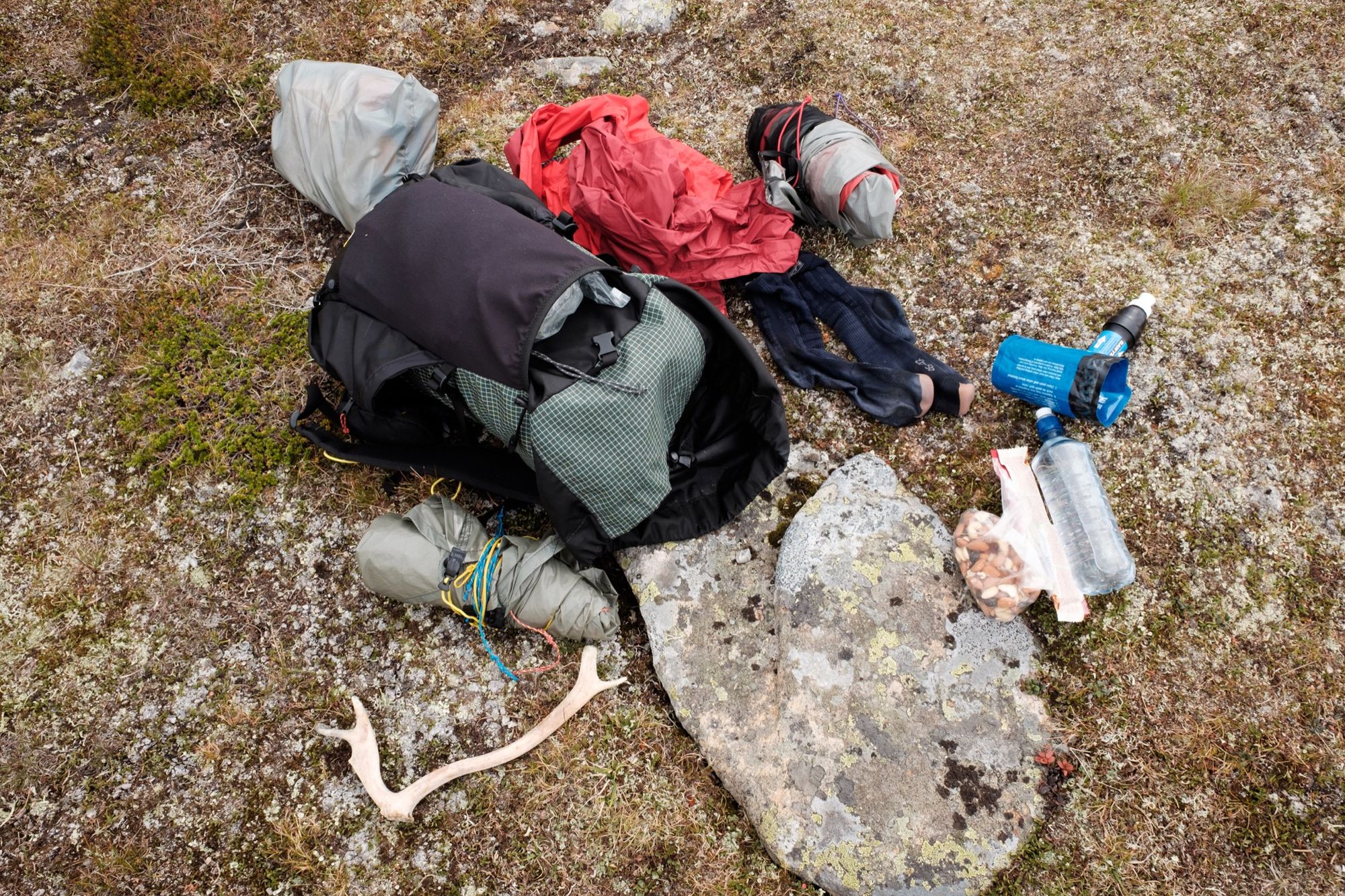 For the backpacker new to Norway's wilder delights, it's easy to recommend the Jotunheimstien. It's hard to think of a Scandinavian backpacking route with easier transport and logistics; the only aspect that requires thorough planning is where to stock up on food. There are so many excellent huts along this trail that DNT members could hike most of it without needing to camp more than once or twice, if so inclined. The terrain is never too difficult and the path is often waymarked (although it does disappear in a few marshes and particularly dense thickets – just enough navigational jeopardy to keep you on your toes). It gets you up close and personal with big, impressive peaks without taking you onto technical terrain, and it takes you through splendidly wild and remote forest landscapes the like of which is rare here in the UK. Imagine Rothiemurchus Forest stretched over an area many times the size, inhabited by elk, wild boar, bears, and a flourishing ecosystem of plantlife, and you can't go far wrong. What backpacker could resist spending a couple of weeks exploring such a place? I know I'll be back.
Further reading: some more advice and practical tips about this trail in my Field Notes.
Alex Roddie Newsletter
Join the newsletter to receive the latest updates in your inbox.
Comments