Join me for a free online talk about long-distance walking this Thursday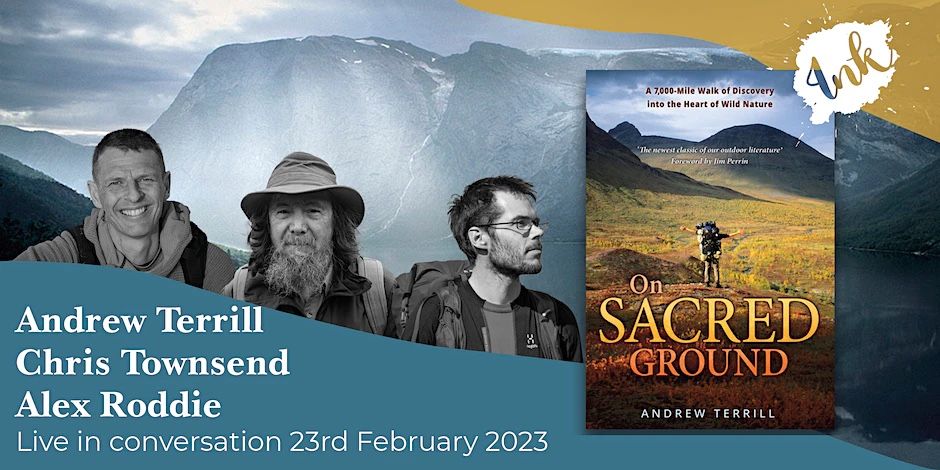 At 8pm UK time on Thursday the 23rd of February, I'm delighted to be joining renowned outdoor writers Andrew Terrill and Chris Townsend for a chat hosted by Tim Frenneaux of the Adventurous Ink book club. Tickets are free – get yours here.

Our conversation will be about the benefit of immersing ourselves in landscapes and the natural world through the time-honoured tradition of putting one foot in front of another. Specifically, we'll be discussing Andrew's latest book, the remarkable On Sacred Ground, as well as long-distance hiking adventures that all three of us have enjoyed over the years. There will also be references to the classic A Short Walk in the Hindu Kush by Eric Newby, which has been raising a few laughs for me over the last few weeks.
This should be a memorable evening. Chris has been a friend and colleague for the best part of a decade, and I've edited both of Andrew's books – perhaps the finest books I have ever worked on. Between us we must have walked many tens of thousands of miles all over the world (Chris and Andrew substantially more than me). We'll have a great deal to talk about, and I don't think the three of us have ever been in one space before, even if this will be a virtual one.

See you there?
Alex Roddie Newsletter
Join the newsletter to receive the latest updates in your inbox.
Comments