A fastpacking circuit in the Cairngorms
51km through the Cairngorms with running shoes, a lightweight pack, and a mindset that wasn't quite hiking and wasn't quite running but something distinct from both.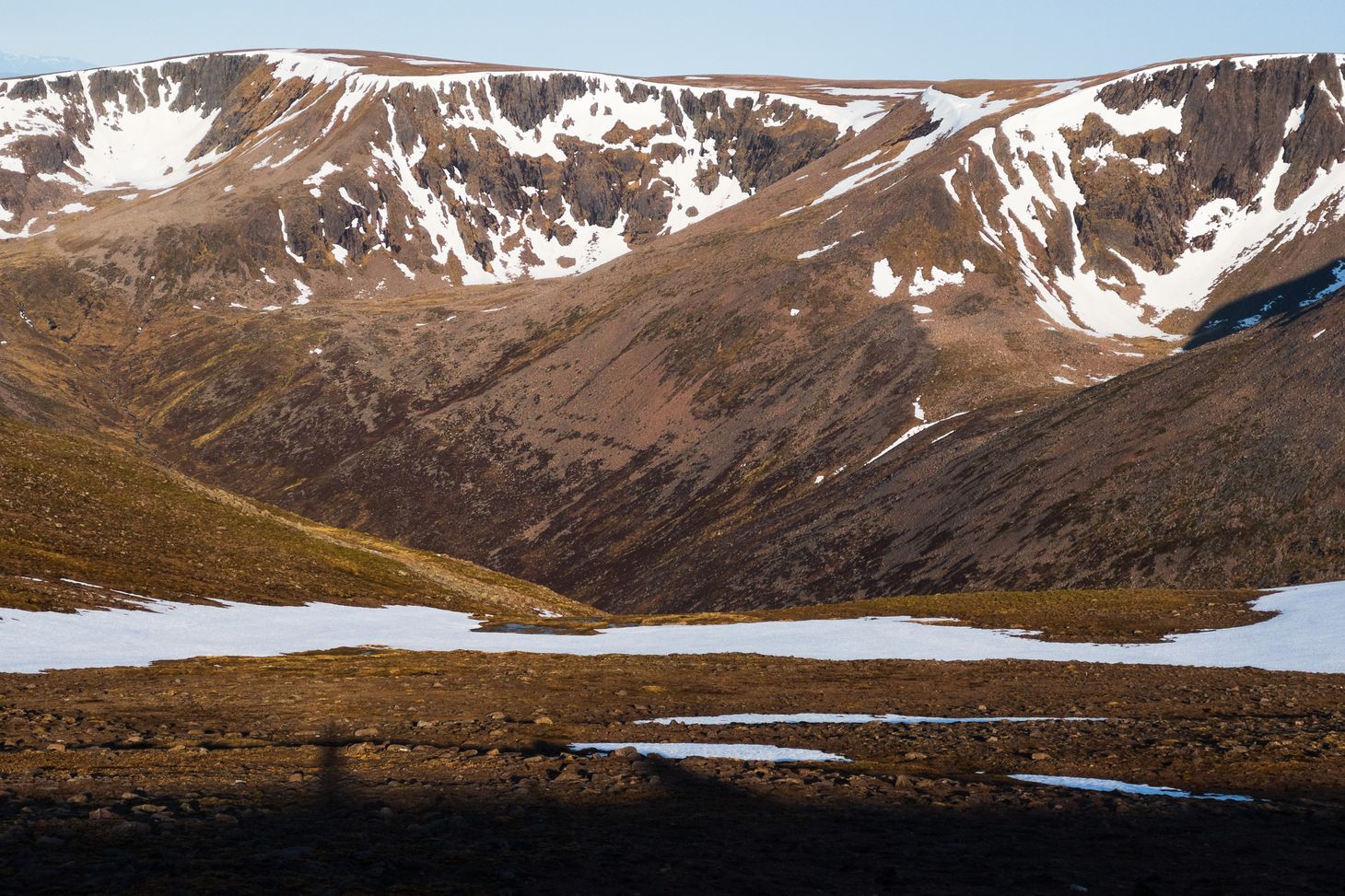 Over the last 17 years I've spent quite a bit of time up in the northern Cairngorms, but my focus has never really been about picking off Munro summits – it's been more about wandering journeys that make sense to me (and, in a former life, winter climbing in Coire an t-Sneachda). However, now that I once again live in Scotland I find myself thinking about filling in some of the gaps. A number of outlying Munros, plus a shapely ridge scramble I had long dreamt of, looked like an excellent excuse for a trip. And with a superb forecast I knew that I could pack light.
It had been a while since my last fastpacking journey. After making fastpacking so much of a focus last year, I'd taken a break from it – but with warmer temperatures and longer days my thoughts had begun to turn back to big routes and big downhill runs. Ultralight backpacking taken a step or two further.
There are some who question whether fastpacking is a legitimate thing, lumping it in with wild swimming and wild camping and a symptom of the outdoors becoming ever more commercialised and atomised, but to my mind it deserves its place as a distinct activity. My kit list is very different to my hiking kit (especially clothing). I can go further. More importantly, the mindset is different too, because I'm not going for 'a hike' or even 'a run' – I can give myself permission to blend each as I choose, but find myself predisposed to push comfort zones. When I'm backpacking I often jog downhill bits, but I don't make an effort to push myself because that isn't the point. For me, backpacking and hiking are about slow immersion, embodied thinking, and (importantly) photographic compositions.
And, on the other side of the coin, if I'm 'going out for a run' I inevitably feel bad if I end up hiking too much of it. The embodied thinking I do when running is quite different and the photography side of my brain is switched off. Fastpacking is fluid and flexible and can incorporate elements of both disciplines. Importantly for me, I don't carry a full-frame camera when fastpacking, so photography has to be done with my phone – and that means that it's difficult to turn a fastpacking trip into paid work unless another photographer tags along. My phone is technically adequate in optimal conditions, but again it is about mindset. If I'm taking photographs with a phone my compositions are slapdash and my eye is dull. So, if I choose to do a trip in this style, it's a simplified experience. Mountains just for the joy of mountains.
Yes, fastpacking is a different thing altogether and it deserves its own name.
---
I'm still getting used to the fact that I can head to big mountains for a weekend now. This was never practical in Lincolnshire. But on Thursday night I found myself running through Rothiemurchus Forest by torchlight, looking for somewhere to bivvy before an early start on Friday morning.
My planned route was a bit of a wandering one: from Aviemore up the Lairig Ghru to Garbh Choire refuge, ascending Sgor an Lochain Uaine via the NE Ridge, across Monadh Mor and Beinn Bhrotain, down to Glen Dee and across the river, then up the back of Ben Macdui via Carn a' Mhaim before returning to the ski centre. Of these five Munros, I had done Sgor an Lochain Uaine and Ben Macdui before several times, but the others were all new to me. The circuit measured 51km with 2,830m of ascent. There would definitely be a bivvy somewhere but I wasn't sure how far I could get on day one.
Fog shrouded the ascent to the highest point of the Lairig Ghru, but the forecast said it would burn off by late morning and I kept the faith. It all cleared in the space of about five minutes just past the Pools of Dee, revealing the full grandeur of the big mountains ahead – Cairn Toul looked particularly impressive, as it always does. But there wasn't much snow left for the time of year. Snow patches wreathed the coire headwalls, of course, but I have seen significantly more snow in June.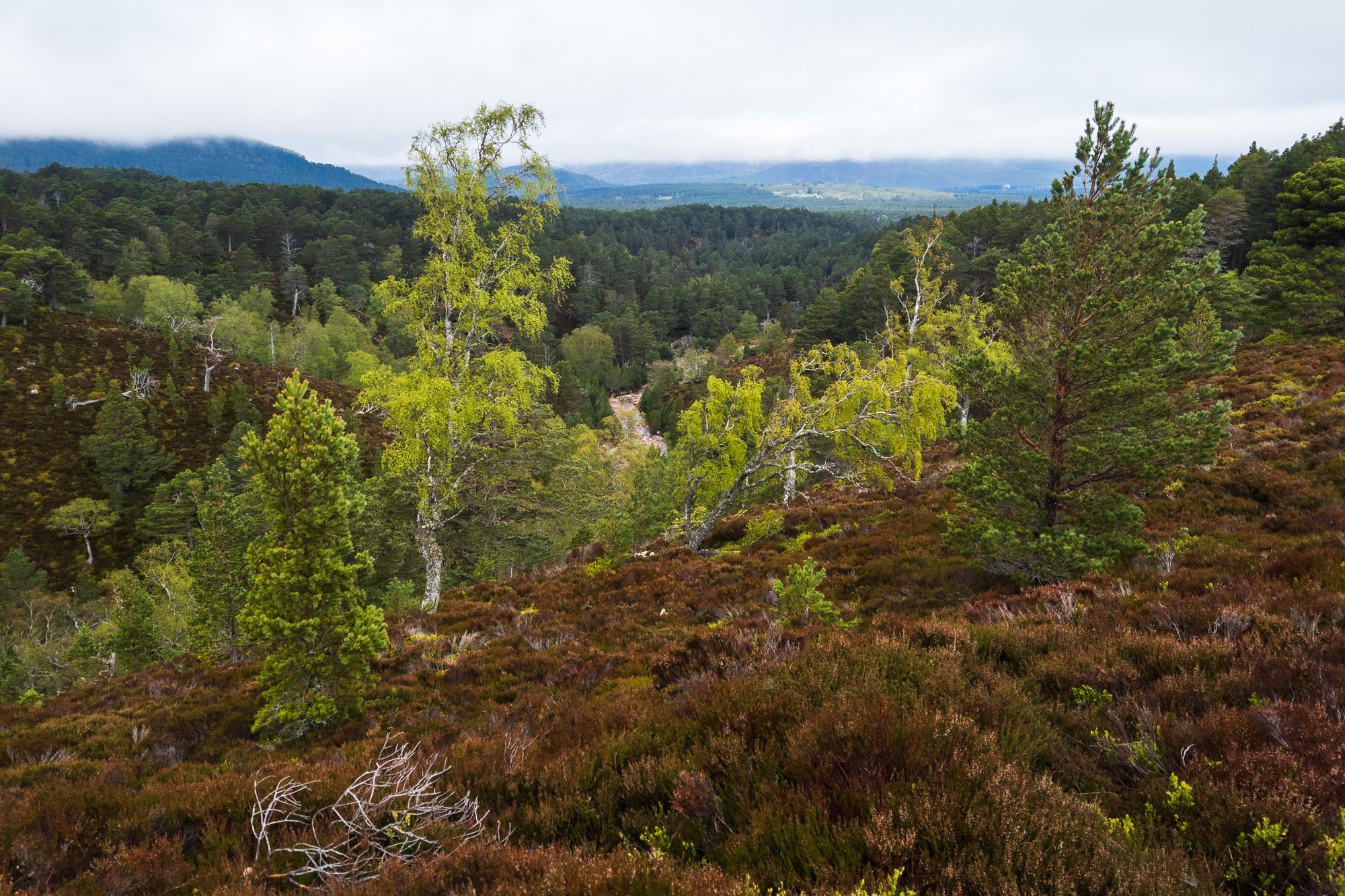 I made good time to the Garbh Choire refuge – an approach I last made in 2010, and I remember it being a good deal rougher and wetter then than I found it on Friday. The refuge has been rebuilt recently and is now quite a contrast to the grim hovel I stayed at in 2010. Nearby I met some contractors working for the NTS, planting downy willow saplings on the crags above the refuge, where they had been staying for four days. 'Enthusiastic but a bit ragged' is how I later described them to a friend. It's good to see people working hard for nature in places such as this.
From the refuge a steep approach heads up to the right of a waterfall crashing down slabs from Lochan Uaine, a high lochan in what would once have been the location of a hanging glacier. I think the reason why I'd never done the NE Ridge scramble before is that this steep approach had always put me off, but it really wasn't that bad once I found the path. The lochan, to my surprise, was completely free of ice. Last time I'd been high in this massif, on the 5th of June 2013, I'd looked down to see the waters completely choked by icebergs.
The scramble was an absolute delight. What a ridge! Easy and sprawling to begin with, before becoming more defined with some steady Grade 1 scrambling (plus some optional harder bits). It would be a fine adventurous mountaineering route in winter conditions. Views across to the Braeriach corries were marvellous, but again I was struck by how little snow I could see compared to every single one of my previous May or June visits.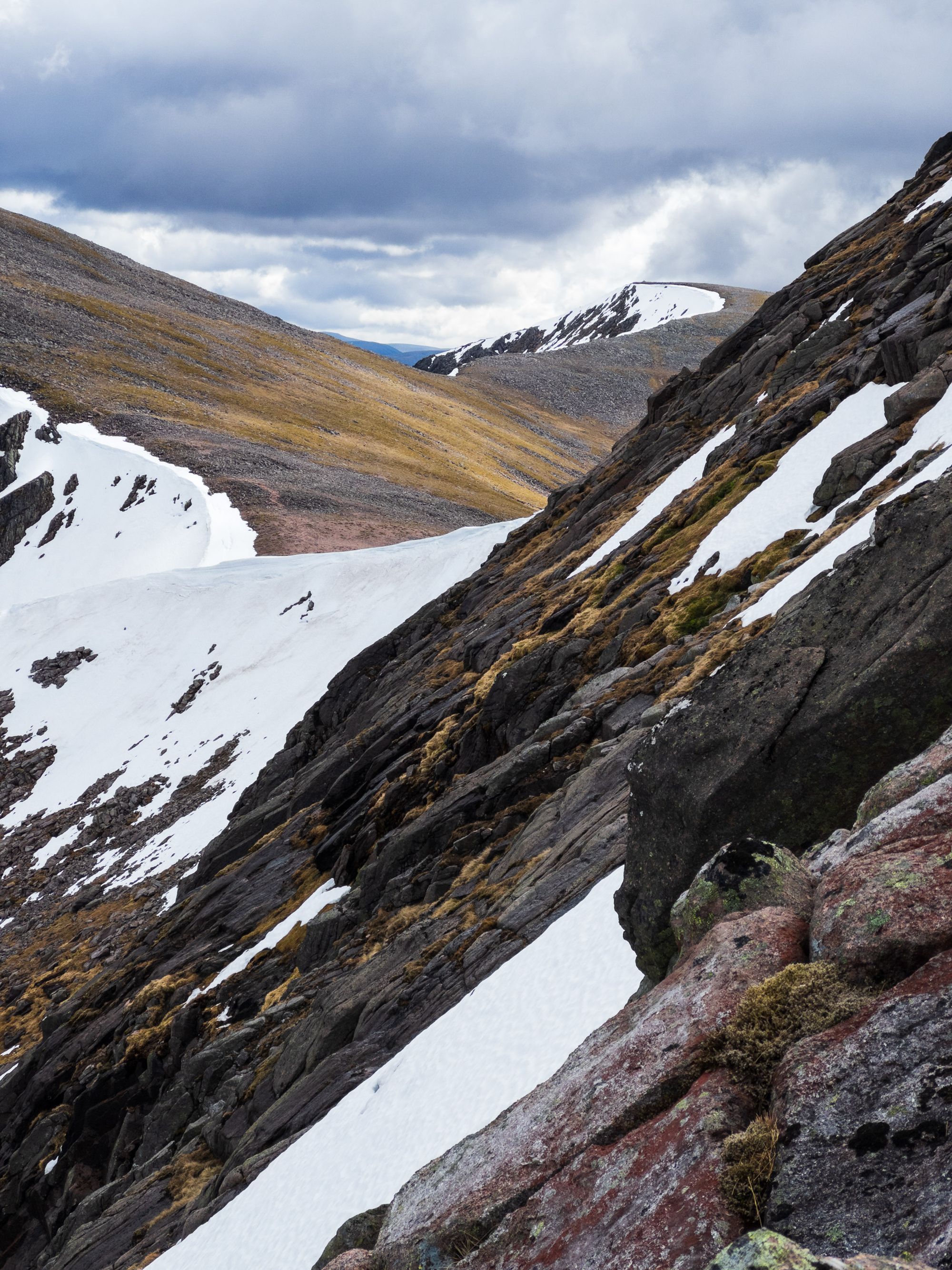 At the summit of Sgor an Lochain Uaine I met two women who had climbed up from Glen Feshie. I enjoyed a cracking run down the SW Ridge, then there was a short climb to Monadh Mor (a sprawling whaleback), and then another fantastic run across to Beinn Bhrotain. The terrain was a good deal faster than I expected. It was only on the more complicated and largely pathless descent from Bhrotain that I had to slow down and pay a bit more attention to navigation. My route followed a burn down into a gorge, and although the terrain was easy at first it soon become steep, rough, and a bit heathery, with plenty of boggy areas. That last kilometre took longer than I expected! But it wasn't too long before I found myself face to face with the River Dee and the only major river crossing on the circuit.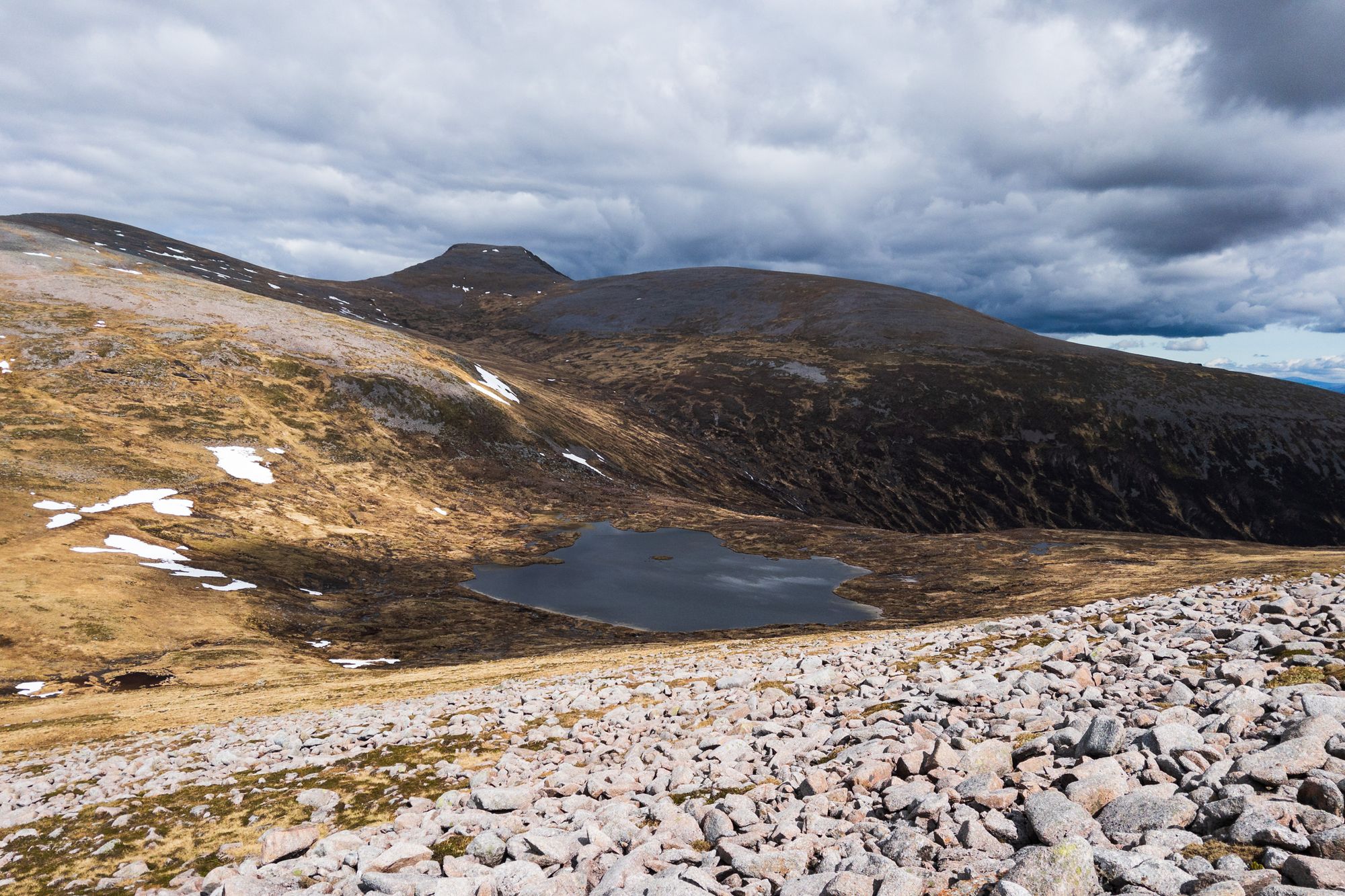 Wading the Dee was another one of those things that I'd always been a bit scared of, because it's a major river and I had heard horror stories. But, once again, I found it pretty easy. Water levels were low and at no point did the water come higher than my knees. It served as another reminder of how far my skills have come in the last few years – back in 2015, the year of my first Cape Wrath Trail, a knee-deep river crossing would have been a major source of anxiety.
Once on the other side, I followed established paths to the summit of Carn a' Mhaim, which is an outlier of Ben Macdui with some of the finest views I've seen anywhere in the Cairngorms. What a summit ridge, too! After spending a while admiring the sunset view across to the Devil's Point and into Glen Geusachan, I took off on a gallop down Carn a' Mhaim's North Ridge. I was feeling on superb form and loved every minute of this beautiful 2km trail run.
My original plan had been to bivvy somewhere near the bealach, as it was starting to get dark and I'd already done well over 2,600m of ascent, but on a whim I decided to crack on to Ben Macdui. A temperature inversion was trying to form and I wanted to see if I could get above the cloud layer. It's a steep ascent of about 500m up a pathless boulder slope, but I was feeling strong and made quick work of it. This is something that only 18 months ago I'd have never even believed possible – that I could feel so fresh and energetic at the end of a long, long day. I think my crossing of the Alps last summer really changed my perception of what I can do when I'm in the mood.
I broke out above the cloud layer at 1,200m just as it was getting too dark to see without a torch, and I unrolled my bivvy bag at the first flat spot I could find.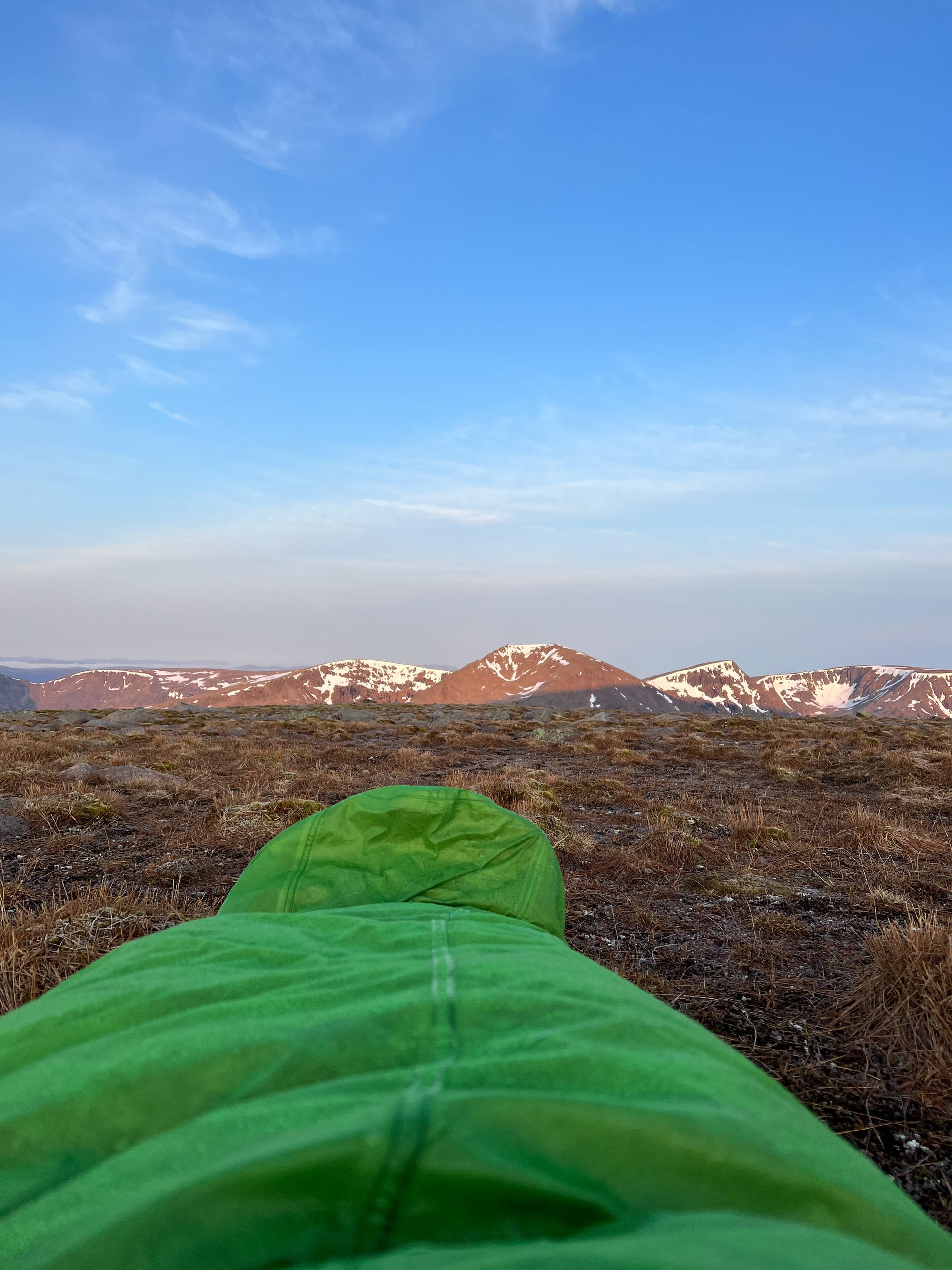 The next morning, I woke to find a tent pitched only about 200m away – I assume they'd been there when I arrived the previous night! At 6am I found myself strolling over the newly frost-crisped summit snow slopes of Macdui, enjoying that amazing panorama west to all the major peaks south of Braeriach. Honestly, what an incredible place – what a gift. This was my fourth or fifth time on the summit of Ben Macdui, but easily the best conditions I've ever seen there. I've heard Ben Macdui called 'boring' by some people before. If you find this mountain boring then I might respectfully suggest that hillwalking isn't for you.
My original idea had been to run the entire descent from Macdui down to the ski centre, but then I realised that the cafe didn't open until 9am, and if I ran the descent I'd get there at least an hour early. It's only a few kilometres. And I wanted a coffee! So my descent was the very definition of a bimble, constantly stopping to stare at rocks and take pictures. And that's something that I feel fastpacking gives me the permission to do if I want to. If I'd been in a pure running frame of mind, I wouldn't have been happy with this leisurely descent – it would have felt like a small but notable failure. That says more about me and my relationship with exercise and adventure, perhaps, than it does about running, but it's true nevertheless.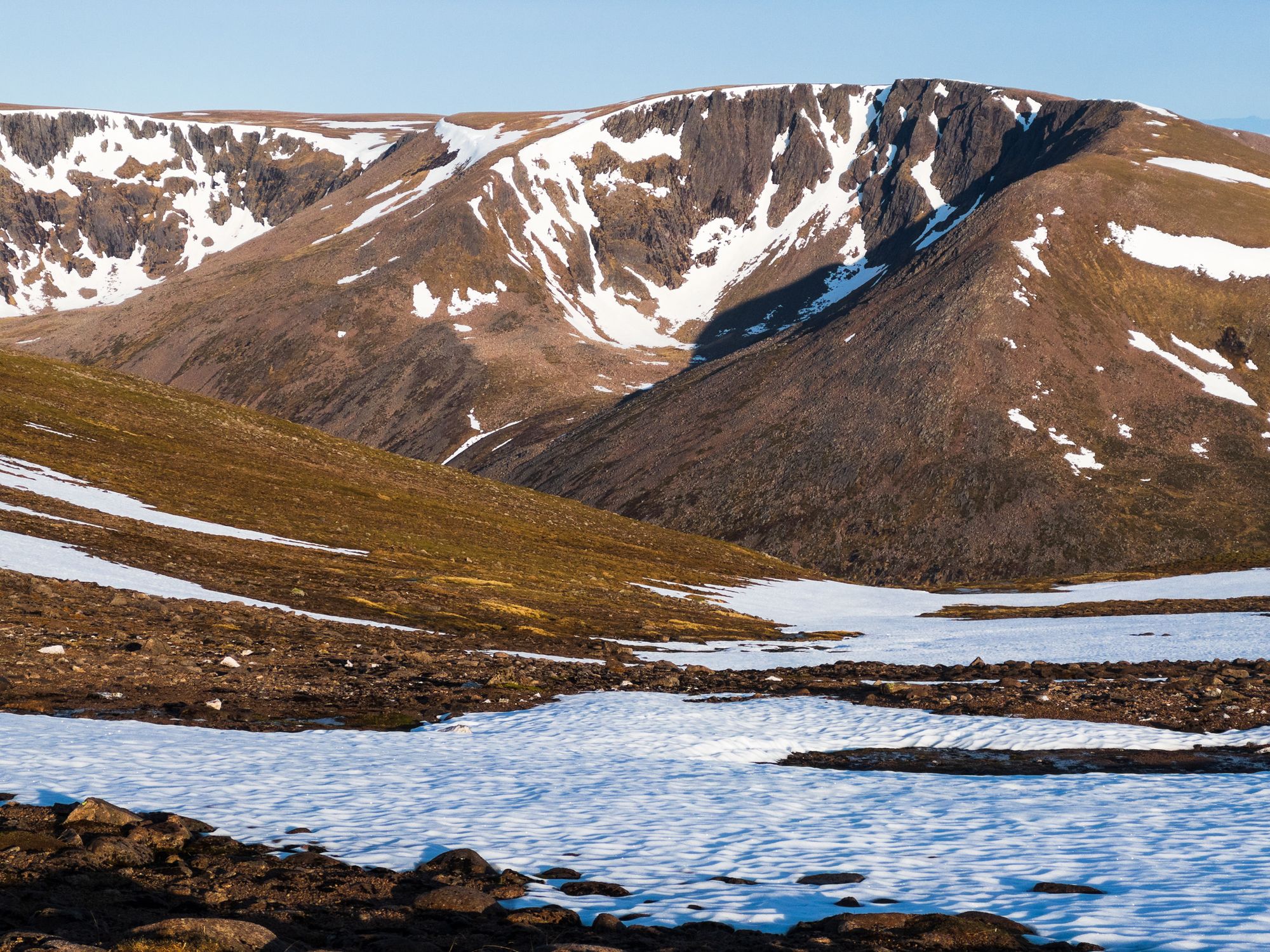 A few early birds were on their way up the path to Macdui as I was coming down. Everyone was full of excitement at the amazing weather. Passing Coire an Lochain, I noticed that the Great Slab had avalanched, as it usually does in May – but it clearly hadn't held much thickness of snow even before it had gone. I have seen avalanche crown walls on the Great Slab showing double or triple the thickness of snow I saw yesterday.
I finished at the mountain cafe and was back home not long after lunchtime. Only a few years ago, an adventure like this would be a high point of my year. Now it's something I can go and do whenever the forecast is right and I can spare the time. Last time I lived in Scotland, this easy access to mountains led to a degree of taking things for granted – but I was younger then. This time I think I have more gratitude and maturity in me. And if I ever start taking all this for granted then I don't deserve to have it.
It's been nice, too, to have an adventure that is just about the enjoyment. No gathering material and photos for a book, no thinking about pitches for editors. Part of me wishes I'd had a camera with me to record the amazing conditions 'properly', but my phone is still capable of far better images than the poor-quality compact cameras I carried on most of my forays into the Cairngorms years ago. And bringing a camera along would have completely changed the balance of this journey. A camera is not just a camera; it is a thinking and seeing tool, modifying and guiding as well as recording experience. Embodied thinking isn't just about muscles and lungs.
Back when I lived in Lincolnshire, every trip to the hills had to earn its keep without exception. I have chosen this life, and I value the fact that I can earn a living from writing about adventure, but there are downsides too – as there are for every career. Once again I have the luxury to just enjoy the mountains every so often if I want to. It feels like the old days, living in Glen Coe and spending every spare hour in the high places because I could think of doing nothing else. Because that was who I was.
Everything is once again as it should be.
---
Photography notes: all images captured with my iPhone 13 Pro. Some are straight out of camera, while others were shot in raw format using the Halide app and edited in Lightroom. I used all three lenses on this trip. All images © Alex Roddie, all rights reserved.
Alex Roddie Newsletter
Join the newsletter to receive the latest updates in your inbox.
Comments