Crowley's Rival will be available from the 19th of December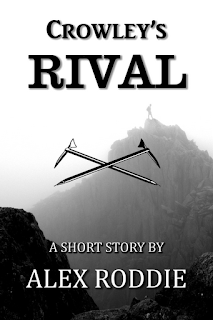 Crowley's Rival, my new short story (or novella, depending on your definition), will be released as a Kindle exclusive on the 19th of December. That's one week away!
This story is aimed at fans of The Only Genuine Jones, although it also works as a standalone piece and will be enjoyed by anyone with an interest in British history or our mountain heritage. In OGJ, the characters of Jones and Crowley are established enemies. In this new story I take the reader back to the summer of 1893 to show how it all began.
Here's the official blurb.
At the age of seventeen, Alick Crowley is impatient to begin life on his own terms. He bursts with energy but his strict religious education crushes every original impulse. He would do anything to have a real adventure.
When he visits the Lake District in the summer of 1893, he attempts to climb the crags of Scawfell. He has no climbing experience and no gear, but fortunately he meets some of the extraordinary men who have made a sport out of climbing these cliffs.
One of them is O.G. Jones, the self-proclaimed best climber in England … but Crowley believes that Jones is a liar after being humiliated and criticised by the more experienced man. He wants to prove that Jones is not what he claims to be, but who would believe him?
He vows to escape from his overbearing parents, live the life of adventure he has dreamed about, and return to challenge Jones on his own turf.
Crowley's Rival will be released on December the 19th, 2012, for the introductory price of 79p on the Kindle platform.
Alex Roddie Newsletter
Join the newsletter to receive the latest updates in your inbox.
Comments