An interview with Jamie Hageman, mountain and landscape artist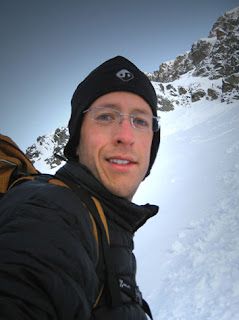 This is part of a series of interviews with authors, photographers, film-makers, and other creative people who all have one thing in common: a connection with mountaineering culture.


Today I would like to welcome mountain artist Jamie Hageman to my blog. His extraordinary paintings are regularly exhibited, and thanks to his distinctive (and very realistic) style his work has attained widespread recognition and praise.


Please introduce yourself. Who are you and what do you do?
I'm a full-time mountain landscape painter living in the Scottish Highlands. I grew up in the flat lands of Lincolnshire, but through walking trips to North Wales from the age of ten, I slowly became obsessed with mountains – climbing them, reading about them, studying maps and of course drawing them. I moved up to Scotland in 2002 and can't imagine living anywhere else now.
You are both a climber and an artist–a not uncommon combination (when 'artist' is considered as a broad term). Why do you think art and mountains have such a strong association?
Painting the mountain landscape is a way of portraying the strong emotions I feel when I experience those great moments in the hills. People who have never seen such things might just be able to experience them viewing a painting, while others who have can identify with those moments through their own mountain travels. Climbing for me has always been about excitement and adventure. The phenomenon of encountering something terrifying but also beautiful has inspired artists for aeons. I'm continuing that focus, always aware of the possibility of the Sublime in the mountains, and putting myself in positions where I might experience it.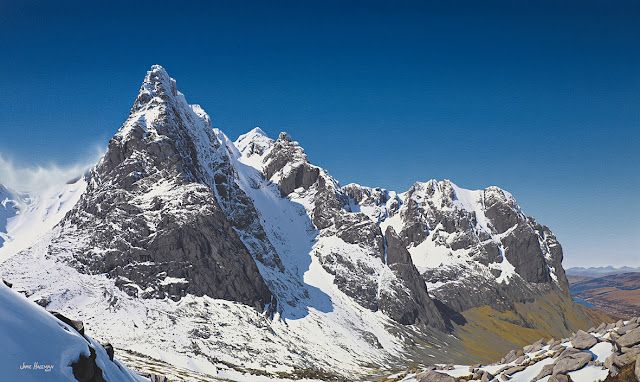 Jamie's stunning vision of the Northeast Face of Ben Nevis
Do your paintings begin as an idea, or as a moment on the hill?
A real mix actually. In the case of my recent Ben Nevis Northeast Face painting (above), I'd seen the possibility of a great view on the map. Looking at the Northeast Buttress end on, it appears as a singular sharp peak rising straight up from Coire Leis. If you head up the opposite side of the valley a little way (on the bouldery flanks of Carn Mor Dearg) the buttress appears sharper and more spectacular, and the rest of the Ben Nevis cliffs come into view. The first time I saw it, I couldn't believe it! A very special view, and one which I've painted many times over the years, in all sorts of weather and conditions.
Other times I'm just out and about, and I'll notice something special. It might be a fleeting glimpse of a towering pinnacle through the mist, or an unexpected view of a familiar mountain. I suppose the key is to always be looking at your surroundings, and visualise how finished paintings might look.Your paintings have a very distinctive style. How do you achieve such realism?
I've always painted in this style. It's what comes naturally. I love the detail and chaotic nature of the mountains, and I find that painting is a bit like building my own mountains from scratch – like model making. I can make them as realistic or fantastical as I like. Some features I'll make sure are accurate, almost like a topographical diagram showing climbing routes. Other features can be in a more impressionistic style, so long as they're still believable As for how I achieve that realism, It's down to lots and lots of patience. I'm never in a hurry to finish a painting, though some days the slow advancement is barely noticeable!
Describe your most memorable or enjoyable mountain day.
Probably my most memorable day was ten years ago alone in the Pyrenees in winter. It was my first foreign mountain trip, and I suppose I was a bit naive. I tried to climb the Grand Fache in dodgy snow conditions. Just getting to the foot of the mountain was a mission and took me a couple of days. I struggled to find a route up the northwest face which avoided the relentless wind, exposure and unconsolidated snow. I turned around when I felt out of my depth, but that experience has lived with me very clearly ever since.
A really enjoyable trip was in 2009, when I spent four of the coldest days of the winter on Skye with the tent. It was a proper adventure, and the mountains were pristine. I will never forget seeing Sgurr nan Gillean from the south for the first time. It's a fairytale cloud piercer from Sgurr Beag! My subsequent painting is one of my favourites.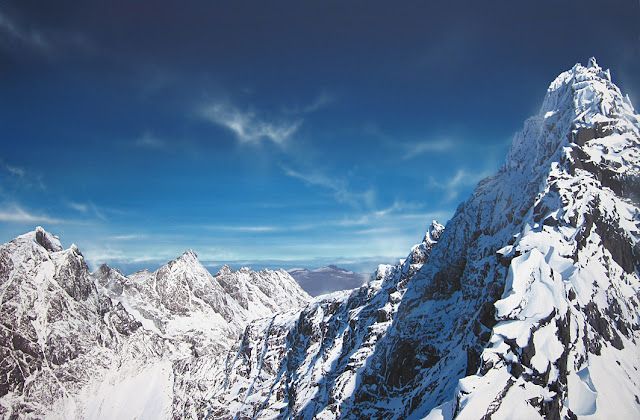 The Central Cuillin by Jamie Hageman
Which of your paintings challenged you the most?
I think the Ben Nevis Plateau painting challenged me the most. It's still the largest painting I've done (about one and a half metres wide I think). Just maneuvering to be able to paint it was difficult. I love painting on that scale, but I have to think about how practical it really is.

Can you tell us anything about your future projects?
I have so many ideas – I make lists of potential views, paintings, drawings, sketches and print ideas. They change frequently, but a couple that keep cropping up are the Lake District (I'd like to paint Blencathra, and maybe Scafell), and the Alps. I might try to get down to the Lakes before this snow disappears (has to be snowy), and I'm planning a trip to see Mont Blanc and the Matterhorn from hopefully some impressive but slightly less obvious angles. The Himalaya is still calling me, and I either need to tag along with an organised expedition, or arrange my own with a mate. Exciting to be thinking about these things – planning is half the fun! As for Scotland, the list seems to be never-ending.
Tell us about how we can find out more about your work.
My website is www.jamiehageman.com and I'm on Facebook – https://www.facebook.com/#!/JamieHagemanMountainArtist
I'm taking part in the spring show at Resipole Studios across the Corran Ferry in Ardgour, so there'll be some new work appearing there. Right, back to my paints.
Thanks to Jamie for the interview!


All images (C) Jamie Hageman. All Rights Reserved.
Alex Roddie Newsletter
Join the newsletter to receive the latest updates in your inbox.
Comments