The mountains of my life – Stob Ban, my first Munro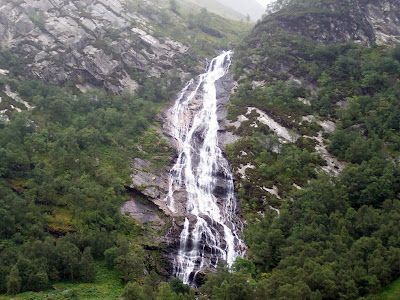 This blog post is part of a series of articles on mountains that have a special significance for me. See also: Bowfell and Tryfan.

My hillwalking apprenticeship was played out in the Yorkshire Dales, the Lake District, and North Wales, but by 2006 my sights were set on more ambitious objectives. The Highlands of Scotland beckoned and I couldn't wait to get up there. In typical Alex fashion I decided to aim for the top.
I had visited Aviemore on a winter mountaineering course in February 2006, but my first real trip to Scotland took place in September that year. I had just begun my second year at university, and thought myself quite an experienced hillwalker by this point; consequently my plan for the trip was absurdly ambitious. I'd heard about a walking challenge called the Lochaber Traverse: a full crossing of the Grey Corries, Aonach Beag, Carn Mor Dearg, and Ben Nevis. The usual approach is from the north, but the route from the south, along the wilds of Glen Nevis, appealed more to my sense of adventure. I had originally planned to go with some friends but they pulled out at the last minute, so ended up heading to Scotland in the company of a girl I had never met called Angelika. She had done a lot of backpacking in her native country of Norway but nothing at all in Scotland.
As I discovered when we got to the train station, Angelika's idea of "lightweight backpacking" didn't quite fit my own. I had managed to fit everything I required for the journey into a 45 litre backpack, opting for a waterproof bivvy bag instead of a tent. Angelika carried a mammoth 70 litre rucksack filled to the brim with equipment. I was worried that the kitchen sink approach would slow us down and add a day to the voyage.
We departed from Fort William early on Saturday afternoon. The goal was to stay at the Lairig Leacach bothy overnight and be on the summit of Ben Nevis by Sunday evening.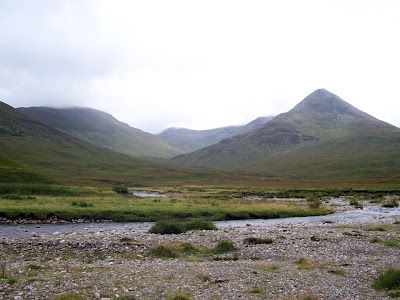 The river crossing, upper Glen Nevis
The approach along Glen Nevis was longer and more challenging than I had expected. The path–and the bridges–ran out after a few miles: after years of walking in the Lakes, where every path is clear and bridges cross every stream, this was a sharp surprise! I was also blown away by the sheer scale of the scenery. I imagined a billion tonnes of ice flowing over my head, fifteen thousand years in the past, carving out this vast trench through the mountains. The mountains looked more ominous than the friendly hills of Langdale. As the miles lengthened and the midges took their toll of blood, I started to wonder if perhaps I had bitten off more than I could chew.
Then the time came when we had to cross a proper river. I hopped across, getting my feet wet but keeping my balance thanks to my light pack. Angelika took a more cautious approach. To this day I'm not sure what happened; perhaps she simply slipped, or perhaps her heavy pack caused her to lose her balance. Either way, I heard a splash and a cry, and turned to see Angelika sitting down in the fast flowing stream, leg twisted under her.
We quickly established the fact that she had badly sprained her ankle. The time was 6 PM and we had reached NN 2439 6983, the tiny island at the foot of Coire Rath, a bleak glen leading up into the Grey Corries. We decided to set up camp and reassess our situation in the morning.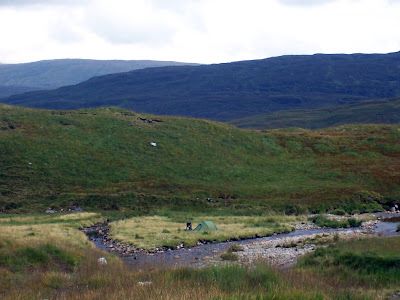 The camp at NN 2439 6983
As I remember it, Angelika was angry with herself for spraining her ankle, an understandable reaction even if the accident was not her fault. We hadn't made it as far as the bothy and so, as it happens, we were glad of the extra equipment in her huge rucksack. The addition of a tent made the night in Glen Nevis far more comfortable.
It was a fine evening, and after cooking supper Angelika suggested I climb a hill to avoid completely wasting the trip. I felt uneasy agreeing to the suggestion, but in the end I couldn't resist: this was my first Scottish mountain voyage and I was surrounded by 3,000ft peaks. I packed my rucksack and set out alone in the evening light.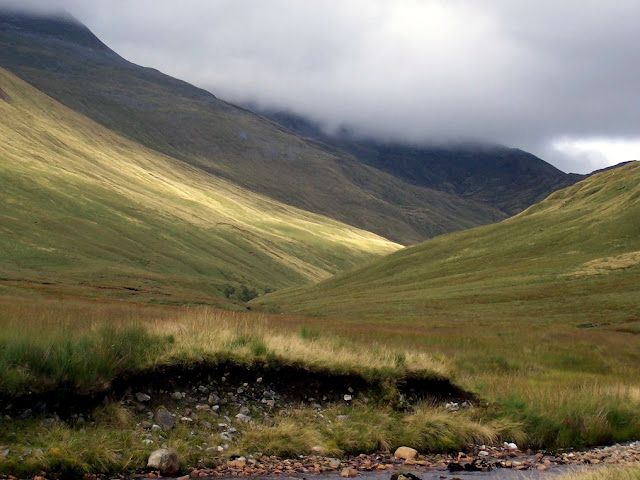 Coire Rath
Coire Rath is a place of subtle beauty: soft shades of green and dun, yellow and grey, a mesmerising interplay of light and colour. The wind sent ripples chasing each other over the grass. I was entranced, caught between the wild emptiness beneath and the austere crags above.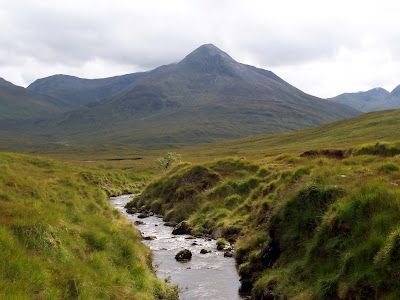 Binnein Beag
As I climbed, I caught my first ever glimpses of mountains that would play starring roles in my future life: Buachaille Etive Mor, Binnein Mor, Bidean nam Bian. I didn't know the names of any of them then. I was like a child surrounded by the wonders of nature, a completely new landscape of spectacles to explore. There was no path here, no other walkers, nothing at all except me and my boots and a tent in the valley far beneath.
The summit of my very first Munro fell surprisingly easily. The Stob Ban at the eastern end of the Grey Corries is not one of Scotland's great peaks; it's an unassuming grassy lump, capped with a scarred knott of grey stone. It's probably one of the last Munros that many people do, but for me it was the first, and I would not have had it any other way.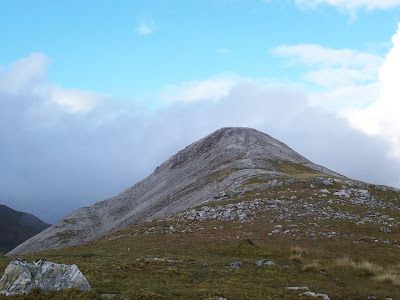 The summit of Stob Ban, 977m
I watched the sun set from the summit. The clouds gradually receded, the light turned that wonderful shade of gold that you only see during autumn in the Highlands, and the peaks all around me were picked out in sharp relief against the sky. The clouds of midges melted away as if by magic. The sense of freedom, far from any inhabited place and on a lonely mountain peak, was intoxicating.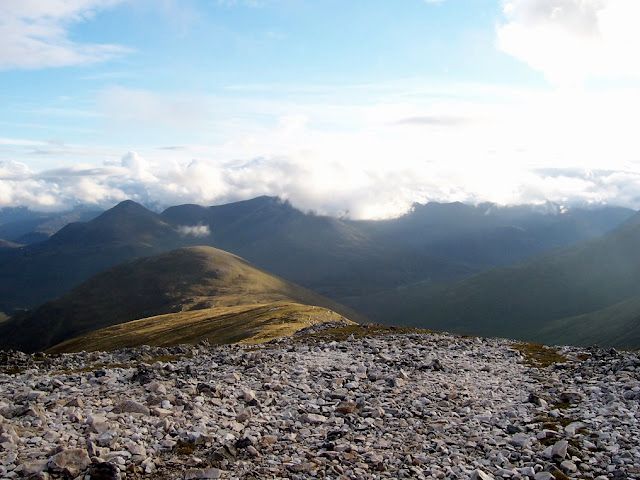 The sun begins to set from the summit
I descended as the temperature began to drop and the light failed. That night I slept well, content in the knowledge I had at last climbed a Munro, but also aware that the next day would be something of a challenge.
The weather changed overnight and we woke to torrential rain. After hurriedly breakfasting and packing away the tent, we began the painstakingly slow journey back to Steall. Angelika could hardly walk and, even with me supporting her, the best she could manage was a painful limp averaging about five hundred yards per hour. Strangely, the notion of calling Mountain Rescue didn't even cross our minds: it didn't feel like a serious or life-threatening situation at all, simply a logistical challenge, something that had to be done. We knew the route back and the terrain was unthreatening. Getting to safety was simply a case of putting one foot in front of the other for as long as it took.
We reached the car park at Steall well after dark. There was only one car left and after briefly telling our tale the owners gladly gave us a lift back to Fort William, where Angelika went straight to A&E. Our attempt at the Lochaber Traverse had failed spectacularly, but looking at the experience in a positive light, our trek had taken us through some beautiful scenery and certainly taught me a valuable lesson: the Scottish mountains are not to be underestimated, even in benign conditions.
I remained in Scotland for another week, and went on to do the Ring of Steall and finally Ben Nevis itself via the tourist path. Despite generally abysmal weather it was a brilliant trip and the seeds of my future life in Glencoe had been sown.
Further reading


My brother James wrote up an excellent account of his own crossing of the Lochaber Traverse in semi-winter conditions exactly two years ago.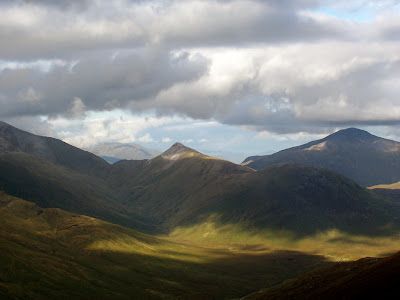 Stob Ban
Alex Roddie Newsletter
Join the newsletter to receive the latest updates in your inbox.
Comments