The Atholl Expedition is finally here on Kindle – please share!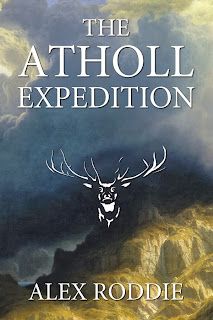 (Alpine Dawn Book I)
By Alex Roddie
Introducing James Forbes in the quest for Scotland's last glacier.

SCOTLAND, 1847. Convalescence doesn't suit Professor Forbes. When one of his former students appears exhausted at his door, telling stories of bloodthirsty gamekeepers and a mythical glacier in the heart of the Cairngorm mountains, he can't resist the chance for another adventure. However, his journey coincides with a visit from Queen Victoria and Prince Albert, and the Royal Consort has an ambition to shoot the oldest and most cunning hart of the Atholl estate.
Forbes is soon involved in the chase of his life – with perhaps one last chance to make his name before it is too late.
The wilderness of the Cairngorms is trodden by legendary stags, demons of local folklore, and a few brave souls all seeking very different things from the wild. This is a tale of life in the Scottish mountains before mountaineering began.
It's my pleasure to announce that my second novel, The Atholl Expedition, is now available to download on Amazon Kindle. This is the culmination of an obsession lasting over two years. In 2011 I discovered the writings of James Forbes, and caught my first glimpse of a lost world: a world before the mountaineers arrived, before there were accurate maps, when monsters stalked the hills and when many peaks remained unclimbed.This book is my first step into the strange waters of mountaineering before the golden age of Alpine climbing. I call the series Alpine Dawn because, although this first volume is set in Scotland, this is really the extraordinary tale of how mankind learned to see the mountains of Britain and Europe as a playground rather than a terrible realm of fear and danger.The voyage begins here. I hope you all enjoy it as much as I am.For those of you who prefer traditional books, don't worry – I'm hard at work on a paperback edition and expect it to be launched in the first quarter of 2014.
Alex Roddie Newsletter
Join the newsletter to receive the latest updates in your inbox.
Comments