The Tour of Monte Rosa gear debrief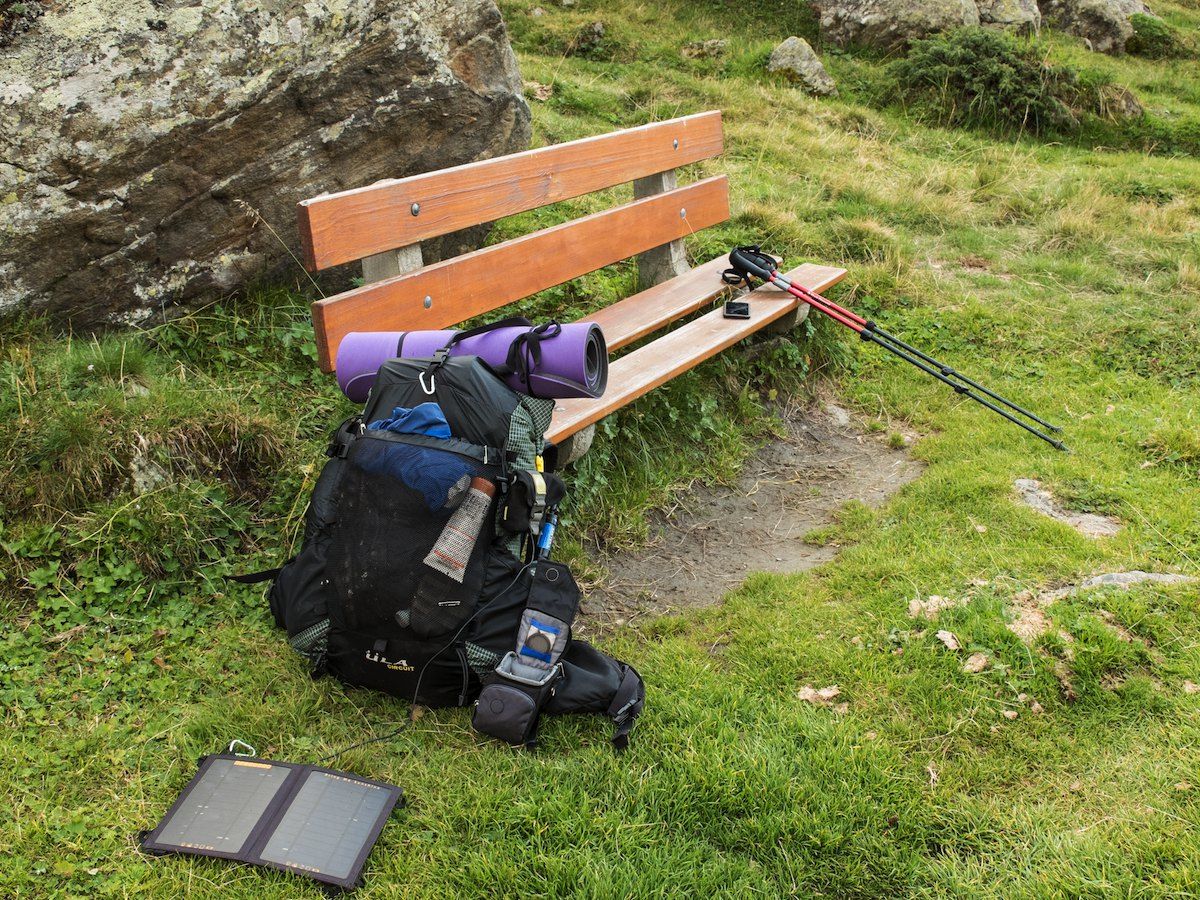 In September 2015 I hiked the Tour of Monte Rosa, a 100-mile backpacking route in the Alps. In this article I'd like to discuss how my equipment performed.
Here's my initial gear list. I made a few last-minute changes before I left, but generally it's what I took on the trail.
General approach
When planning this trip, I used my Cape Wrath Trail gear list as a starting point, taking into account the unique challenges I'd be facing on the TMR: a gruelling elevation profile, potentially some snow and ice underfoot, but theoretically drier and more settled weather than you might expect to find on a route of this type in the UK. I expected the terrain underfoot to be less boggy, rockier, and to consist of good paths most of the time.
Due to the fact that the TMR generally sticks between 2,000m and 3,000m above sea level, and I'd be climbing at least 1,500m every day, reducing pack weight was absolutely paramount. I've tried lugging a heavy pack around in the Alps before and it's no fun at all.
My expectations of the trail aligned more or less with the reality. The gear I selected coped pretty well, with a few minor caveats. Note that I don't discuss every item of gear here; many items were also used on the Cape Wrath Trail, and generally speaking everything that performed well on that trail also performed well this time. For the post-CWT gear debrief, click here.
The good
Tarptent Notch ultralight backpacking tent
I learned to love the Notch on the CWT, but also came across some snags, mainly relating to the guylines and pegging system. Since the CWT I have modified the tent by replacing all of the original guylines with stronger, thicker cord – and of course I'm still using the MSR Groundhog pegs for better holding power. So the drawbacks of the Notch I initially outlined have almost all been overcome.
Before the trip I intended to ditch the inner and just take an ultralight groundsheet, but at the last minute I changed my mind and packed the inner after all. I'm glad I did. It wasn't windy on the TMR (in fact, it was remarkably calm) but it did get very cold at times and I was glad of the extra layer of fabric shielding me from breezes. I often had to pack the tent away wet from frost or dew and it would have been unpleasant pitching it again without the inner nest to take refuge in.
Overall, I continue to get on very well with the Notch. It's an incredibly versatile shelter.
Closed-cell foam roll mat
After having issues with my self-inflating sleeping pad on the CWT, I went back to my old faithful purple roll mat and had no issues with it whatsoever. If anything, I think I prefer sleeping on a harder surface while on the trail; it encourages me to sleep on my back, which means I toss and turn less.
Stoveless food system
This isn't an 'item' at all, but rather a complete philosophy! For this trip I decided to leave the stove and associated gear behind, subsisting entirely on cold food. I have to say that I didn't miss hot food at all, but I certainly appreciated the lighter pack. Going stoveless was a very positive step and I can't see myself taking a stove on future summer backpacking trips. I didn't even miss hot food when it was below freezing.
What did I eat? All kinds of things – tortilla wraps and couscous were my staples, along with trail mix and granola bars.
North Ridge Onyx smock
This is a lightweight (~350g) synthetic insulated smock I bought for about £40 from Go Outdoors. I had considered a down jacket, but decided it would be overkill for September in the Alps, so simply selected the lightest synthetic garment I could find (my old insulated jacket is huge and weighs nearly a kilo). I was extremely impressed by this garment – it packs up very small into its own pocket, weighs very little, and kept me perfectly warm enough on frosty mornings at high altitude.
I began to view this jacket as a 'fleece replacement' which can be worn under a waterproof shell (unlike my thicker insulated jacket, which is an outer layer with its own hood and pockets). However, it's warmer than a regular fleece, packs down smaller, and is windproof and water resistant. This is a very versatile piece of equipment and incredible value for money.
Karrimor running shorts / Karrimor running tights combo
This was my first trip in which I've hiked in running shorts. It was a great choice – they kept my legs far cooler and more comfortable on hot days, although bushwhacking was occasionally painful. The 'tights' were reserved for wearing in my sleeping bag, but on some of the very cold mornings I found myself hiking in them for a couple of hours before the temperature got back above freezing. On the rare occasions when it rained or snowed, it was easy to layer waterproof trousers over the shorts.
This is a far more versatile combo than my old system of softshell trousers.
Portapow 7w solar panel
A fantastic bit of kit. For £20, this solar panel is incredible – it's compact, lightweight (363g), hangs on the back of my rucksack during the day to feed energy to my power bank, and provided more than enough power for my needs during the trip. After charging the power bank during the day, I then used it to top up my iPhone and camera at night. Even with using up to 50% of an iPhone's battery per day, the power bank never dipped below 75% charge – the solar panel was simply that good. This system wouldn't be anywhere near as effective in the UK, but it was able to charge even with heavy cloud cover.
Merrell All Out Peak trail shoes
I bought these in Ullapool on the CWT after my Inov-8s developed splits, and initially I wasn't impressed by them. They felt a little more clumsy than the Inov-8s and I didn't think I liked them as much. However, on this trail they proved to be excellent – the extra cushioning protected my feet from the rocky terrain without losing sensitivity, they kept my feet cool, and the tremendously grippy Vibram sole was great for walking on loose ground and easy rock climbing. I suffered from no blisters or sore feet at any point.
My only complaint is that splits have developed in the mesh sides of the shoes, but that's to be expected after the amount of punishment I've put them through. The splits do not affect the structural integrity – unlike the damage my Inov-8s sustained – and I'm sure they'll last several more hundred miles.
Winter gear
While planning the TMR, I applied careful thought to the question of whether or not I needed ice axe and crampons. Ultimately I decided not to carry them and to save the weight. Was it a good decision? Overall, yes – for 95% of the trail these items would have been dead weight in my pack.
What about the other 5%? I encountered snow and ice on the ascent of Testa Grigia, but was able to cope without crampons by being careful and constantly assessing conditions (ice axe would not have been necessary). The only point where I really wished I'd had crampons was the top slope of the Theodul Glacier, where I had to traverse a short but potentially dangerous slope of hard glacier ice. I managed with patience and trekking poles, but most people would feel safer with crampons on that kind of terrain.
Overall I'm glad I didn't take winter gear. Up to 2kg of extra weight in my pack would have affected my ability to cope with the TMR's gradients and altitude. Earlier in the summer season would be a different story and crampons would certainly be required in, say, early July.
The bad
Podsacs pack cover
I've always disliked pack covers, but this one annoyed me on several levels. It isn't quite big enough and often leaks. I ended up replacing it with a larger pack cover when I got to Zermatt.
Fujifilm X30 compact digital camera
After my positive initial experiences with this camera and subsequent glowing review, I expected to get on very well with it on the trail. However, I discovered several annoyances. First, the extremely bright light in the Alps forced me to stop the lens down to f/8 on several occasions … but due to the small image sensor, diffraction severely affects image quality at f/8. If you could access the high shutter speeds at f/4.5 this would not be an issue (f/4.5 is the optimum aperture for sharpness on this camera) but it's limited to 1/1000 at this aperture, which is pretty useless for bright, snowy scenes. Even using a polarising filter it was sometimes difficult to get the right exposure.
Secondly, I found operating the camera impossible while wearing gloves. As for trying to change filters, that was fiddly enough with bare hands. Given the compromises inherent to a small image sensor, I've reluctantly decided that this camera isn't for me and have replaced it with the slightly larger and more versatile Fujfilm X-E1.
Plastic rucksack liner
Instead of stuffing everything into drybags, which was my tactic on the rainy CWT, I decided to use a single orange plastic sack liner as a second line of defence against water ingress. However, the pack liner developed holes almost immediately, and was generally faffy and annoying throughout the trail. I think in future I'll go back to the drybag system, even though it adds a couple of hundred grams to the weight.
SwissTopo Italian maps
I carried paper maps of the trail with me, but hardly ever used them, relying instead on the Viewranger app (far more convenient given my abundant power supply). However, all of my maps were SwissTopo, and I discovered that the SwissTopo maps of Italy are incredibly sub-par. Paths are frequently depicted in the wrong place or going in the wrong direction, roads are missing, and other major features are inaccurate. I think the survey is decades old, and as such the SwissTopo Italian maps are simply out of date. This wasn't an issue when I stuck to the official Tour of Monte Rosa, but I took my own path for parts of the Italian stage and navigation was harder than it should have been with these maps.
Alex Roddie Newsletter
Join the newsletter to receive the latest updates in your inbox.
Comments